It is a clear fact: automation technologies have proven their efficiency during this pandemic. Whether in hospitals, public spaces or the factory, robots have revealed their worth. Let's take a tour of the different innovations that have been developed to respond to COVID-19.
Abigail Saltmarsh, Daniel Allen, Hicham Dhouibi, and Mike Farish contributed to this report.
The pandemic has forced us to find reliable ways of maintaining distance from those infected with the virus and preventing the spread of germs. In hospitals or public areas, robots have been and continue to be particularly useful. First, they don't get sick so they can perform tasks safely. In a hospital, they can also monitor patients almost autonomously without having to wear masks or risking the spread of the virus. Innovation in the medical field has been particularly prolific since the beginning of the crisis last February.
Telepresence Robots
In various hospitals around the world, doctors and nurses have started using telepresence robots fitted with a microphone and a camera.
The company InTouch Health has developed a telepresence robot called Vici that is used by doctors who are located away from their patients. Vici can treat infected patients while protecting the health of the hospital's employees. Staff can remotely communicate with the robot and minimize their exposure to the disease.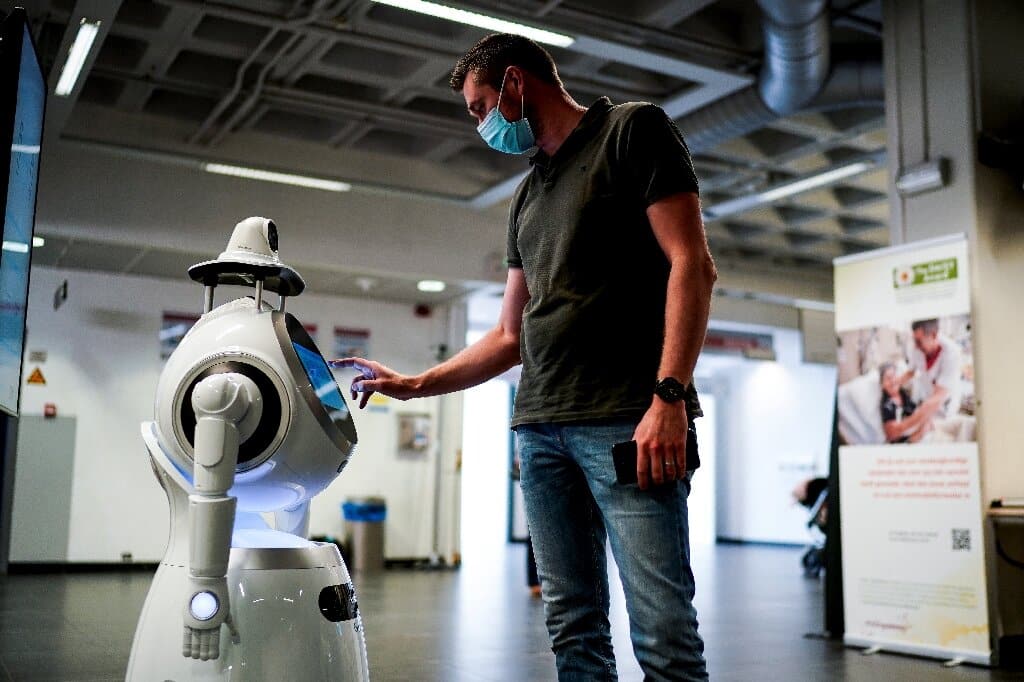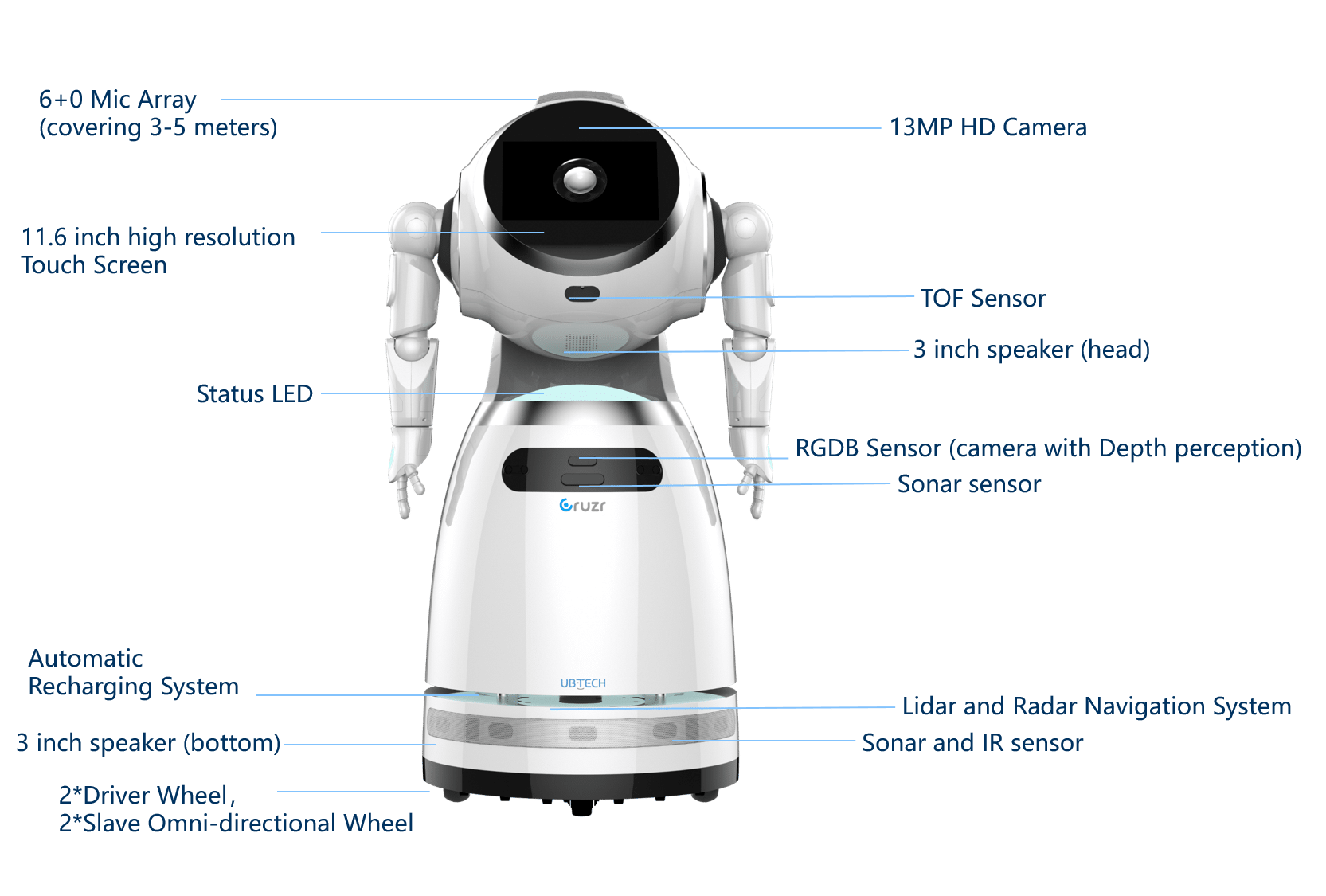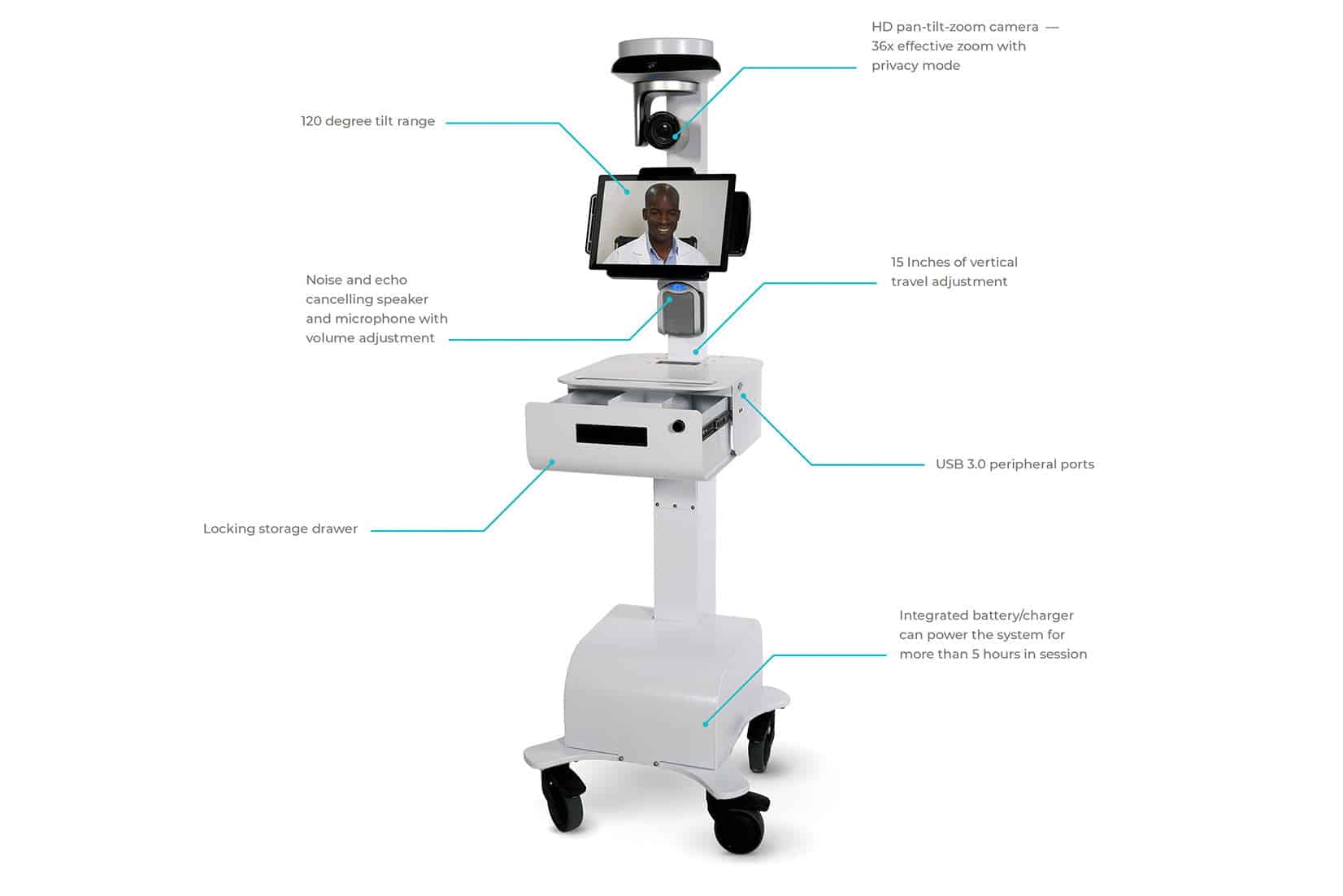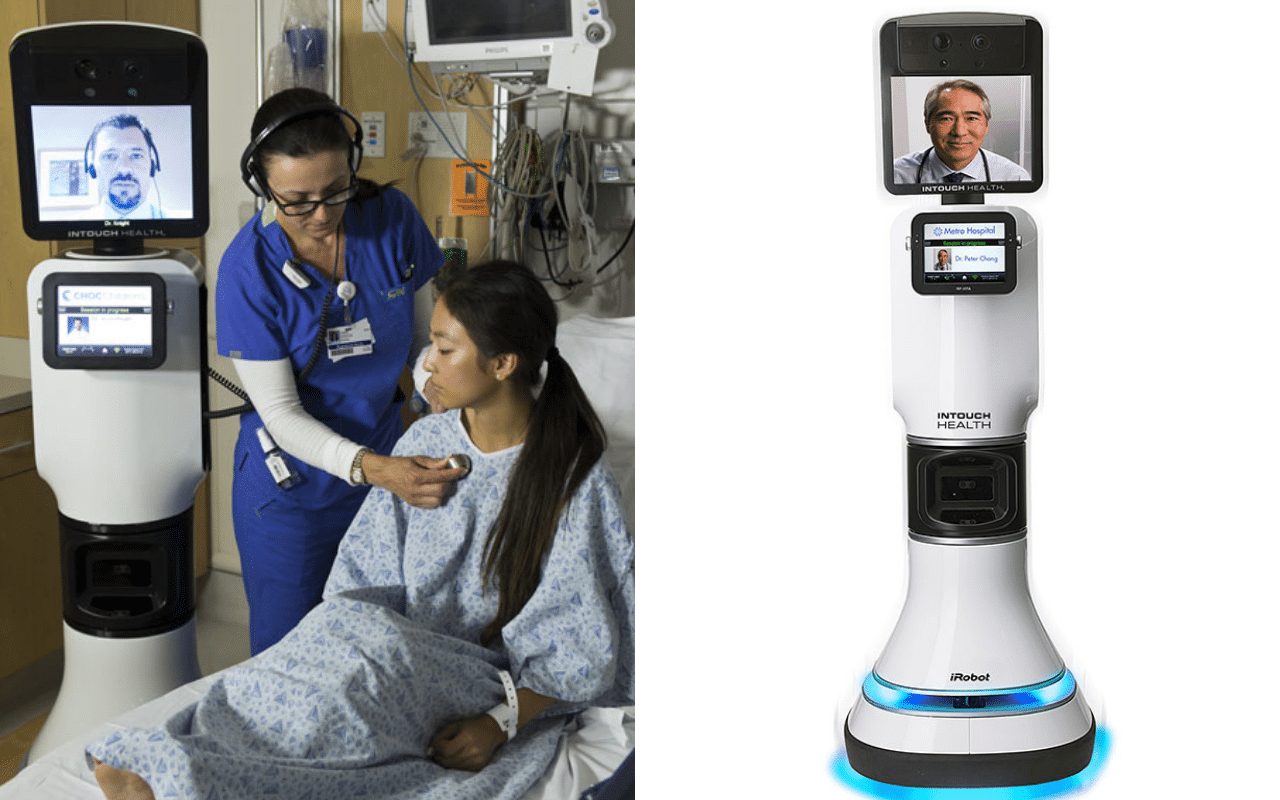 The personal robot temi is another robot that provides, without face-to-face contact, fever self-diagnosis; a video call solution between patient-medical staff and caregiver; and meal and medicine delivery, especially in air-isolated areas in hospitals. Thanks to temi's thermal camera, the general public is also able to self-diagnose the virus infection.
Service robots are also involved in the fight against person-to-person transmission. Cruzr, a cloud-based intelligent humanoid device developed by Chinese company UBTech Robotics, is used as a health monitoring robot. It has two arms and is equipped with thermal cameras to monitor peoples' temperature as they walk in a facility whether it's a medical center, a factory or an office. Thanks to an embedded facial recognition system, the Cruzr can also detect whether people are wearing masks or not. It reminds people to respect prevention measures such as wearing masks and washing hands. Cruzr robots are currently patrolling in Belgian hospitals.
Nurse Robots
Researchers at Johns Hopkins University have developed a robotic system that enables remote control of ventilators and other medical equipment.
The robotic device, which can be attached to a ventilator touchscreen, looks like a computerized engraver, with a framework of bars that enables the movement of a stylus in two dimensions. A camera connected to the top bar sends an image of the screen to the tablet of the operator, who is located outside the room containing the patient. The operator uses the tablet to tell the system where on the screen to apply the stylus, essentially replicating the touch of a human finger.
The system, which is still being tested, will allow healthcare practitioners to remotely operate ventilators and other essential medical equipment, putting distance between them and patients with infectious diseases, such as COVID-19.
Surveillance Robots
Various countries such as China and France have deployed drones to help enforce the lockdown and deliver messages to people who are not respecting quarantine regulations. For public authorities, drones are playing a vital role in the fight against coronavirus by helping limit human contact. Equipped with loudspeakers designed to deliver prevention messages and information on quarantine regulations, the drones also remind people to follow the coronavirus safety guidelines and stay home to avoid the spread of the virus.
In Singapore, Boston Dynamics' quadruped robot named Spot is being used by the government to remind the public of containment rules. Spot walks through a city park telling people he comes across to move a meter away from each other. Thanks to his cameras, he can also estimate the number of people present in the park.
Germ Killer Robots
Disinfection robots have proven their worth in the fight against COVID-19. Models using hydrogen peroxide vapor (HPV) and ultraviolet (UV) light are now moving through hospitals, health centers, government buildings and public centers across the globe in a bid to disinfect surfaces.
Danish manufacturer UVD Robots builds machines that use an autonomous guided vehicle (AGV), much like those commonly found in industrial environments, as the base for an array of ultraviolet (UV) light transmitters that can destroy viruses.
CEO Per Juul Nielsen confirms that UV light with a wavelength of 254nm has a germicidal effect at a range of about one meter, and the robots have been used for this purpose in hospitals in Europe. He says that one of the machines could typically disinfect a single bedroom in about five minutes while paying particular attention to "high-touch" surfaces such as handrails and door handles.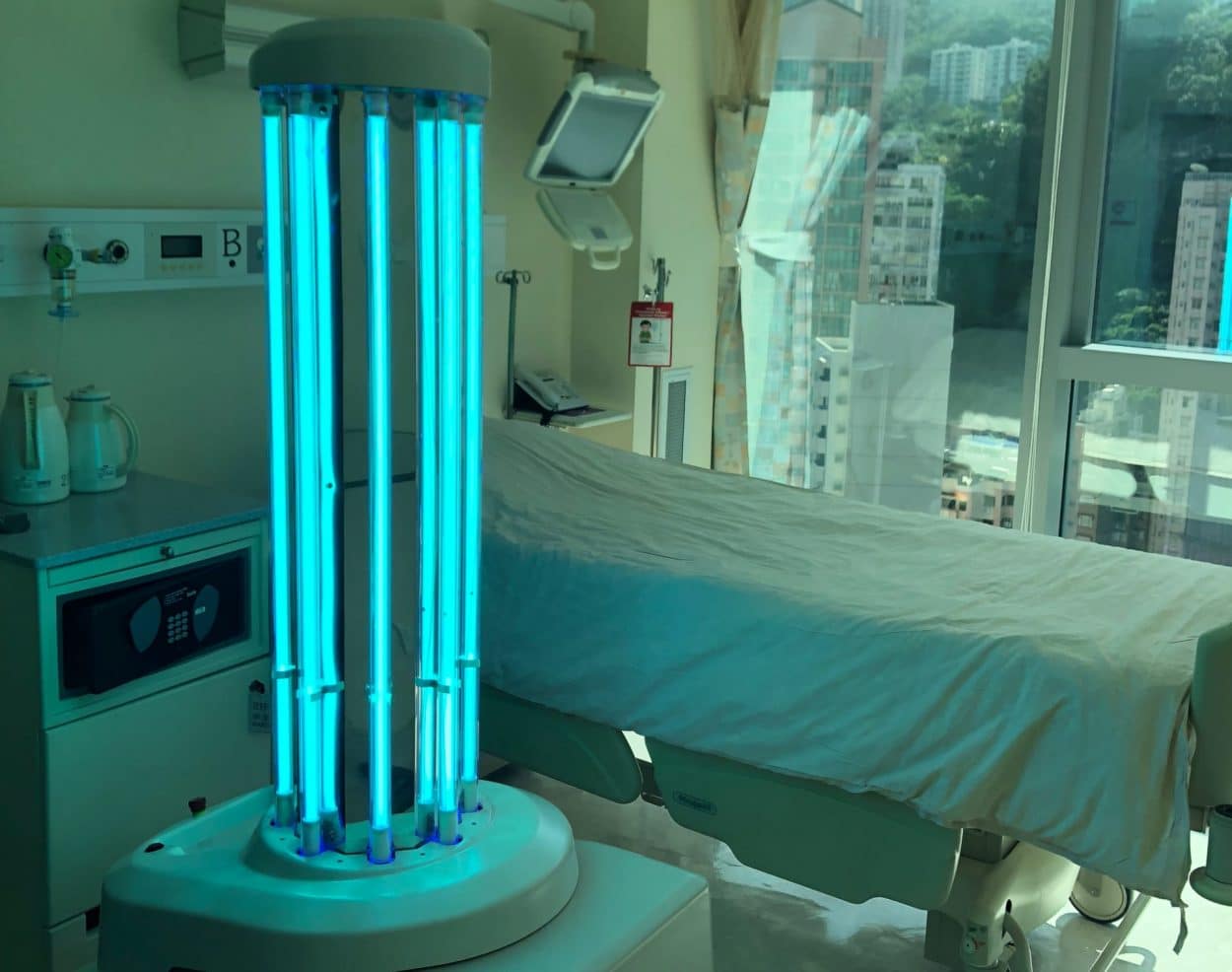 At Siemens Corporate Technology China, the Advanced Manufacturing Automation (AMA), which has a focus on special and industrial robots; unmanned vehicles; and intelligent equipment for robotic applications, also moved quickly to help tackle the spread of the virus. The laboratory produced an intelligent disinfectant robot in just one week, explains Yu Qi, head of its research group. Its model, which is powered by a lithium battery, distributes a mist to neutralize COVID-19 and can disinfect between 20,000 and 36,000 square meters in one hour.
Preparing for the Next Pandemic With Robots
In industry, robots have also had an important role. They helped ramp up production volumes to meet increased demand for new products created by the pandemic. They were also involved in rapidly reconfiguring operations to make healthcare products such as masks or ventilators. 
Enrico Krog Iversen set up Universal Robots, one of the major global suppliers of cobots, which includes a type of automation that he says is particularly pertinent to present circumstances. He explains that the ease with which cobots can be reprogrammed has two important implications. The first is that it facilitates the "rapid reconfiguration of production lines" to allow for the increased physical separation of people that the virus demands. The second is that it allows for the equally rapid introduction of new products which the pandemic has created a demand for.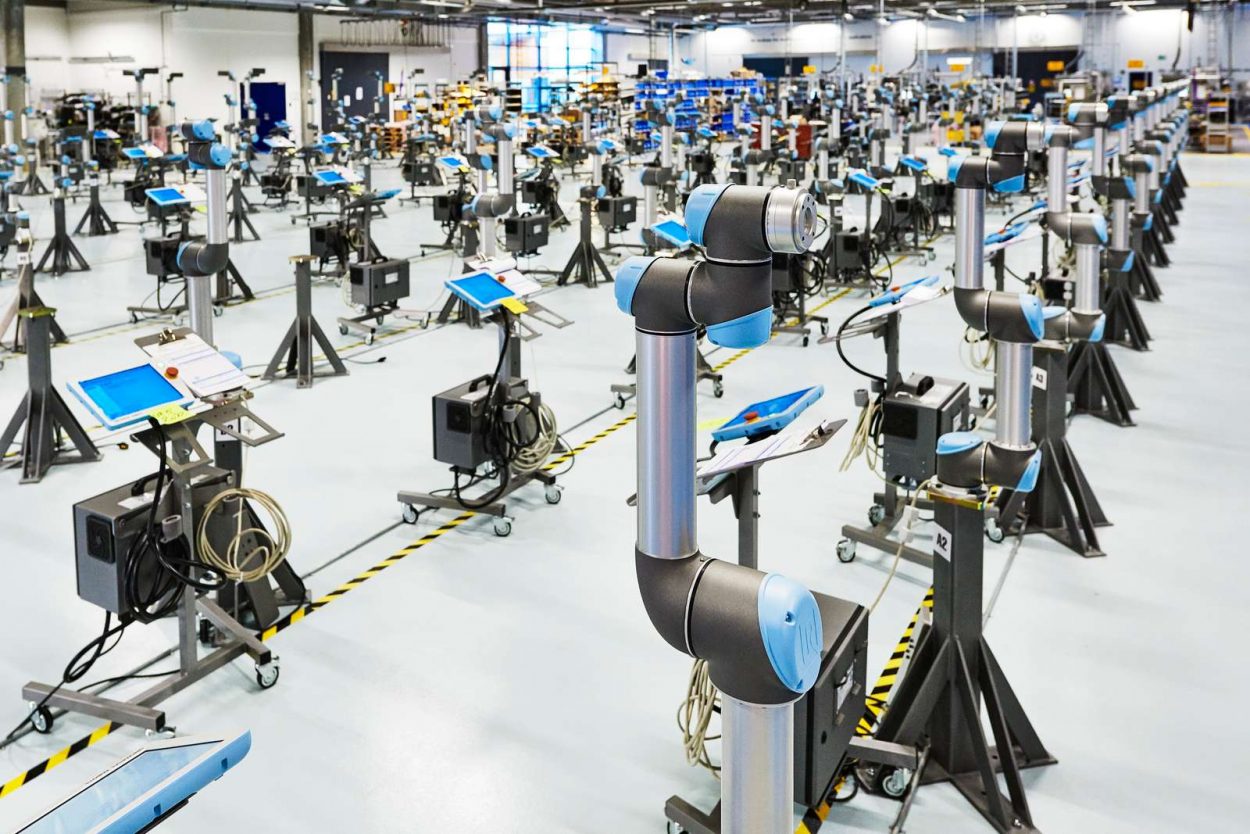 Iversen believes that when the crisis is over, the demand for cobots will be greater than for more conventional robots.
Robots could also be useful tools to help better prepare for any future pandemics. Iversen also founded OnRobot, a company that manufactures "end effector" devices such as grippers and sensors for robot arms. He confirms that manufacturing companies are now definitely "reaching out to the integrators" for advice on how they can increase their use of automation.