Surveillance technologies are increasingly being implemented in countries that are severely affected by coronavirus. France has started deploying drones in several cities of the country such as Nice and Paris to help enforce the lockdown and deliver messages to people who are not respecting quarantine regulations. Drones also have other purposes.
Since last week, drones are being deployed in the streets of Nice and Paris to support police patrols. For public authorities, drones are playing a vital role in the fight against coronavirus and helping limit human contact.
We talked to Jean-Baptiste Pietri, the associated director of Drone-06, the drone company that was requisitioned by the local authorities to patrol the streets of Nice in the French Riviera.
"Our UAVs are equipped with a 100 decibel loudspeaker designed to deliver prevention messages and information on quarantine regulations. They also remind people to follow the coronavirus safety guidelines and to stay home to avoid the spread of the virus."
For the moment, only one drone is flying over 10 towns in the region. Piloted by Sabri Ben Hassen, founder of the company, the drone was able to fly 50 hours in just a week, delivering thousands of messages.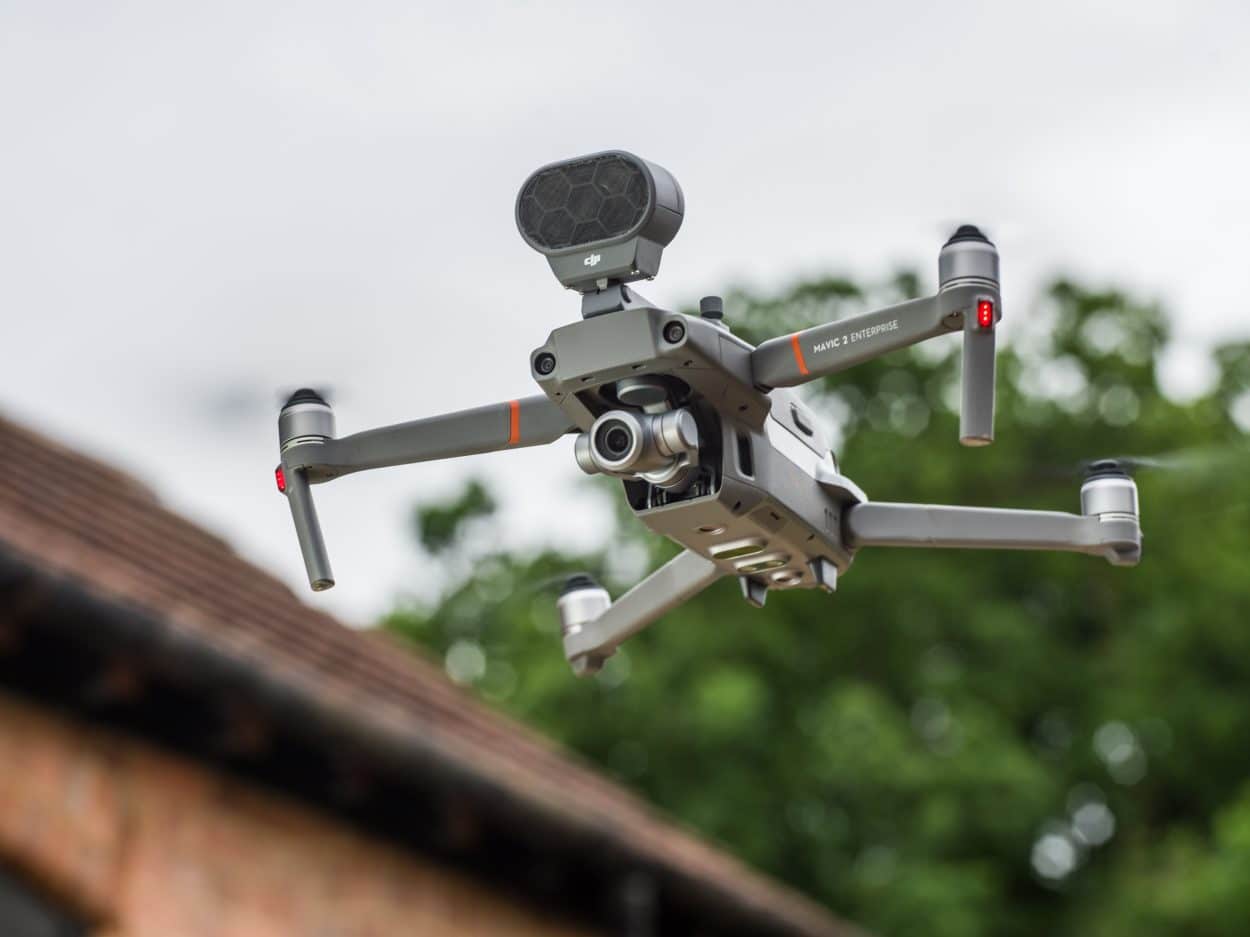 DJI Mavic 2 Enterprise
The drone that is being used in Nice is a Mavic 2 Enterprise made by the Chinese manufacturer DJI. Olivier Mondon, communication manager at DJI Europe, tells us more about it.
"Designed for dynamic operations, the camera extends the pilot's sense of sight with a 2x optical and 3x digital zoom capability. It is also equipped with a high-resolution 12 megapixel camera stabilized by a three-axis gimbal for smooth images and video. The M2E loudspeaker has a maximum projection of 100 decibels (1-meter distance) allowing pilots play up to 10 custom voice recordings on demand, providing a communications channel to nearby individuals that can be critical during lifesaving emergency operations."
UAVs allow tasks to be performed easily, without taking risks, explains Olivier Mondon.
"With a drone, you can go where humans cannot. We do not design our products specifically for the police or military. But authorities may, as part of their public missions, need to use UAVs for exceptional interventions requiring aerial vision with rapid deployment, whether it is to visualize a scene after or during a disaster, to save Notre–Dame, or today to fight against the Coronavirus."
Thermal Imaging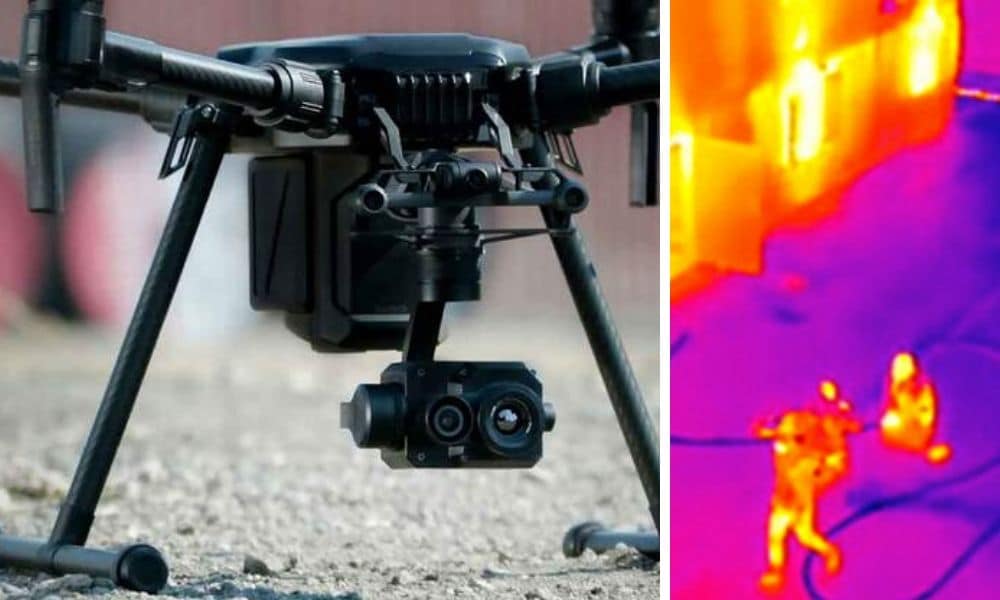 At the moment, only a few French cities are resorting to drones and only to deliver messages. But according to Jean-Baptiste Pietri, things could change as the situation in France evolves.
"Other solutions can be implemented as the health situation evolves. For the moment, drones are being used for surveillance. But they could also be equipped with thermal cameras to monitor body temperature."
Authorities are indeed considering equipping drones with thermal cameras for temperature monitoring as Chinese authorities did. DJI has already partnered with FLIR to develop the Zenmuse XT and Zenmuse XT2, a thermal imaging camera that can be mounted on DJI Enterprise industrial UAV platform, Olivier explains.
"The Zenmuse XT2 is a powerful thermal imaging camera that transforms data into actionable insights. Its gimbal-stabilized, dual-sensor design combines an advanced FLIR® radiometric thermal imager and a 4K visual camera to allow drone operators to view thermal and visual data while in flight, delivering an unmatched level of versatility and image detail for high-performance uses from industrial inspections to public safety operations."
According to DJI, such drones could diagnose cases of fever from a distance of 3 meters away.
Disinfection of Public Areas
Olivier Mondon adds that drones could also be used to disinfect public areas as it was done in China, South Korea and more recently in Indonesia.
"In an effort to disinfect public spaces and prevent the spread of COVID-19, local authorities in China and South Korea have been testing ways to deploy agricultural spray drones to disinfect these areas more effectively. While the effectiveness of this new disinfection process has yet to be rigorously measured, the speed and area covered by the process are unprecedented. Spray drones can cover 10.000 m2 in one hour with a 16L spray tank."
According to Jean-Baptiste Pietri, his company is ready to deploy DJI's agricultural drones AGRAS, if French authorities ask him to. These drones, much bigger than the Mavic line, are normally used for spraying.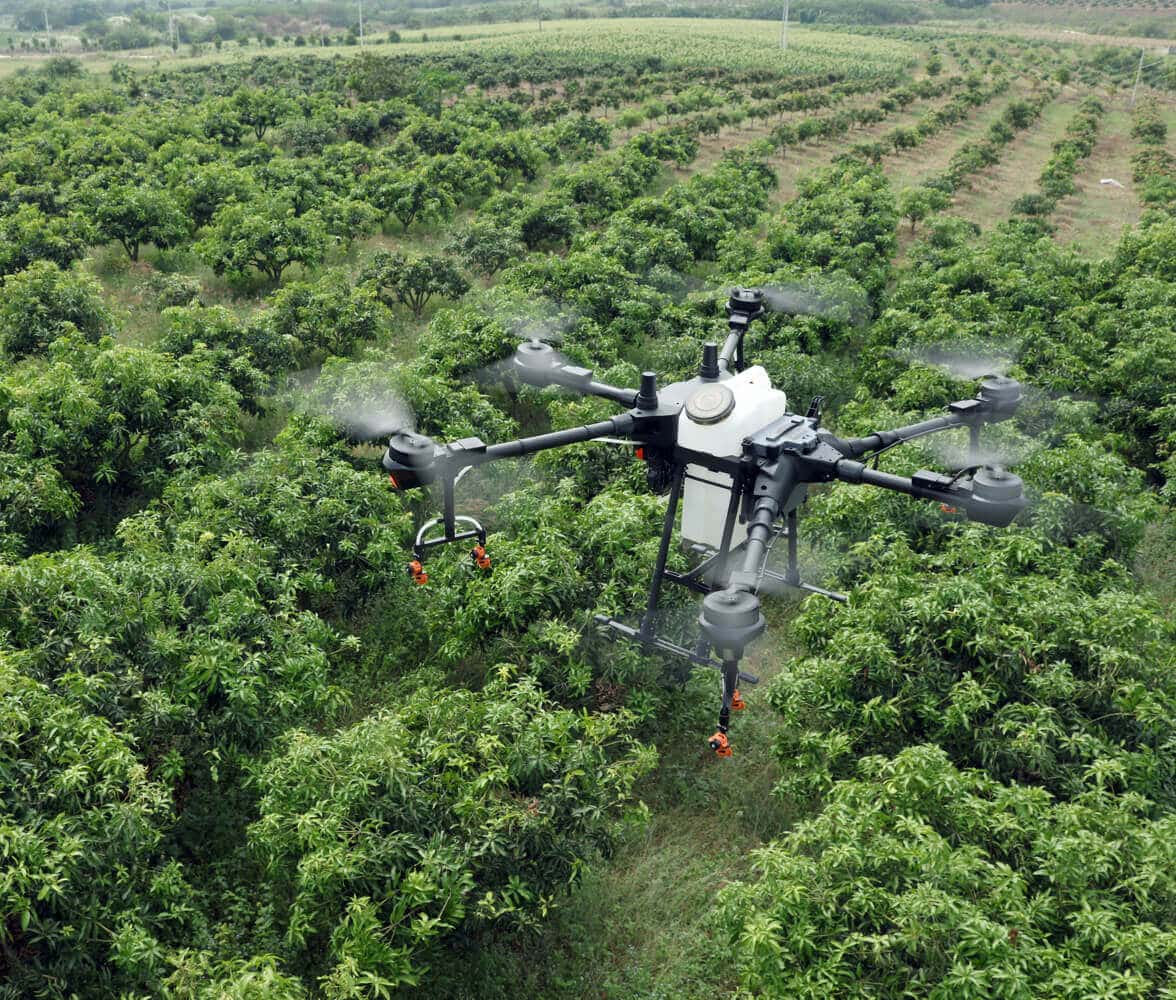 Drone Delivery
Drone delivery is another popular topic, according to Olivier Mondon.
"As the epidemic has confined millions of families to their homes to avoid any contact, non-contact delivery through drones could give assistance to these households. Organizations could send food, supplies and medicine to anyone in need."
In Italy, the Italian company Elite Consulting has designed a box suitable for moving swabs and medicine with a DJI drone. This could be of great help to the country which suffers the highest death toll due to coronavirus. People have been in quarantine since March 9 and the lockdown should be extended beyond April 3.
Besides, drones could also facilitate fast transportation of Covid-19 test specimens to laboratories or hospitals at a time when quarantine imposes minimum social interaction.