The COVID-19 pandemic is sparking a wave of medical innovation. Much of this innovation involves finding reliable ways of maintaining distance from those infected with the virus and preventing the spread of germs. Researchers at Johns Hopkins University have developed a robotic system that enables remote control of ventilators and other medical equipment.
This article was initially published in our sister publication MedicalExpo e-magazine.
Many of those worst affected by COVID-19 have been admitted to intensive care units (ICUs), where they are surrounded by bedside equipment such as ventilators and infusion pumps. Much of this equipment has to be directly operated by doctors and other healthcare providers, heightening the risk that they themselves will become infected.
This risk could now be mitigated significantly, thanks to a groundbreaking robotic system developed by researchers at Johns Hopkins University's Whiting School of Engineering and respiratory clinical staff at Johns Hopkins Hospital. The system, which is still being tested, will allow healthcare practitioners to remotely operate ventilators and other essential medical equipment, putting distance between them and patients with infectious diseases, such as COVID-19.
Successful Trial
The robotic device, which can be attached to a ventilator touchscreen, looks like a computerized engraver, with a framework of bars that enables the movement of a stylus in two dimensions. A camera connected to the top bar sends an image of the screen to the tablet of the operator, who is located outside the room containing the patient. The operator uses the tablet to tell the system where on the screen to apply the stylus, essentially replicating the touch of a human finger.
During a recent trial at the Johns Hopkins Hospital Biocontainment Unit, Jonathan Cope, a respiratory therapist who assisted with the project, successfully used the new robotic system to change the oxygen percentage and volume delivered by a touchscreen ventilator attached to a dummy in an adjacent room. He said:
"A few years ago, it would have seemed crazy to control life support equipment remotely. But not given today's existing environment. There is a huge need for this. It will definitely end up in ICUs in the coming years."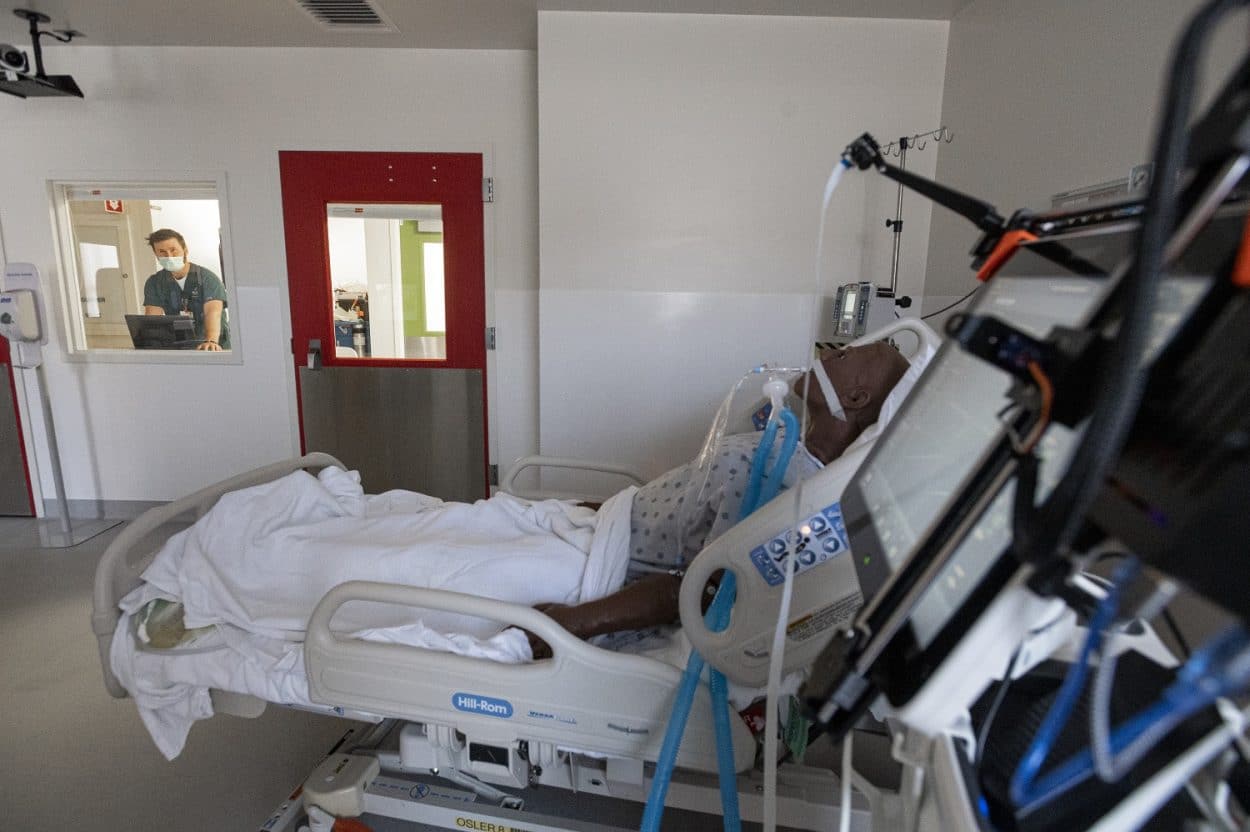 Preserving PPE
In addition to keeping medical personnel away from potentially infectious environments, there are additional benefits to the new robotic system. Its deployment could also help hospitals preserve valuable protective gear and give medical staff more time to perform essential clinical work.
The COVID-19 pandemic has given rise to a huge increase in highly contagious, intensive care patients. Attending to these patients means healthcare practitioners need to put on fresh protective gear every time they enter the room where the patient is being treated. This laborious process uses up precious supplies of personal protective equipment and wastes medical staff's time. It also places extra demands on human resources, as security procedures typically mean an additional person has to assist with the changing of gowns, gloves, masks and other gear. Cope said:
"The system will be a force multiplier for our frontline clinicians. Being able to save time and deliver more care to more patients will pay huge dividends when we face massive patient surges during pandemics."