Covid-19, labor shortages, war in Ukraine, geopolitical tensions, climate change. The challenges that the manufacturing industry has confronted in recent years are significant. So, how can the sector effectively address these challenges? The answer lies in automation. During this year's Automation Fair, hosted by Rockwell Automation in Boston, CEO Blake Moret elaborated on the transformative potential of automation for the industry. He emphasized, "We depend on manufacturing and automation to preserve our quality of life."
The present time has never been more complex. From geopolitical tensions and supply chain disruptions to skill shortages and sustainability concerns, the challenges for any industrial company are on the rise. Simultaneously, technology is advancing at an exceptionally rapid pace. Look at Chat-GPT, which, in just a year, has redefined many facets of our world.
For Rockwell Automation, this unprecedented excitement represents a great opportunity for automation. During his keynote at Automation Fair last week, CEO Blake Morret stated:
"If we think about the manufacturing plants closing during COVID with shutdowns, we recognize how much we depend on manufacturing and automation to preserve our quality of life. You just can't do a lot of the things in manufacturing through purely manual processes. There's too many of us, there's too much of a requirement on quality. Think of all those doses of COVID vaccine, you couldn't do that manually. You can't package food, you can't build cars without a certain degree of automation intensity. Robots obviously continue to be more and more important. I think that's what's gonna sort out the winners and the losers going forward is if we can simplify this whole business of applying the technology with people who are comfortable interacting with it."
Rockwell Automation is currently strategically investing in three technologies to pioneer the future of industrial automation: Autonomous Mobile Robots (AMRs), cobotics, and generative AI.
1/ Generative AI For Industrial Automation
The most significant topic that was discussed during Automation Fair this year is how Rockwell Automation is working on bringing generative AI capabilities into industrial automation together with Microsoft.
According to Judson Althoff, Chief Commercial Officer at Microsoft on the stage at Automation Fair.
"Generative AI is bigger than the internet. Generative AI has the opportunity to impact a lot of different ways in which people work from individual productivity to democratizing experiences, accelerating learning curves and driving more inclusive collaboration."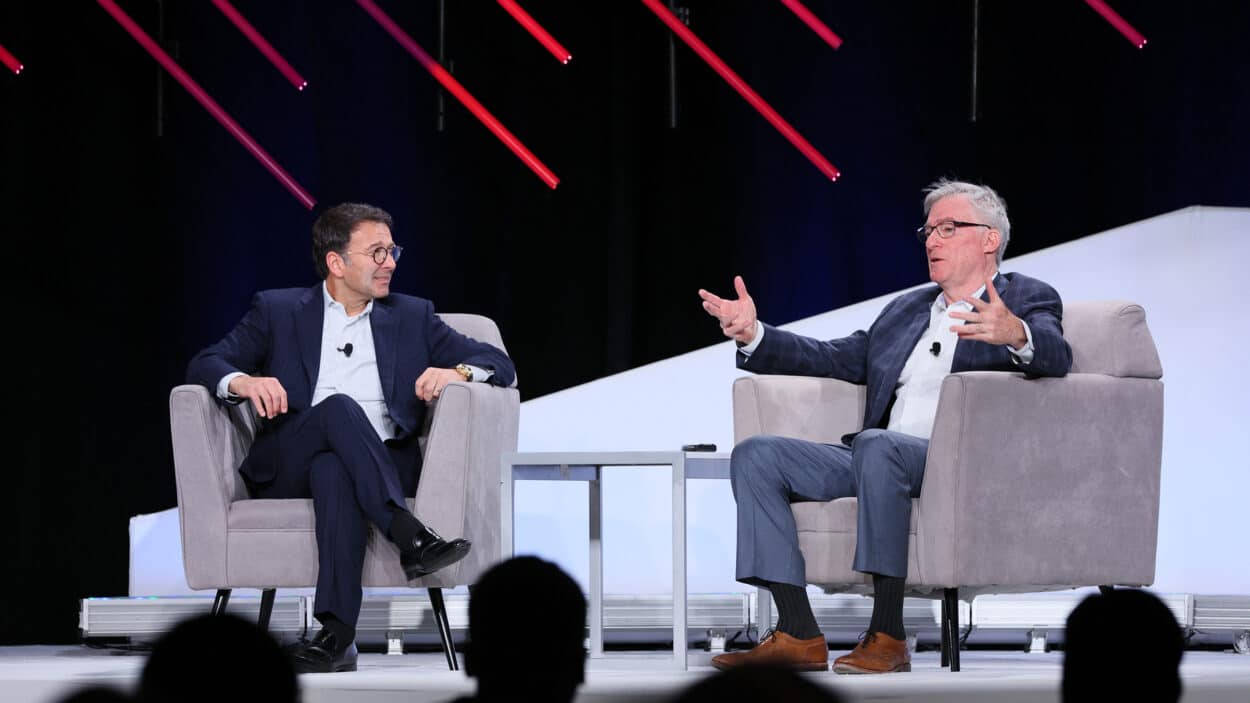 A Chat-GPT-Inspired Co-Pilot For Automation
Part of this collaboration is the integration of Microsoft's Azure OpenAI Service into Rockwell's FactoryTalk design studios in the form of a chat-GPT-like co-pilot.
The goal is to help Rockwell's customers who are building industrial automation systems to generate code using natural language prompts. This can also help engineers automate routine tasks and improve design efficiency.
This idea is to simplify the coding process for example for controlling a pump or a valve for individuals less experienced in coding. Code snippets generated through natural language prompts provide a starting point, helping users overcome potential "coders block" and guiding them in the right direction. The Q&A capability, powered by generative AI, enhances the user experience by fetching information from product help files and presenting answers in a human-readable format.
In a demonstration, Adam Gregory, lead commercial products manager at Rockwell Automation, explained:
"Let's say I want to generate a simple code to control a pump. The LLM, the large language model, is not specifically trained in automation, but we at Rockwell do have that automation knowledge so we can provide our domain-specific language. And what you can see is that the generative AI was able to produce a code snippet for me on how to control a pump. Now, in this case, the generative AI has decided that the best way to do that is to use a latched and unlatched model."
The system is flexible as users can refine the generated code based on their preferences without leaving the product environment. The iterative process allows users to interact with the system, offering feedback and requesting adjustments.
Not An Autopilot
They did not use Chat GPT directly because of its lack of specificity to automation. However, FactoryTalk Design Studios leverages the same LLM underlying Chat GPT 4.0 while enriching it with Rockwell's knowledge. This involves supplementing the prompt from the user with Rockwell's dataset, incorporating sample code, domain-specific language references, coding best practices, and ladder instruction references. This information therefore users with comprehensive and accurate responses tailored to the automation context.
But Adam Gregory adds,
"This is meant to be a co-pilot, a partner programmer, not an autopilot. It's not going to automate all of the project creation for you quite yet."
The co-pilot is still a prototype. Rockwell doesn't have a time frame for when it will be fully available on the market. But they say the first feedback from their customers is promising.
2/ Autonomous Mobile Robots (AMR)
Solving the Labor Shortage
Rockwell has never really addressed the logistics sector in the past. But the company now believes the transformation of production logistics is a huge opportunity for companies to both optimize their production and solve the labor shortage, explained Tessa Myers, Senior Vice President, Intelligent Devices at Rockwell Automation.
"Labor shortages along with an aging population will continue to constrain the world's workforce and the sector significantly impacted is really in manufacturing. In our State of Smart Manufacturing report, nearly half of the industry leaders who responded, reported that a lack of skilled labor was the single biggest barrier for them to be competitive in their businesses. Deloitte and the Manufacturing Institute have been studying the skilled labor shortage for some time. By 2028 they were projecting that 4.6 million skilled labor jobs will be created and approximately half of those will go unsourced. This is an absolutely critical challenge and opportunity for manufacturers to embrace new automation like autonomous mobile robots to help elevate their workforce into the most impactful jobs to keep those plants coming."
In order to enhance its portfolio of services and respond to the growing demands of its customers, Rockwell has recently bought Clearpath Robotics and its division, OTTO Motors, which manufactures autonomous mobile robots to safely move materials inside of facilities. Autonomous material handling and autonomous production logistics are definitely Rockwell's next frontier, stated Tessa Myers:
"How products move through the manufacturing plant today is very people-intensive. It's pretty manual, with people driving forklifts, and people pushing cars. And so it's a huge productivity opportunity for us to reconsider the way that materials and finished products move through a plant, optimizing how production flows and optimizing where we can put people on the most important work. The addition of autonomous mobile robots really gives us a full portfolio of material movement."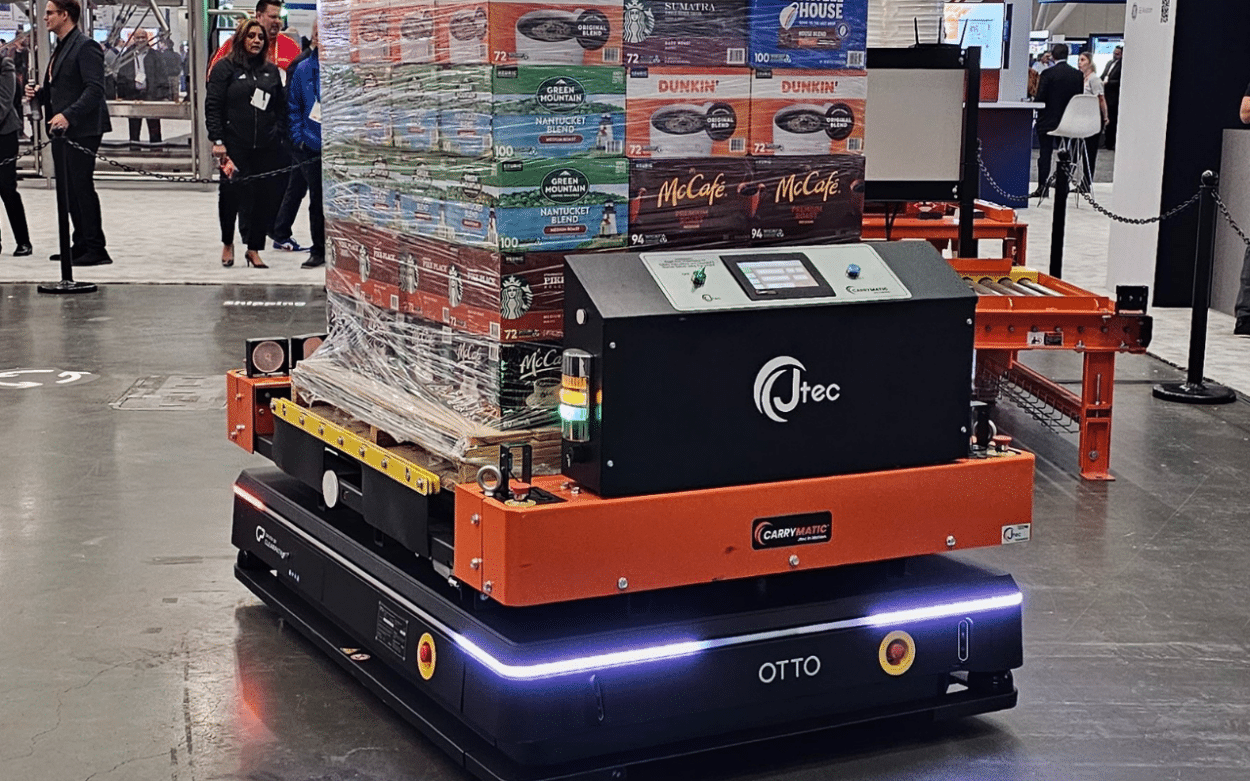 The Clearpath Robotics / OTTO Motors Acquisition
Clearpath Robotics was founded in 2008 by 4 people including current CEO Matt Rendall, and CTO Ryan Gariepy. At the time, the company wanted to focus on building autonomous mobile robots to detect and clear minefields, hence the name Clearpath Robotics. But it did not quite work well in that (land)field and in 2013, the quartet decided to reorient its business to material handling, explained Matt Rendall:
"We live in a manufacturing world. We focus on manufacturing environments. We have really catered our solution at the vehicle level and the fleet management level as well as the services that we wrap around it to help the busiest manufacturing plants in the world to solve really difficult complex material handling automation challenges. OTTO Motors today is deployed in factories all over the world helping manufacturers transform the way materials move, allowing them to get the right part to the right place at the right time every time."
OTTO Motors manufactures different AMRs aimed at various applications. The initial product, the OTTO 1500, focused on moving pallets in manufacturing environments and gained momentum in large manufacturing plants, successfully handling heavy pallet-scale loads. The OTTO 100 was introduced for more human-scale loads. Then the group developed the OTTO Lifter, an autonomous forklift.
For the vehicles, OTTO Motors has developed an end-of-arm tool attachment interface that is similar to the one for the traditional industrial robot industry in order to efficiently move materials onto and off of OTTO automatically. This attachment interface plays a crucial role in deeply integrated manufacturing environments, where the vehicle interfaces with automated processing equipment, seamlessly handling the transfer of materials within the industrial workflow, explains Matt:
"We have lasers and cameras and advanced AI running the control system on board our vehicles. This allows each OTTO to perceive its environment, understand and make decisions about where it is, where it needs to go, and how to best get there. As with all operating environments unknowns arise, there's a dynamic, chaotic nature to an operation and the vehicle needs to be intelligent enough to respond to the unexpected and keep that part moving so that the line can keep running. That's at the vehicle level."
Each vehicle is then networked to the fleet manager. It is similar to an air traffic control system and it makes sure that the right vehicle gets assigned the right job. The fleet manager also incorporates two essential APIs – one based on OPC UA for connecting with the factory control layer and another web-based API for interfacing with MES or ERP systems supervising manufacturing operations.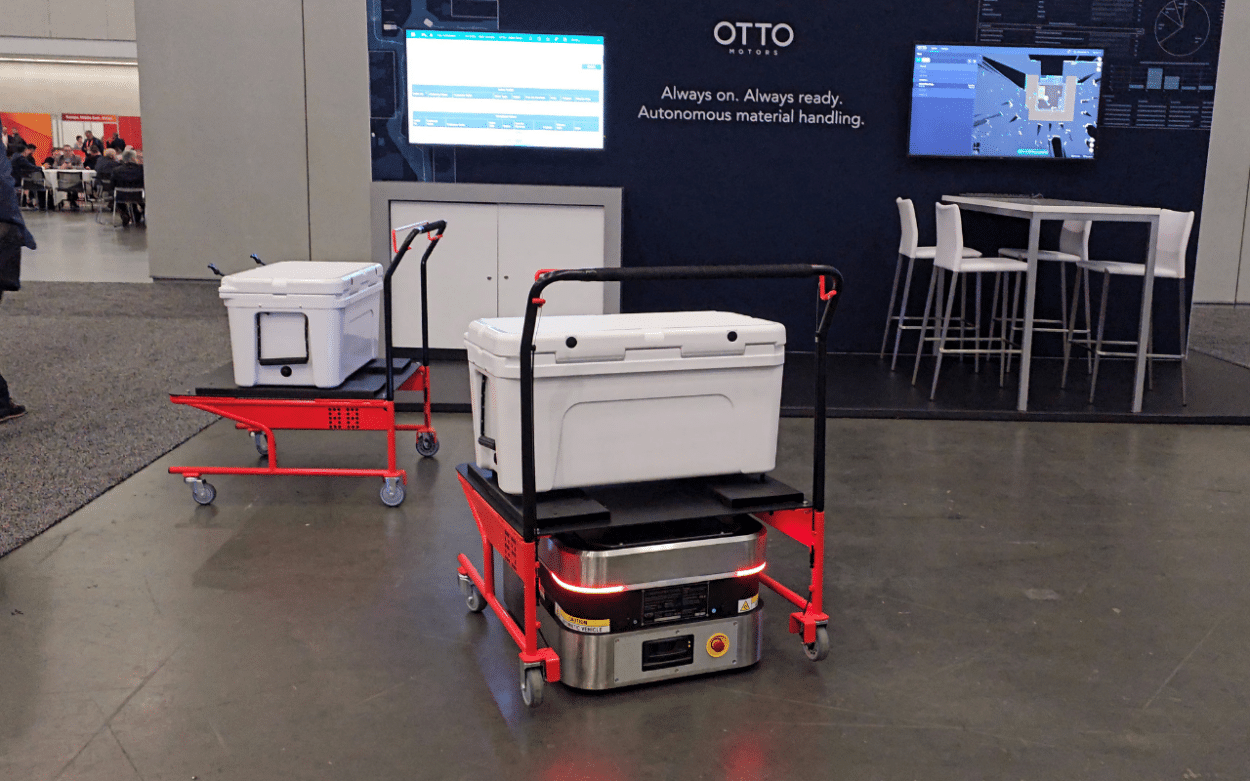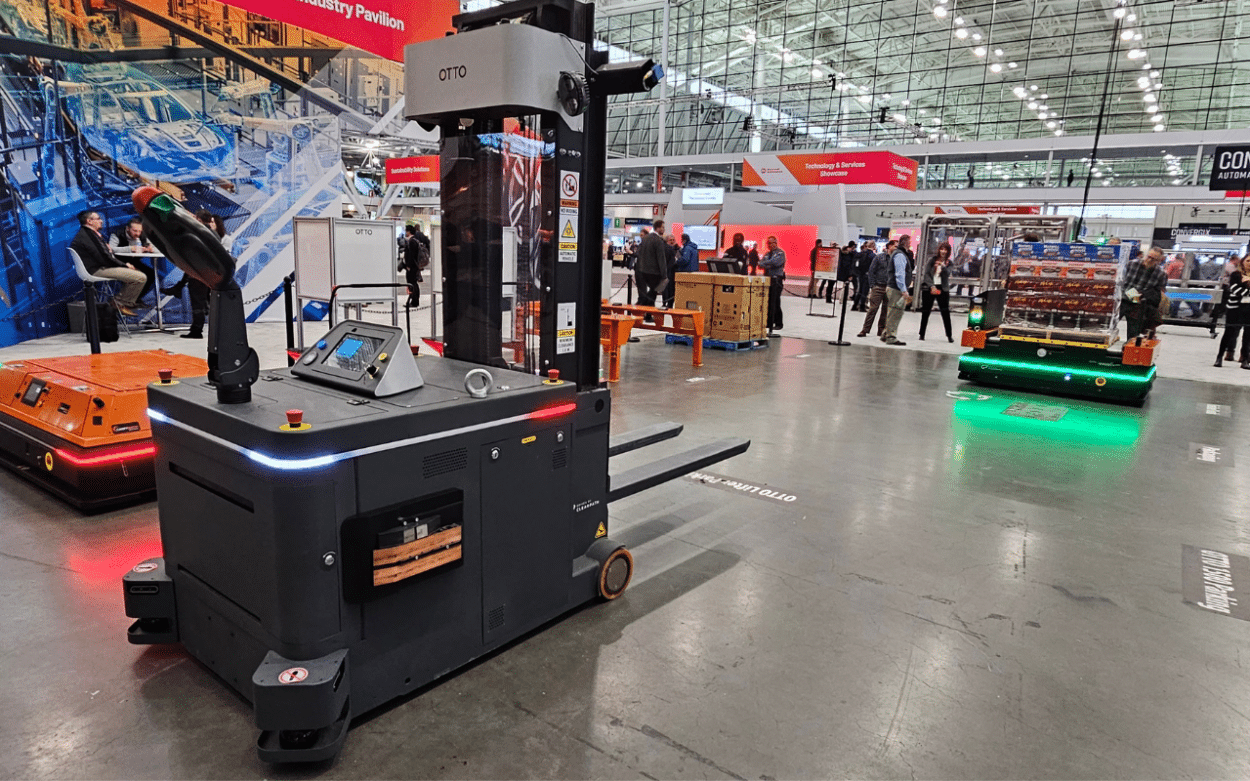 Material Handling Automation
The objective is to enhance the efficiency and adaptability of autonomous vehicles in complex industrial settings. However, the focus on AMRs is not to replace the well-established routes efficiently handled by AGVs or conveyors but rather to address the uncharted territories within the factory – the delivery routes where traditional material handling automation has historically faced limitations.
"The way that I like to think about a busy factory is it's basically an indoor city and you need different modes of transportation for a city to function. An AGV or conveyor behaves on a fixed track like a train or a subway. And you need a train and a subway in order for a busy city to function properly. But you also need taxicabs. And so our focus is really not to displace the delivery routes where an AGV or a conveyor works. If an AGV or a conveyor works in that particular delivery room, you should probably use a conveyor or an AGV because it's been doing it for 30, 40, or 20 years. And so the efficiency that you get from all of the value engineering that has happened over those many decades is gonna lead to a lot of benefit from the end user. In that particular case, what we're focused on is solving the delivery routes that traditional material handling automation has never been able to access. That's a really big exciting opportunity."
Applications in the Automotive Industry
OTTO Motors and Rockwell Automation see a lot of potential applications in the automotive industry (before the acquisition by Rockwell, one of OTTO Motors's major clients was Toyota). With approximately 10,000 parts per automobile and a rate of one car being produced every minute, the logistical symphony required for the seamless assembly of a vehicle demands intricate material handling, going from the warehouse to the assembly line. Hence the importance of AMRs.
"I think we're gonna continue to see a very strong demand inside the auto entire vertical. And within that, there's a huge wave of battery EV overall happening in the automotive manufacturing ecosystem. So we're seeing a very strong call, there's an opportunity to rewire the mode of transportation for battery EV."
3/ Cobots on AMRs?
Then, how can Rockwell Automation continue to accommodate the growing needs of their customers particularly in the logistics sector? What is the next step for them to further enhance their automation portfolio? Cobotics seem to be the next big thing.
Rockwell recently signed a Memorandum of Understanding with Korea-based cobotic company Doosan Robotics. Both entities agreed to further integrate the companies' robots and controllers, as well as develop robotic and other technologies for automation facilities, smart factory construction, and other applications for their customers globally. While Doosan Robotics will become a long-term robot supplier for Rockwell's manufacturing operations, the American automation leader will provide automation solutions for Doosan Robotics.
At Automation Fair, we met with a spokesperson from Doosan Robotics who told us more about their strategic partnership with Rockwell,
"From Rockwell's perspective, I think it will be good to have a collaborative robot line. I'm pretty sure they are picturing something big. From our side, I think it's a very good opportunity for us to leverage Rockwell's relationship with their end users."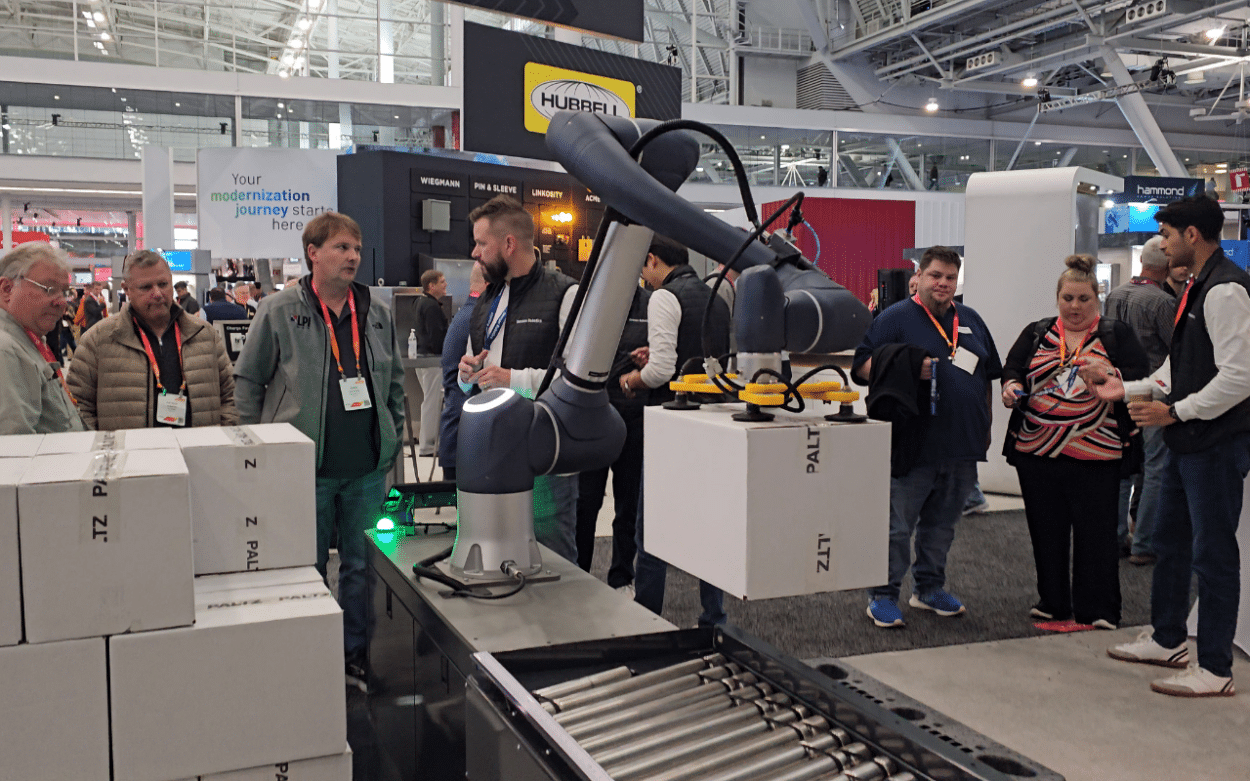 A pivotal aspect of this collaboration is the ease of control for end-users. Simplifying the control mechanism for robots is crucial, and the partnership aims to streamline this process. By working with Rockwell, Doosan Robotics expects to integrate its controller into Rockwell's Logix system. This integration will not only facilitate seamless control but also will align with the end user's preference for a unified system. It will therefore be possible to operate both the AMR and the collaborative robot through a single controller.
The question arises about Rockwell's potential acquisition of Doosan Robotics, just like they did with OTTO Motors, particularly considering the absence of collaborative robotics in their current offerings.
"I'm not sure what they are thinking about in terms of acquiring a collaborative robot line, but we are currently working on this strategic partnership. They have indeed purchased OTTO but they don't have a collaborative robot line."
But for our spokesperson, this technology partnership is an opportunity for Doosan Robotics, to collaboratively work on integrating a manipulator onto an AMR, therefore
"eliminating the necessity for Rockwell to acquire a separate collaborative robotics company".
Yet.