Automation Fair, Rockwell Automation's annual rendez-vous, took place last week at McCormick's exhibition hall in Chicago. The last in-person edition was in 2019, before COVID-19. The world has changed since the pandemic, forcing the manufacturing world to shift as well. New challenges have emerged including skill shortages and new industry needs have surfaced such as simplification and sustainability. These new stakes and how manufacturers and OEM will respond to them will determine their future in the next few years. How can automation technologies help the sector throughout its unavoidable digital journey?
"The world changed," Rockwell Automation's CEO Blake Morret stated during his opening keynote at Automation Fair in Chicago last week.
It has only been 3 years, but the world as we knew it before the pandemic no longer exists. In 2020, a mysterious virus forced the world to go into lockdown, factories to close, production to shut down and people to work from home.
Then, as the crisis in many countries was getting worse and we were facing a mask and ventilator shortage, several automotive and aerospace firms retooled their productions in order to manufacture medical equipment such as ventilators to help healthcare workers.
People working from home started using cloud-based solutions to keep factories operating remotely. Augmented reality ensured continuity of service and helped conduct maintenance routines with the few workers on site, when most of the operators were home.
RELATED ARTICLE
Automation technology certainly helped manufacturing companies that were already engaged in their digital transformation cope with the effects of the COVID-19 pandemic. And it will definitely help them deal with the new challenges that have emerged. But for those who haven't started their digital journey yet, it is now a matter of life and death.
We've outlined below the critical issues at stake for the future of manufacturing companies as well as how advanced tools can help address them.
1/ How to Mitigate Skill Shortages?
One of the most preoccupying challenges the manufacturing sector is facing today is labor and skill shortages. According to various studies, this lack of manufacturing skills could prevent manufacturers from achieving their true digital transformation.
The challenge for the manufacturing sector is huge as it has to meet very high demands from every industry, as Tessa Myers​, VP of Intelligent Devices at Rockwell Automation explained during her keynote at Automation Fair:
"Customers want new products. They want different types of packaging and sizes, and they want as much personalization as you can give them. And this is impacting all consumer-facing industries, from packaged food to even personalized medicines. The packaged goods market averages 30,000 new products launched each year."
But for Dave Vasko, Senior Director of Advanced Technology at Rockwell Automation,
"What's keeping us from getting there? It's the workforce. We don't have enough manpower."
There are currently 800,000 unfilled domestic manufacturing jobs in the USA. Research from consulting firm Deloitte estimates that by 2030, 2 million manufacturing jobs will go unfilled in the country, potentially costing the US economy 1 trillion dollars. In another study, consulting firm McKinsey reported that unfilled jobs were a primary reason that 7 out of 10 industrial companies fell behind in their scheduled production.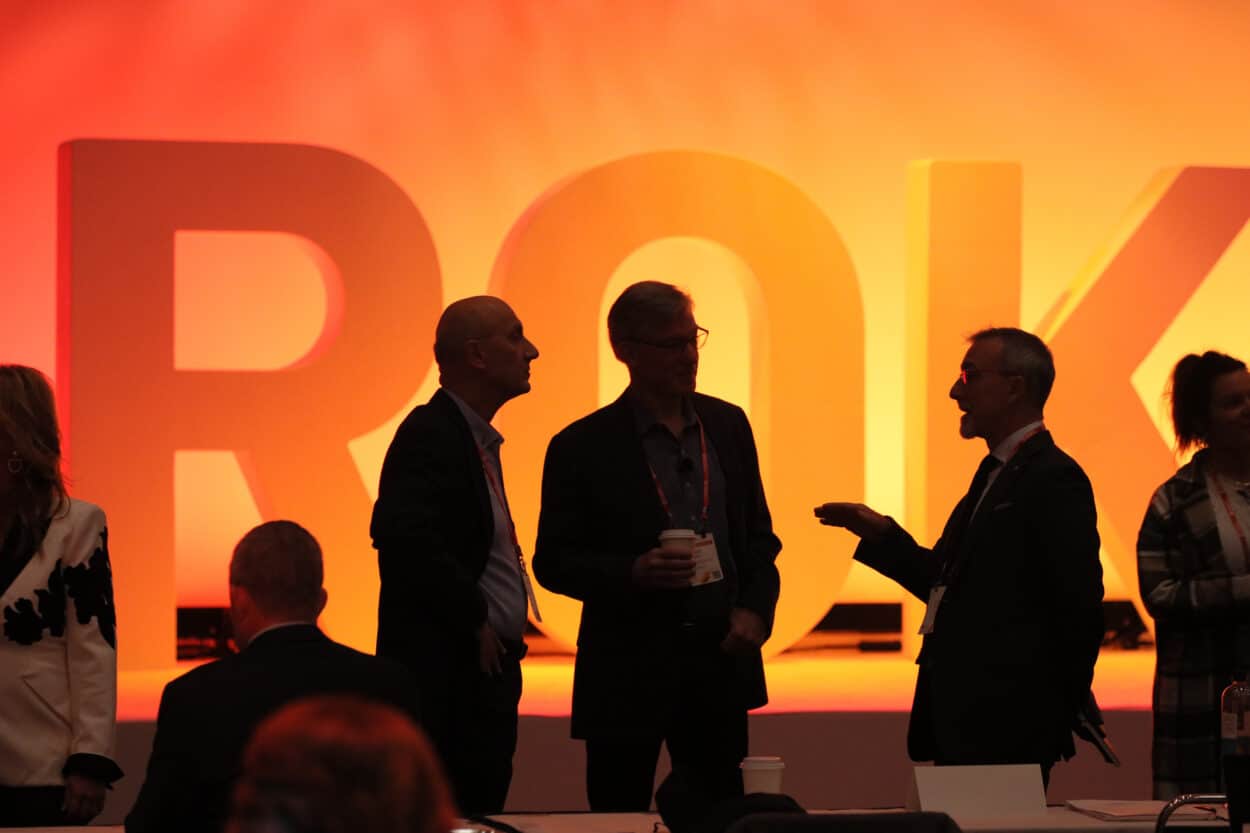 So how can the manufacturing sector adapt?
Giving Workers Superpowers
Jerry Foster is Research and Chief Technology Officer at Plex. The company makes cloud-based MES (manufacturing execution systems) software. According to him,
"We are not going to be able to fill all of the open jobs if we don't make our existing workers more productive, more effective, and more efficient. That's the only way. Technologies like cloud, AI, AR, robotics, and automation will give us a fighting chance against what's coming in the next 5 to 10 years."
Optimizing production and productivity is what Rockwell Automation has been doing for many years, as there are many tasks that cannot be done manually. Blake Morret recalled:
"You cannot have a competitive automobile at scale, at speed, at quality without a lot of robots in the mix. You cannot make 4 billion doses of vaccines without automating the front end as well as the back end packaging."
But today, the objective has also become to empower workers and give them superpowers with the help of technology.
Cobots, for example, can quickly be taught by human workers to perform repetitive tasks, therefore increasing overall productivity.
Digital twins of industrial workplaces also have great value. By using AR goggles inside a virtual replica of a production line, workers can simulate and test processes virtually and then be more productive on-site.
For Mr. Vasko
"We have to make sure workers have the tools they need to become more productive and increasingly more effective."
Mr. Jerry Foster adds:
"Automation brings about a whole new set of skills that are required for our workforce. Some upskilling is going to be necessary such as digital skills, data skills, and soft skills. The objective is to show that manufacturing is cool, high-tech, and challenging. It's not your father's manufacturing!"
Reducing the Footprint
For Ms. Myers, mitigating the lack of manufacturing skills goes hand in hand with reducing factory' footprint.
"Without skilled labor, and with this wide variety of products we want to deliver to our customers, I think we have to reconsider the way that materials and finished goods move throughout a plant, throughout the process, throughout the equipment to be able to handle a variety of products with the least amount of labor. This is an opportunity to shrink the footprint of your production plants and equipment to moving products to mitigate labor issues."
The use of intelligent conveyor systems such as Rockwell's new QuickStick 150 intelligence conveyor system is booming. With independent cart technology, workers can instantly change product packaging and equipment without lengthy changeover cycles.
2/ How to Accelerate Automation Deployment?
Blake Morret recalled that one of the key things Rockwell Automation can offer to accelerate automation deployment and help mitigate the labor shortage is simplification.
Simplifying the complexities of manufacturing
"Simplification is going to sort out the winners and the losers in this business over the next 10 years. Simplification of the technology, simplification of the business models. Industrial systems are highly complex. But by putting tools and the user experience on top, we can simplify the way humans interact with the system."
If automation technology such as robotic systems hasn't traditionally grown faster, it's because it was complex recalls Tessa:
"Historically, integrating robots and any mechatronics into systems was arduous and time-consuming. You needed very specialized skill sets, multiple hardware platforms, and multiple types of software to work with."
The company did a lot of work to break down the barriers to adopting robots in manufacturing processes. They came up with a unified approach to eliminate the need for separate controllers for machines and robots.
They partnered with robot manufacturer Comau to provide a unified robotic solution with the latest version of Logix and Studio 5000.
While before, a Comau robot had a separate controller, with a separate programming loop, and the conveyor was programmed in Logix, the company now offers an integrated architecture that could prove useful for manufacturing companies that have few engineers. The new system minimizes labor requirements as a single engineer can now program several robots and automatons.
Reducing Programming Times
The whole point is to enable companies to rapidly introduce automation and process systems into their facilities around the world. Rockwell's new Flex HA 5000 high availability I/O contributes to the simplification required in manufacturing, Tessa Myers explained:
"It's a highly configured process I/O platform purpose-built for the robust requirements of process applications, with redundancy in the I/O and networking. It speeds up installation times and cuts programming time by 50% compared to traditional systems."
One of Rockwell's OEM clients, Hirata, provides equipment to automakers including Subaru and Hyundai. As the automotive sector is scaling rapidly, automakers need Hirata's equipment more quickly to ramp up the market. So Hirata had to improve total efficiency and reduce the footprint of their machines by a third to be able to meet the demand.
They have achieved very rapid deployment of automation technology, using some of Rockwell Automation's solutions including GuardLogix, Kinetix servo control, and Powerflex drives.
According to Tessa,
"They were able to reduce programming hours by 30%, the footprint of their equipment by 30% and achieve 10% faster installation and startup times."
Providing Pre-Conceptualized Solutions
COVID-19 highlighted the need to quickly automate assets in order to rapidly provide solutions.
In addition to Rockwell Automation's portfolio of hardware, software, and services, the company is now providing new industry solutions to accelerate automation deployment.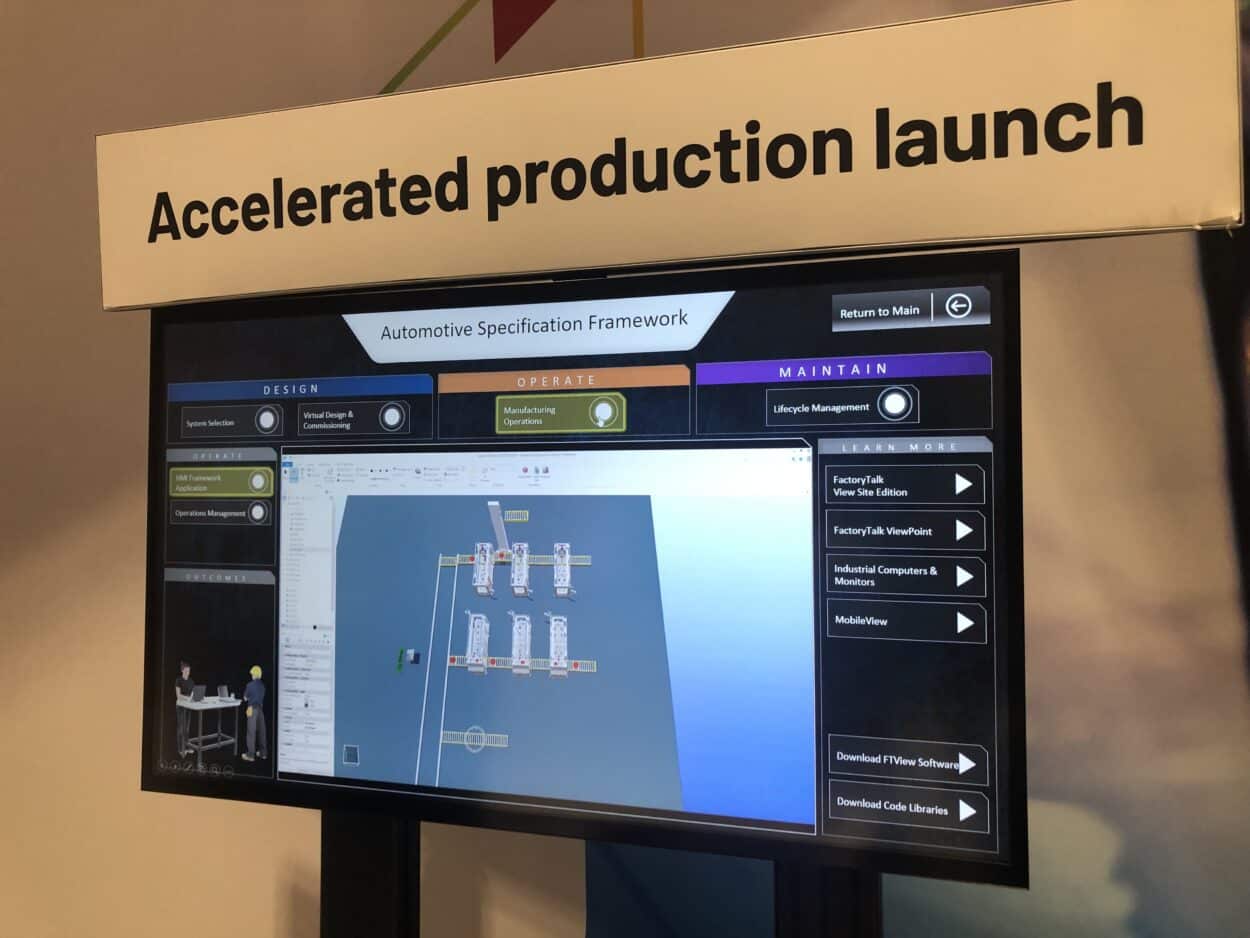 Blake Morret explained:
"The things that we have learned to do over the last couple of years are to take our products, our software and our services and combine them together for outcomes focused on industry needs. We've added capabilities, found new ways to win to be able to play an earlier more meaningful role in a company's overall digital transformation."
Dominique Scheider Transportation and Logistics Strategy Manager at Rockwell explained:
"This is new at Rockwell. The idea is to provide an encapsulated solution as a successful driver for certain applications. We have sufficiently advanced pre-engineering so that when the customer starts his or her automation project, whether it concerns continuous or discrete processes it does not start from scratch. Instead of developing everything, we offer a results driver."
The company pre-launched during Automation Fair 2022 its new « Automotive Specification Framework" solution that simplifies, unifies, and reduces the disparity of codes between programmers to ease implementation and accelerate the product launch time.
This is an overarching framework on top of Rockwell's existing development tools. It includes the components library that allows building a digital twin in Emulate 3D, by dragging and dropping objects such as conveyors and robots or imported CADD models.
"This will help engineers because there is also a library of functions. The chosen component comes with instructions. For example, if I choose a conveyor, the component comes with pre-programmed instructions to automatically generate the Logix PLC code. So the engineer doesn't need to write the whole code prior a 3D animation. We offer a standard that helps save time for code generation and reduce the number of human errors. The goal is to reduce the engineering burden for our customers, to focus on the final code assembly.."
This type of solution can also be used by newcomers and start-ups that do not have any standards or any established programmer engineers, like for example in the EV market.
It can also help companies rapidly restart projects that stopped during the pandemic. This is the case for example in the Middle East with the oil & gas sector.
3/ How to Make Industry More Sustainable?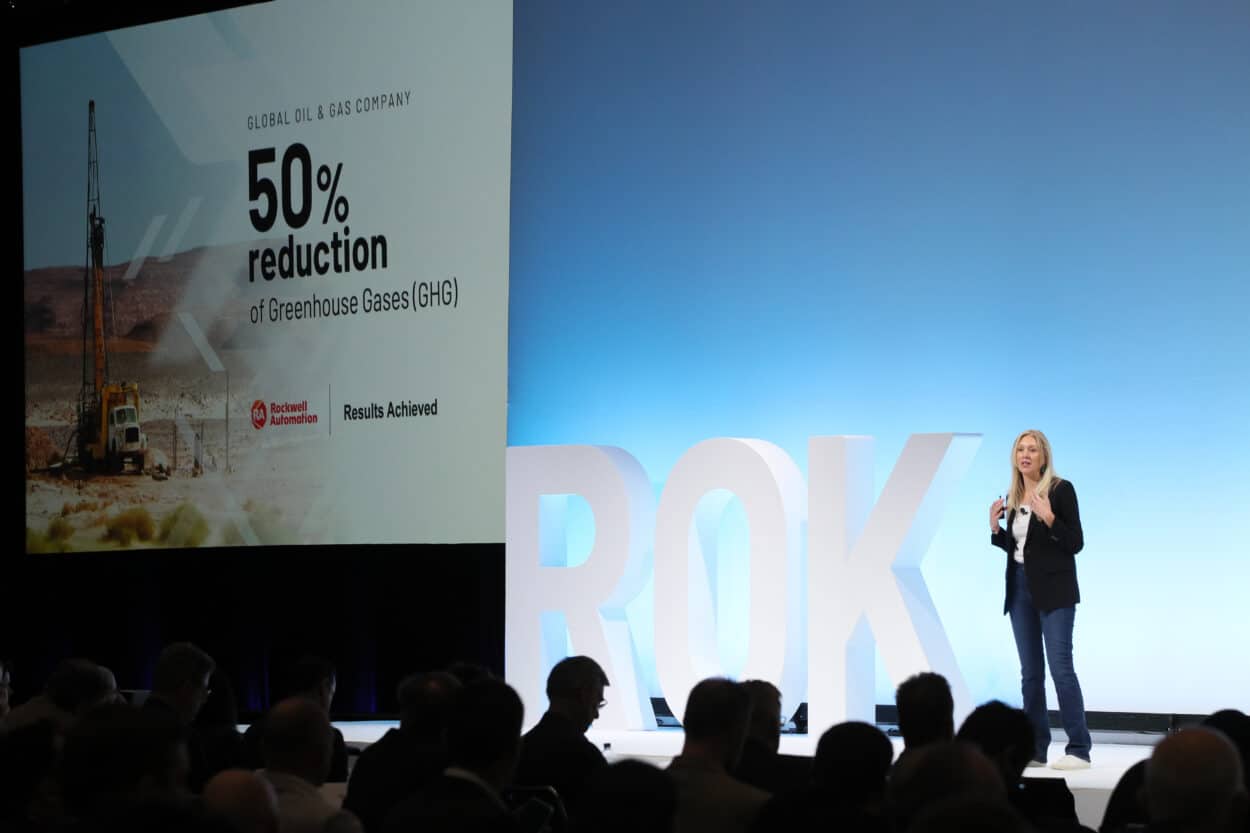 Sustainability was a key topic during Automation Fair and it's making its way to the top of the list for all companies.
But according to reports, less than 25% of companies are on track to meet their sustainability goals. Sustainable efforts have to be data-driven to drive a reduction in waste and energy and improve processes, Tessa Myers explained:
"We are investing in an infrastructure that's going to provide the data that's needed to drive resiliency and sustainability through the improvement of operations and processes. The idea is to connect data sources together, and add context to that data to provide insights on how to drive process and operational improvements."
The company is providing efficient solutions to help manufacturers reduce their use of gas, water, electricity, and steam. They provide the visibility and then the ability to manage shedloads, and balance usage to avoid rate spikes and peaks.
They have for example designed an energy-savings calculator that can be used in facilities that use electric motors. With this calculator, companies can estimate their energy and carbon-emissions savings when their electric motors use variable frequency drives (VFDs).
Rockwell Automation's GuardLink technology also helps companies be more efficient in order to consume less energy. The solution enables manufacturers to understand the health and diagnosis of their safety sensors and devices and to identify where a safety stop has occurred and recover quickly.
"We have applied AI in our drives which improves drive performance and provides diagnostics and health data of the components so that predictive maintenance actions can be taken before a failure occurs."
Rockwell also has an upcoming technology called "energy savings as a service" that is supposed to go one step further. More news on this will be available at the end of the year.