Fifteen years ago, D3O's "soft armor" was first worn by Olympic athletes. Today the impact protection material is used in an array of Personal Protective Equipment (PPE).
D3O's impact protection properties are demonstrated using an orange goo that you can wrap around your hands and then if you whack with a mallet, you will notice that nothing happens to your hand. The first D3O material was developed by Philip Green and Richard Palmer, two inventors who were finalists of the European Inventor Award 2019, organized by the European Patent Office (EPO).
D3O materials, which are very appreciated for their flexibility in normal conditions and their protection in case of impact, are used in many types of protective equipment.

Mostyn Thomas, General Manager at D3O, explains the company was founded by an extreme sports enthusiast who was looking for armor that would protect him, while also being thin, soft, flexible, breathable, and comfortable to wear.
"D3O soft armour was first used by the US and Canadian Olympic Ski teams at the 2006 Olympic Winter Games. With roots in sports, the business grew its applications across multiple sectors including motorcycling, with market-leading CE-certified products to enhance rider safety, and defence, with head protection systems now protecting the US Army against modern battlefield threats."
Advanced Protection
UK-based D3O also now focuses on PPE for industrial workers, as well as solutions for electronics protection, such as phone cases and screen protectors.
Its portfolio includes more than 30 technologies and materials, including Impact Print, Impact Additive, set foams, formable foams, set elastomers and formable elastomers.
Products include off-the-shelf sheet materials and solutions providing head-to-toe protection, as well as custom solutions built in partnership with leading brands.
"D3O's materials are based on non-Newtonian principles. This means that they are soft and flexible in their resting state but stiffen under an impact to disperse the energy of the force across the surface area of the product. D3O has a range of patented and proprietary materials, with each formulation finely tuned to behave optimally for its end use – allowing for the most advanced protection in the world."
How does D3O work? The idea is that in its raw form, its molecules flow freely making it soft and flexible. And then, when there is a shock, the molecules lock, therefore absorbing and dissipating the impact energy. After that, the molecules go back to their normal flexible state.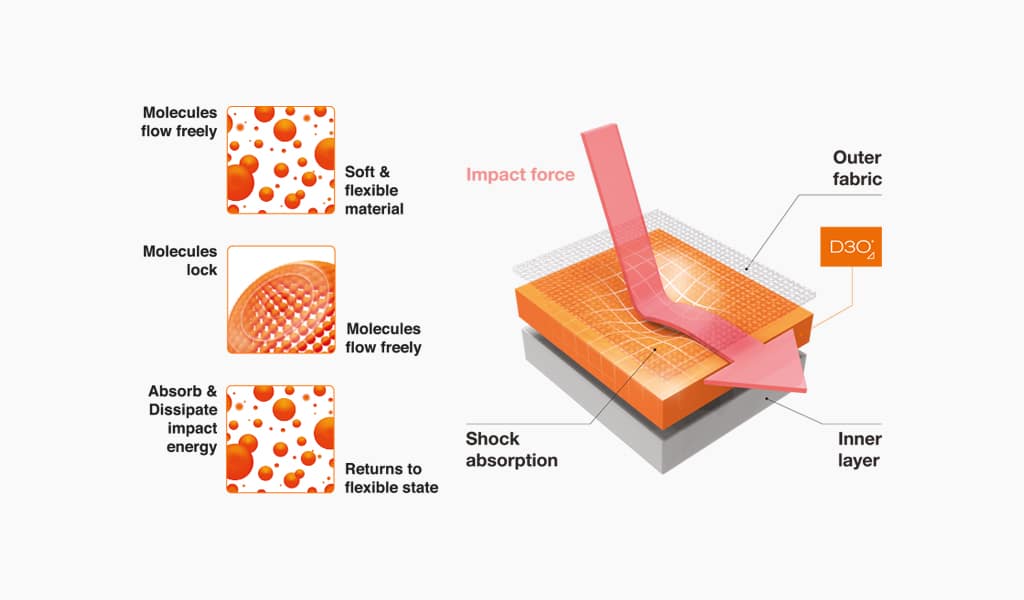 Industrial PPE
For industrial workers, there are head-to-toe protective solutions, including gloves, kneepads and met guards for boots.
"Our D3O Impact Print technology is where D3O materials can be printed directly on to substrates, which has enabled us to create the most flexible protective glove in the world. It provides breathability, unrivalled dexterity, a low profile, and increased coverage while meeting all levels of protection of the ANSI/ISEA 138 standard. The technology allows gloves to be up to 50% thinner to meet the same ISEA level or provide up to 50% better impact performance at the same thickness. This allows for the perfect combination of comfort and protection for the wearer over longer periods of time, increasing PPE compliance."
D3O and Snickers Workwear partnered up to deliver knee protection for workers. The range includes the lightweight, Red Dot Design Award-winning Ergo Craftsmen Kneepads.
"The flexible D3O material allows the pads to nestle close to the knee with favourable pressure distribution. They adjust to every movement and protect the knees from stones or debris lying on the ground."

Multiple Sectors
D3O believes much of its success is down to its cross-sector expertise.
"Each and every one of our solutions has roots or applications outside the sector it has been commercialised in, with our latest example being D3O Impact Print. This technology's first application was in motorsports and has found its way into PPE to change workers' lives for the better. Beyond our world-leading materials and products, our experience with multiple sectors including consumer electronics, sports, motorcycle, defence, and PPE has allowed us to truly revolutionize impact protection as a whole."
How to Choose the Right Protective Gloves?
Read our buying guide and make the smart choice.