Water scarcity poses a significant challenge for crop cultivation. The ability to combat water stress and enhance crop yields during periods of insufficient water resources is a game-changer and will increasingly become a problem in the coming years due to global warming and climate change. Elicit Plant's innovative product, BEST-a Maize, has emerged as a powerful solution to address this pressing issue. According to the company, the field results are remarkable, as they allow for a gain of 10 to 12% in corn yield in case of drought. The company has also launched the same product for soybean crops.
Elicit Plant is a French company that was founded in 2017 by Aymeric Molin et Jean-François Déchant. They developed a biostimulant containing phytosterols that tackles water stress and boost yields during periods of water shortage. BEST-a Maize optimizes water supply to corn crops, ensuring they receive the necessary moisture even when water is scarce. BEST-a Soy is dedicated to soy crops.
Innovation in Action
BEST-a Maize operates by eliciting resistance in corn plants, which reduces water stress through natural processes. This innovative product enhances the physiological resilience of maize by stimulating their metabolism.
The process is simple: once inside the plant, BEST-a Maize enables it to lose less water through transpiration and evaporation, even in arid conditions. The product also stimulates root development, allowing the plant to access additional water resources from the soil. This increased root activity enables the corn plant to thrive, even in water-limited environments.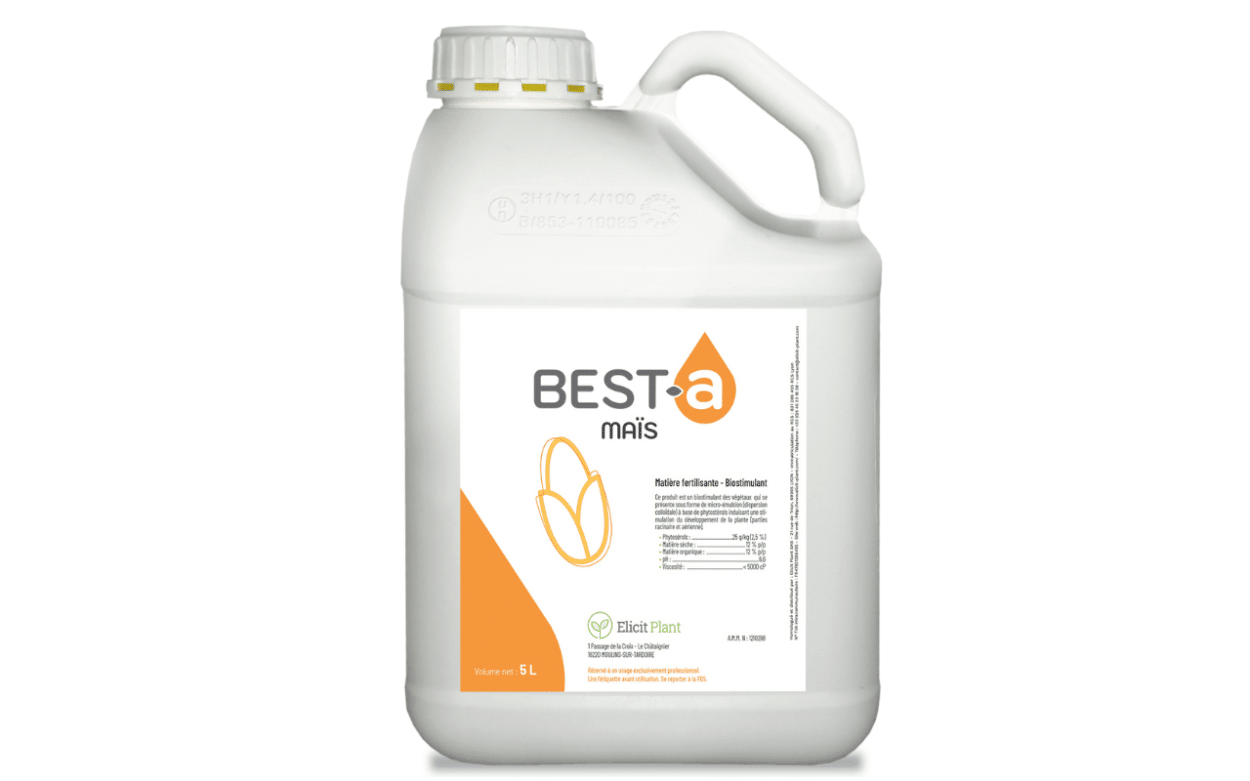 According to Aymeric Molin,
"We wanted to understand how a plant naturally adapts to challenging conditions like water scarcity. What signals does it activate? What physiological adaptations does it undergo? And we tried to replicate those processes in advance. The issue with plants is that they lack consciousness, so they adapt when they face adversity. When you plant corn, it doesn't think, "In two months, it will be dry; maybe I should conserve water." That's something humans do. So, the idea is to send the plant the natural signal it would receive when it senses water scarcity before it actually experiences the shortage, so it adapts and conserves water. We're essentially teaching corn to conserve water as it naturally would when it receives the "I'm running low on water" signal."
Usage Guidelines
The application of BEST-a Maize is straightforward and efficient, making it an accessible solution for corn farmers. Here are some usage guidelines:
– Dilution for Spray Solution: Approximately 60 liters per hectare (8.9 gallons per acre).
– Dosage: The recommended dosage is 1 liter per hectare
For Mr. Molin, the application timing is:
"Between the eight and ten leaf stage, when the corn is approximately 50 to 80 centimeters tall and starts to cover the inter-row spacing. Corn is typically planted with 75-centimeter gaps between rows, and when the foliage begins to cover, that's when the product is applied. So, it's typically applied around June for corn in France."
According to the company, BEST-a Maize is expected to provide a substantial return on investment ranging from 3 to 7.