In a world where decontaminating waste safely is becoming ever more urgent, industry is having to step up its drive towards finding green solutions for dealing with its used water.
The United Nations Water Conference, the first since 1977, was held last week in New York. The situation is alarming: access to drinking water is more and more critical everywhere on the planet and global warming exacerbates the water crisis. Although voluntary commitments have been made by governments, companies, and NGOs, observers consider the results of this summit insufficient.
How water-intensive industry can recycle water and wastewater and contribute to saving this resource?
The ongoing push to find environmentally friendly methods of cleaning water and wastewater has seen scientific research tackle the issue via a spectrum of solutions. Solutions range from the better-known ultraviolet (UV), ozone, and salt electrolysis treatments to the use of antiscalant technologies, biodispersal agents, and the removal of organic and inorganic materials by oxidation. Research is ongoing with important breakthroughs heralding great optimism from time to time.
1/ UV GERMI: Natural Sterilization
Willy Fortunato, Chief Operating Officer at UV GERMI, says cleaning wastewater is at the forefront of the survival of humanity. The requirement to not only clean water but also render it suitable for reuse has become critical, he stresses:
"Reuse of treated wastewater is a political and socio-economic issue for the future development worldwide. Climate warming is resulting in longer periods of drought and shorter periods of rainfall, with rainfall becoming increasingly stormy and struggling to properly infiltrate the soil. Reuse is an efficient solution to the consequences of climate change on freshwater resources."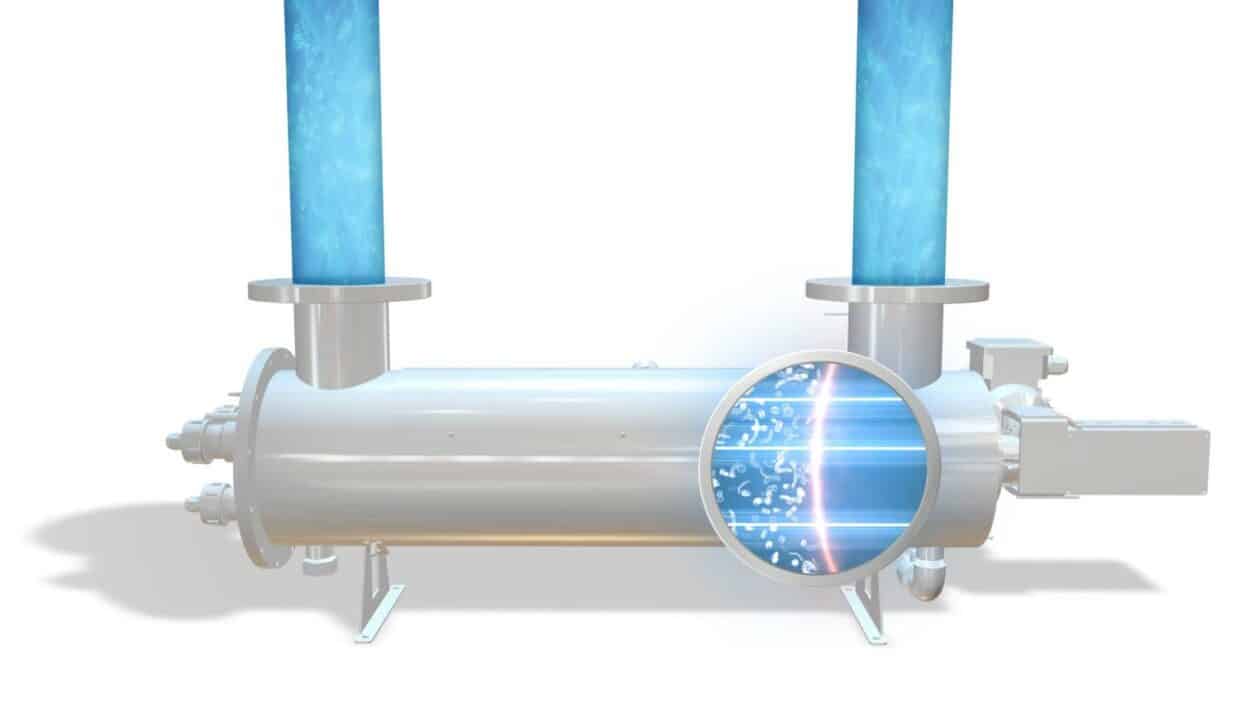 Located in Corrèze, France, UV GERMI manufactures a range of UV treatment reactors and specializes in dechloramination. Its UV technology destroys microorganisms, bacteria, viruses, endocrine disruptors, and chemicals in the air, water, and on surfaces. For Mr. Fortunato,
"UVs have been used for many years to disinfect water to produce drinking water – that was the first application of ultraviolet radiation technology. It was used in France as early as 1910. At that time, this technology was very promising but still lacked development. In the 1970s, UV technology for the treatment of water for human consumption and the treatment of wastewater in wastewater treatment plants was improved and developed and proved its worth."
With a wavelength of 253.7 nanometres, UV-C has a natural sterilizing action on bacteria, viruses, and parasites, without a requirement for chemicals.
UV GERMI has equipped the Disneyland Paris wastewater treatment plant with a UV-C reactor to biologically disinfect wastewater. This collects the park's wastewater, purifies it, and treats it to produce high-quality water. The water is then used to clean roads, irrigate flower beds and a golf course, and supply artificial water features. The preservation of water will always be a challenge, he adds.
"But after UV treatment, water can be discharged into the sea without any risk to the environment or it can be reused for other purposes."
2/ BIO-UV Group: Chemical-Free Disinfection
BIO-UV Group is a global manufacturer of chemical-free, water and wastewater disinfection products and systems with technologies including UV, ozone, advanced oxidation processes (AOP), and salt electrolysis.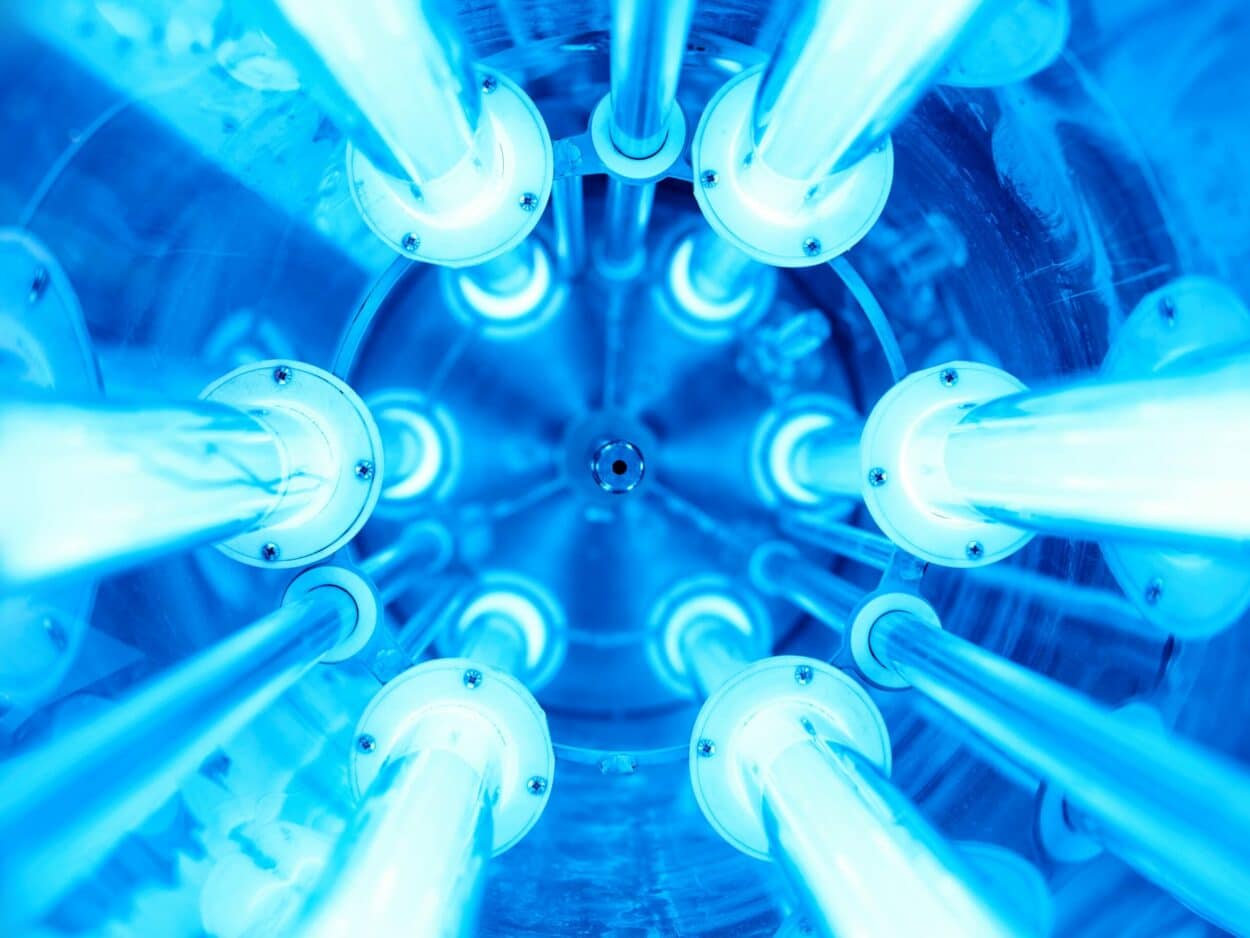 It mainly focuses on the leisure, industrial and reuse, aquaculture, aquariums, and marine ballast water treatment markets, explains Simon Marshall, Directeur Général Adjoint BIO-UV Group and Managing Director of one of its companies, Triogen. The group has recently announced it will continue its strategic and commercial partnership with Veolia Water Technologies & Solutions.
As part of the renewal of this agreement, which occurred alongside the acquisition of Triogen (which has UV and ozone disinfection systems) in 2019, BIO-UV Group will continue to provide its services to Veolia until 2025. According to Mr. Marshall,
"Prior to our acquisition, Triogen engineers and production specialists supported the development, testing, and commercialization of the market-leading Ozone CFS product line. Working in partnership with the world's largest water and wastewater treatment company provides an excellent reference for BIO-UV Group. The continuation of our relationship for a further two years is a testament to the quality and integrity of the BIO-UV team and our relationship with a key customer."
Ozone processes see the oxidization of iron, manganese, and sulfur present in the water to form insoluble particles which can then be filtered out.
"PPO3 is our new generation of positive pressure ozone turnkey systems to disinfect and oxidize microorganisms, organic and inorganic components, and pathogens with the efficient production of ozone at high concentration. PPO3 is equipped with enhanced monitoring, control, and optimized footprint. An Opex Calculator provides operators with a real-time cost of ownership and trending view of the plant. Additionally, PPO3 has been specifically designed with eco-friendly reusable ozone modules that can be refurbished and refitted, thereby saving precious metals, and lowering the whole life cost of ownership."
3/ Chemical-free Products: Best Water Technology
Also based in France, Best Water Technology (BWT) has come up with a range of chemical-free products it has named its Green Chemistry Solution, explains Alexandra Sauvêtre (PhD), a research and development engineer within the company's Research and Innovation division.
RELATED ARTICLE
"BWT's objective is to present a range of green products that use more virtuous chemistry for water treatment his product range meets specific specifications that take into account the entire life of the product from production to use. The growing need for environmentally responsible water treatment means a scientific approach based on the search for a green and sustainable alternative must be initiated. The stakes are high, as this means substituting part of the conventional chemical treatments, which generate human, environmental, and economic risks."
The product range includes BWT CS-8001G, a biodegradable scale inhibitor based on the combination of two phosphorus-free polymers, with limited nitrogen content.
BWT CS-4002 AFG is an azole-free, biodegradable, phosphorus-free copper corrosion inhibitor and BWT CS-4004G is a biodegradable, phosphorus-free biodispersal agent.
"We are currently testing these three solutions on sites belonging to Fraîcheur de Paris, the City of Paris's urban cooling network operator. To develop a highly environmentally efficient cooling network, Fraîcheur de Paris requires innovations in production plants and networks to avoid the use of chemicals."
The three solutions that form part of the biodegradable, non-toxic, and phosphorus-free water treatment strategy have different principles and processes. Depending on the industries targeted, each has a different application. The antiscalant product, for example, is intended for use in cooling systems and closed circuits in an industrial context.
"This is based on the action of two polymers which block the growth sites of calcium carbonate germs in solution. Thus, this product allows a sub-stoichiometric dosage to avoid the massive precipitation of calcium carbonate in the pipes. These products are the subject of extensive efficiency tests in the laboratory using two techniques: fast controlled precipitation (FCP) and the study of deposit by quartz microbalance. "In addition, in order to complete these laboratory tests, we also carry out full-scale tests on pilot installations.
She also adds:
"For BWT France, the objective is clear and ambitious: to offer industrials a full range of products formulated from renewable or recycled active ingredients that are non-toxic, biodegradable, with a reduced carbon footprint, at least as effective as conventional chemicals, and at competitive prices."
4/ A New Pure Silica Zeolite
Scientists from the Institute of Materials Sciences of Madrid (ICMM-CSIC), for example, were recently part of an international team of researchers that created a new pure silica zeolite called ZEO-3. This has the capacity to absorb organic material and the hope is that it could be used in the decontamination of wastewater.