Nikon Metrology has recently launched a state-of-the-art large-volume X-ray computed tomography (CT) system, the VOXLS 40 C 450. This advanced system is designed to offer comprehensive solutions for inspection and analysis across various industries.
The VOXLS 40 C 450 features a monoblock cabin that houses a high-precision granite-based manipulator combined with rigid steel towers, motors, and high-precision encoders. The system also includes two microfocus X-ray sources designed and manufactured by Nikon. One source has a 450 kV capacity for examining large or dense parts, while the other, with a capacity of 225 kV, can inspect smaller or less dense components.
This large-volume X-ray CT system can inspect parts of different sizes and densities, both internally and externally, making it an excellent tool for research, industry, and inspection and control applications. From lithium-ion battery modules and their cells, additive manufacturing parts for aerospace, automotive, and space industries to components for Formula 1's carbon fiber chassis, all can undergo non-destructive inspection (NDI) with the new system.
Moreover, the system's versatility allows it to be adapted to inspect small parts with high resolution, making it a multi-application resource for research and development, failure analysis, first-article inspection, and quality control.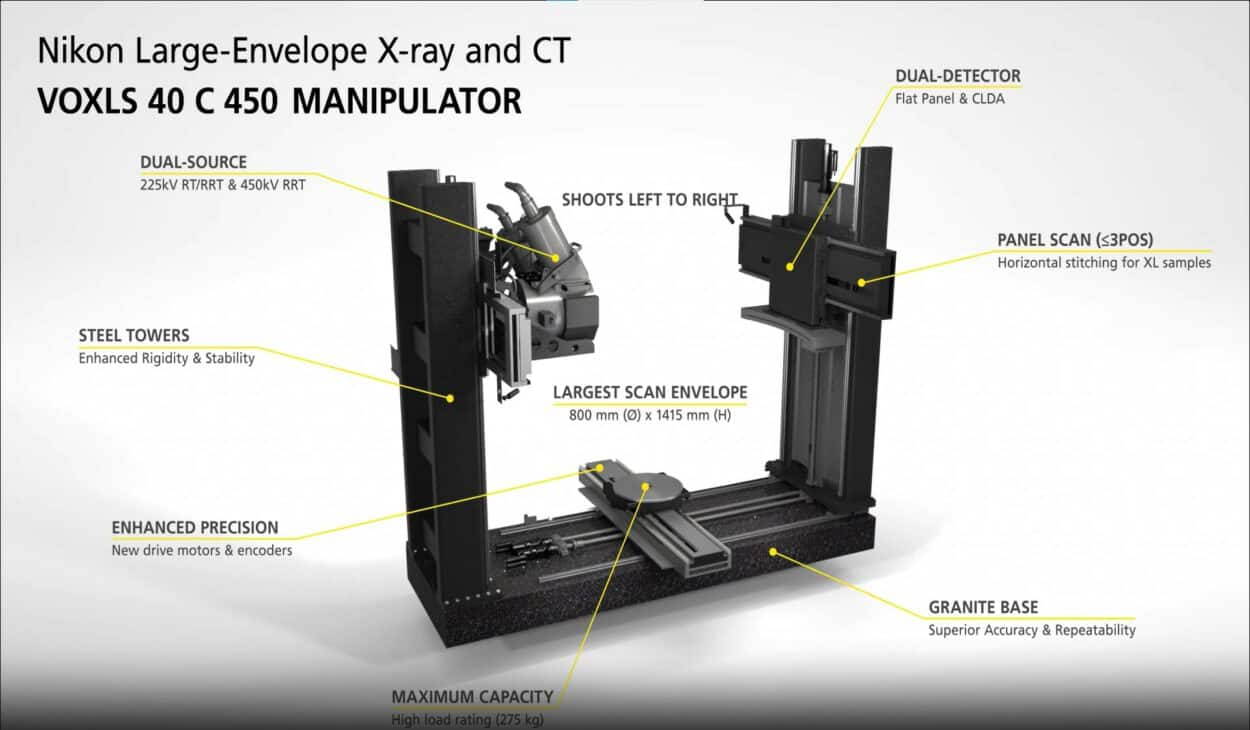 A Focus on Automation
Nikon has also redesigned the VOXLS 40 C 450 with a focus on automation. The radioprotective cabin doors are motorized and designed to open or close in just six seconds. Combined with the integration of Nikon's OPC UA interface and a robotic charger, the system is ready for high-speed closed-loop inspection automation in a Quality 4.0 production environment.
The VOXLS 40 C 450 is just the first in a new generation of high-performance X-ray CT systems, with even better levels of accuracy, resolution, and scanning speed. The upcoming models will expand the range's capabilities and offer users more options that will not only meet their immediate commercial and technical needs but also help them identify new opportunities and increase their operational efficiency.
The VOXLS 40 C 450 also provides exceptional volume, resolution, and scanning speed for various applications, with unparalleled image quality and result repeatability. With its advanced features, Nikon's new system is sure to set a new standard in the world of X-ray CT inspection and analysis.
Source: Nikon