With its "Plan for a Green Economy 2030", Quebec aims to reduce its greenhouse gas emissions by 37.5% by 2030, in comparison to the levels recorded in 1990. Additionally, Quebec plans to achieve carbon neutrality by 2050. The plan includes a target of dedicating 4 TWh to the electrification of vehicles. With these ambitious goals, Quebec intends to become a leader in the electrification of North America, leveraging its many strengths and advantages.
In order to accelerate the energy transition, Quebec must use different technologies to replace fossil fuels in the sectors that emit the most GHGs, particularly in the transportation sector. The development of the electrical sector has thus become a priority for the French-speaking Canadian province. Quebec wants to be at the heart of the electrification of North America. And for that, it can count on its many assets.
More than 97% of the energy produced in Quebec is renewable, and Quebec is one of the largest producers of hydroelectricity. In addition, the Canadian subsoil contains the main minerals needed to manufacture electric batteries, such as lithium, cobalt, and nickel. Quebec also has competitive access to the North American market thanks to numerous trade agreements.
At last week's IMPULSION trade show in Montreal, Prime Minister Justin Trudeau recalled the country's strengths:
"Canada has moved from 5th to 2nd in the world in terms of the lithium-ion battery supply chain. Across the country, our government is investing in building a whole cleantech ecosystem, from critical minerals to EV manufacturing. Canada is rapidly becoming the energy supplier a net-zero world will need."
The Canadian and Quebec governments are investing heavily in the industry to help new companies emerge in the field of electric vehicles and batteries. Since 2016, the Government of Canada has invested $C 1 billion (€600 million) into the sector. The 2030 Green Economy plan includes a $C 900 million investment (€610 million).
At the IMPULSION fair, the government of Quebec has announced an investment of nearly $C 60 million (€40 million) to increase its current network of DC charging stations by 30%,
We met with several of these Quebec companies that are contributing to the development of a sustainable electrical industry, from mining to EV production and battery recycling.
1/ Green Batteries
Nano One® has developed an industrial process that produces cost-effective, high-performance cathode powders for use in lithium-ion batteries. These exclusive materials are specially designed to enhance the capabilities of electric vehicles and grid storage batteries, which aligns with the worldwide movement toward achieving a zero-emission future.
According to Denis Geoffroy, Director of Business Development at Nano One,
"The company's goal is to make greener batteries by reducing the carbon footprint of manufacturing these materials. We are not inventing new materials, we are changing the way they are made. The electric sector is in a rapid growth phase. If we want to establish new processes, now is the time."
The company has developed a different process than the standard one by incorporating different, locally available inputs. This One-Pot Process streamlines the production process.
After the production process, the resulting product is a fine black powder that is subsequently sold to cell manufacturers. These manufacturers then mix the powder with a solvent and carbon to create a solution. The resulting solution is applied to a thin film through spreading or extrusion methods. Once applied, the film is dried to remove the solvent and leaves behind a thin layer of the powder, which constitutes around 90% of the final film. An electrolysis film and an anode film are then added to this thin layer of powder before rolling it up to form a cell.
"The current processes for making nickel materials generate about 2 kg of a byproduct called sodium sulfate, per kilo of finished material. When you produce 1 million tons, you generate 2 million tons of scrap. It doesn't make sense. With our process, there's no waste, there's no byproduct so we're reducing that carbon footprint."
The goal is to reduce the number of steps to produce these powders. The new process combines the precursor, cathode powder, and coating stages in one process. This eliminates waste.
"For example, we don't use lithium but rather a lithium carbonate which is simpler to produce than the lithium hydroxide produced in China. The extract we produce is very similar to existing materials. We expect the same battery performance. The advantage is that we pollute less by producing these materials."
Car manufacturers are increasingly interested in this technology. The company is looking primarily at the North American market.
2/ Electric Vehicles
Lion Electric is a Quebec-based company specializing in the production of electric vehicles, particularly school buses, and electric trucks. Unlike many other companies that modify existing vehicles to make them electric, this OEM builds electric vehicles from scratch, from the chassis to the final vehicle, which allows them to optimize the design for the specific needs of electric propulsion.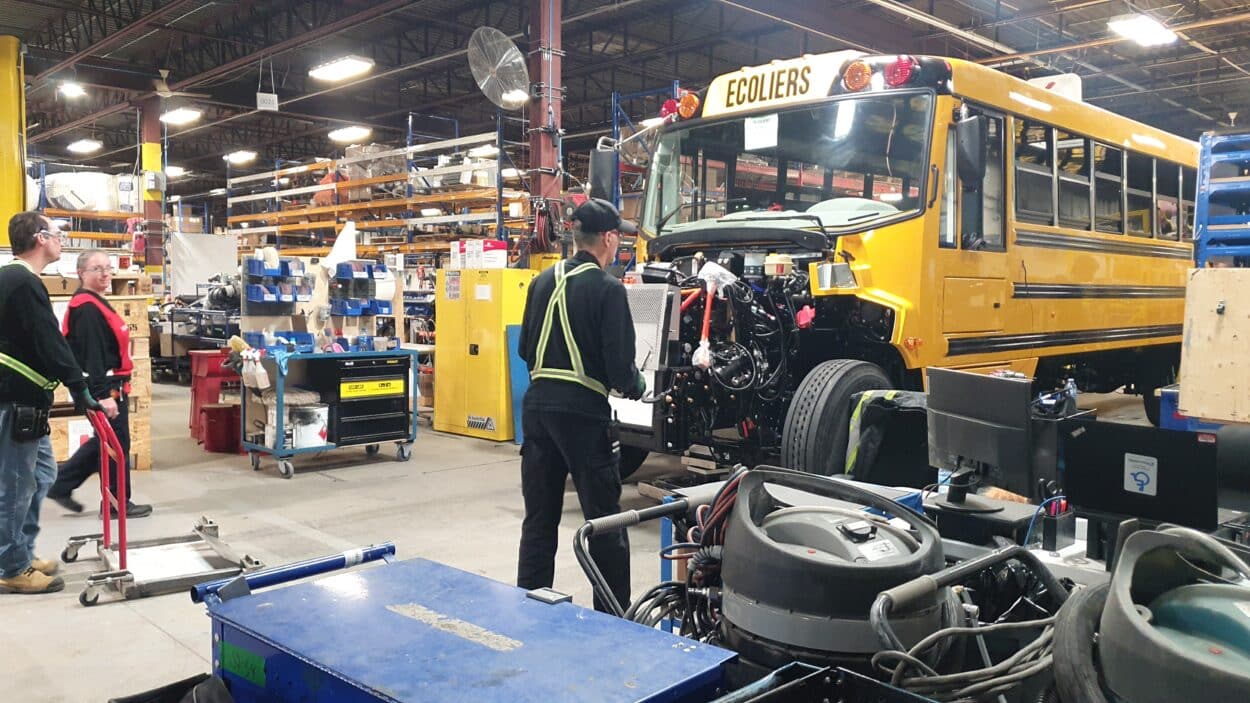 For Patrick Gervais, VP of Lion Electric,
"Our strategy was vertical integration. We design the chassis and the cabs of our vehicles. The constructions are designed to be 100% electric. Tomorrow it will be the battery. The battery is the heart of electrification and for us, it is essential to build a battery to increase the efficiency of the vehicle. We brought out our first battery packs from our plant last December. This allows us to pack more kilowatts."
Until now, Lion Electric has purchased batteries from third-party suppliers, but their new battery plant will allow them to produce between 15,000 and 18,000 batteries per year for the U.S. and Canadian markets. The facility is scheduled to officially open on April 17.
Currently, the company produces about 20 vehicles per week but plans to double that production. More than 1,000 Lion vehicles are already on Canadian roads.
On the bus assembly line, Lion has approximately 200 employees and 17 dynamic line stations. Operators work four-hour shifts and are expected to assemble approximately four buses per day. The assembly process begins with the frame, steel carcass, floor, and roof, and ends with the final vehicle.
Lion kept the look of the classic school bus for its electric model but opted for a more rounded, aerodynamic design. The exterior of the vehicles is also made of fiberglass, which is lighter than a steel body, more environmentally friendly, and avoids corrosion.
Lion's truck assembly line is also steadily expanding, and the company plans to double production to 12 trucks per week by next fall, up from the current six, to accommodate Lion 5 and Lion 8 models.
As for pricing, it depends on the type and number of batteries used. A Lion electric bus costs about $100,000, excluding subsidies. The price is similar for electric trucks. It's about the same price as a new diesel truck.
Lion is targeting the already large North American market and intends to remain a major player in this growing industry.
3/ Charging stations
Electric vehicle charging stations are essential to enable the convenient and widespread use of EVs. Flo is a vertically integrated company that designs and manufactures charging stations.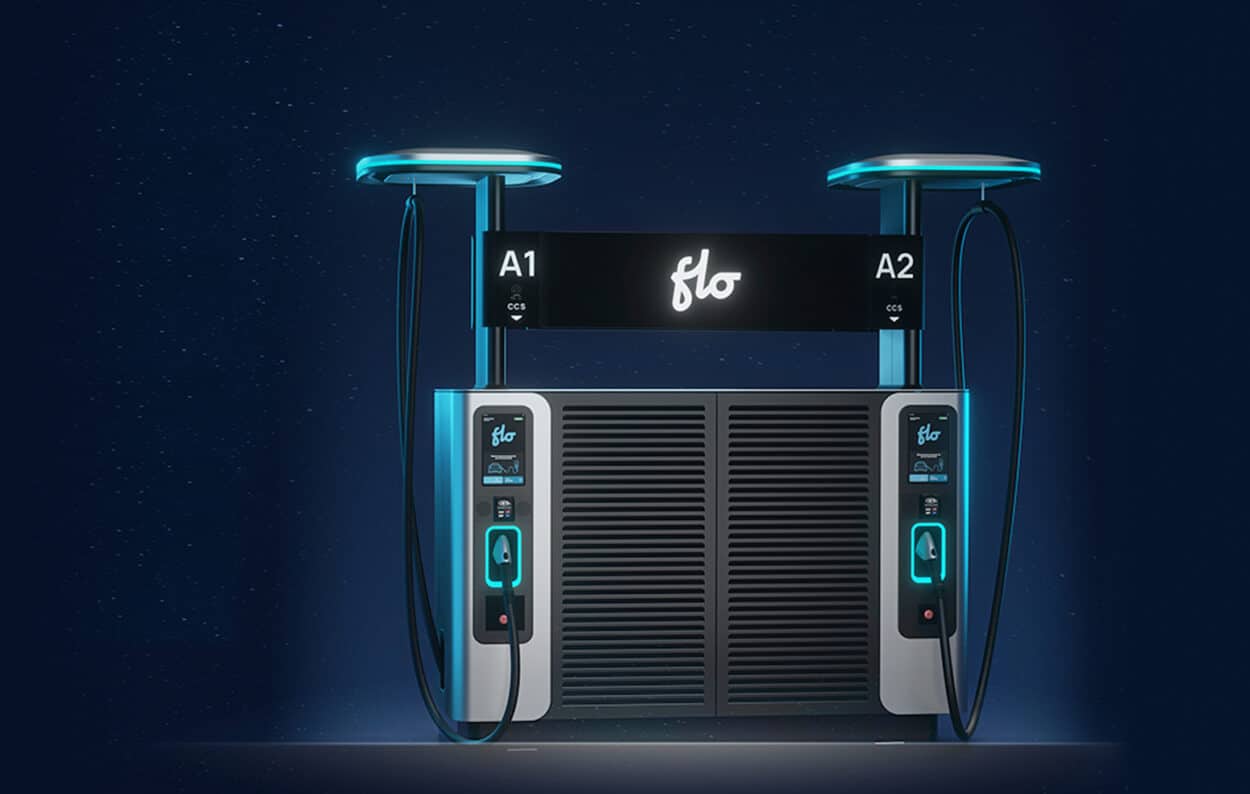 The company is currently developing a new charging station, Flo Ultra, which offers 320 kW fast charging distributed over two guns, allowing two EVs to be charged at the same time. It has just received a government grant of $C 6 million (€ 4 million) from the Quebec government.
The Flo Ultra's design emphasizes sustainability. For Nathan Yang, Chief Product Officer at Flo,
"We want our stations to last 8 to 10 years so we select the most durable, reliable components. Its mean time before failure. We assemble these components in a certain way, taking into account the thermal aspects. We also design the terminals to be easy to repair. Finally, our terminals are tested in extreme environments to ensure that the components, and the cables behave well."
The terminal contains durable components. The power modules are coated to withstand salt and moisture environments. The microprocessors are industrial grade with a VE grade. They should last 10 years. The screens on the terminals are also industrial-grade and are able to withstand extreme environments. Finally, a very high-volume fan is used to maintain a suitable temperature.
According to the company, Flo Ultra will be able to charge a battery to 80% in just 15 minutes. It will even be able to go up to 500 kW for heavy trucks for example.
These fast charging stations are especially useful for delivery vehicles and heavy trucks that require fast and efficient charging for commercial use. The station is designed to be compatible with all types of EVs, including Tesla, and uses CCS charging.
Flo also offers monitoring and repair services to ensure the reliability and durability of its charging stations.
"Our charging stations are equipped with more than 200 sensors to feed back information for predictive maintenance purposes. The idea is to detect problems on the stations before they become major for customers."
According to the company, the price of Flo Ultra 320 kW is cheaper than 2 x 150 kW stations.
4) Mobile Charging Stations
The Innovative Vehicle Institute of Montreal helps SMEs to rapidly develop and commercialize technologies related to electric, autonomous, and connected vehicles. For example, they participated in the development of the first electric cab fleets in Quebec.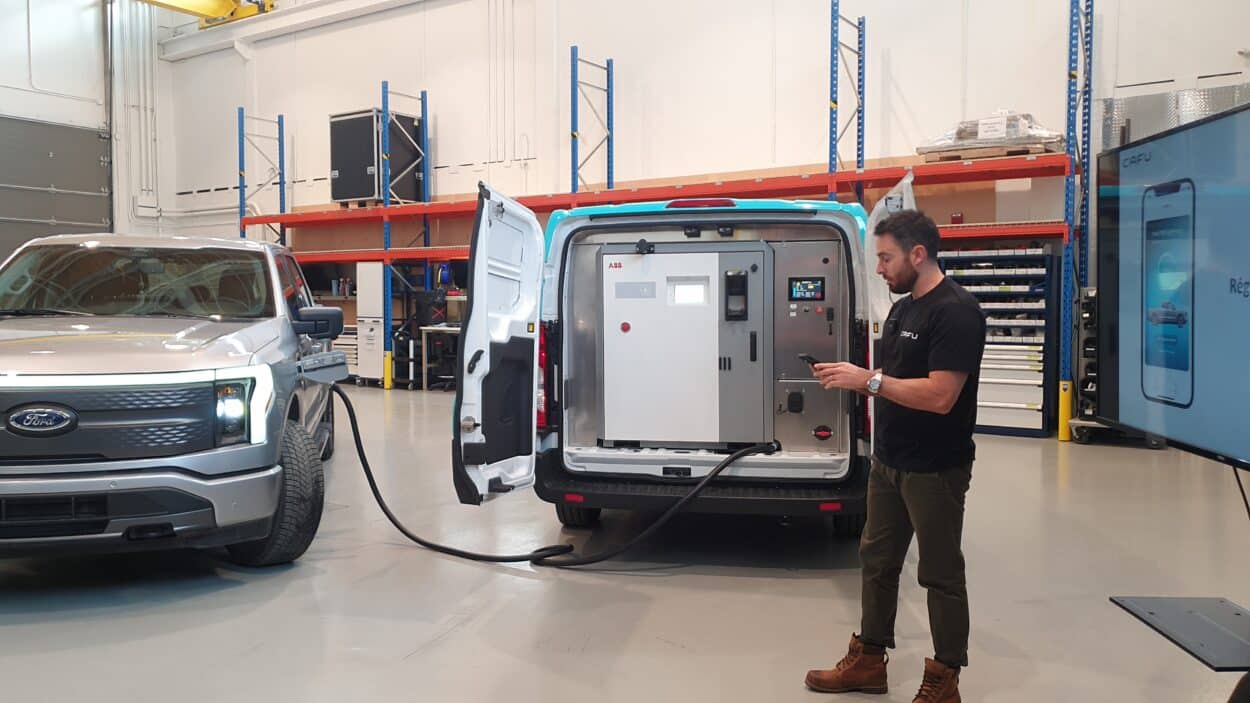 The IVI has also helped Emirati company CAFU develop a mobile charging system for electric vehicles. The system involves an app and a 100% electric Ford Transit equipped with a charging station in the trunk, batteries, an electrical system, and thermal management systems. Manufactured in Quebec, this alternative to static charging is aimed primarily at the Quebec market.
For Jean-François Lapierre, Senior VP of International at CAFU, their technology is a kind of Uber for electric recharging.
"We developed an application that connects to your vehicle. It includes the vehicle's charge rate (red if the charge rate is low) and a GPS location. Once the order is placed and the charge rate is chosen, the charging truck starts up and can be tracked in real-time via the app."
The operation of this mobile fast charging relies on a mobile infrastructure system, with multiple trucks driving around town. The charging truck contains a fast charge in the trunk that can be plugged directly into the vehicle. It is compatible with CCS and Tesla vehicles. Once charging is initiated, the charging time is visible on the app in real-time. Once the charge is complete, the operator disconnects the cable, and the user receives the corresponding bill.
A truck can do 10 to 12 recharges of 15 to 20 kW. It is also capable of recharging itself.
"This innovation is for people who don't have parking at home and don't have a charging solution for their electric car. This mobile charging offers a complementary alternative."
The challenge was to manage the vibrations of the charging vehicle driving around town. The charging stations are indeed not designed to be transported. It was a collaboration with ABB that made it possible to develop a vibration-resistant station mobilizing technology used in Formula E.
The mobile fast charging rate is based on a flat rate per minute similar to the fast charging plans available in Canada, plus a service fee.
This solution will be tested in the streets of Montreal starting this week.
5/ Battery Recycling
The circularity of critical battery materials is a major challenge to ensure a sustainable future for the electrical industry. By 2040, over 2 million tonnes of lithium-ion batteries will need to be recycled annually in the united states alone.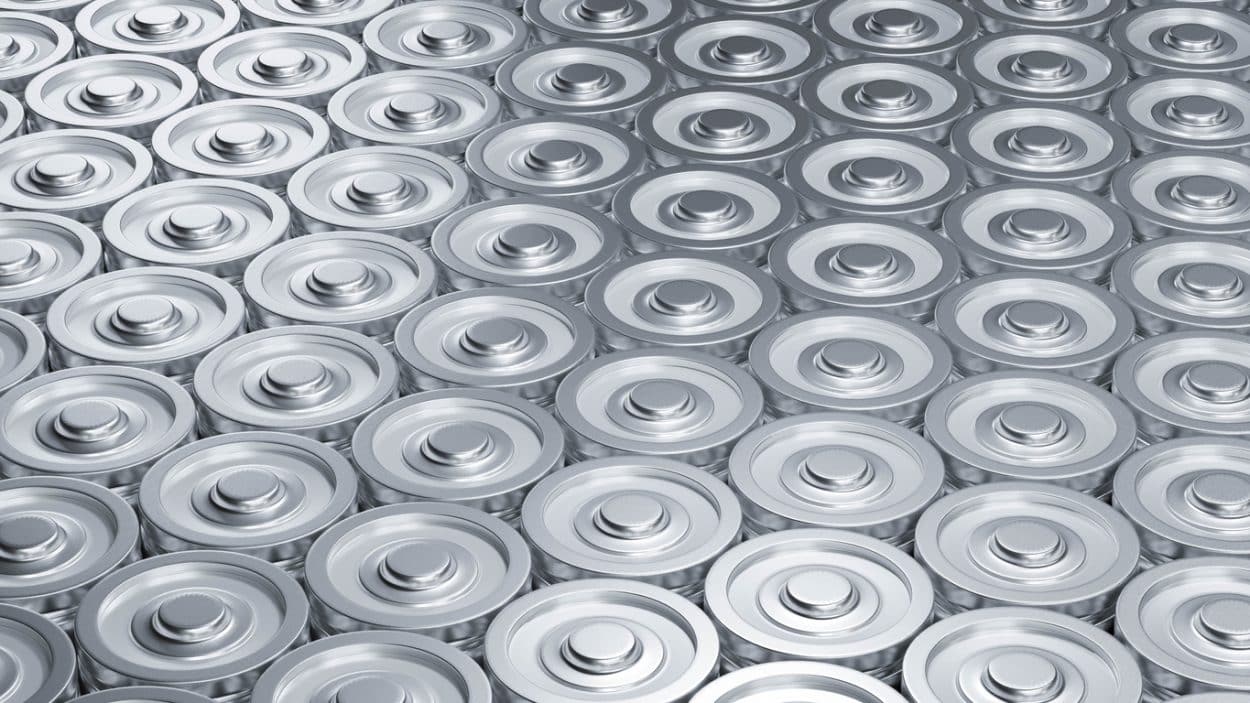 To achieve this goal, Lithion Recycling has developed an innovative technology to recycle 95% of the five critical battery materials: lithium, nickel, cobalt, graphite and manganese.
According to Christian Lafrance, Director of Business Development Europe at Lithion Recycling,
"The goal is to achieve circularity so that nothing ends up in landfills. Today, we recycle 95% of the components of electric batteries. We are working on the last 5% which are plastics and solvents."
The process takes place in two stages. First, the batteries are crushed in a shredder to extract a black material. The shredder is capable of crushing 1.1 tonnes per hour. Then comes the hydrometallurgy: this step allows the extraction of critical materials from the black mass such as lithium.
The cells of electric batteries incorporate thin sheets of aluminum and copper on which a cathode product, lithium, and an anode product, graphite, are placed. These anode and cathode products are a black powder, the so-called black mass. Lithion Recycling's technology separates the black mass from the aluminum and copper flakes and ensures that there is no residue. Another machine from one of their suppliers takes care of recovering 100% of the copper and aluminum.
"Currently, electric batteries for recycling are sent to pyrometallurgy where only the nickel and cobalt are recovered. This process burns the lithium and in addition emits CO2. Our hydrometallurgy process is emission-free and allows us to recover pure lithium that can be reused over and over again without losing its properties. It's just like mining."
The lithium and cobalt produced are then sold to manufacturers of batteries and CAM (cathode active materials) products. The price of the materials remains close to the market price.
The company launched its first demonstration plant in 2020 where it crushed 12 different types of batteries, including phone, toothbrush and train batteries. Its first commercial plant, currently under construction, is expected to open in Montreal in the fourth quarter of 2023. It will be able to crush 7,500 tonnes of batteries, the equivalent of 25,000 cars.
The company is targeting the gigafactory market, which will have surplus production to recycle, between now and 2030.
"Eventually, just in North America, there are a million Ford F 150 pickup trucks sold, so there's huge potential!"
Regarding new battery materials developed by companies like Nano One, which we interviewed, Lafrance acknowledges that the technology will eventually need to be adapted
"We are setting up an innovation center in Montreal instead of our demonstration center to monitor the next batteries and do tests. On the other hand, the automotive industry is putting billions on the table to make a normal lithium battery. So it's not tomorrow that we will have batteries with new materials by the millions on the market."
6/ Supporting Fleet Managers
The transition to electric vehicles is underway, but for commercial vehicle fleet managers, setting up an electric infrastructure can be a real headache. To assist fleet managers in their energy transition, Cleo, a subsidiary of Quebec-based electricity provider Hydro Quebec, has launched a turnkey solution.
François Dubé, Director of Software Engineering at Cleo, explains:
"Cléo installs all the electrical infrastructure at customers' sites, from charging stations to the electrical transformer, and provides service on a price-per-kilometer basis. Customers no longer have to worry about electricity costs, which are included in the service. For those who are used to working with liters of diesel, making the transition to mileage without worrying about the cost of electricity is much easier for them."
But that's not all: the company has also developed a software platform to connect electrical infrastructure, vehicles and telemetry to optimize charging and reduce energy costs.
"We have indicators to make sure that vehicles leave with a sufficient level of recharge. In addition, the platform can slow down charging during peak periods, when electricity prices are higher, for example."
This turnkey solution is particularly interesting for school vehicle fleet managers, who have been forced by Quebec's 2020 measures to switch to electric vehicles. But other sectors are also interested, such as miners' transport or service companies.
The price depends on the number and size of charging stations needed. For a police patrol vehicle, which has little time to recharge between shifts, a 120-kilowatt fast-charge station costs about $80,000. For a school bus that charges overnight, a 19.2-kilowatt station costs about $6,000.