The IMPULSION trade show dedicated to electric and intelligent transportation opened yesterday in Montreal, Canada. In his opening speech, Canadian Prime Minister Justin Trudeau said that Canada has the potential to be a world leader in clean electric transportation technologies.
Canada is committed to achieving carbon neutrality by 2050 and plans to reduce its greenhouse gas emissions by 40% by 2030. To reach these ambitious goals, the country is counting on the development of its own electric mobility sector. The country even wants to become a key player and an indispensable partner for the rest of the world to decarbonize transport and significantly reduce the sector's C02 emissions.
And to do this, the country is counting on its many assets. Canada is already a world leader in the production of green hydroelectric power. Its territory contains most of the critical materials needed to manufacture electric batteries. Its market is accessible, and talent is available. Enough to dream of being the world leader in the transition to a carbon-neutral world.
RELATED ARTICLE
A World Leader
Canadian Prime Minister Justin Trudeau opened the International Smart and Electric Mobility Summit in Montreal yesterday. During his speech, he recalled that:
"Our government continues to position Canada as a world leader in clean technologies, including electric transportation. Canada has moved from fifth to second in the world in terms of the lithium-ion battery supply chain."
According to experts, total transportation activity will more than double by 2050 compared to 2015. Demand for decarbonized transportation solutions is growing worldwide. As a result, manufacturers are increasingly engaged in the search for ever-cleaner transportation solutions.
"Across the country, our government is investing in building a whole cleantech ecosystem, from critical minerals to EV manufacturing. Canada is rapidly becoming the energy supplier a net-zero world will need."
The country is developing an electric mobility ecosystem, from mining to recycling, and is building on its local champions.
The Canadian government recently provided nearly C$222 million (€150 million) in assistance to Rio Tinto to increase the production of critical minerals essential to electric batteries, among other things.
Flo, which manufactures charging stations for electric vehicles, also received C$6 million (€4 million) from the Quebec government to produce a new generation of 320-kilowatt-hour fast-charging stations capable of recharging an electric vehicle to "80% in 15 minutes".
Lion Electric which manufactures vehicles and battery packs and Lithion Recycling which recycles 95% of lithium-ion battery components batteries are among the other local champions
Justin Trudeau finally concluded:
"Canada can be the supplier of choice that is reliable and is there as a partner."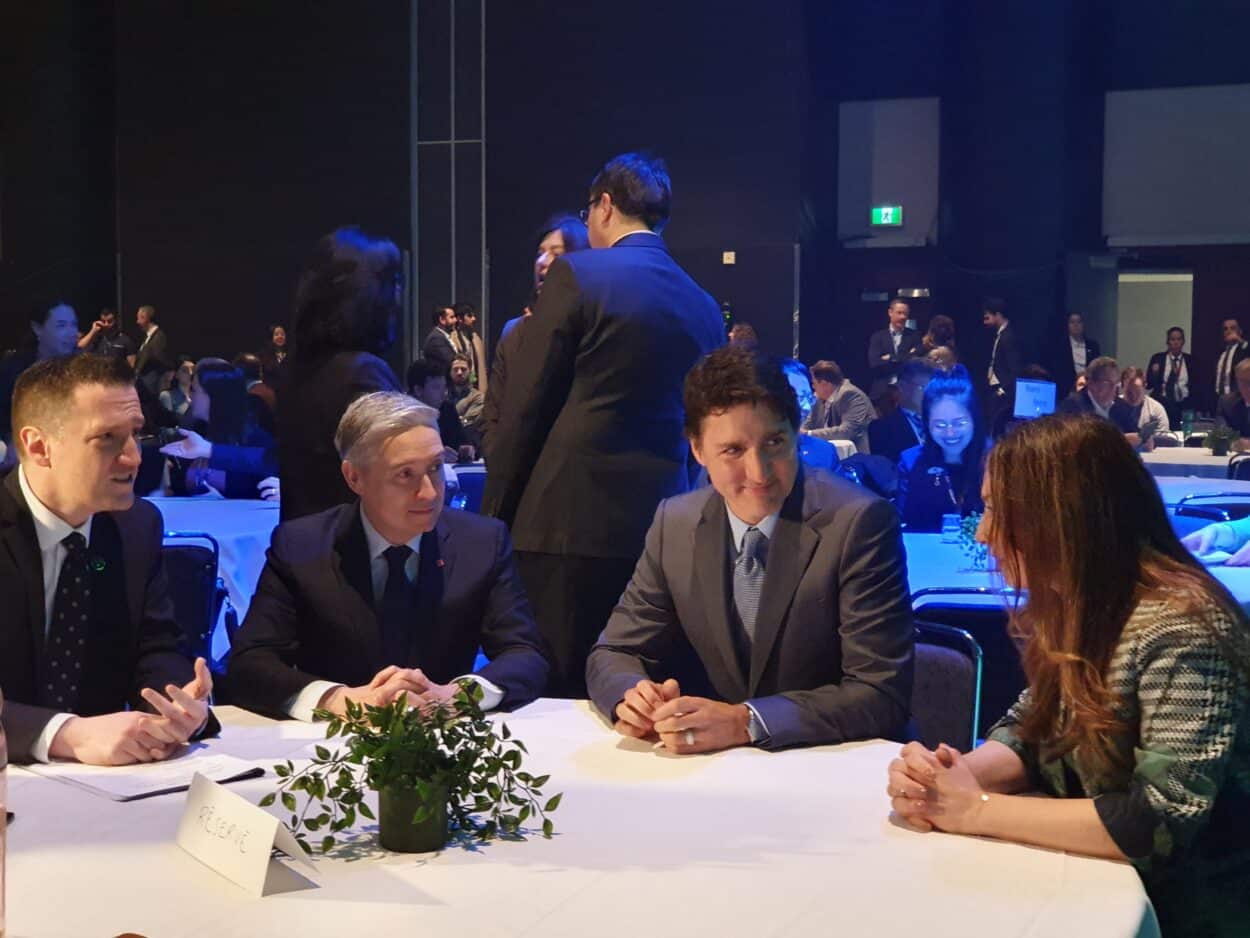 Volkswagen Comes to Canada
A partner of choice, that's exactly what the automaker Volkswagen has decided to make of Canada.
The German leader has unveiled plans to build a large battery factory for electric vehicles in Canada. The Volkswagen Group and its battery company PowerCo will establish their first gigafactory for battery cell manufacturing overseas, in St. Thomas, Ontario. Production is expected to begin in 2027.
The news was announced yesterday at a press briefing during the IMPULSION show. For François-Philippe Champagne, the Canadian Minister for Innovation and Industry:
"This is a home run for Canada. We want to be the great supplier of choice to the world and now we have a major automaker who decided that Canada is the place to be. I think that Canada has everything the economy of the 21st century needs. The proximity with critical minerals, the renewable energy, the access to the market, the talents."
In a statement, Thomas Schmall, member of the board of directors for technology at Volkswagen AG and chairman of the supervisory board of PowerCo SE said:
"With the expansion into North America, we will enter a key market for e-mobility and battery cell production, driving our global battery strategy forward at full speed. Canada and Ontario are ideal partners for expanding our battery business and creating jobs in the green economy, as we share the same values of sustainability, responsibility, and cooperation. We are committed to being a reliable partner and a good neighbor to the people of St. Thomas and Ontario."
The multi-million dollar investment pleases the Canadian Minister:
"I've been in the industry for over 20 years. Three or four years ago, no one was talking about Canada as a potential player in transportation electrification at the industrial level, but in three years, the picture has completely changed."
General Motors Corporation also announced the establishment of a cathode plant in Bécancour, Quebec.
Inflation Reduction Act
The United States has cast a shadow over the picture with the introduction of the Inflation Reduction Act. This program, which went into effect in January, aims to provide substantial subsidies for industrial projects, such as the manufacturing of electric batteries or vehicles, within the United States.
Manufacturers, whether Americans or foreigners, can now benefit from tax credits, subsidized loans, and other forms of aid totaling between $370 and 400 billion (€340 and 370 billion) for "green" industries. However, the condition is that their production facilities must be located within the United States.
For Christian Lafrance, Director of Development at Quebec company Lithion Recycling:
"The issue is that our U.S. competitors have received $300 to $400 million in subsidies and they are going to be more competitive than us. Redwood, our competitor, received a $1.2 billion loan (€1 billion). The Quebec government has invested C$15 million (€10 million). It's getting hard to compete."
The Inflation Reduction Act (IRA) has been introduced as a protectionist measure to ensure supply chain security and counter the growing influence of China. However, it also creates a distortion in the market that favors foreign companies to set up operations in the United States.
Based in Quebec, car manufacturer Lion Electric has opened a factory in the US. Flo, which produces charging stations also operates 2 plants in the United States.
Tesla had originally planned to establish an electric battery factory in Germany. However, due to more favorable tax benefits offered under the IRA, the company is now considering moving some of its battery electrode manufacturing to the US.
If Volkswagen is opening its gigafactory in Ontario, Canada, it is, according to sources, in exchange for access to Canadian lithium and nickel deposits. The company, which is also opening a factory in the US to produce electric 4×4 of its Scout brand, will also benefit from the IRA subsidies.
Given these circumstances, Canada needs to consider adjustments to prevent its electric sector from relocating to the United States.
Europe is also pushing back against the US subsidies. The European Commission has announced on Thursday, March 16 its "Net-Zero Industry Act" plan in response to the billions of dollars in subsidies granted by the American government to industrial companies.
The Net-Zero Industry Act aims to increase the production of green technologies such as solar panels, electrolyzers, and wind turbines in Europe to meet 40% of the continent's demand by 2030.
For Frans Timmermans, Vice President of the European Commission:
"We will maintain our trade relationships with our partners, but we should produce more in Europe."
In the meantime, Joe Biden is scheduled to meet with his Canadian counterpart, Justin Trudeau, in Canada, in a few days.