Airport lounges continue to push the boundaries of comfort and relaxation, productivity and gastronomy, privacy and sociability, with new bespoke, characterful designs popping up around the world.
Alex Duncan is Design Director at JPA Design, responsible for numerous well-received international lounges including the recent Kandinsky and Moscow lounges at Moscow's Sheremetyevo Airport. For him,
Lounges are continually evolving and different airlines and operators are concentrating on signature offerings to stand out from the crowd, from fresh food, games rooms, spas, grooming facilities, gyms, personal shoppers, private en-suite bedrooms, VIP rooms, local specialist pop-ups, cocktail bars to noodle bars and so forth.
So what makes a good lounge? Duncan highlights
generous space, beautiful interior, great service, choice of seating arrangements, comfort, privacy options, generous food & beverage offer, soothing lighting, security for personal belongings, intimate areas, and dedicated kids' facilities.
The trick, of course, is providing all those within the often frequently constrained space of modern airports, while remaining within budget and meeting the increasingly high expectations of today's passengers, says Matt Round, Chief Creative Officer at design house Tangerine.
Food is increasingly becoming an important aspect of the overall experience delivered within the lounge. Airlines are paying careful attention to the food being offered and are employing highly experienced Michelin star chefs to create a theatre of service.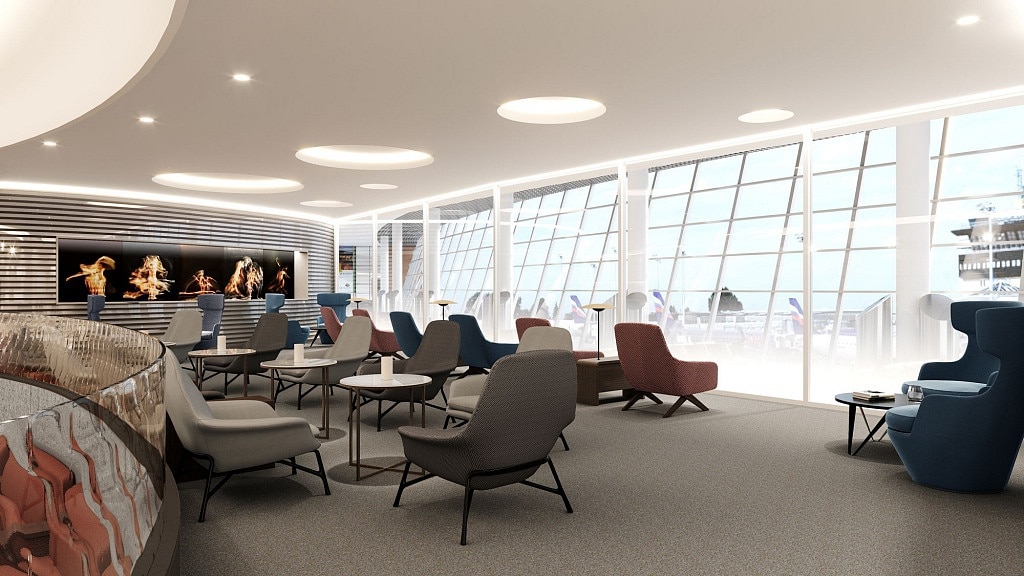 Globally, the standard of lounge provision is increasing, though at the same time segmentation of lounge passengers is also growing. Special lounges reserved exclusively for first class passengers and super-high-tier frequent flyers have been the norm for Lufthansa and British Airways for some time, but this is flowing down to business class with Air Canada's Signature Suites and United's Polaris lounges.
As for favorite lounges, JPA's Alex Duncan admires
the look of the Icelandair Saga Lounge which has an identifiable local personality, is very straightforward and unpretentious yet looks comfortable and welcoming. Some of Air Canada's lounges offer similar qualities while Cathay's Hong Kong Lounge ticks many boxes too with its variety of experiences and genuine character.
Tangerine's Matt Round is also an admirer of Cathay Pacific's work:
Historically, Cathay Pacific have been leaders in Business Class and First Class lounges as they are pleasing, comfortable and everything is provided to the highest quality. Their lounge in Terminal 3 at Heathrow is a destination in its own right; you hear people talking about it. It has a clear 'Cathay Pacific' identity through the look and feel of the interior scheme and different zones and seating options allow people to move well from one activity to another. The space utilises natural daylight effectively to create a welcoming and relaxing ambience and the overall care and attention to detail in the space is admirable.
It's interesting to note some pushback from passengers and lounge designers against the 'residential' concept of the last few years, too. While the last generation of prime lounges featured furniture and décor that wouldn't be amiss in a luxury city apartment, airlines and lounge operators are realising that passengers' needs are greater than simply a swanky chair to relax in, while avoiding the look and feel of an office park meeting room.
Says JPA's Duncan:
In terms of look and feel, it is difficult to pinpoint a specific trend but generally the mood seems to be away from corporate towards a softer, more natural and homely ambience.
More widely, says Duncan, trends from hotels are being brought into the lounge space.
At the luxury end of hospitality which JPA also specialises in, the shift seems to be towards understated yet memorable, authentic and engaging environments with a renewed emphasis on the quality of the sleeping experience and speciality F&B as opposed to hotels that are slick, exclusive, overtly lavish, corporate and offer the last word in in-room entertainment.
In the lounge context, that trend makes sense too, since passengers seem to want airlines to focus on getting the basics right: a decent bite to eat and a glass of something; a comfortable space to sit and relax, work or play; easily accessible power sockets; and the hygiene factor of fast, free, easy-to-use wifi. These are not new desires, but as more of the world around us meets those needs, passengers will be increasingly expecting them from their airport lounges.