Japanese company Kumahira has just one mission – to provide safety and security to its customers. They have recently developed a very innovative liquid scanner that is able to detect explosives in all sorts of containers. It is currently used to improve airport security.
DirectIndustry, in partnership with JETRO, Japan External Trade Organization, presents a selection of high-quality products from the top Japanese manufacturers in industry, including Kumahira.
Japan-based company Kumahira was founded in 1898 by Genzo Kumahira and originally specialized in safes. The company has now branched out to focus on a much wider range of security products that can contribute to public safety.
From Repairing Vaults to Liquid Explosive Detection Systems (LEDS)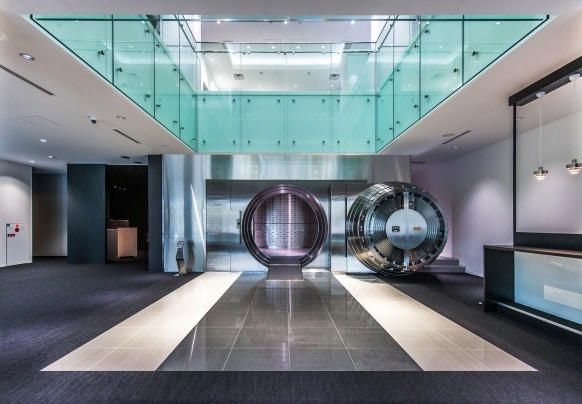 We talked to Ryuji Yamada, Director, Sales Promotion Dept. He said that the company began by selling and repairing safes. Later, it moved into the development and manufacture of safes and vault doors within its own factory.
"Thanks to the security expertise and technology we have developed through the manufacture of safes, we can now offer many more security products. These include access control systems, security gates, and liquid scanners."
The company says the entire process of planning, developing, and manufacturing of their products is all done in-house, and with flexibility.
"We take it as our responsibility to ensure our products are responding to the changing risks and needs of the times. We also have the ambition to bring safety and security to the next level for our valued customers."
An Innovative Liquid Scanner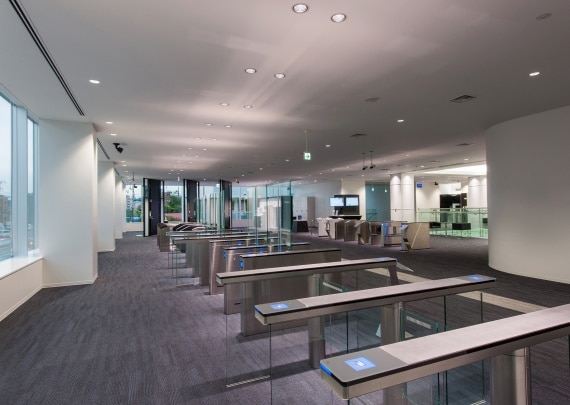 Kumahira's products can be divided into two groups: Rigid Products, which includes safes and vault doors, and Total Security (TS), such as security gates and liquids scanners.
One recent innovation in TS is the European Civil Aviation Conference(ECAC) Standard 3-complied LSR-M2 Liquid Scanner. This device can detect explosive raw materials, flammable materials, and other hazardous liquids when a container filled with liquid is held over its sensor.
Mr. Yamada explained:
"Not only is the device cost-effective, compact, and lightweight, but it is also time-efficient, as its screening time is only one to four seconds. The sensing technology used to determine the safety of liquid substances is safe, with no negative effect on the human body.
Mr. Yamada adds that the unit is capable of detecting explosives and flammable liquid substances in various types of containers (glass, plastic, aluminum and steel containers).
The scanning device can also inspect containers, such as those still in transparent bags, that were previously difficult to inspect.
Expanding the Business
In recent years, the demand for liquid scanners at airports has grown, following the sharp increase in the number of terrorist attacks involving liquid explosives, Mr. Yamada suggests.
"Liquid explosives pose a major threat both domestically and internationally because they can be disguised as beverages, cosmetics, or drinking pills, thus making them difficult to identify. The LSR-M2, which instantly determines the hazardousness of liquids with its simple operation, enables accurate and smooth inspections, contributing to the strengthening of anti-terrorism measures."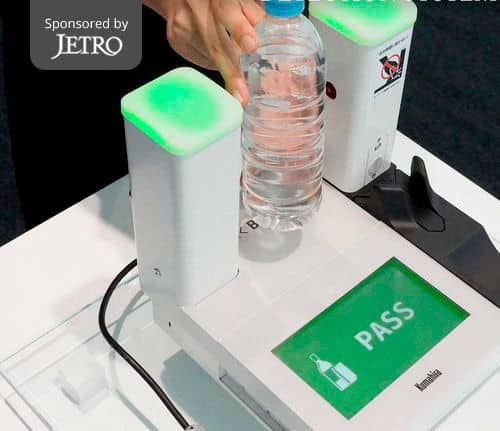 Kumahira, which has a market share of more than 90% in Japan, largely sells its liquid scanners to airports within the country.
"Overseas, however, they have been chosen not only by airports, but also by police forces and national organizations. In the future, we expect to expand our business to safety in highly public international conference halls, sports stadiums, museums, etc."
Developing New Equipment
Currently in development at Kumahira, and embedding the LSR-M2 technology, is a handheld liquid scanner.
Lightweight and small in size, the device is expected to have much wider use, by allowing inspections to be done on the spot. It could, for example, be used in places such as railway stations, trains, buses, airport waiting areas, and even streets, therefore increasing public safety.
For Mr. Yamada,
"Our handheld liquid scanner will shorten the time required for inspection. It will also decrease the psychological burden on the inspector as it will reduce the chance of having to carry or open dangerous liquids".
Although the company was not able to provide more details now, they confirmed to us that they are in the process of developing a new sort of equipment. The future device will be able to detect hazardous liquids other than liquid explosives and combustibles.
RELATED ARTICLE
"Our mission as a company is to protect all things of value and importance from all kinds of threats, and therefore provide safety and security to our customers."
And in this mission, Kumahira will never stop evolving beyond Japan.
"We are currently expanding our business overseas, looking for partners from all over the world who will share that mission with us and develop their business alongside us."