Smilers manufactures invisible dental aligners. Part of the Biotech Dental group, the company was founded a decade ago and has just inaugurated its revolutionary industrial site in the South of France. We spoke with CEO Philippe Véran who reflects on the company's journey, from starting out in a garage with a small 3D printer to creating a state-of-the-art automated facility that is also environmentally friendly.
Smilers was founded a decade ago by Philippe Veran in Salon de Provence, South of France. At the inauguration of the new facility last month, Mr. Véran was proud to showcase what his team has accomplished over the past decade.
"It's been a real day where we were able to show what we've been doing somewhat secretly for the past ten years."
The dental company, which started with a small 3D printer and experimented with various products to print dental aligners, has emerged as a technological leader in the dental industry and is now hosted in a state-of-the-art automated facility. The company received a 15-million-euro investment to automate the factory.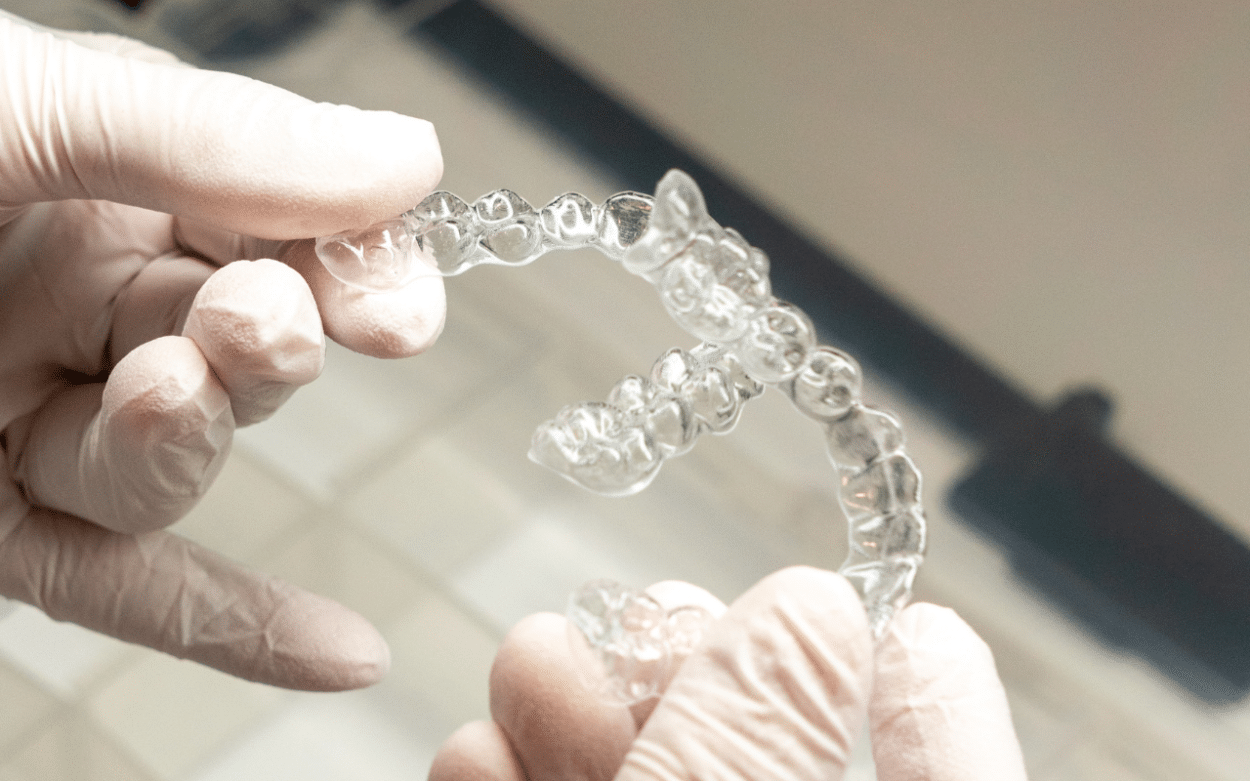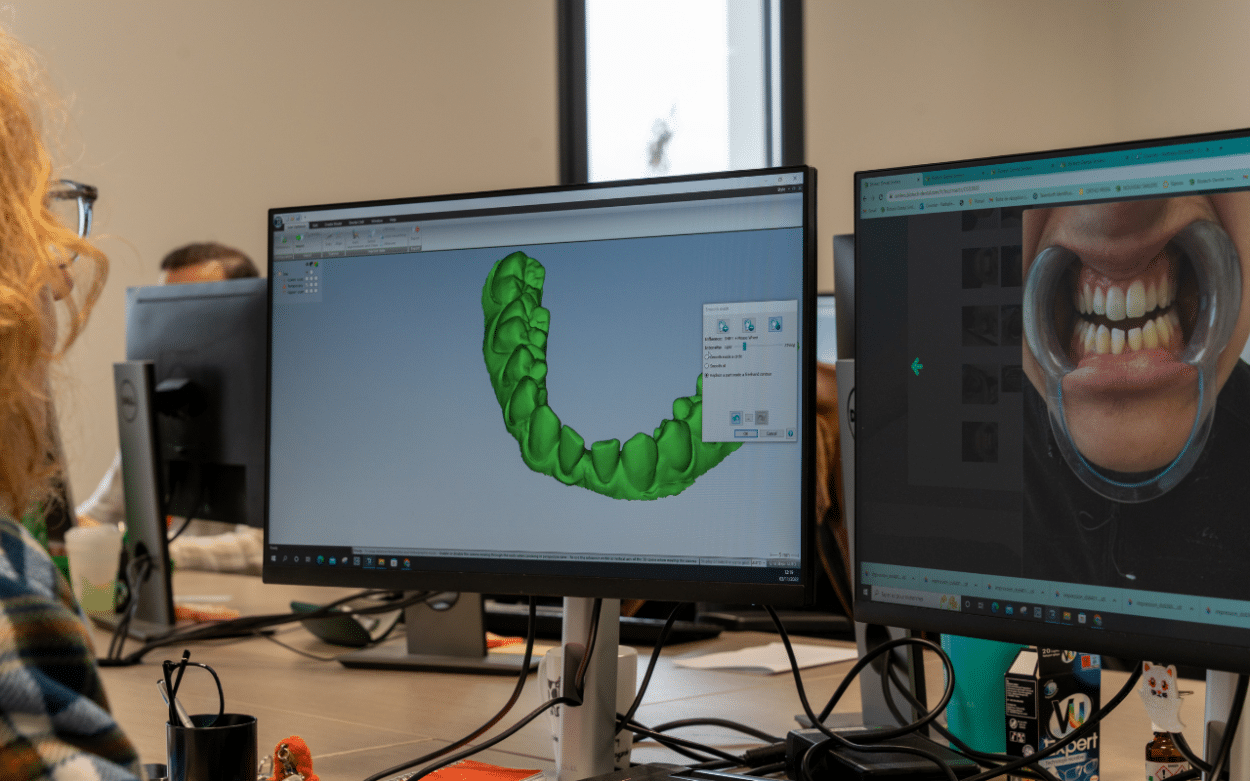 Advanced Robotics and Equipment
Smilers use additive manufacturing to produce millions of unique dental aligners. This paradigm shift challenges conventional manufacturing practices that rely on the mass production of identical pieces. Veran highlights that the challenge in managing such an operation is being able to plan for the required resources, which is why the company has invested in a fully robotic line that can adapt to production needs.
The company currently operates three lines: a fully robotic line, a second fully robotic line set to launch in July, and a third semi-robotic line, which serves as a learning ground and remains active to address urgent orders. Plans are in place to introduce a third fully robotic line, leveraging the additional space already secured for expansion.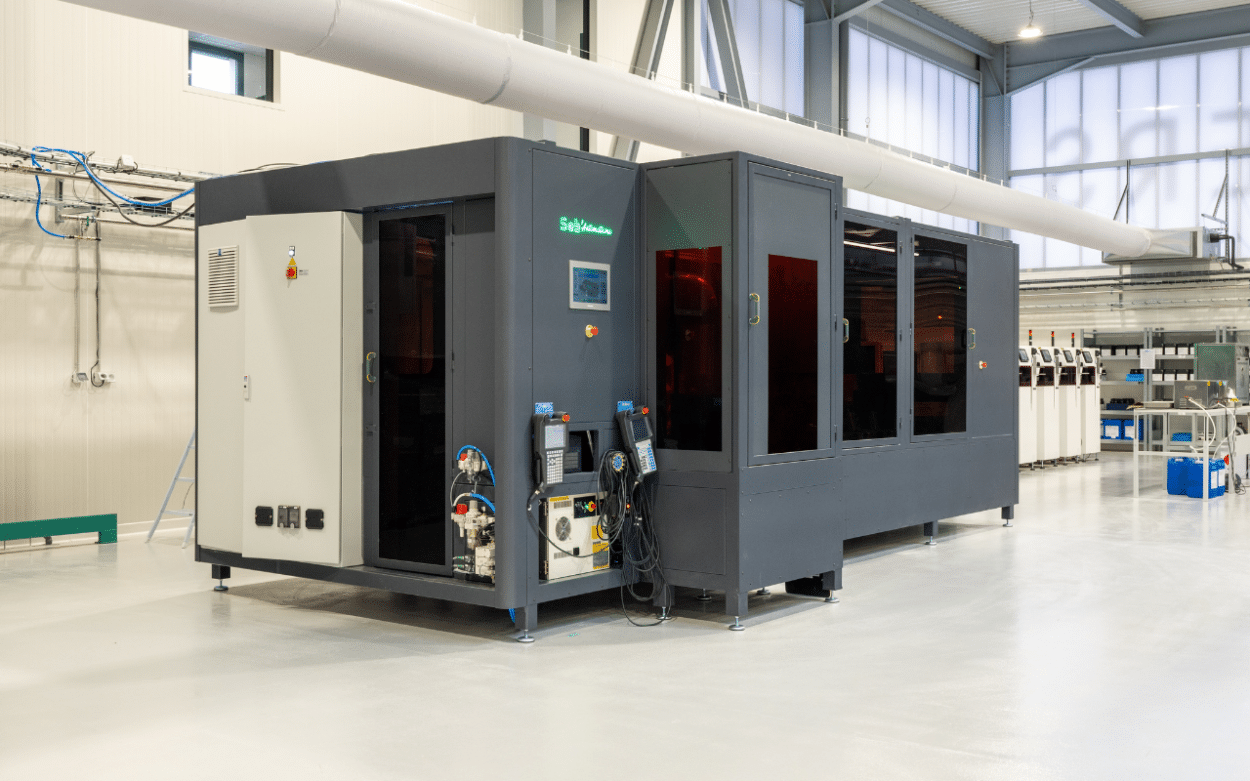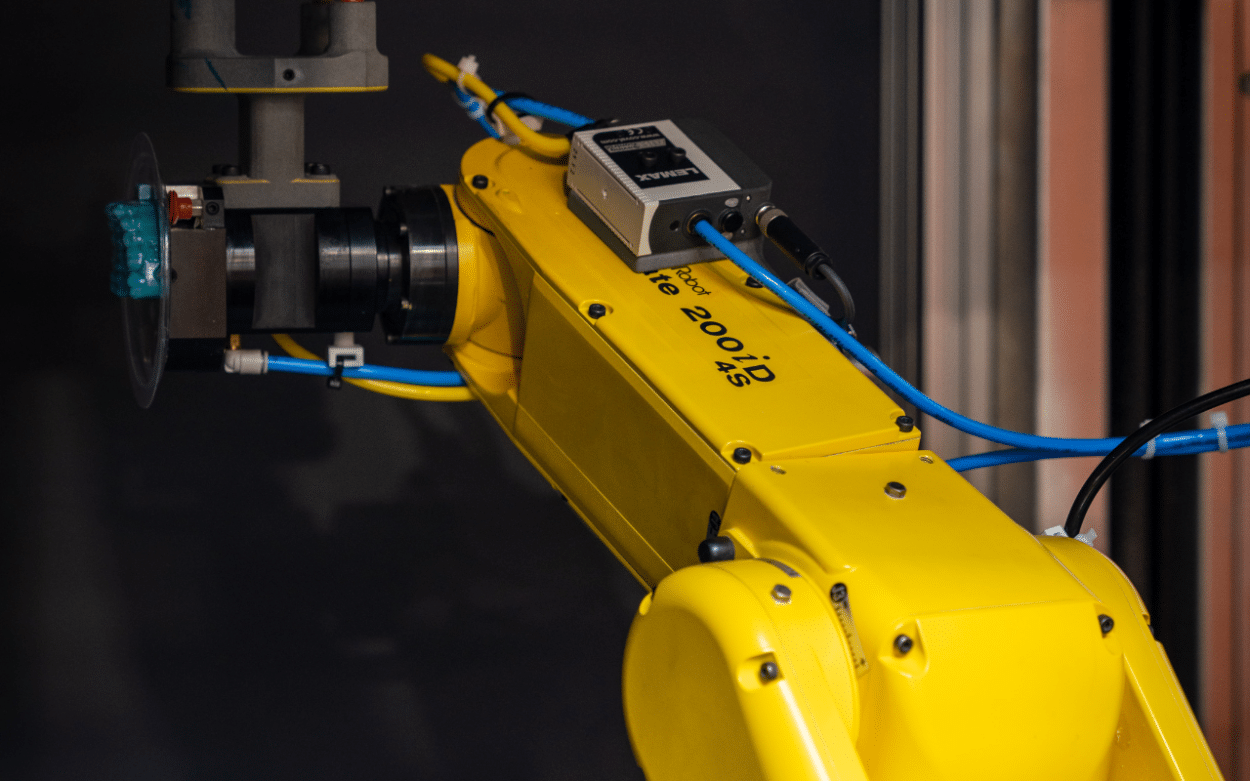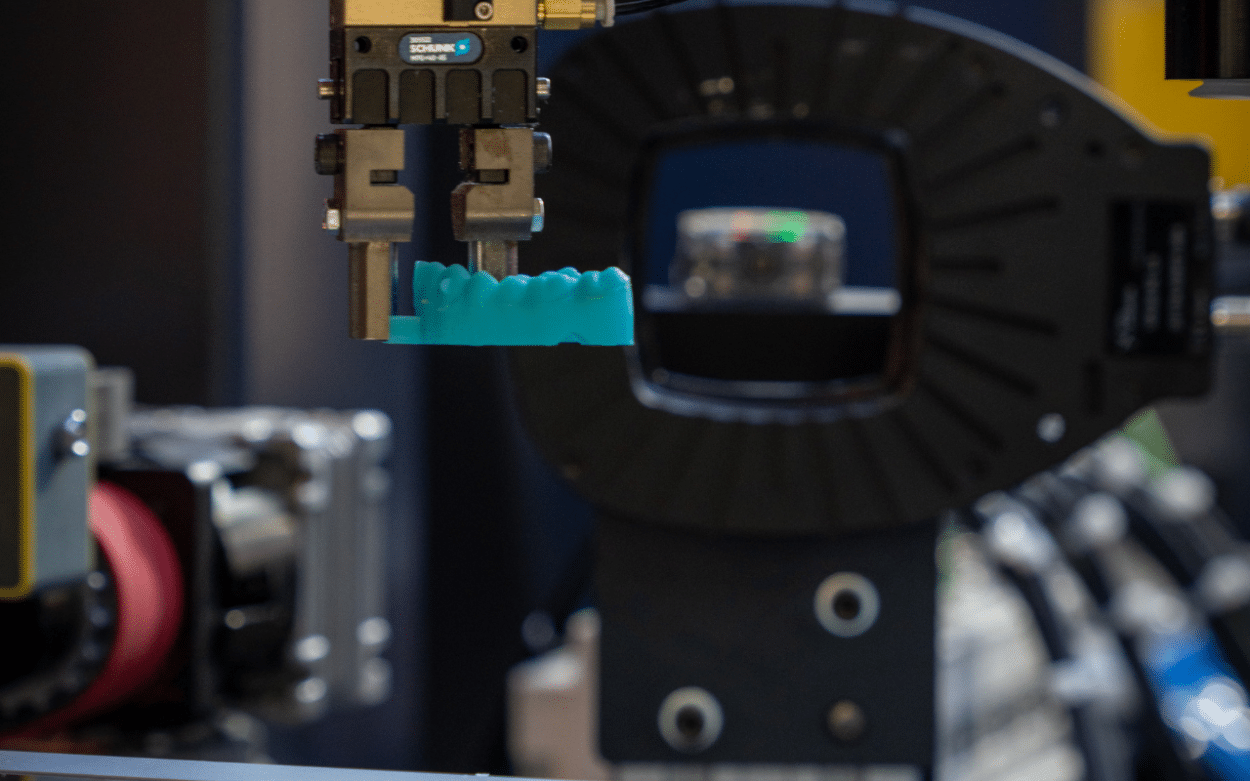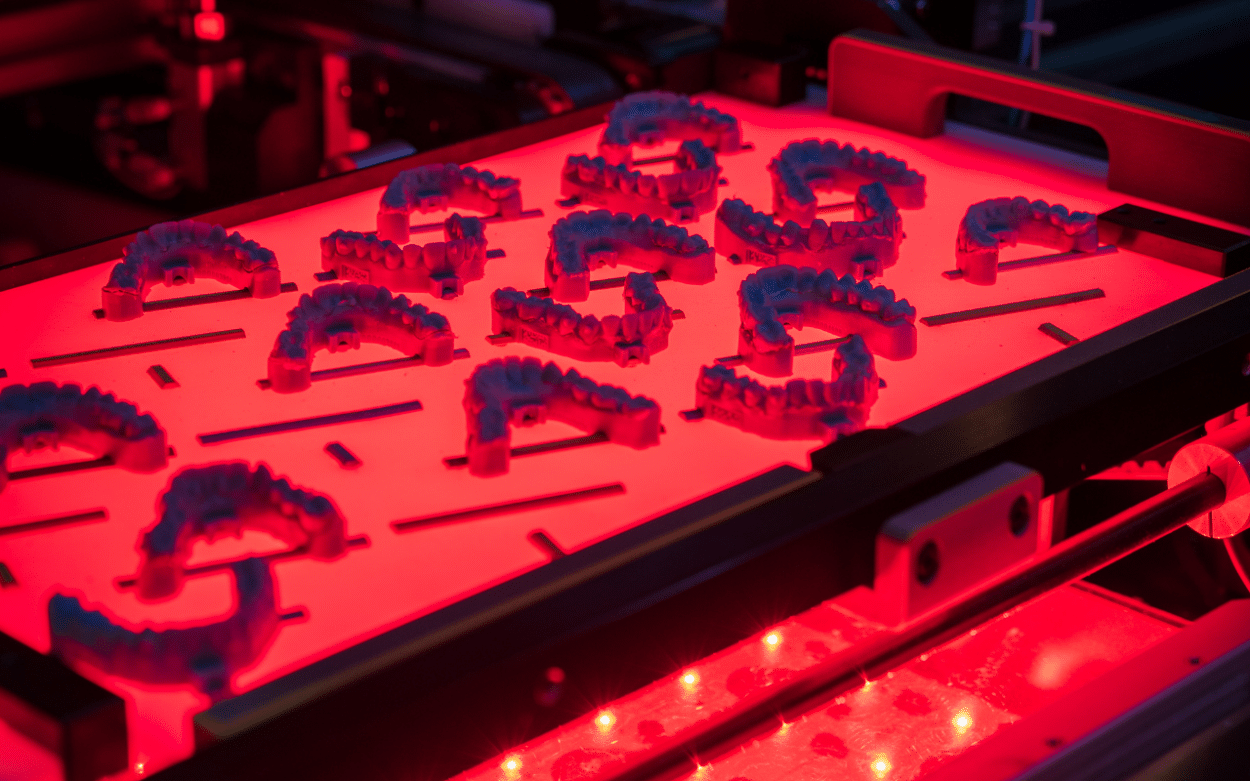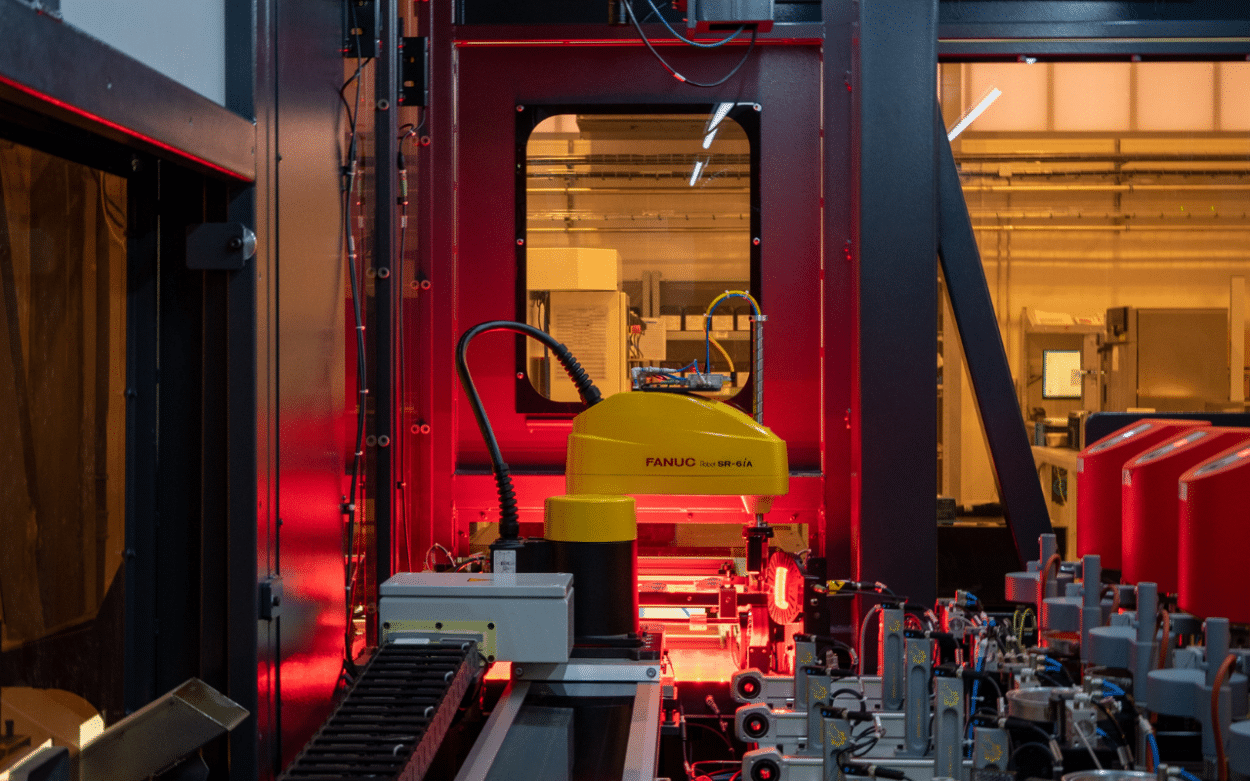 "Each production line at Smilers is equipped with an average of five to six 3D printers. Robotics plays a vital role in the process, from reading aligner models and thermoforming to cutting and laser marking. QR codes on the aligners enable robots to identify and choose the appropriate plastic material for thermoforming, resulting in customized aligners that are then cut using laser technology. The aligners proceed through a unique cleaning and packaging chain designed to accommodate eight lines, ensuring quality and efficiency in the production process. The final stage of the operation is entirely robotic. There are around 4 robots per line."
Smilers collaborates with two 3D printer suppliers, Prodways and Rapid Shape. While Prodways, a French company, holds a special place for Smilers, Rapid Shape's advanced post-processing capabilities, including an integrated cleaning chain, influenced the selection of their robotic line. However, future procurement decisions remain open as Smilers actively monitors the market for potential innovations and improvements. On the robotic side, Smilers chose Fanuc robots.
Implementing automation and robotic systems has significantly increased Smilers' productivity without compromising the quality of their aligners.
" The time required to produce aligners remains consistent. However, the quantity that can be processed has increased. We are able to handle larger volumes. If we start from receiving an order to shipping an aligner, it now takes roughly half a day to complete the entire process. With our factory operating in three shifts, the robotic production lines ensure that the machines are working continuously. So it is undoubtedly something that is much more efficient. We will soon be able to produce fifteen thousand different aligners per day."
The company plans to quadruple its production by the end of the year.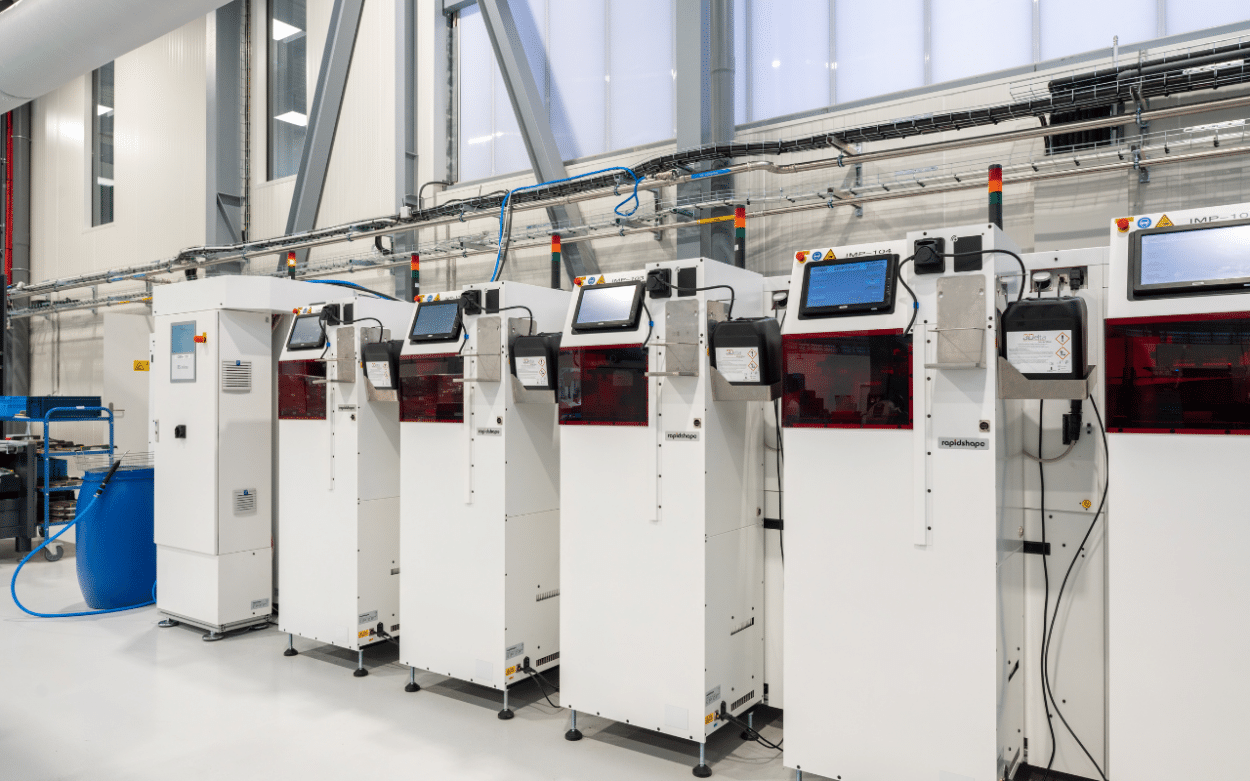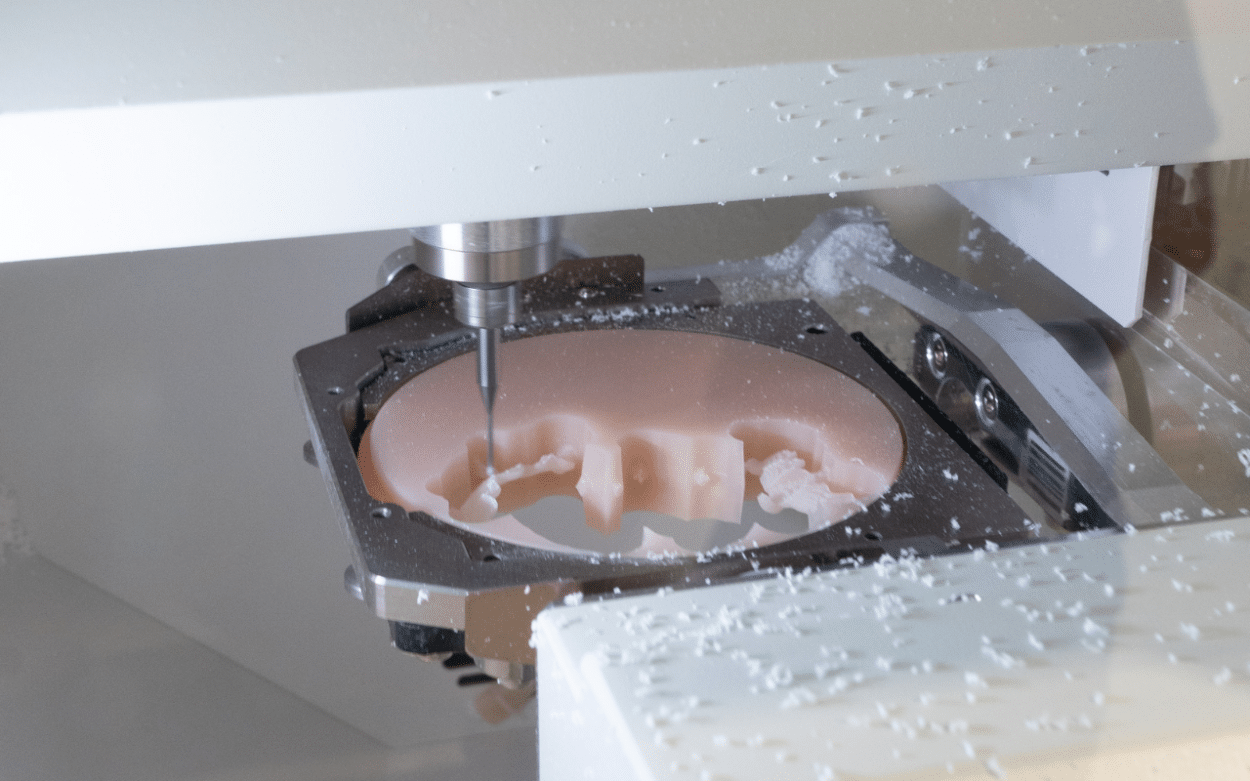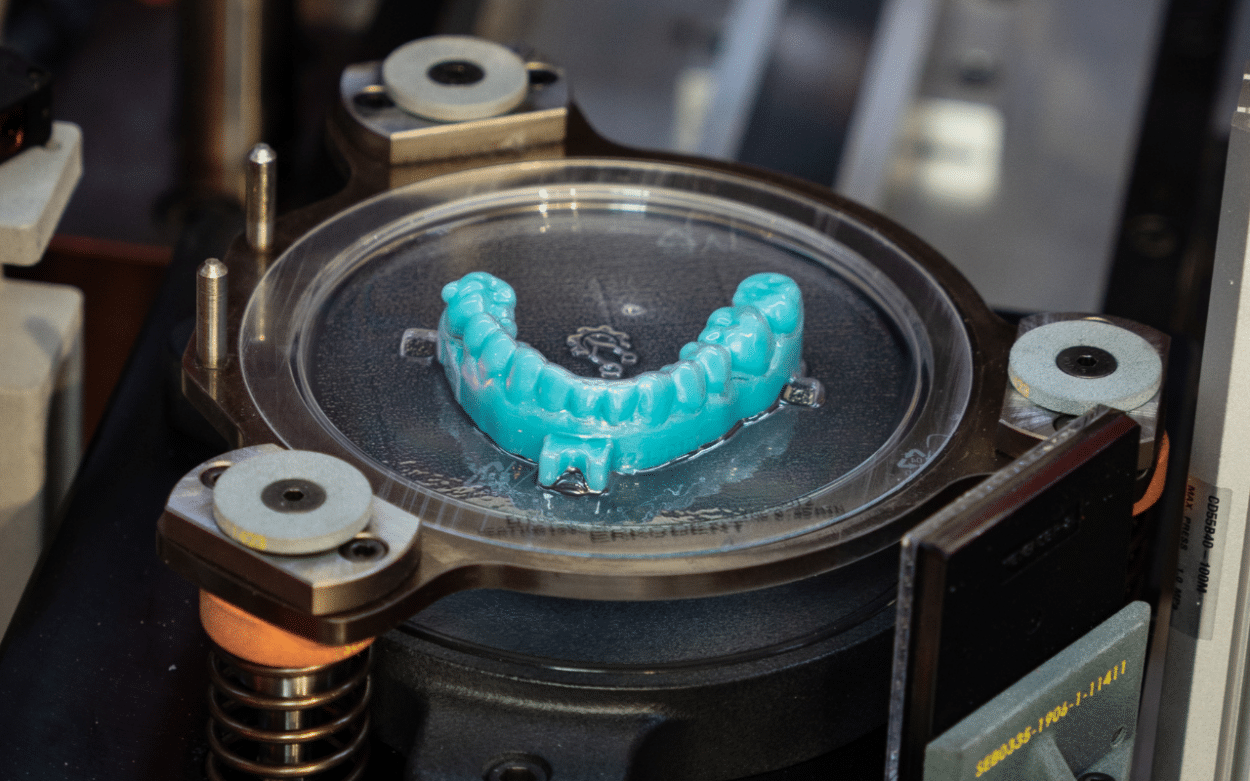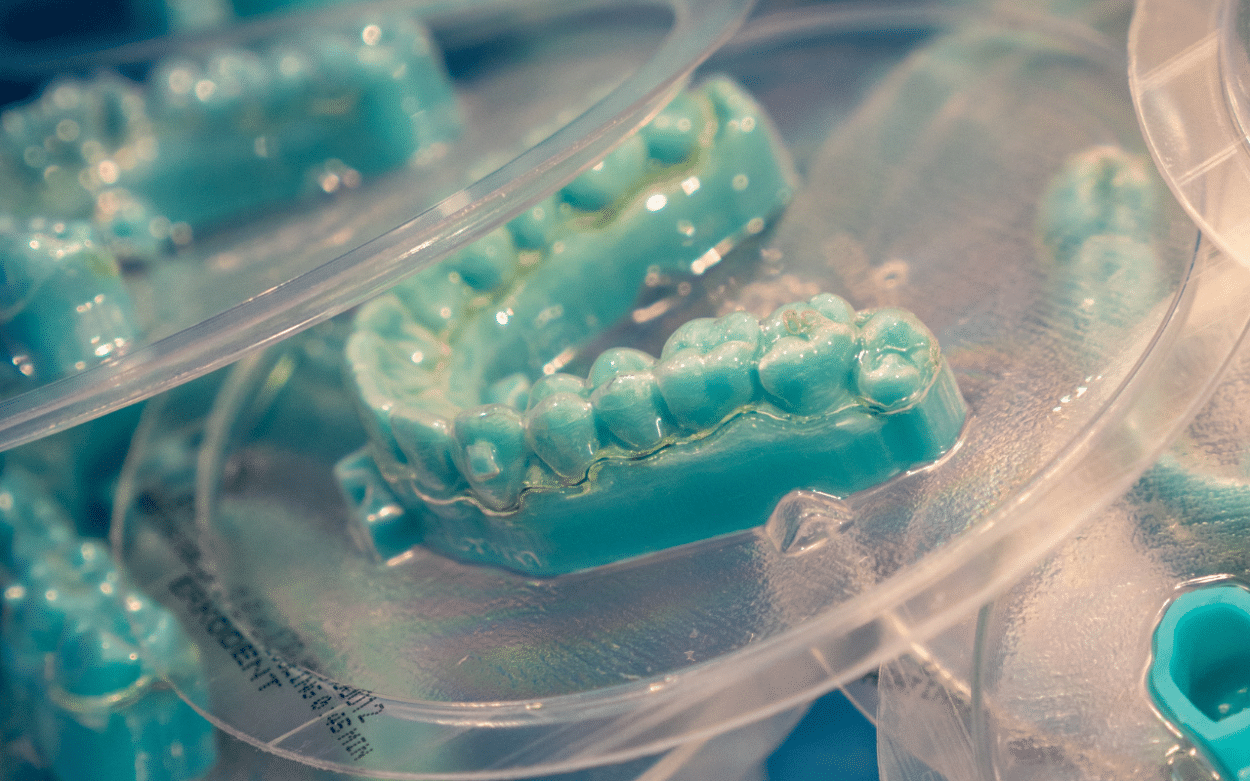 Clean and Odorless Industry
In addition to its technological advancements, Smilers prides itself on being a clean and odorless industry. The absence of emissions from their manufacturing process makes it possible to establish industrial sites that operate quietly and without unpleasant odors, thereby minimizing the impact on neighboring communities.
"Our 3D printers are resin-based, so they do not generate heat. They are very low-energy consumers. In comparison to other 3D printers such as those using titanium laser fusion, the energy requirements are significantly different. These printers are inherently designed to require much less energy than traditional machines."
The building was designed to be environmentally friendly. In order to maximize energy efficiency, they have utilized a combination of materials and architectural designs.
The roof is equipped with 212 state-of-the-art photovoltaic solar panels from a Marseille-based startup called Dual Sun that currently allows them to achieve almost complete autonomy for ten out of twenty-four hours throughout the year.
"These panels allow us to be self-sufficient in both hot water and electricity a little less than half of the time."
The air conditioning systems operate on a cooling mechanism that utilizes the pulsion of micro-particles of air through large perforated pipes. This significantly reduces energy consumption, consuming five times less than conventional convector systems.
The entire facility is equipped with LED lighting that automatically adjusts based on the external light intensity.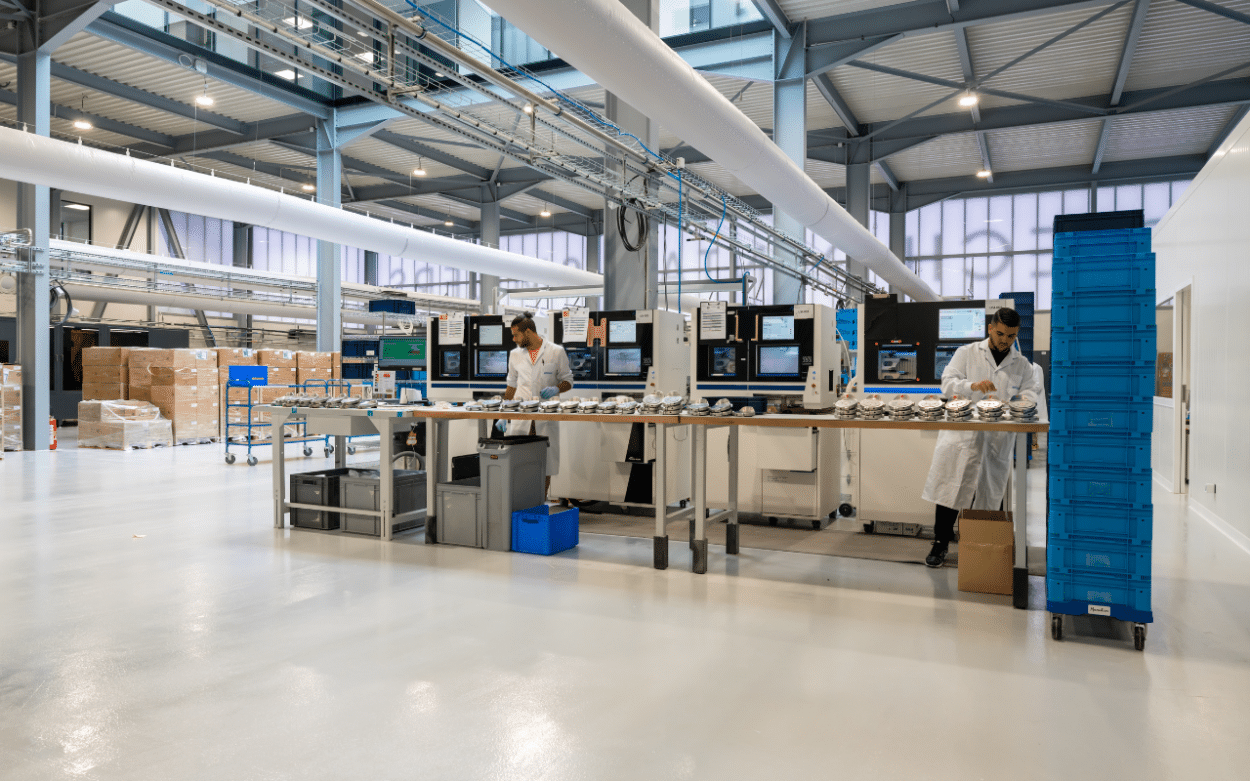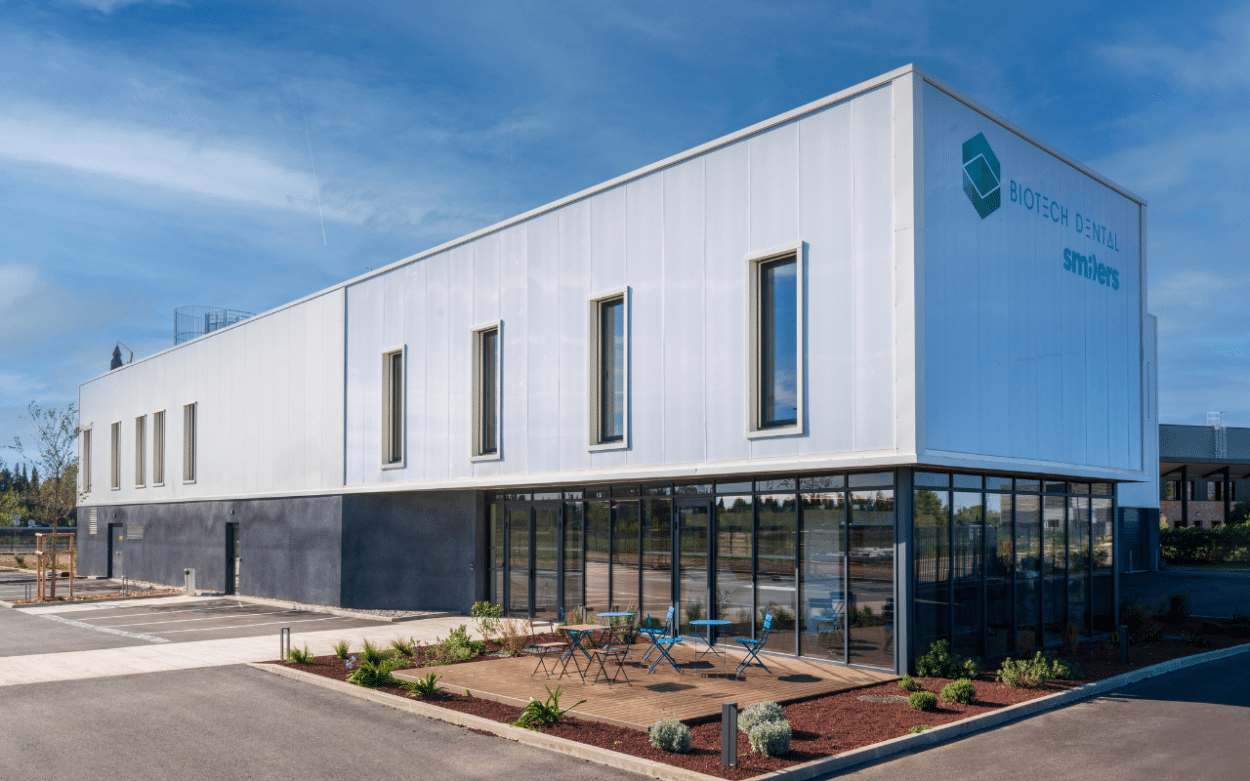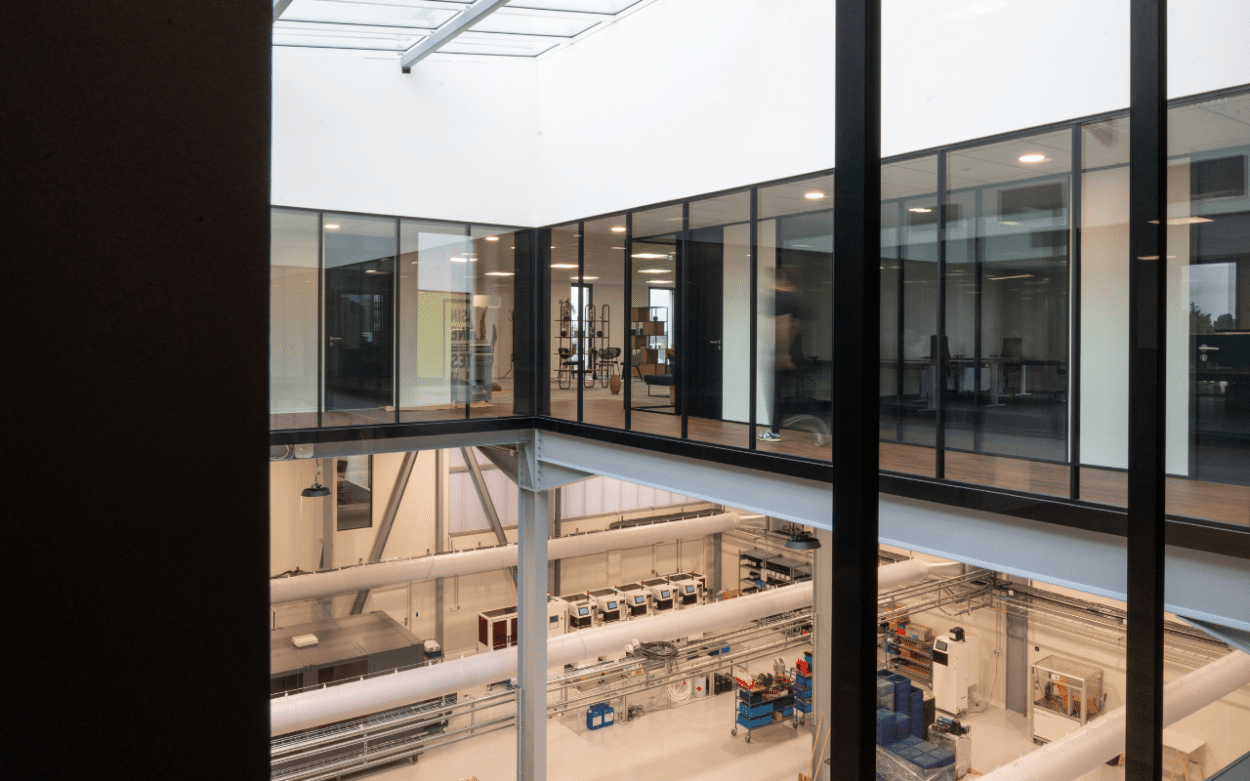 Recycling Waste
The company has also taken steps to minimize waste and promote a circular economy. One of their initiatives involves reusing their resin materials in an innovative way. A portion of their resin is for example repurposed as asphalt for parking lots. However, Veran reckons they face challenges when it comes to recycling photopolymerized resin, as its chemical structure undergoes irreversible changes.
"We are collaborating with universities to explore solutions and find a method that allows us to reuse these resins effectively. Our ultimate goal is to achieve a fully circular system where the resin can be continually recycled without compromising its functionality. While we continue our research, we have established two avenues for recycling plastic waste. First, we have created an independent recycling chain for our PETG plastic scraps and used dental aligners, similar to the concept of Nespresso capsule recycling. These materials are transformed into 3D printer filaments through two dedicated recycling lines within our factory. Currently, we provide these filaments to dental faculties across France, enabling students to print models while promoting environmental responsibility."
Additionally, Smilers is collaborating with a local artist who uses their discarded aligner fragments as canvases for his artwork on stone supports.
"These unique pieces are then made available for purchase to our customers, creating a captivating synergy between art and sustainability. Through these recycling initiatives, we aim to reduce waste, benefit our ecosystem, and inspire others to join us on the journey towards a more environmentally conscious future."
Future Projects
Smilers currently employs 140 people and plans to expand its operations with a third fully automated production line. The company is also exploring ways to improve its manufacturing process by cutting out the need for models and directly printing the final product.
"Why do we 3D print models that need to be thermoformed in order to produce a dental aligner? Wouldn't it be better to manufacture the entire aligner through 3D printing? As pioneers in this field since 2004, we have always aimed to achieve this from the beginning. However, we never succeeded in bypassing the model phase. Although there are materials and printing systems available today that allow for the production of aligners, they have not yet reached the required quality to match the precision of thermoforming. The true breakthrough would be the ability to directly manufacture aligners without the need for models."
For Veran, the real breakthrough was automating their production lines.