German Chancellor Olaf Scholz, visited the stands of 8 major companies on the first day of Hannover Messe 2023 last Monday. While most of these companies are German, one of them is Japanese. In this article, we will take a quick look back at the tour Olaf Scholz took during his visit to the industrial trade fair.
It has become a tradition for every Chancellor to visit the booths of both German and partner country companies at every Hannover Messe. This year was no different, as Olaf Scholz, accompanied by Indonesian President Joko Widodo, began his customary tour by visiting the booths of Indonesian companies. He then proceeded to visit the booths of eight other companies, seven of which were German and one was Japanese.
Curious to know more about these companies and what they presented to the German Chancellor? We followed Olaf Scholz on his tour and have all the details. From family-owned businesses to large corporations and foreign companies, read on to find out which companies Olaf Scholz visited at Hannover Messe 2023.
1/ Festo
During his visit to Festo, the German leader in automation, the Federal Chancellor explored the BionicCellFactory, Festo's model factory that enables optimized algae cultivation. This culture enables the production of biomass that serves as a new raw material while actively binding CO2 in large quantities. Festo provides all the automation components.
Festo's CEO, Dipl.-Ing. Dr. Oliver D. Jung explained to the Chancellor how Festo's automation technologies allow for efficient, resource-saving, and large-scale closed-cycle biological processes.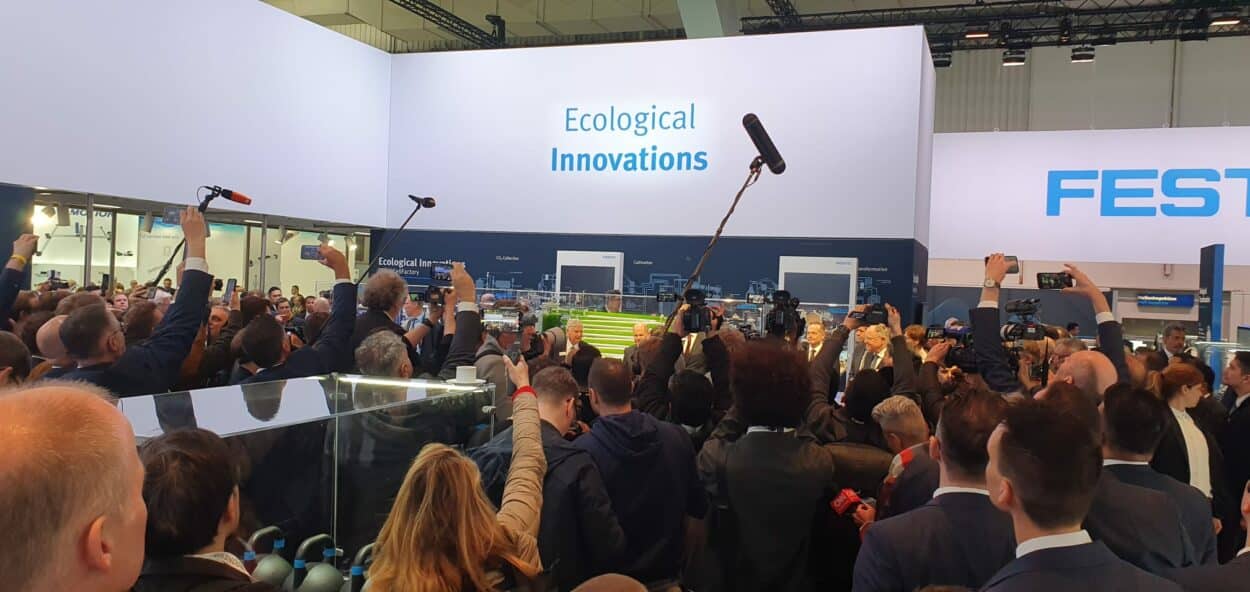 RELATED ARTICLE
2/ Ebm Papst
Chancellor Scholz particularly appreciated his visit to the stand of Ebm Papst, a German company specializing in the production of electric motors and fans. In his closing speech, he praised the company's efforts to promote the training of young people in industry. The Ebm Papst stand was indeed entirely planned, organized, and hosted by 15 students on work-study contracts with the company.
"These are great young people who are taking a stand against the shortage of skilled workers. They make it clear that anyone who decides to do an apprenticeship in Germany is doing everything right."
This address echoed his remarks at the opening ceremony the day before, where he emphasized the importance of combating the labor shortage.
"Whether SMEs, small companies, or DAX listed companies, in order to ensure that this transformation turns into a major upswing, our country needs skilled workers."
At the Hannover Messe preview in February, we met Ebm Papst trainee Melanie Bildhoff. She was the one who welcomed the Chancellor at the booth. She told us :
"There is a problem in Germany, we are having difficulty hiring young people. And we want to show that au pair internships are something great."
3/ Pilz
Pilz is a German family-owned automation company, which recently celebrated its 75th anniversary. At Hannover Messe, they placed great emphasis on industrial safety. They showcased their key-in-pocket solution, which provides comprehensive access control for maintenance tasks inside machinery enclosures. Even the Chancellor participated in the demonstration, identifying himself at the safety gate using a personalized transponder key, just as an operator would do. He was then able to enter the machinery area where workers perform maintenance duties.
According to Susanne Kunschert, who runs the family business,
"Networking and digitization present industry with new challenges in terms of security. It is essential to protect plant and machinery in such a way that only authorized personnel have access and that manipulation of control systems via attacks from outside is prevented."
4/ Omron
OMRON is a Japanese-based electrical equipment manufacturer that provides industrial automation solutions. At OMRON's booth, the focus was on how integrating people-focused automation technologies can help companies combat the labor shortage in manufacturing – a topic of great concern for the German Chancellor as we mentioned before.
OMRON showcased a combination of robotics, control, detection, vision, AI, AR, and 5G technologies that can address both labor shortages and sustainability challenges. For example, the company featured a robot that is able to solve an assembly task by following the hand movements of a human worker and can learn from its mistakes.
According to sources at the OMRON booth, there were no brand-new robotics solutions unveiled at the trade show this year. The company is saving the release of their new automation technologies for the Automatica trade show in Munich next June.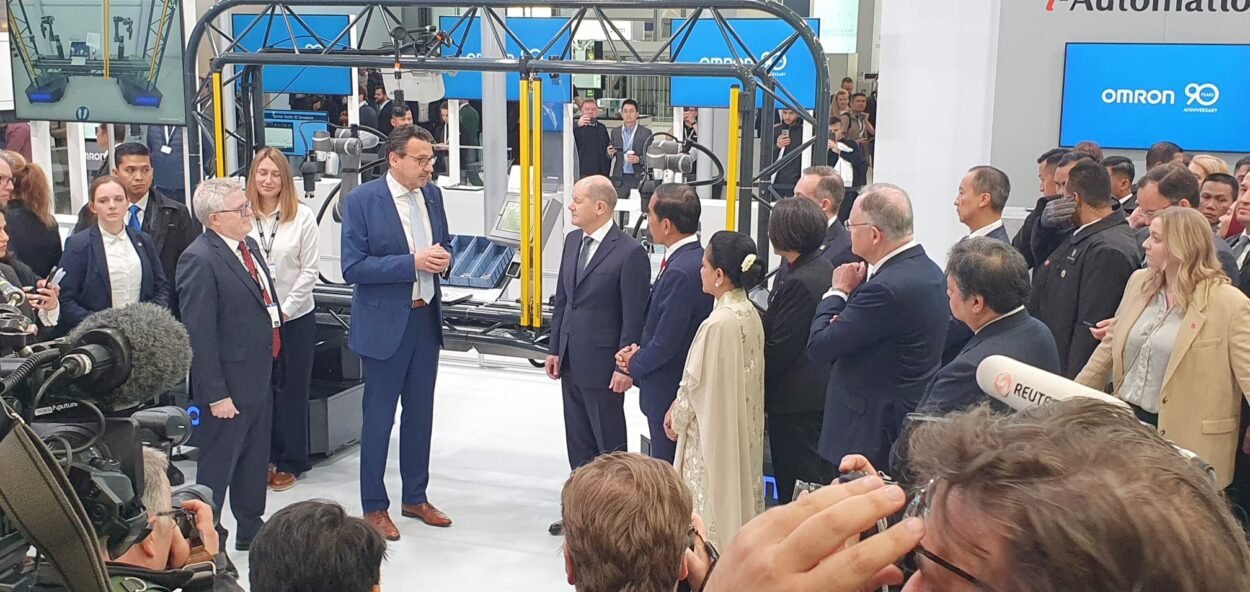 5/ Phoenix Contact
Phoenix Contact is a family business headquartered in Germany that specializes in connection and automation technology for industrial systems. The company is celebrating this year its 100th year anniversary.
At their booth, CEO Frank Stührenberg emphasized the strategic direction of the All Electric Society based on renewable electrical energy.
"This can only be achieved through the electrification and optimal interconnection of all sectors."
He presented their controller platform that can automatically couple other sectors, offering similar communication protocols and open interfaces. It can for example be used for electric vehicle charging infrastructure. Cars can thus be utilized as a storage system in the power grid.
6/ ifm
During Olaf Scholz's visit to their booth, ifm, the German specialist in sensors and measurement technologies, presented their IIoT platform Moneo, which uses sensors to collect valuable data for intelligent maintenance. The Chancellor was able to see how this information is made available to users wearing augmented reality glasses.
ifm also showcased EnviroFalk, a water filtration system to combat water shortages. The innovation could have applications in Indonesia as the country is directly affected by global warming. Besides, the German company announced they recently opened a new site in Indonesia to support the digitization of Indonesian companies' production processes.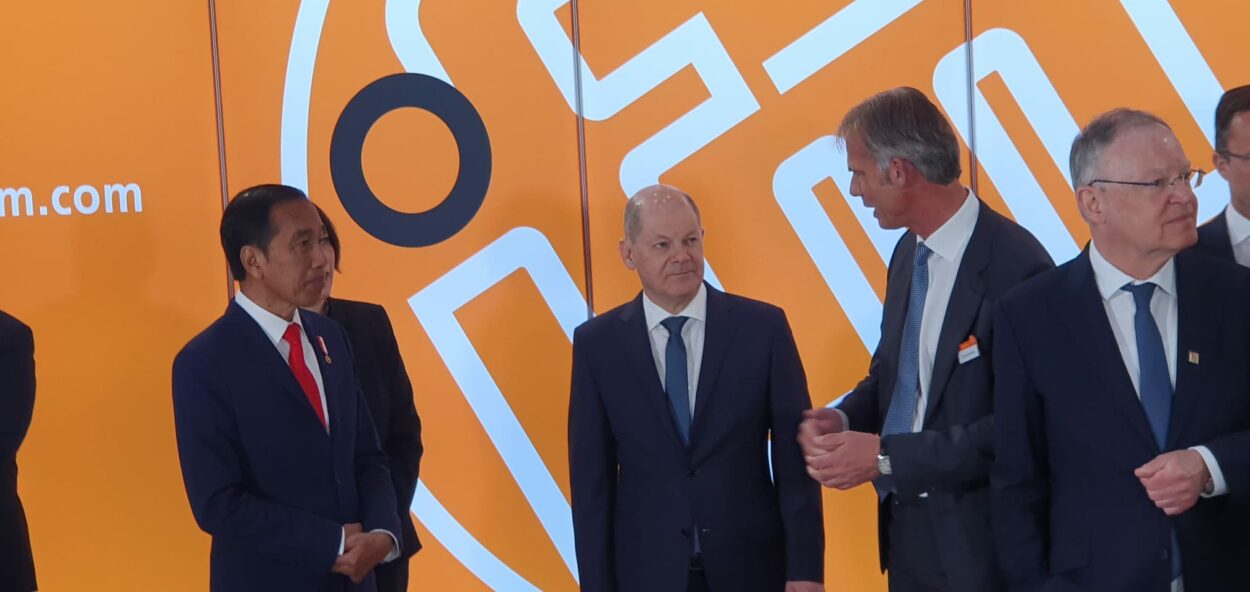 7/ Siemens
At Siemens' booth, the focus was on digital transformation and the importance of digital simulation and virtualization in industry. A digital twin of Olaf Scholz was created by the German company, allowing the Chancellor to experience the digital transformation first-hand.
Siemens also virtually connected Indonesian President Joko Widodo, Chancellor Scholz, CEO Roland Busch, and Digital Industries CEO Cedrik Neike to a factory in Indonesia, highlighting the benefits of long-distance communication and digital connectivity in industry.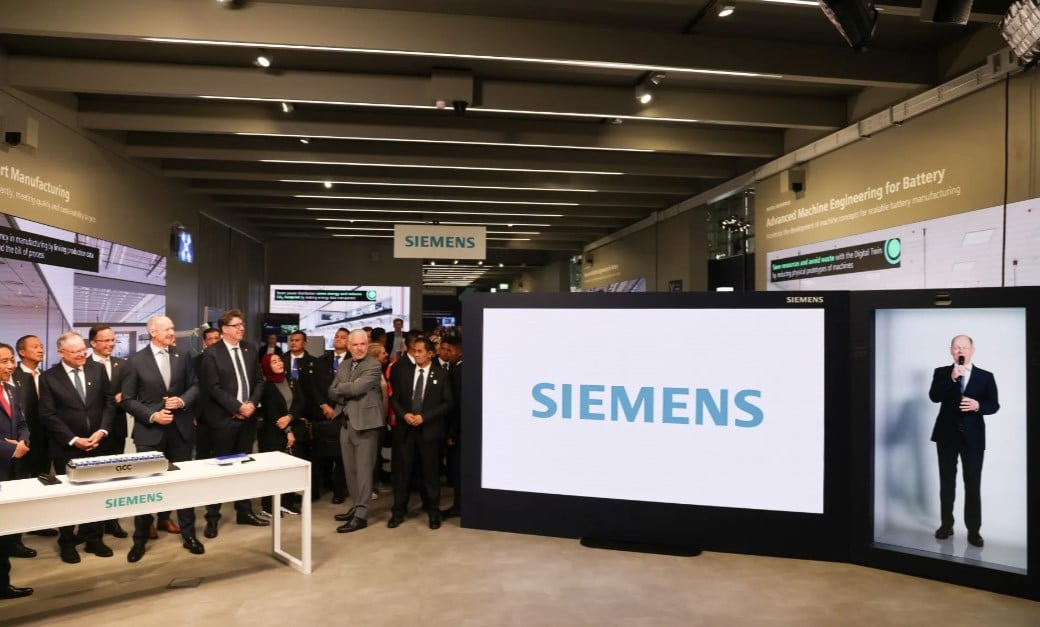 8/ Wöhner
Like Pilz and Phoenix Contact, Wöhner is also a German family-owned company. It specializes in energy distribution and renewable energies.
If Chancellor Scholz visited Wöhner's booth it is because according to him, their products increase energy distribution efficiency and play a key role in the energy transition as well as in securing a safe energy supply in Germany.
Some of the products Wöhner CEO Philipp Steinberger showcased included their electronic motor starter, MOTUS C14, which can detect short circuits before they occur, and their energy distribution systems and safety products for wind power and photovoltaic systems.
RELATED ARTICLES