This year's edition of Hannover Messe focuses on climate-neutral production and sustainability. Siemens and Festo are showing how their automation and digital solutions can be at the service of the fight against climate change.
Climate-neutral production is this year's edition of Hannover Messe mega theme and it is gaining momentum in the fight against climate change. The word 'sustainability' is on everyone's lips and almost every booth features a product with 'sustainable' characteristics.
With industrial activities contributing significantly to greenhouse gas emissions, achieving CO2-neutral production is indeed a crucial step toward reducing the carbon footprint of industrial activities.
Leading companies Siemens and Festo are one of the numerous companies exhibiting how their technologies can contribute to sustainability and combat climate change. While Siemens put their solutions to the service of sustainable indoor farming, Festo's automation solutions are helping grow algae with captured carbon dioxide to produce biomass.
Growing Algae With Festo
Festo has earned a reputation for developing robots inspired by nature with advanced kinematics. During past editions of the Hannover Messe, the German company has exhibited ants, birds, and even kangaroos to prove that technology and nature converge. This year, and for the second year in a row, Festo is showcasing a bioreactor that can automatically cultivate algae to produce biomass.
According to Sebastian Schrof, project manager of Festo's bionic cell factory,
"The biggest challenges of our time are climate change and carbon dioxide. If we look back, there was a time when the planet was completely filled with carbon dioxide. It was transformed by microorganisms present in water, and through photosynthesis, they changed the carbon dioxide into oxygen and sugar biomass. This took billions of years, but we want to show that today, small factories can do the same: take the carbon dioxide out of the atmosphere, and give it to chlorella algae to produce biomass that will be used by the food or cosmetics industries."
By pumping the algae liquid upwards into surface collectors and redistributing it uniformly, the bioreactor enables closed-cycle cultivation. During this process, the algae cells convert sunlight, carbon dioxide, and water into oxygen and valuable organic substances through photosynthesis in their chloroplasts.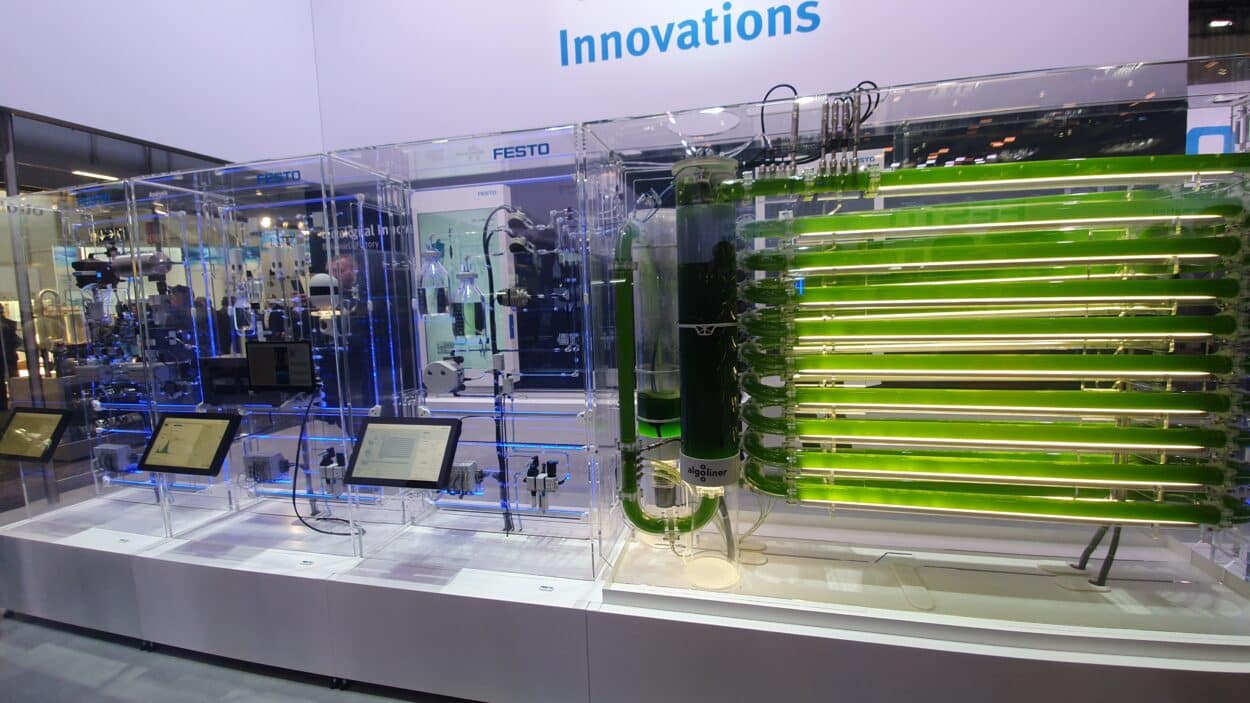 "The algae require carbon dioxide to grow, so we have developed a system that absorbs carbon dioxide from the air and heats it. The objective is to introduce the perfect amount of carbon dioxide into the system. Then we remove the oxygen, allowing for the cells to grow and be harvested with a centrifuge. The resulting biomass looks like oil."
This process involves creating the perfect growth conditions for the microalgae, which are 10 times more efficient than in nature. To achieve this, Festo's automation solutions control everything from nutrients to water, temperature, and pH levels. Even the algae's well-being is monitored through color recognition technology. By using sensors and microscopes, Festo is thus able to keep the system in balance, resulting in more biomass.
Festo does not sell the bioreactors but the technology to automate the system to make it more efficient. Today, companies are using bioreactors to create glycerol and biofuels for airplanes. The pharmaceutical, and cosmetics industries are interested in using these alternatives to oil-based materials. The food industry is also showing interest as these materials contain omega-3, making them a viable option for vegan food.
Vertical Farming with Siemens
Vertical farming is a solution to the challenges of traditional agriculture especially in urban areas. With climate change causing increasing pressure on traditional agriculture, indoor farming offers a resource-conserving alternative that can meet the growing challenges of food supply and food security. By 2050, according to expectations, 10 billion people will be living on our planet, and they will all need to be fed.
However, new agricultural land is becoming scarce, and farmers are increasingly struggling with water shortages. Indoor farming offers an intelligent solution that can reliably and energy-efficiently create perfect growing conditions for plants.
According to experts, indoor farming uses 95% less water than traditional farming and enables it to yield 300 times more than conventional farmland without using any pesticides. Besides, it can be powered by solar energy.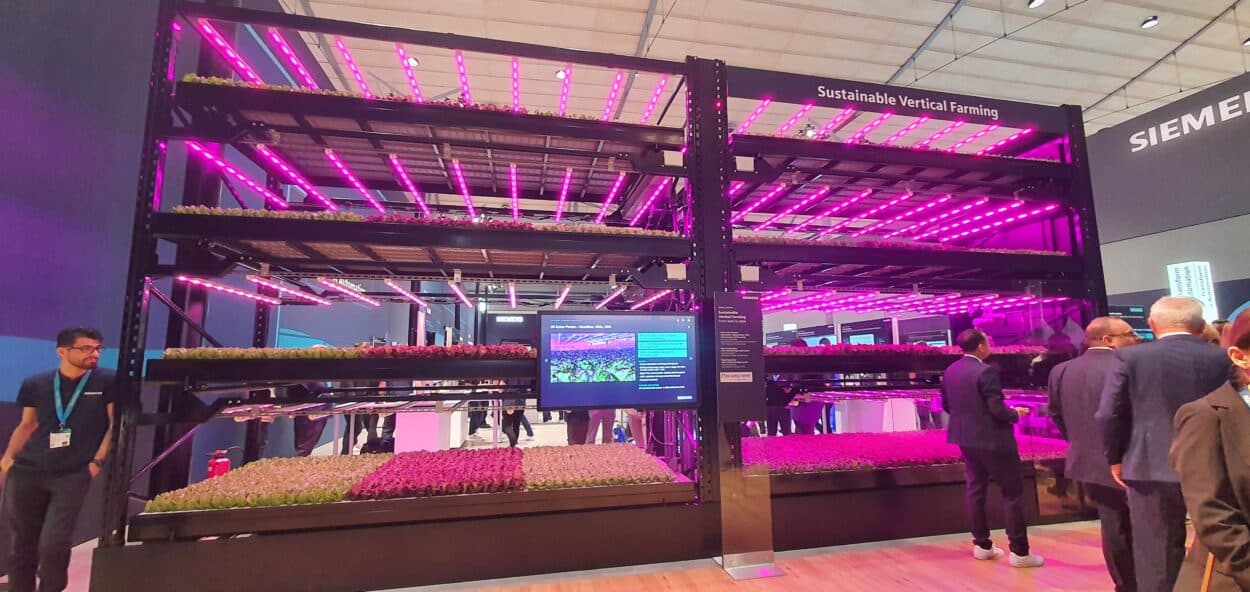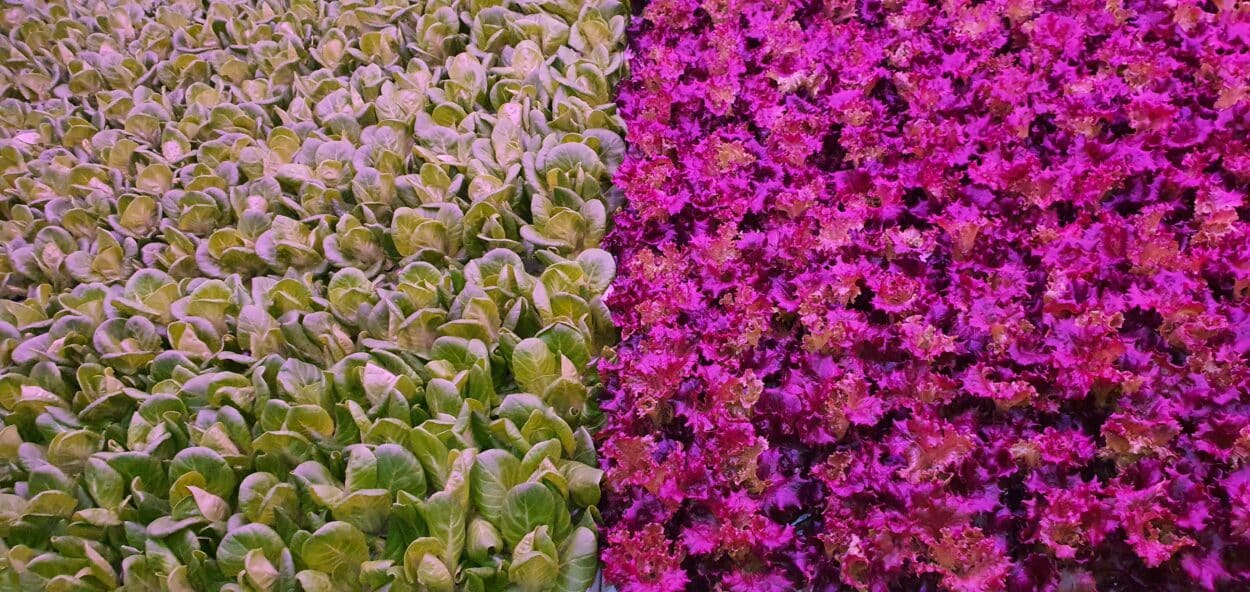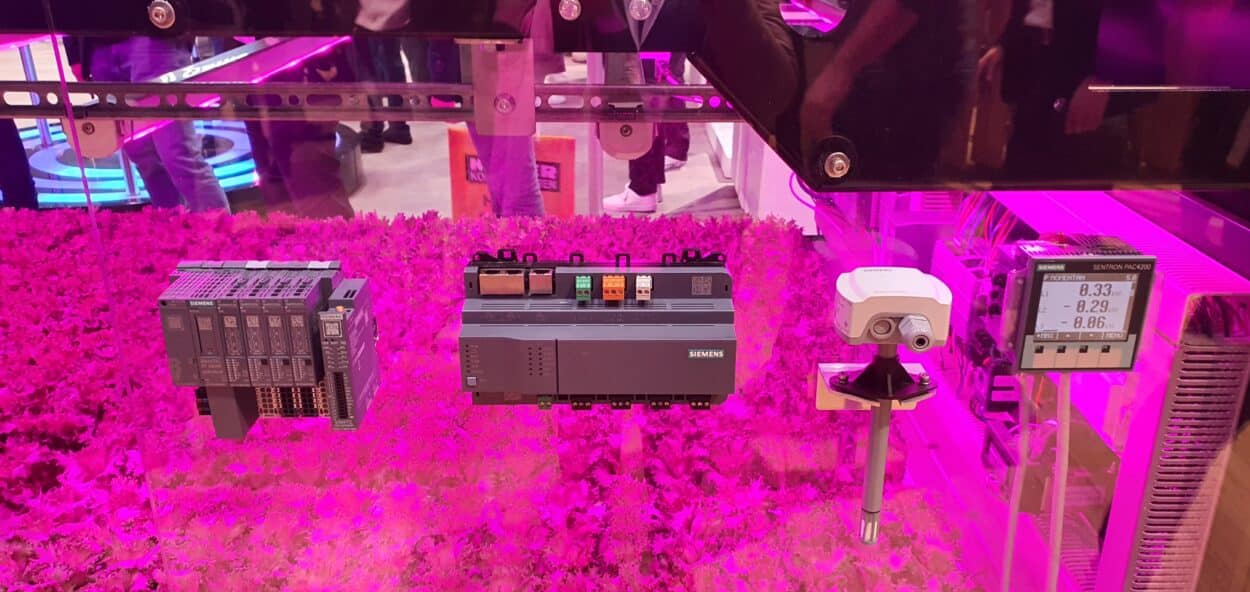 Since last December, Siemens has been working with 80 Acres Farms, a leading indoor farming company based in Ohio, USA, to digitalize and scale their indoor farms.
At Hannover Messe 2023, they showcased a vertical farming installation on Siemens's booth. The idea is that to achieve optimal growth and yield, it is crucial to monitor the process closely. This is where Siemens technology comes into play.
Siemens provides power distribution equipment and energy and building management technologies to monitor the fire, security, and power distribution systems via a single interface. Their automation solutions are also being used to optimize indoor farms' harvesting processes. Edge devices and human-machine interfaces monitor crop management and control environmental conditions.
According to a Siemens spokesperson that we met at the booth,
"One of the most critical aspects of vertical farming is the irrigation system. With our solutions and sensors, the environment where the plants grow is monitored around the clock. The CO2 concentration, humidity, and temperature parameters are continuously monitored and adjusted to ensure that the plant's environment is optimal for growth. Nutrient content in the soil can be modified to foster ideal plant growth. The system ensures that the plants get just the right amount of water they need without wasting any. The quality of the water and the pH levels are also closely monitored. "
Purple LED lights are used to provide the necessary light spectrum for plants to thrive. Depending on the plant's needs, the lighting can be adjusted from purple to blue.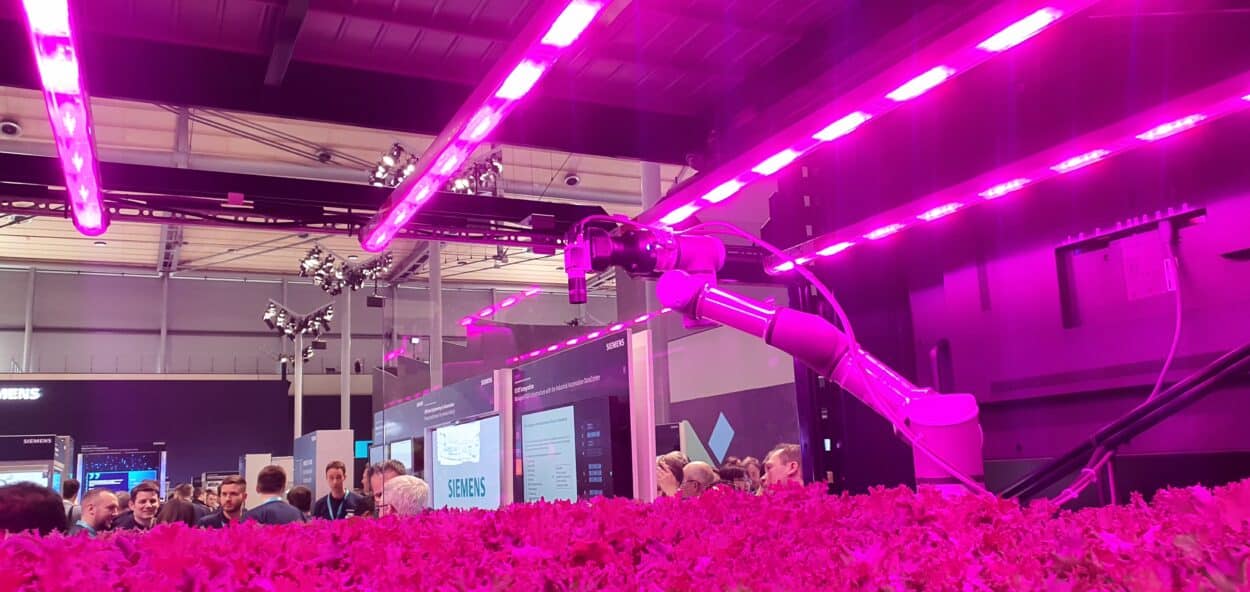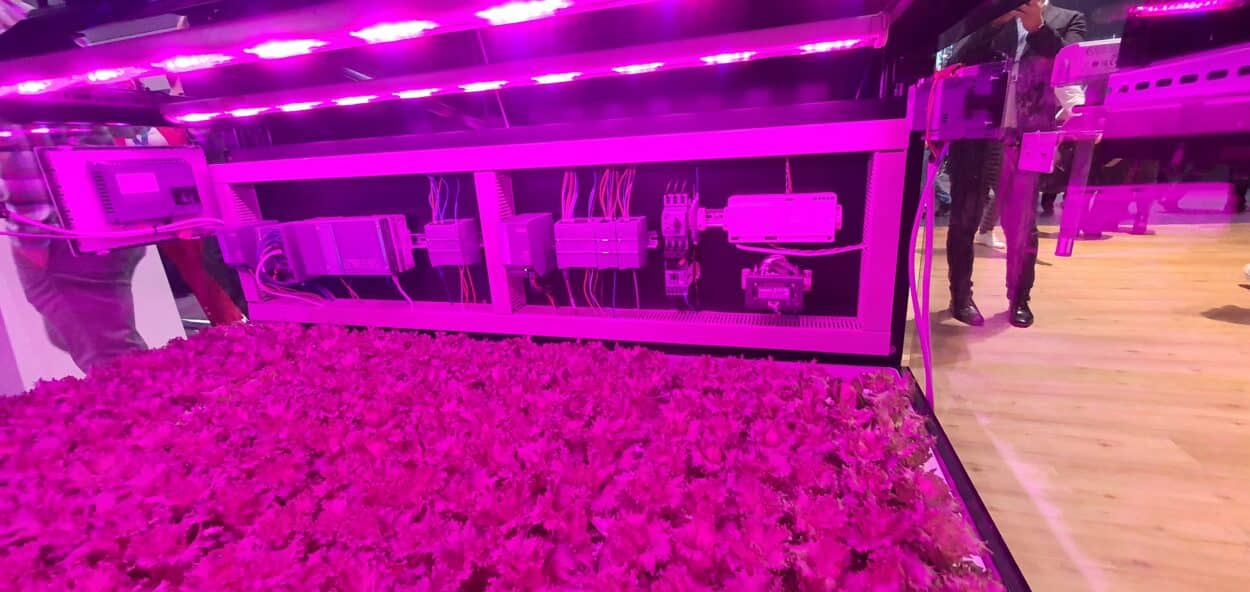 "All of these data are collected by industrial edge devices that visualize the data, making it easier to analyze and control. With the app, you can monitor and adjust everything from lighting intensity to watering schedule."
In addition to the technology, the farm can integrate a UR cobot inside that has a vision system. The cobot takes images of the plants and scans the leaves to check if they have the right size or if the plant needs water or not.
"For example, in 10 days the plant should be 10 centimeters high. But if in the visualization system, you see that it is only 6 centimeters, it means there is something wrong, maybe the plant needs lighting, more nutrients, or more water."
The data collected from the cobot can also be visualized in the same interface, to have a clear and complete overview of the plant's health.