COP27 was held in Egypt a few weeks ago and faced major challenges such as reducing CO2 emissions and limiting global warming to 1.5°C. But after a week of debates, no strong commitment was made in these areas. Some are already talking about a failed event. While COP27 was taking place, Automation Fair, the annual trade show from the multinational Rockwell Automation, was also taking place on the other side of the Atlantic. This year, the main focus was sustainability and how to decarbonize industry.
While world leaders can't agree on how to save the planet and humanity, some manufacturers are already working on transforming their processes to make them more environmentally friendly. If some actions can be qualified as greenwashing, the 3 OEMs we met at the fair involved in making the packaging industry more sustainable were the real deal.
For this year's Automation Fair, Rockwell Automation, the leader in automation technology, focused on sustainability. Raul Arredondo, Global Director of Industry Strategy at Rockwell Automation explained:
"Decarbonization has become important. A lot of our customers are looking at their ESG (Environmental, Social and Governance) scores. So we are doing a lot of work in that space, to help our customers maintain their assets and reduce the energy that is required to produce these assets, understand where they are spending energy and how they can optimize their consumption. We want to help them reduce the impact of their operations on the environment."
We met three of their customers. HDG, Pagès Group, and Triangle Package are all OEMs and are all contributing to making the packaging industry more efficient, more sustainable, and less polluting. Let's have a closer look at what they are developing in concrete terms.
HDG: Mono-material Packaging Machines
"Sustainability is a must-have, it's not an option." This is what Marcus Behrens, Director of HDG, told us when we met him.
"We have customers telling us 'if you don't have a strategy to reduce your CO2 footprint, you're not qualified. We expect you to have a clear pathway with regard to your CO2 emissions.' And they're not joking. No action plan, no business."
German company HDG manufactures HFFS (horizontal form, fill and seal) systems for pouches. They build machines that package pet food, flour, and peanuts for food companies like Nestlé and Unilever. So far, their machines were made for handling pouches made out of plastic. As food products need to be protected from oxygen, the industry relies on plastic packaging.
Some paper packages have recently emerged, for food products like peanuts or almonds. But they contain a PE layer to protect the products from oxygen. While multiple material packages are better than fully plastic ones, they are still complicated to recycle.
[This is why] "In Europe, the big companies have set up targets to change from normal plastic to mono-materials by 2025 at the latest. And they expect us to be able to make machines that can run packages with these mono-materials. So we are working on a new natural packaging material to shift away from plastics, reduce material usage, and increase recyclability."
They are now developing new machines that are able to handle new types of mono-material packages.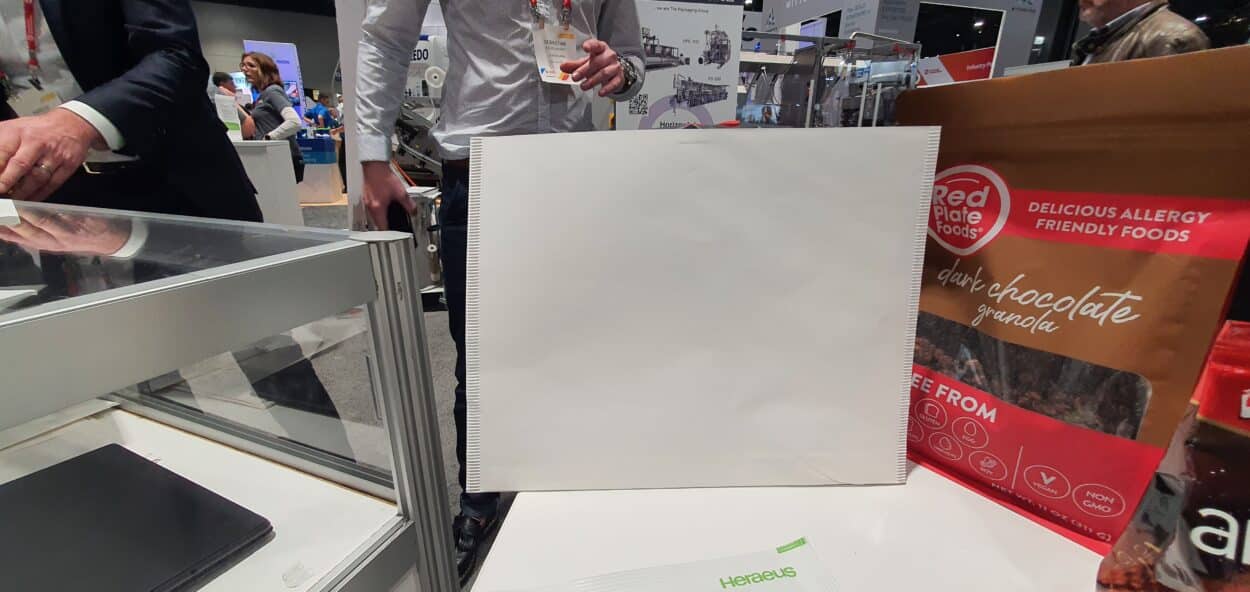 HDG is currently helping a major European manufacturer migrate to 100% paper-based bagging. The well-known company, whose name we cannot disclose, is using only plastic at the moment to package its products.
"They approached us 5 years ago and since then, we have worked on a concept with steps. The group will first substitute all the plastic bags by 2025 with a paper bag that is laminated inside with a 5% PE. That's a starting point. And then, they will move over to this new patented 100% paper bag."
The future package looks like an envelope and is only meant for horizontal packaging machines. It does not include any glue. The sealing is done thanks to high forces and hydrogen bonding which bring the paper fibers together. Marcus told us that the quality checks they conducted concluded that the strength of the seal is very comparable to that of plastic.
The HFFS system for this new 100% paper product is already manufactured but not yet released.
Marcus believes there is a market for secondary packaging for the food industry.
"I hope this technology will be at one point an industrial standard. It takes time to adapt to new technology. Changes are one of the most difficult things. The industry will have to replace thousands of machines, it's a serious investment. Is everybody prepared for that?"
The module to handle paper film costs between €150,000 and €200,000 and can be adapted to existing horizontal machines.
"Sustainability is a necessity, we know it's right. But it costs a lot of work, a lot of effort. There is a lot of R&D involved so it costs a lot of money and energy. Handling paper films is more complicated and takes more time. But it's our responsibility."
Triangle Package: Ultrasonic Sealing
Triangle Package is an American company that manufactures food packaging solutions.
They have developed an ultrasonic sealing technology together with their partner Hermann Ultrasons that can be connected to the ultrasonic jaws in their vertical form fill and seal machines.
This ultrasonic sealing technique uses power only when sealing, Luis Torres, Director of Product Line Management at Triangle Package, explained:
"Ultrasonic sealing only uses energy when it is actually making the seal. So it's more energy efficient than regular heat sealing. Heat sealing is always active because in order to maintain the heat temperature, you need to have constant power in the unit. You don't have this problem with ultrasonic sealing."
Ultrasonic sealing uses 30 kHz sound waves to agitate the molecules and weld the materials together. The ultrasonic sealing is a 1 mm clear seal, compared to heat sealing which is less discrete, often around 2 cm.
"We currently have 35 machines on the field equipped with ultrasonic sealing jaws. We have done it for the salad industry and for powders."
Ultrasonic sealing is very effective for lettuce products. It can also be used for pharmaceutical products and even diapers.
Luis sees great potential in ultrasonic sealing.
"Ultrasonic tech is a higher cost technology, but it comes with higher benefits like energy efficiency."
But there is not a big move in this direction in the United States at the moment, N'Gai Merrill, COO at Triangle Package, told us:
"The problem is that ultrasonic sealing requires much more maintenance. Most people are not willing to make that investment. They are used to heat sealing, it's easy, and they know it. They don't want to take that challenge even if it means that in the longer term it's better."
In order to reduce the energy consumption of their machines, the company also relies on Rockwell Automation's systems, for example for their jaw sealing systems. They recently migrated from Rockwell's Kinetix 6000 servo drives to Kinetix 5500 with V-series single cable motors. While before their servo motors had 2 cables, one for communication and one for energy, they now have a single cable for both functions.
According to Niki Lococo, OEM Account Manager at Rockwell,
"The benefits for the company are cost savings, a reduction of energy consumption, and an increase in sustainability for the system."
Pagès Group: In-mold Labeling Technology
Pagès Group is a French OEM that's been known for over 30 years for their in-mold labeling technology for the packaging industry. They recently launched a new ecological decorating system called molded fiber labeling (MFL).
Up until recently, they were focused on the plastic industry and their machines were used to place labels into molds. But the system they've launched is aimed at placing sustainable paper labels on compostable molded cellulose containers. Yann Palanchon, Technical Director VP for North America at Pagès Group explained:
"We have now developed a new technology, Molded Fiber Labeling, which allows us to place a paper label on a new compostable fiber molded package. This package is 100% compostable. We can put it in the ground and between 3 to 6 months it will be gone."
RELATED ARTICLE
The new package is made of wood powder and water. The label itself is made of paper and is also 100% compostable. No glue is involved in the sealing process.
"With glue, the package cannot be recyclable or compostable. These labels are sealed with a combination of heat, pressure and moisture."
This type of package will first be used for butter, but it has potential for other types of food such as eggs for example.
Developing a system to seal a new ecological label on a new ecological fiber material was a big challenge for the company.
" Pagès Group was specialized before in injection molding machines. The process was to place labels into a plastic mold before injection. Now the process is completely different. We place the label on the final product itself, not on the mold. There is no mold anymore."
According to Yann, the new system makes the whole process more sustainable.
"With plastic packaging, the decoration was made during the injection process. So when a customer, for example, Unilever, was ordering 100,000 plastic packages with specific artwork and was in the end only using a few of them with that artwork, the rest of the packages were scrapped. But with this new process, we can decorate the package at the very last moment. This can be done either by the company that is building the package or by the final customer company, in this case, Unilever when they are about to put their products inside the package. We remove the problem of scrapping unused packages."
Pagès Group is targeting the American market and the first production lines with their new machines will open in 2023 in the US and Mexico. Yann assured us that the group is not done with the plastic packaging industry.
"It is not a switch because, for some kinds of food or long-term packaging, we still need plastics. We are still in the plastic industry. But we are now able to offer our customers something else. More customers are interested in sustainable packaging instead of plastic."
The only issue remains the same: new ecological technologies have a cost. The machines that will be able to place these labels are more expensive and take more time to process than the ones used for plastic packages.
As Marcus said,
"It takes time to adapt to new technology."