Last month, the European cybersecurity solutions provider Stormshield participated in the Cybersecurity Conference in Monaco. We spoke with Pierre-Yves Hentzen, CEO of Stormshield, about the current state of the cyber threat, in particular in the context of the war in Ukraine, the solutions they have developed, protection from the GAFAMs, and Europe's future sovereign cloud offering.
In the context of the war in Ukraine, the cyber threat has never been higher. How is the cybersecurity market doing?
Pierre-Yves Hentzen: "The cybersecurity market is very active because the threat is rampant. The sectors that are the most dynamic today are going back to basics. Customers want to consolidate their security. Firewalls and VPNs remain extremely dynamic markets, with growth rates of 10%, even though they are old businesses.

The antivirus business is also an old cyber business. The end of antivirus has been announced for a long time, but we see that antivirus solutions are still very popular."
Have we entered the era of cyber war?
Pierre-Yves Hentzen: "What we saw coming seven months ago was the cyberwar, in relation to the war in Ukraine. Some things have happened, but we can say that this cyberwar has not been seen. We have more than 20,000 customers in the world and we have not seen this war. However, the biggest fear today is the total blockage of national infrastructure that could bring down a country. That's what Costa Rica is experiencing right now. They have regular waves of attacks that threaten government departments. That's what can happen. Everyone is potentially a target and can be attacked."
This is why there was a big focus on the fundamentals at the Cybersecurity Conference last month.
Pierre-Yves Hentzen: 'Yes, there was for example a big focus on EDRs (endpoint detection and response) and XDRs (Extended detection and response). EDRs are designed to protect the workstation. The development of the home office has contributed to widening the attack surface. The number one threat today is ransomware and it very often comes from employees' e-mail accounts. The workstation has become a privileged point of entry, so it's not surprising that EDR solutions are attracting a lot of interest.'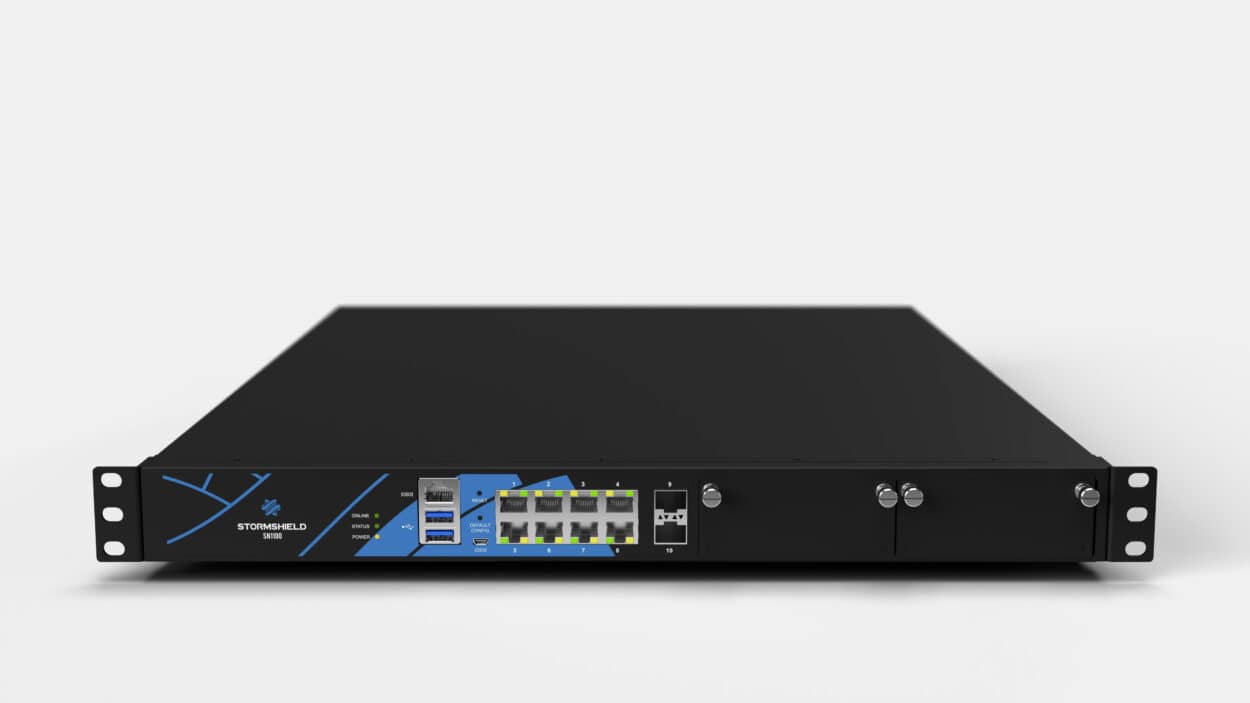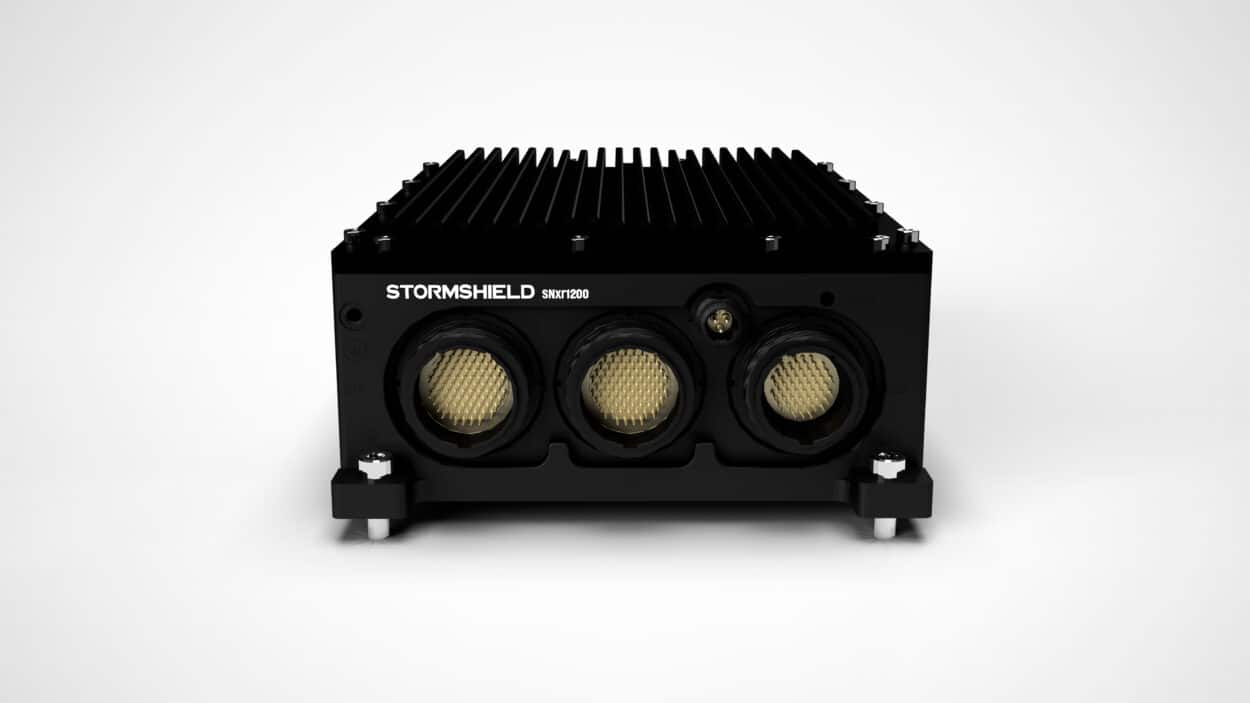 What solutions did Stormshield showcase at the conference?
Pierre-Yves Hentzen: "Our focus this year is an ultra-hardened firewall product, the SNxr1200, designed for the most critical environments. It is a firewall that has encryption and VPN functions to protect communications even in the most difficult conditions (atmospheric pressure, temperature, vibrations, noise and shocks). Since we are a subsidiary of Airbus, we were able to design a product that meets the aeronautical standard which is not common for an IT product. The SNxr1200 can be used in airplanes, helicopters, ships, submarines, trains, satellites and drones. It will soon be used on the French Gendarmerie helicopters to protect communications between the helicopter and the ground."
Concretely, what does this product allow?
Pierre-Yves Hentzen: "The SNxr1200 is a small black box that weighs 2 kilos and is very robust. If it falls from a helicopter for example, it keeps functioning. For the military, it can be carried in a troop backpack to protect communications in the field. Its software is also very resistant, with robust VPN technology and clean code analysis with zero vulnerability. It includes other features as well such as the ability to remotely erase everything in it, in case it falls into enemy hands. We have had a lot of interest, more than we expected, for this product which is a bit of a niche product.
How do you explain this?
Pierre-Yves Hentzen: "There is growing interest for more robust cybersecurity products. The idea is that cybersecurity solutions should not be the weak link in the security chain. This is becoming a major concern for CISOs, because flaws and design defects in software products often occur. So there is an attraction to this type of product. Regulations are also moving in this direction. Thierry Breton announced the forthcoming arrival of the European Cyber Resilience Act. It will oblige any connected object, camera, telephone, VPN and firewall, to have a minimum level of security by design."
RELATED ARTICLE
Companies like Microsoft or Google are now natively providing cybersecurity in their products. It this not enough?
Pierre-Yves Hentzen: "The GAFAM are both cloud providers and cybersecurity providers. But, cybersecurity is a pure player field. Microsoft or Google are indeed natively providing cybersecurity protections in their products. But for me, there must be independence between the IT solution and cybersecurity. Otherwise, it's like putting all your eggs in one basket.

For example, Google Workspace provides encryption but the encryption keys are in the hands of Google. So the encryption does not have much value then.

We are the only European player that is able to provide an encryption solution for Google workspace environments on top of the security they already provide. With our solution, encryption keys are held by the customer or by us if the customer wishes to delegate them to us. In that situation, there is no problem working with GAFAM."
Can you give us a concrete example?
Pierre-Yves Hentzen: "French newspaper Le Monde, which also uses the Google suite, has chosen our solution. Le Monde, just like you, works on secret stories, has extremely confidential information upstream and is concerned about protecting and encrypting information in a sovereign manner.

With our solution, they really hold the encryption keys. The data is encrypted and can only be read by those who have the right to do so. Google is OK with it, this is why we have a partnership with them and also with Microsoft. They are aware that the notion of sovereignty is strongly present in Europe so it is in their interest to make some effort. But other companies prefer to hold the encryption keys."
RELATED ARTICLE
GAFAMs are cloud providers. Do you think Europe will have its own exclusively European cloud offering?
Pierre-Yves Hentzen: "Regarding cloud services, it is true that every day we learn that such or such sensitive accounts have decided to contract with Amazon, Google, or Microsoft. Because unfortunately, we still think that the European offer is not yet up to the level. However, a lot of progress has been made. I was pleased to hear the recent announcement by Dassault, which, with its subsidiary Outscale, developed a truly sovereign cloud offering that is not subject to the American Cloud Act."
When will there be European world champions ?
Pierre-Yves Hentzen: "The sector is still dominated by Americans. But there are more and more players in Europe and in France who are developing technologies that should arouse the interest of European decision-makers. We are capable of becoming world leaders! It could happen very quickly if we manage to better finance European cyber companies. Fundraising is increasing in Europe. TEHTRIS, the world leader in automated, human-free detection and response to cyberattacks was able to raise up to a few tens of millions. But in the USA and Israel, companies are raising hundreds of millions of dollars."