How can we keep industrial buildings cool? As the heatwave currently rages around the world, the question arises. An increasing number of companies are wondering how to cool their energy-intensive buildings while reducing their energy bills and fighting global warming. Technologies exist, such as cooling paints or air conditioning without air conditioning.
The world is breaking heat records. In Europe, temperatures have exceeded 40°C in various places. Industrial buildings are overheating and manufacturers are looking for ways to cool them down without increasing their energy bills or worsening global warming. Fortunately, solutions exist. Data centers, industrial sites, logistics platforms, warehouses and supermarkets, could all benefit from them.
Solar Paint
French company SOLAR PAINT has developed SOLARCOAT®, a reflective paint that is able to cool the interior of buildings. The process consists of coating the roofs with this white and reflective paint. This paint has a solar reflection rate of over 92%, which reduces the temperature inside buildings by an average of 5°C and thus, limits the need for air conditioning in the summer. In the end, the solution helps reduce the energy bill.
For example, let's take a large supermarket that has an average energy consumption bill of around 500,000 euros per year. According to SOLAR PAINT, if the building is repainted with the SOLARCOAT® paint, it could drastically reduce the use of air conditioning inside in summer and reach up to 30% of energy savings.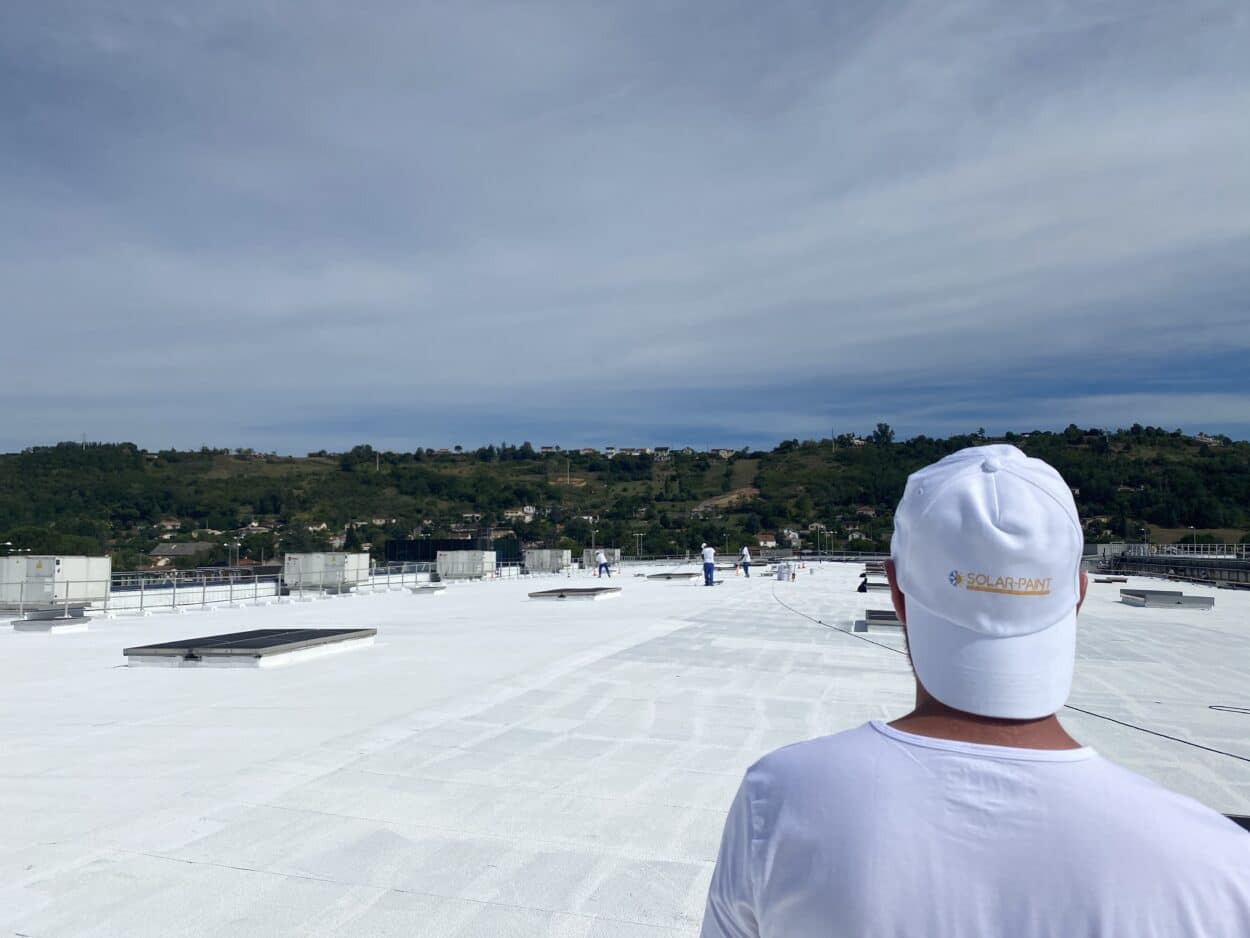 What is SOLARCOAT® made of? This water-based paint integrates natural ingredients and recycled materials such as broken glass into its composition, explained Olivier Monge, Director of Studies & Methods at SOLAR PAINT:
"We have developed an oxidizing product, designed with a French paint manufacturer, with precise components. Among these components, there is recycled glass and a resin that gives flexibility to the paint.

This paint, which looks a bit like a pool liner, is a little over 2 mm thick. Once applied in two layers, it rejects 92% of the sun's rays that fall on a building. This means that heat is no longer stored, or at least not as much as without the paint. Therefore the building needs to be cooled less."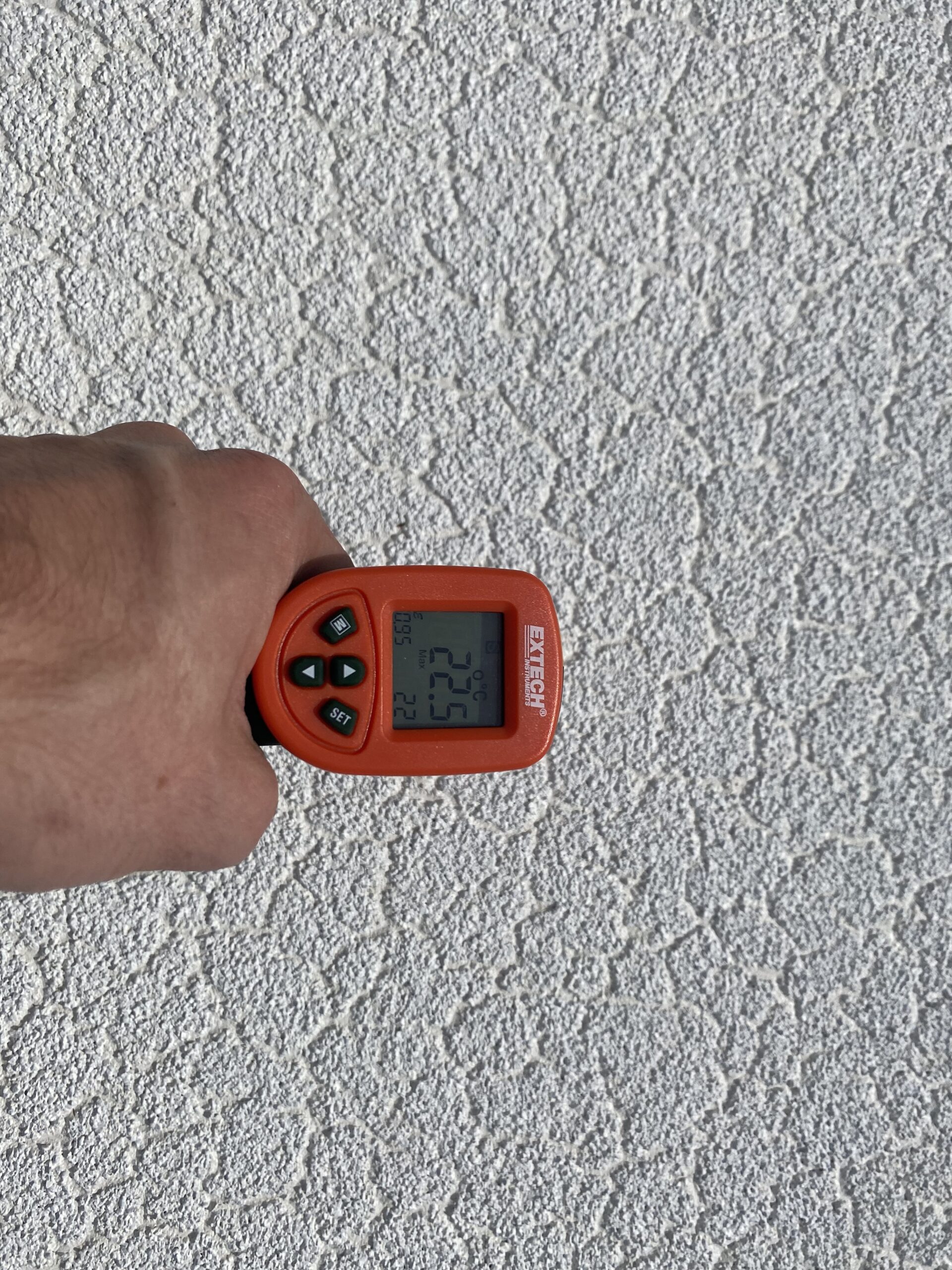 The paint can be applied on bituminous structures, on raw concrete, and on steel tanks. No maintenance is required. The company says the paint can last up to 20 years.
This type of paint also works on roofs that host solar panels.
"It allows for lowering the temperature of the surface where the solar panels are installed. A solar panel's efficiency decreases when it is in a too hot environment. So a solution like Solar Coat can help maintain a better efficiency."
And such a solution could also be important for future constructions.
"Reflectivity indices are not yet part of the technical criteria for building construction. In the future, it should be."
The cost of the solution is around 20 euros per square meter. More than 100,000 square meters of roofs have already been repainted. The company's goal is to cover nearly 150,000 square meters of roof surfaces by the end of the year.
Air Conditioning Without Air Conditioning
Italian company SINTRA has been manufacturing eco-friendly air treatment solutions for 30 years with the objective of making buildings energy self-sufficient. They came up with an HVAC system that replaces artificial air conditioning with free, natural, and ecological air conditioning.
How does it enable that? SINTRA's system is based on two types of innovative perforated ducts: the Spirojet ducts and the MIX-IND ducts.
The Spirojet ducts, composed of several one-meter modules, diffuse supply air through dozens of small holes, like a high induction diffuser. The result: good air diffusion in the building and continuous ventilation without condensation at a competitive price.
With the MIX-IND range of perforated ducts, also called PULSEURS ducts, SINTRA takes things a step further. The solution, which pulses ambient air, directly answers the problems of stratification and depression in industrial buildings with great heights and large volumes.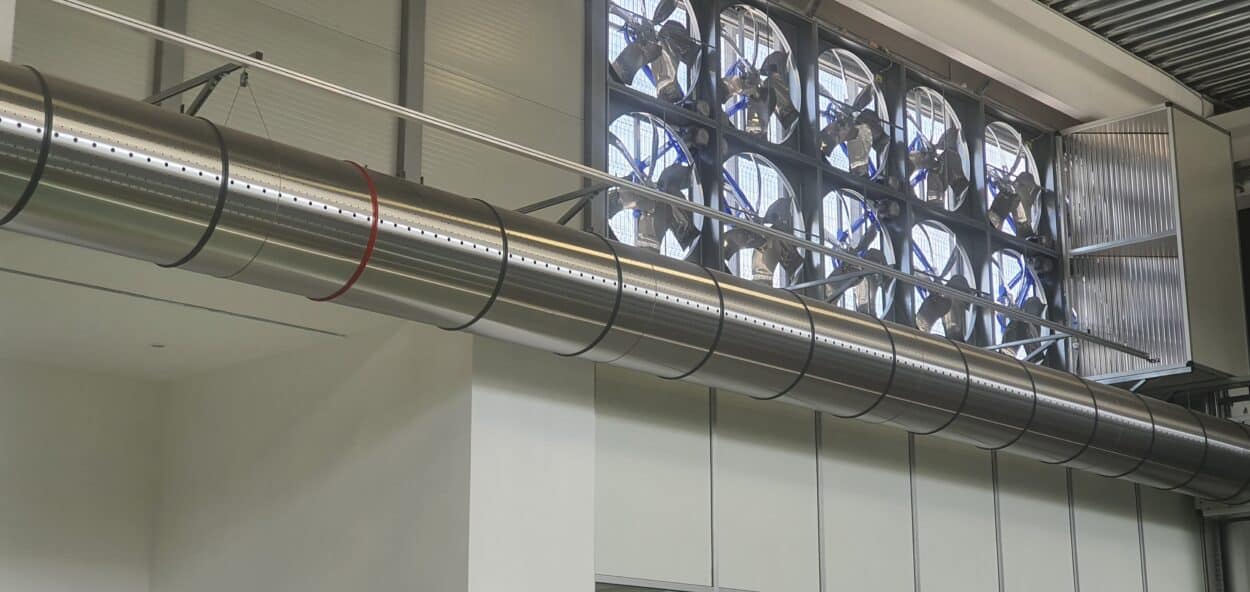 The idea is to introduce a large mass of air into the building at the lowest outside temperature, during the night, for example. Then, the energy contained in this fresh air is stored thanks to the thermal inertia of the building's structures (the floor, the walls…). This air can then be used during the day, when it is most needed, thanks to reinforced insulation and the use of solar protection on the walls and the roof.
For Marco Zambolin, CEO & Founder of SINTRA,
"We bring in cold kwatt at night to use them during the day. Therefore, the cost of installing air conditioning is saved because there is no air conditioning. But with this system, the temperature inside the building is colder than if we had put an artifical air conditioning system! The temperature inside the building is between 21 and 25°, even when it is very hot and there is a natural over-ventilation."
Thanks to these two technologies, SINTRA boasts high energy performance and maximum homogeneity throughout a building, even with large volumes.