Analog Devices, Inc (ADI) opened its custom-built, €100-million facility last year in Ireland to provide space for its engineers to collaborate and innovate alongside partners in Industrial, Automotive, Consumer, and Communications. DirectIndustry had the opportunity to visit the hub a few weeks ago.
Behind its sleek exterior on the outskirts of the Irish city of Limerick, ADI Catalyst is showing how exploration through collaboration can result in innovative, real-world solutions.
The driving force behind the global, high-performance semiconductor company's decision to launch the European hub was to accelerate the development of solutions that employ its cutting-edge technologies.
The aim was to focus on Industry 4.0, sustainable energy, automotive electrification and next-generation connectivity.
The dream was to create an environment where ADI's software-enabled and artificial intelligence solutions could be taken right to the intelligent edge – gathering and analyzing data where it is generated in order to create ever-smarter solutions.
Shalini Palmer, Corporate Vice President, ADI EMEA, explains:
"There is a need for more intelligence in every segment but very often design is done in isolation. ADI is partnering with its customers to solve their most complex problems – our customers are taking intelligence to the edge and when you talk about the intelligent edge that is right at the heart of what ADI does. But intelligence needs co-operation. It requires trust, collaboration and all partners coming to the table."
RELATED ARTICLE
Combining Skills
The beating heart of the facility is its vast testbed area, where engineers from ADI and its customers are engrossed in the moving hardware and flashing screens of a multitude of diverse projects. Many are understandably under strict non-disclosure agreements, but others attract the interest of visitors, including customers from other segments, often resulting in cross-pollination and ideation.
President, ADI EMEA, and Senior Vice President, Industrial and Multi Markets Business Unit, Martin Cotter, says:
"In the world of the past, we would have had a new breakthrough technology and gone out to say 50 customers, taking possibly six months. We would come back with a lot of information, but they didn't get that much accelerated attention from us, so we got to thinking…What about going a step further and having teams that are working full-time with customers in the same location? This could take that six months down to two months or even one month and it is huge value for the customer because we drive ease of use and ease of adoption – we think about things in terms of platforms and end-use systems. These are really difficult problems and to get to the value of a really difficult problem it needs a combination of skills from the customer and from us. We are not trying to do the customer's job. We are trying to make it easier for the customer."
A Nexus for Healthcare Innovation
Mr. Cotter admits that when Catalyst was first discussed, the assumption was that participants would have to be incentivized to use the facility. But that has been far from the case. Customers have been clamoring to be involved and many have been only too eager to move their valuable equipment into the testbed area. Some are even here on a permanent basis.
In one corner, for example, Eugene Barry, an automation engineer with Johnson & Johnson is working on a cobotic factory-in-a-box production line. The idea here is to support healthcare's migration from a mass market approach to customized treatments. Next-generation modular manufacturing systems will need to encompass rapid changeover of production lines for bespoke treatments, such as human implants and CAR T-cell therapies.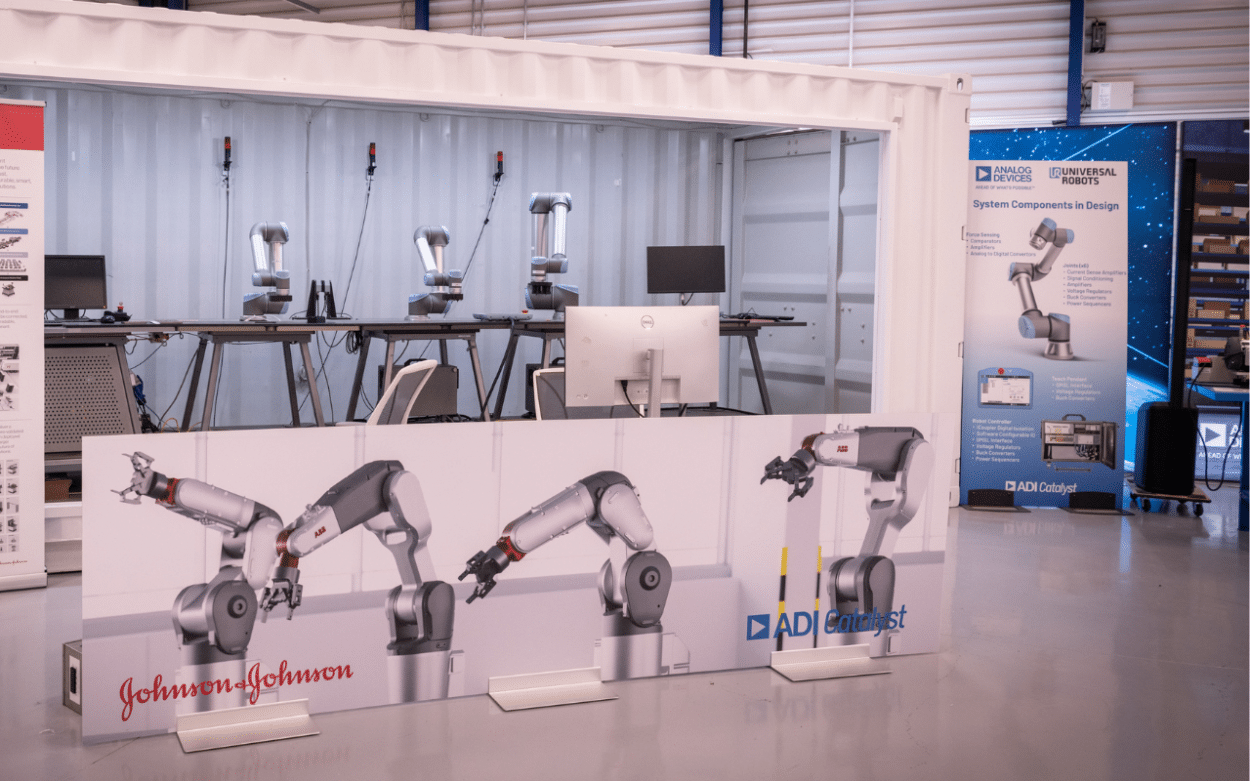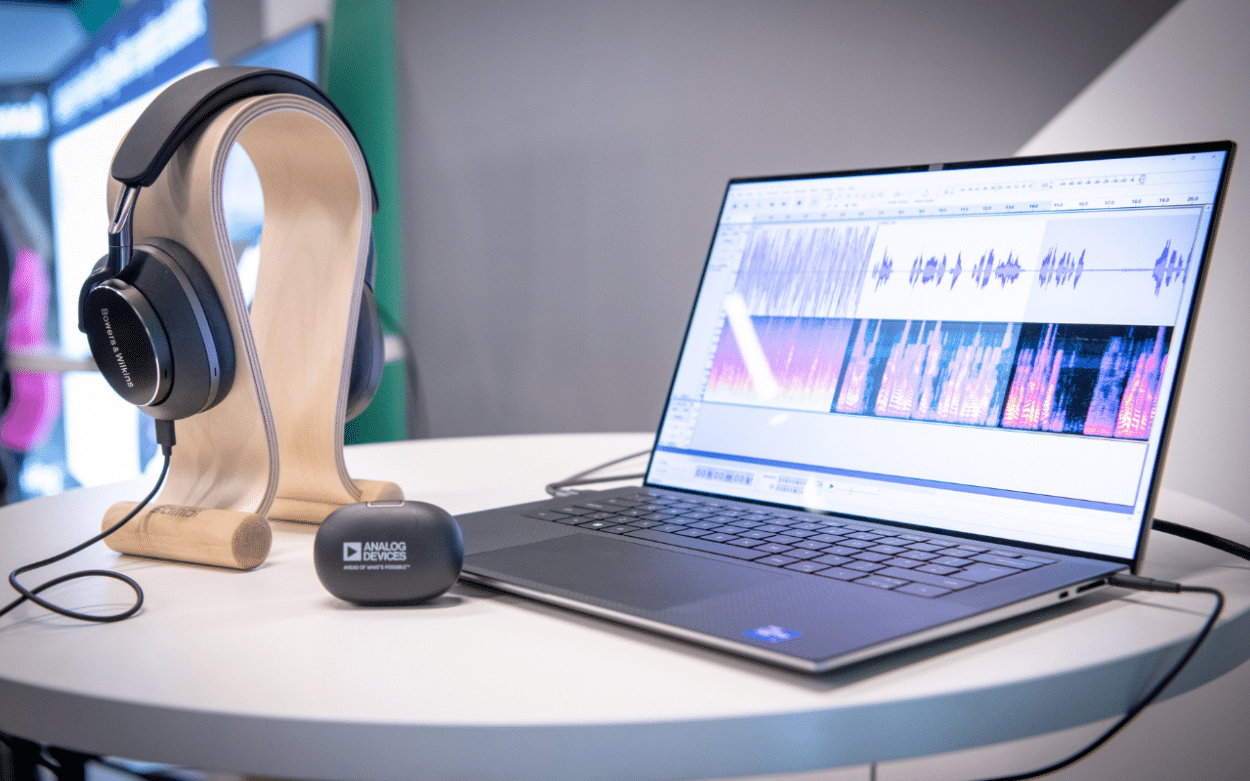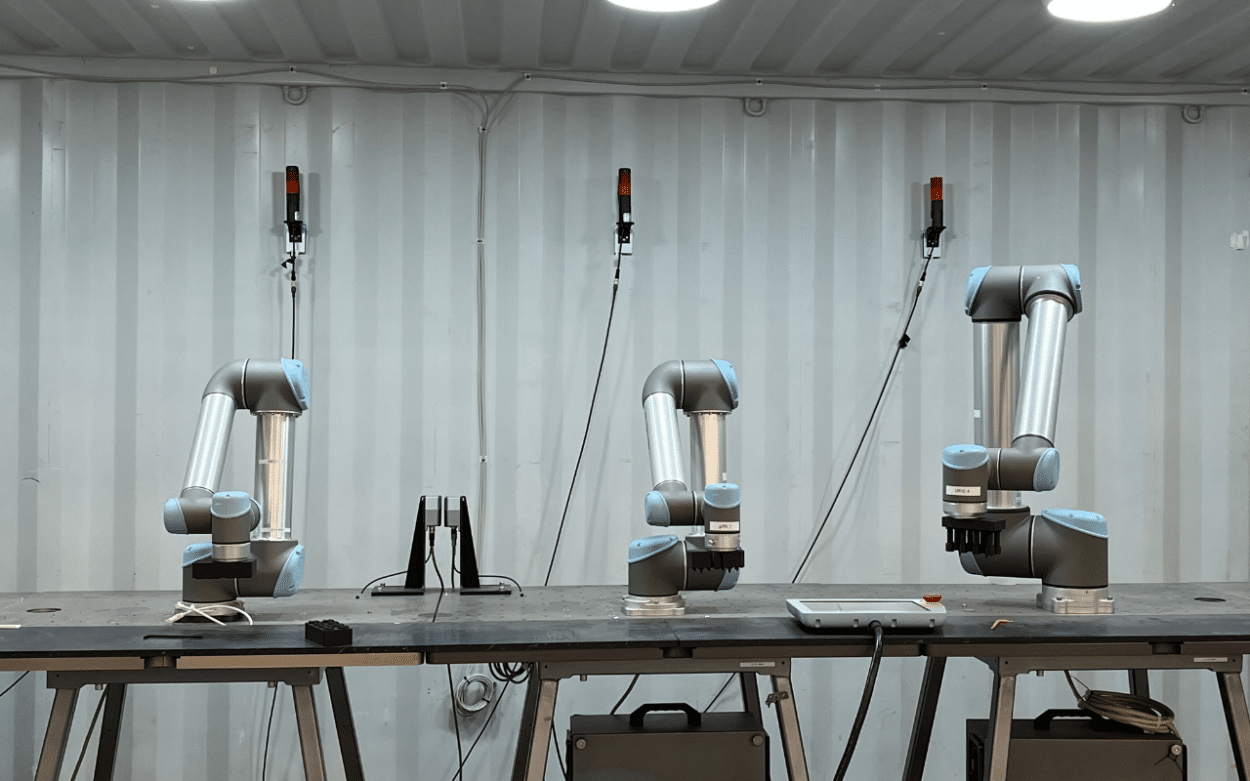 According to John O'Donnell, Director of Automation Technology Deployment, Johnson & Johnson,
"We see and embrace a patient-centric future where healthcare delivery and manufacturing is personalized and delivered at point of care. Consequently, Johnson & Johnson supply chains and manufacturing solutions are pivoting to face those trends. Point-of-care delivery means higher product variability and lower volumes even down to a batch of one. This kind of multi-modal manufacturing is currently a challenge – we need an ever-more digitalized supply chain as well as highly flexible and reconfigurable manufacturing and automation solutions."
He also added that AD generates the integrated circuit and processes systems technology needed to drive this evolution in collaboration with Johnson & Johnson.
ADI's technologies for the next generation of advanced hearables and wearables are also being explored here. These include active noise cancellation, voice processing, and hearing augmentation technologies that currently feature in a range of leading consumer products.
Ken Feen, Senior Director, Consumer Marketing at ADI, says:
"Customers come in for collaboration sessions and integration and tuning support. Today it is all about making audio more personal – to be able to actively measure the acoustic volume in the ear and adjust the audio to the user's preference. We are even looking at using sensors in the ear to measure brain and neural activity so you can think about skipping ahead a track, skipping back a track rather than tapping."
Immersive Learning
The Consumer zone is also alive with demonstrations and the exchange of ideas. In one area, a screen displays an animated 3D skeleton representing the hologram that an individual wearing a Varjo Technologies Oy mixed reality (MR) headset is exploring.
The solution, for medical teaching, allows the wearer to reach inside the body and pull organs out for examination, while still interacting with others in the room.
Miksu Lundgren, a hardware architect at the Finnish company, explains how Varjo and ADI have collaborated.
"For us, ADI has grown from just a component provider to a real technology provider. One example is on time-of-flight technology, which is important with MR."
Depth information acquired by time-of-flight allows people to interact with virtual objects in the real world, merging the physical and the digital to offer an immersive experience.
Mr Lundgren adds:
"Now we are looking at the next technological steps. Being able to work on these things together is super important for us."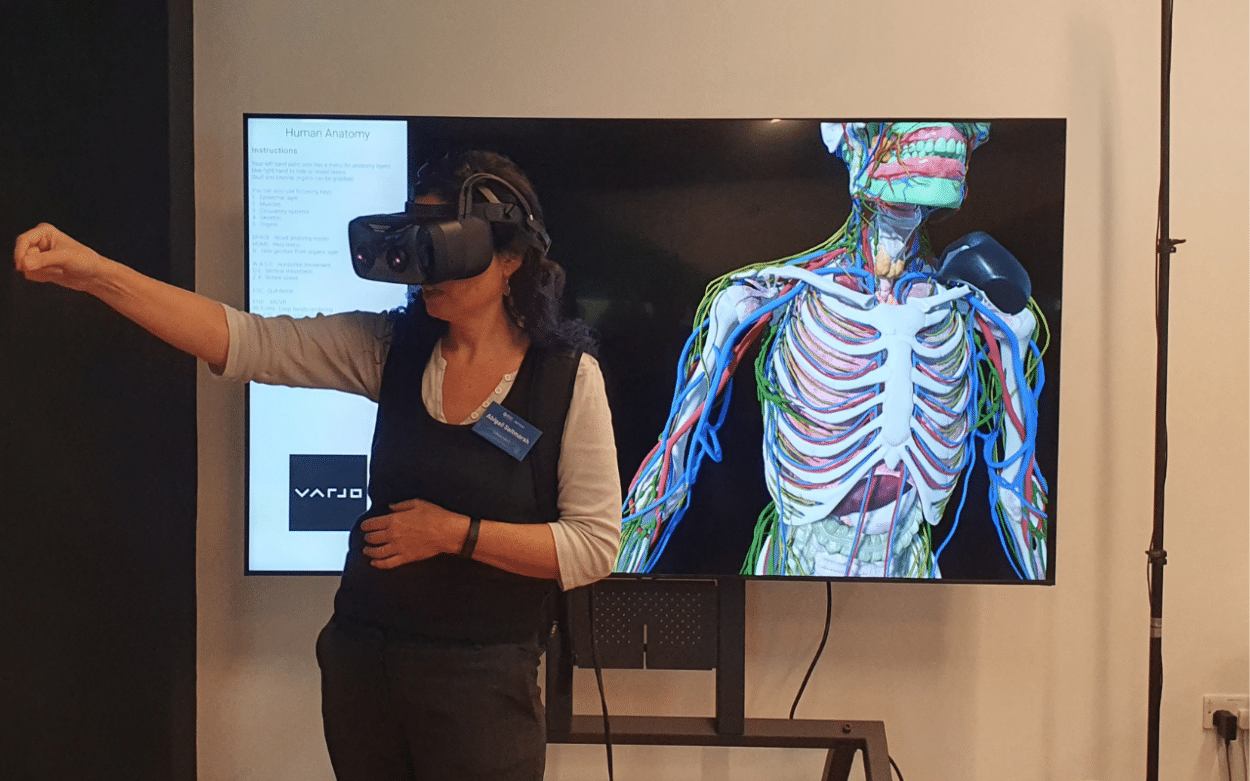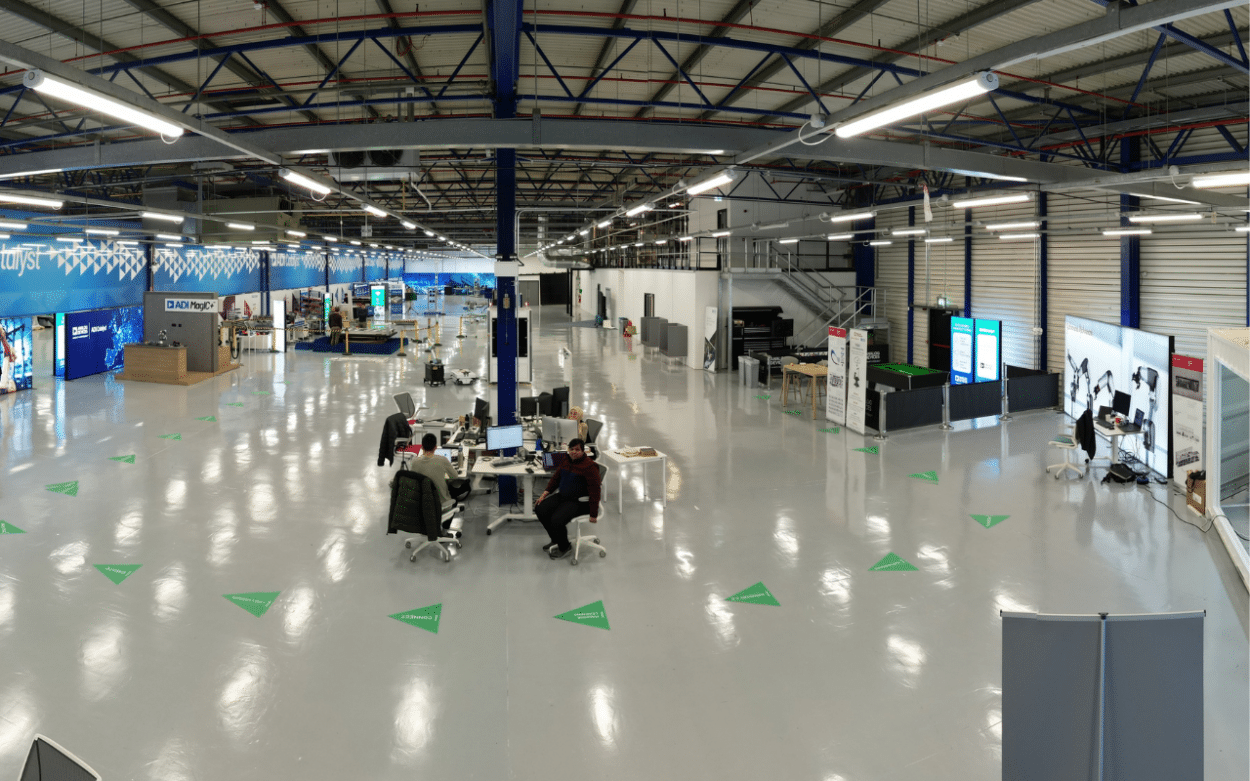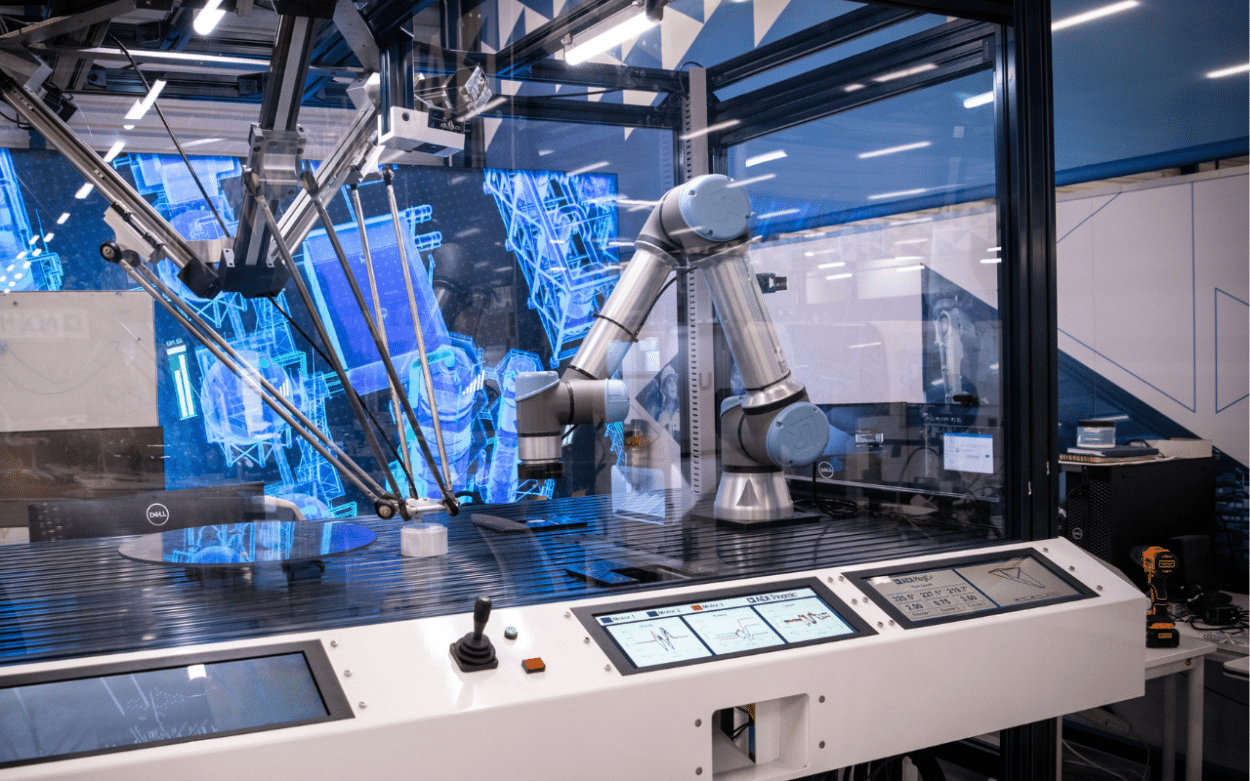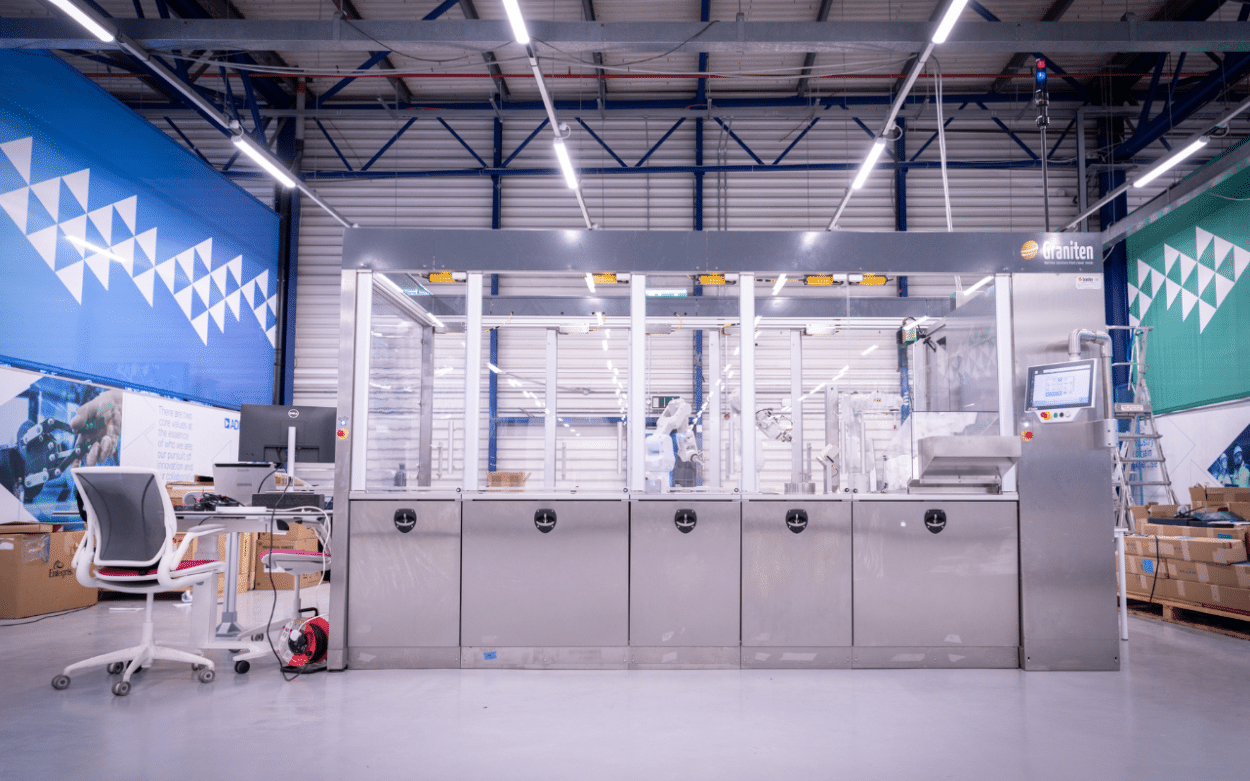 Driving Automotive Innovation With Wireless BMS Projects
Also contributing to the buzz of activity in the Industrial section at Catalyst, is A.D.A.M (Analogue Devices Autonomous Mobot). According to ADI System Applications Engineer Sarvesh Pimpalkar,
"A.D.A.M. integrates different modules from ADI, such as a battery management solution (BMS), an inertial measurement unit (IMU), and a 3D time-of-flight camera."
Another of Catalyst's keen advocates is Stefan Goede, CTO and Co-Founder of Germany-based Munich Electrification (ME), who has collaborated on a wireless BMS project. According to him,
"It makes a lot of sense to have a center like this and while here I can also look at displays and projects from other industries. Seeing the innovations in 5G, robotics and sensors is very inspiring. While it might not be 100% applicable to my field at the moment it still gives me new thoughts and ideas."
Over in the Communications testbed area, where there is a mini mast and 5G OpenRAN network with end-to-end interoperability, Vodafone and Intel currently have a presence. Here ADI and its customers explore flexible radio platforms that address 5G network design challenges and enable customers to scale their 5G networks more quickly and economically.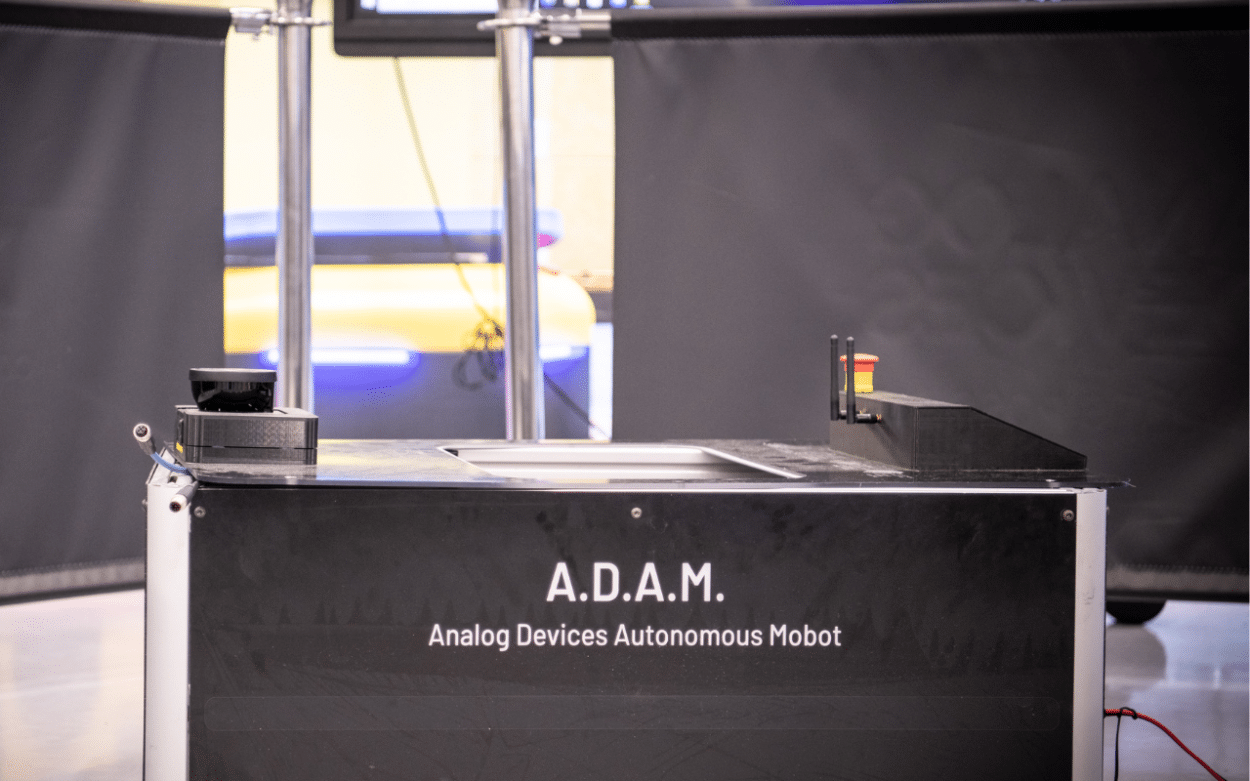 Sustainability and the Intelligent Edge
Across its segments and technologies, the crusade at ADI – and therefore at Catalyst – is to remain focused on sustainability and the intelligent edge, Mr. Cotter stresses.
"The intelligent edge is really what defines what we do and with all of the scale of the company now, customers see the opportunity that we can solve more complete edge-based products. We would say we are the source of the data, where the data is born, and customers are now asking us to deliver insights to them that will have value in the end application."
He continues:
"We also absolutely see that we have a major purpose in driving sustainability for the world. Industry needs to get twice as efficient so this is a huge opportunity for us as a company because we are all over the network, the control and the edge."