French company Elicit Plant has developed a biostimulant designed to help corn and soybean crops thrive even during periods of drought. We spoke with one of the co-founders, Aymeric Molin, an agronomist and farmer.

What type of crops do you grow?
Aymeric Molin: "I am a farmer of large-scale crops, including rapeseed, wheat, barley, sunflowers, millet, soybeans, and corn. My farm covers over a thousand hectares, with three hundred and fifty hectares under irrigation. Water management is a significant concern for us. The farm is located on the border between the Massif Central and the Aquitaine basin, on shallow soils with very little fissured rock and poor root penetration. Therefore, we face a strong sensitivity to water stress, resulting in yield variations ranging from one-third to three times between extreme years. In France, wheat yields vary by 10% between good and bad years, but on our farm, it can vary from one-third to threefold. These yield variations are directly related to water stress, which is why we have been researching this field for a long time and are committed to further research in this area."

So your knowledge of the water stress theme naturally led you to try to find solutions to address this issue, which will become more pressing in the coming years due to global warming.
Aymeric Molin: "Indeed, I'm not an advocate for irrigation alone. I believe that we need to consider a variety of tools to adapt agriculture to a constantly changing environment. It's not about changing now; it's about continually evolving. All professions must be in a constant state of evolution. We should always be seeking innovation, and I believe there are periods for it. There was the era of chemistry, and the era of machinery, and the theme we have in the first half of the 21st century is working with plants. This began in the 2000s with GMOs, which didn't receive widespread societal acceptance in France, but there was already a desire to work with plants. Today, I think we're in search of more natural methods, observing how plants naturally adapt instead of trying to impose an adaptation, as was attempted with GMOs."

So, you have developed Best-a Maïs (BEST-a MAIZE), a natural stimulant for corn crops.
Aymeric Molin: "We wanted to understand how a plant naturally adapts to challenging conditions like water scarcity. What signals does it activate? What physiological adaptations does it undergo? And we tried to replicate those processes in advance. The issue with plants is that they lack consciousness, so they adapt when they face adversity. When you plant corn, it doesn't think, "In two months, it will be dry; maybe I should conserve water." That's something humans do. So, the idea is to send the plant the natural signal it would receive when it senses water scarcity before it actually experiences the shortage, so it adapts and conserves water. We're essentially teaching corn to conserve water as it naturally would when it receives the "I'm running low on water" signal."

How do you concretely do that?
Aymeric Molin: "What we observed is that the molecules responsible for these physiological adaptation signals are plant sterols, namely phytosterols. We selected a plant sensitive to water stress, corn because corn has very few diseases and very few yield-reducing factors. Two things happen when corn faces hydraulic stress: first the closure of stomata – the pores on the corn's epidermis through which the plant evaporates – and second, root growth, where the plant searches for water deeper in the soil. Americans call that "lazy roots": as long as the plant is well-nourished, the roots don't grow, and they only start growing when water becomes scarce. The challenge with water stress is that in the summer, water levels in the soil drop faster than the roots can grow, and at a certain point, the plant can no longer access water. So, through the message we send, we stimulate root growth upstream, allowing the plant to resist longer because it starts seeking water deeper earlier. Furthermore, it loses less water because it closes its stomata. This means the plant has a larger reservoir and a smaller, more closed exit valve in the form of stomata. Therefore, it has more water and consumes less, allowing it to endure longer. The innovation we bring is not about understanding the role of phytosterols because science has known about it for a long time. What we have discovered is how to introduce phytosterols to restore the natural message they have under conditions of water stress, and to regain this natural message using phytosterols. We extract phytosterols from plants, and for each type of plant, we focus on the specific phytosterols relevant to that plant. For corn, we work exclusively with phytosterols tailored for corn, while for soybeans, it's a different set of phytosterols. We create blends of phytosterols dedicated to specific plants, and then we use other natural products to achieve the formulation, which I won't disclose here."

Your product is said to be both long-lasting and systemic. Can you explain what it means?
Aymeric Molin: "Long-lasting means that once you apply it, the effect is permanent in the plant until senescence, and you don't need to reapply the product. The plant will consistently consume less water. Systemic means that you apply it at a stage where there are a certain number of leaves, typically eight leaves, and all the leaves that grow afterward will exhibit the same water-saving behavior as the leaves to which you applied the product. The message circulates throughout the entire plant, and the last leaves that may grow a month after your application will display the same water-saving behavior as the first leaves to which you applied the product."

You mentioned a 10 to 12% increase in corn yield.
Aymeric Molin: "Yes, a 10 to 12% increase in corn yield by reducing water consumption. There are always periods of water shortage between rains and rainless days. Our solution reduces these successive periods when corn experiences water stress. This improvement leads to increased yield. For every day of water stress for corn, you lose approximately one quintal (100 kilograms). So, if you have ten consecutive days throughout the season where you didn't experience water stress compared to the control, you gain ten quintals."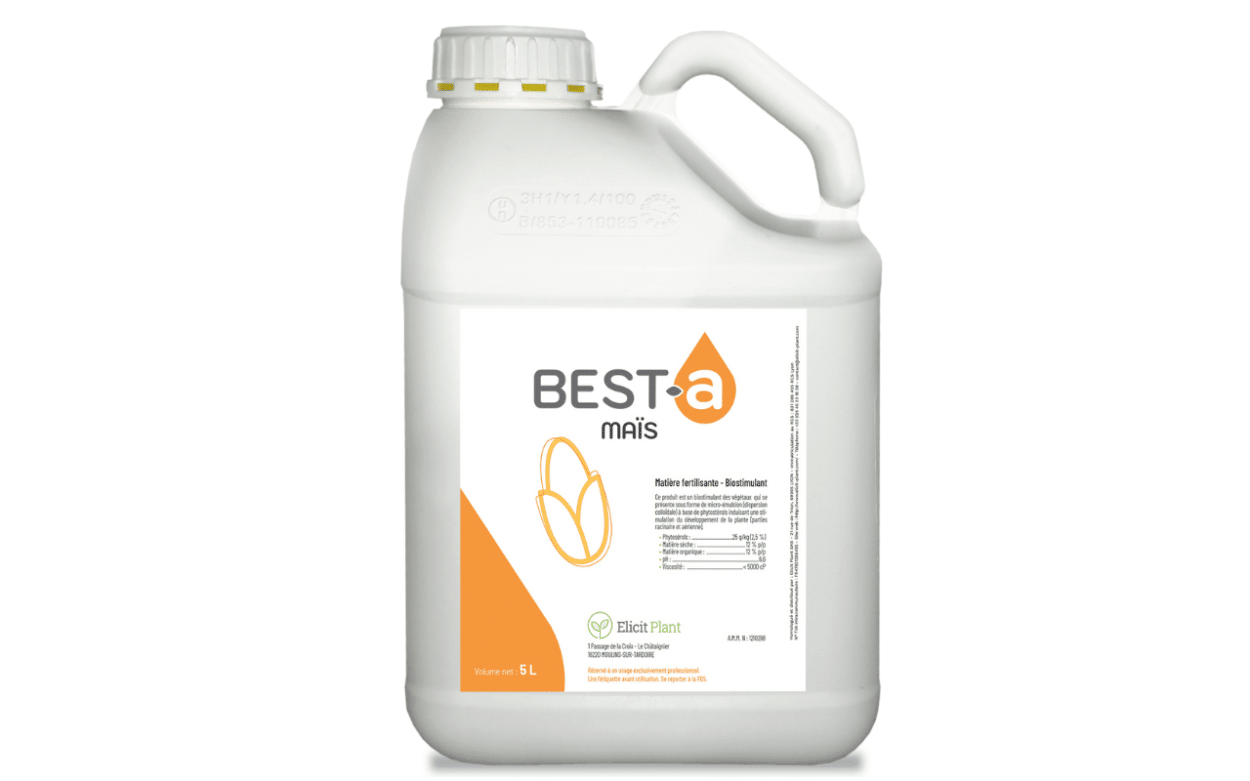 What kind of setup does this require for farmers?
Aymeric Molin: "The product is used like a typical agricultural pesticide, similar to what large pesticide companies typically provide. In fact, we made the choice to package the product in containers that farmers are already accustomed to using. It's very easy to use. The farmer simply adds it to their sprayer and then goes to the fields to spray at a rate of one liter per hectare."

How many applications are needed before achieving the long-lasting effect you mentioned earlier?
Aymeric Molin: "One application is enough. The first effect we observe is the closure of stomata in the hours following the application. The other effect, root growth, takes longer. It lasts about fifteen days because it takes time for the plant to complete its root growth. So, you have the full effect of the product on both stomata and roots within fifteen days. What's crucial is to apply the product before there is water stress because if you apply it when there is no water left, the roots will struggle to grow because there's no energy left in the plant to seek water deeper in the soil. And there will be no water savings through the stomata. So, it needs to be applied preventively."

And when do you recommend farmers use it in the plant's life cycle or during the year?
Aymeric Molin: "Between the eight and ten leaf stage, when the corn is approximately 50 to 80 centimeters tall and starts to cover the inter-row spacing. Corn is typically planted with 75-centimeter gaps between rows, and when the foliage begins to cover, that's when the product is applied. So, it's typically applied around June for corn in France."

Are there any side effects?
Aymeric Molin: "We have extensively looked for side effects. On corn, we haven't found any, which is why it was the first crop we started with. We mixed it with all the herbicides we could find and found no side effects. Therefore, it's currently compatible with other products commonly used by farmers. We don't officially recommend it in writing because we don't want to get into legal disputes with major companies. We don't formally endorse it. But we know it's possible."

Does it work with organic agriculture?
Aymeric Molin: "No, not currently. There are industries that extract phytosterols, we don't handle the extraction ourselves, and they use processes that are not approved for organic agriculture, including the use of solvents. However, we are actively working on a process to obtain organic phytosterols."

Where can farmers buy this product and what is its price?
Aymeric Molin: "We sell five-liter containers, and in France, it's sold in cardboard packaging containing four sets of five liters. Farmers purchase these from distributors exclusively. The price was determined based on the farmer's return on investment and the performance achieved, given that we know we achieve approximately a ten percent gain. So, we priced it at forty-five euros per liter, which we believe is suitable for selling to farmers. Therefore, the average price at which distributors are selling it in 2023 ranges between forty and forty-five euros per liter, which equates to forty to forty-five euros per hectare."

Do you plan to develop this product for other crops like tomatoes for example?
Aymeric Molin: "Phytosterols are present in all plants, so in theory, the technology can be adapted to all plants. We already developed a solution for soy. However, the first question to ask is what the impact of water scarcity is on different species and whether it is economically viable for us in terms of creating value for farmers. Will our product have a significant enough effect because the stress is prevalent enough to generate demand? The first question to consider, for example, in the case of tomatoes, is if you are growing greenhouse tomatoes with complete irrigation, the interest may be more limited. However, if you are growing field tomatoes for ketchup or tomato sauce production and you have limited access to water due to climate change reducing water resources for irrigation, then the product could be valuable."

How many farmers and farms use your products? How many liters of products do you sell each year?
Aymeric Molin: "We are currently on several tens of thousands of hectares, and we will soon be on several hundreds of thousands of hectares."