At Liveworx, the digital transformation event organized by PTC in Boston a couple of weeks ago, sustainability was one of the prominent themes. What does this imply in practical terms, and how do PTC's digital solutions enable industrial and manufacturing sectors to address the new challenges of sustainable manufacturing?
During his keynote speech at Liveworx 2023, Jim Heppelmann, the CEO of PTC, highlighted the growing significance of sustainability for manufacturing companies. He emphasized the widespread awareness and importance of this topic among customers, investors, regulators, and even employees, as manufacturing companies aspire to contribute towards making the world more sustainable. 
He stated,
"That's something we're all mindful about these days, in part because it's such a hot topic with customers, investors, regulators, even employees when a manufacturing company aspires to do their part to make the world more sustainable."
Catherine Kniker, PTC's recently appointed Chief Strategy Sustainability, reiterated this point.
"We know that 54% of global energy consumption occurs in [the manufacturing] sector. We are at a critical moment in the world where we simply have to change the way we live and how we produce products."
Changing the Way We Manufacture Products
For PTC, three crucial areas must require particular attention:
Materialization: This involves the utilization of superior materials in the products, as well as reducing overall material usage.
Energy efficiency, with the need to drive energy-efficient production processes, logistics processes, service processes, and operational processes.
Waste reduction with the aim of minimizing waste throughout the production and operational phases, with a particular emphasis on the end-of-life phase of the products.
Through its solutions, PTC is committed to showcasing its dedication to what it perceives as a significant opportunity to conduct business while simultaneously making a positive impact on our planet.
"We can play this important role by driving digital transformation and helping our customers achieve these critical sustainability goals (…) We have a portfolio of solutions across the product life cycle that's already driving meaningful impact for our customers."
According to the company, 87% of their top customers have already made sustainability commitments.
Here is an overview of how some of PTC's customers embarked on a digital journey in order to design, manufacture and service greener products.
Redirecting the Sustainability Focus Upstream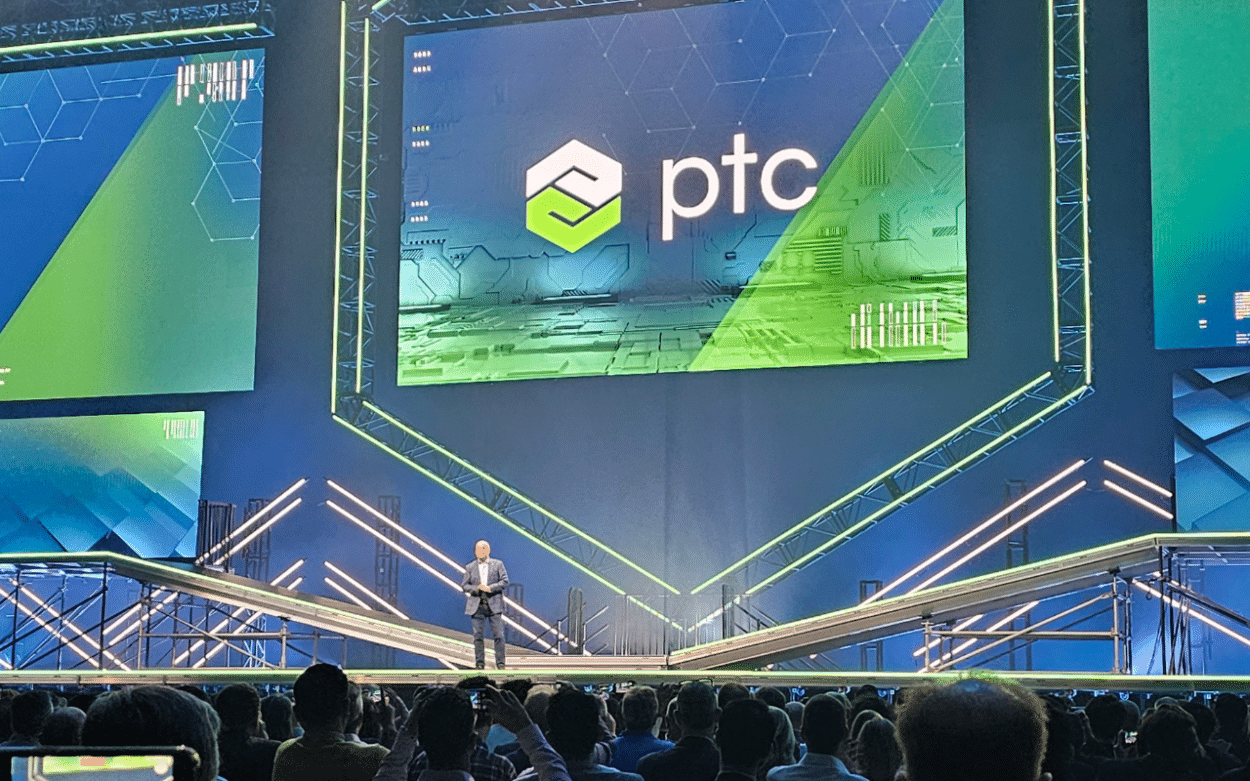 As highlighted by Heppelmann, companies aiming to reduce the environmental impact of their products during production, operation, and servicing face the challenge of implementing significant changes to the environmental footprint when they start addressing it after the product design is already completed.
"It's estimated that 80% of a product's environmental footprint is committed by engineering decisions made."
Hence, the initial step is to redirect the focus on sustainability upstream, specifically toward the design phase. This approach enables companies to increase engineers' awareness of the factors contributing to the environmental footprint associated with their designs. Such factors encompass choices related to materials, suppliers, manufacturing, and operational processes. Design engineers hold a pivotal role within the company to address these considerations effectively.
Optimizing Parts With Creo Generative Design: The Cummins Case
Cummins, a global leader in combustion engines, has embarked on a sustainability initiative known as Planet 2050. This focuses on making today's products greener and also aims to design the next generation of engines with a circular dimension and reduced weight. 
To achieve that, Cummins has been using PTC's Creo generative design software to model and optimize parts using less material, without sacrificing strength and durability.
Creo Generative Design is a product design software that uses cloud computing. It enables engineers to explore multiple design options simultaneously, with automatic highlighting of the best choices. It leverages AI to autonomously create optimal designs based on predefined requirements. Design engineers interactively specify preferences, and it automatically generates solutions tailored to specific constraints, ensuring high quality, cost-effectiveness, and manufacturability. This technology drives product innovation, enhances productivity, and reduces time-to-market.
A white paper published by PTC with Cummins reported that,
"It was shown that a 10-15% reduction of the material used to design a product could be achieved without adversely affecting its structural integrity. In some instances, the item that was material-optimized was even more robust than the heavier part it was replacing."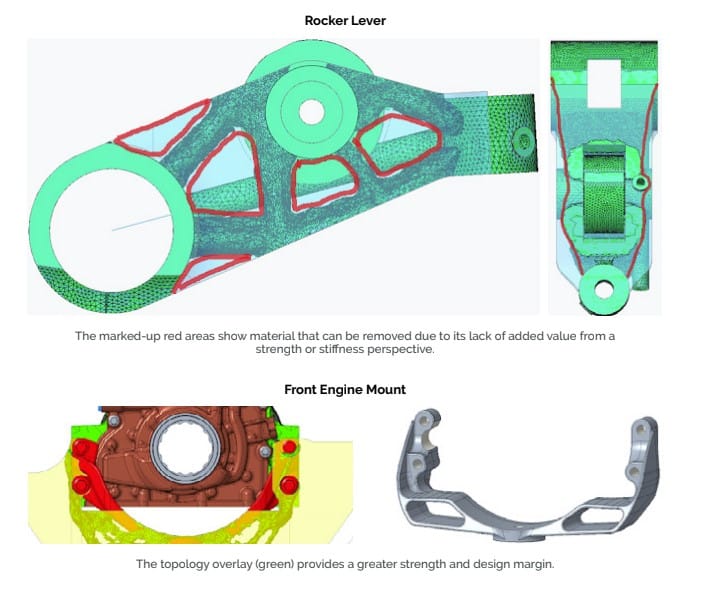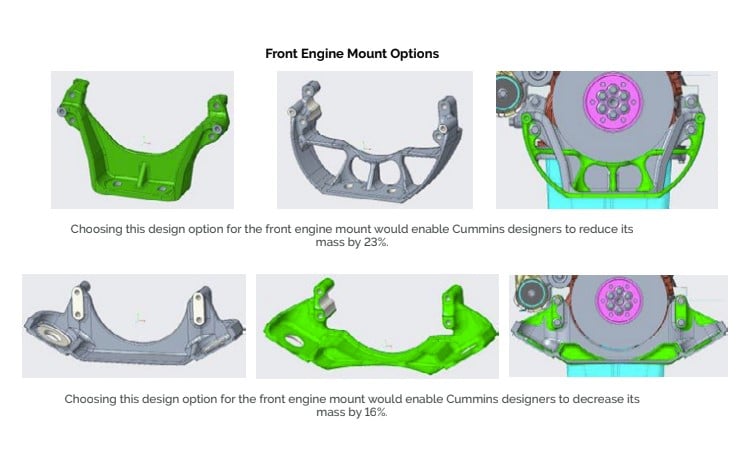 According to PTC, the significant savings of 10 to 15% in materials per component, when multiplied by the annual production volume, result in substantial cost savings. This not only has a positive impact on the environment but also greatly benefits the business, potentially enabling savings of half a million dollars or $200,000 per day.
Mining equipment company Metso has also permanently driven $40 million worth of spare parts out of their warehouse and increased bill rates by over 3% when implementing the same techniques, revealed Kniker:
"That sounds like just a good value story but the sustainability part of that story is $40 million worth of parts are no longer being made or the parts are no longer being scrapped because they were ordered in error (…) Sustainability is good for the planet and is also good for business."
PTC has also released Creo+ which combines the functionality of Creo, delivered through SaaS, with new cloud-based tools. It also introduces collaboration tools for real-time review, exploration, and editing of part designs, enabling seamless teamwork regardless of location.
Selecting Materials With Granta by Ansys 
This year's edition of Liveworx also served as a platform for PTC to highlight its recent partnerships. One notable collaboration involved expanding their Windchill software capabilities for materials management and sustainability through the integration of Granta, developed by simulation software company Ansys.
A few weeks ago, we interviewed Pepi Maksimovic, Director of Application Engineering at Ansys about the critical role that digital simulation can play in helping manufacturers design and manufacture products that are greener, easier to recycle, reuse, and repair, and that are also more robust and durable.
"Digital simulation can assist in choosing materials with a lower carbon footprint, considering factors such as the manufacturing process and transportation distance. Ansys's tool Granta provides a comprehensive database of materials with information on their typical engineering properties such as strength, density, and conductivity, as well as their carbon footprint."
Granta provides the capability to calculate the energy consumption involved in the production of a specific material. Additionally, manufacturers have the option to choose materials based on their production methods and country of origin. The software also highlights whether the materials are sourced from recycled materials.
By leveraging this information, manufacturers can make informed decisions and prioritize materials that are both sustainable and have a reduced environmental footprint.
On stage at Liveworx, Ajei Gopal, the CEO of Ansys, stated:
"Granta is the premier materials data management system that helps customers understand the impact of material choices. And this will revolutionize the way that customers can create and manufacture, sell and reuse products."
By leveraging comprehensive tools such as Creo and Windchill together with Granta, engineers can assess the priority of costs, manufacturability, and sustainability during the design process.
For Catherine Kniker,
"That will enable engineers to understand the implied manufacturing footprints and costs associated with their design. And then they can watch how the footprint evolves as their design changes."
From ThingWorx to ServiceMax: Vestas' Digital Thread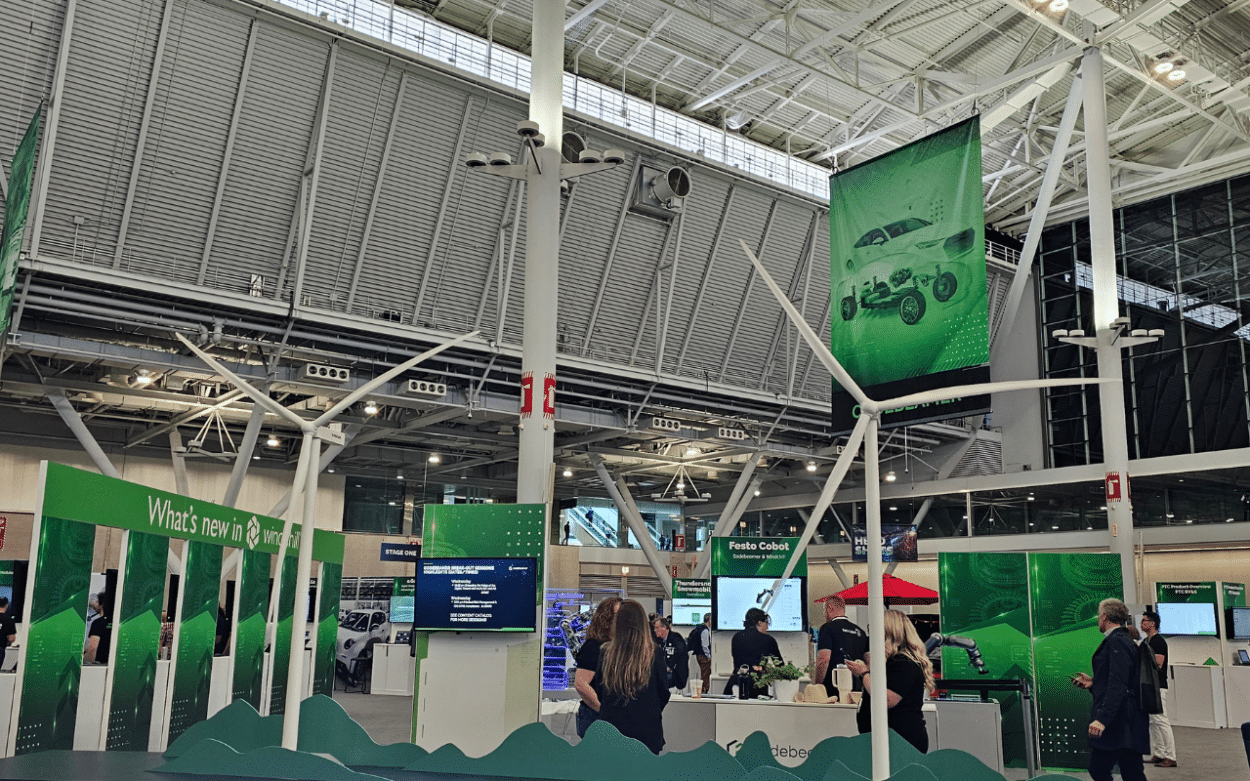 Wind turbine manufacturer Vestas holds the title of the world's most sustainable company. This achievement can be attributed to their strategy of implementing a circular reuse cycle while fostering collaborative partnerships throughout their supply chain. 
By seamlessly connecting engineering, manufacturing, and service areas using PTC's technology, Vestas optimizes processes, reduces carbon emissions, and ensures the highest level of quality and sustainability of their products.
Although this digital journey is still ongoing, the company has made remarkable advancements in engineering and service optimization.
During the Liveworx event, we had the opportunity to delve into a specific scenario that showcased Vesta's optimization capabilities across all these domains.
First, Vestas has connected their assets to PTC's ThingWorx IIoT solution platform, enabling continuous monitoring and immediate detection of anomalies in wind turbines. With sensors embedded in wind turbines, Vestas can identify issues, such as vibrations, as soon as they occur. 
When a vibration issue is detected, the alert is relayed to the engineering team, initiating the service journey. The engineers have to design and manufacture a new valve to address the vibration issue.
Using PTC's Windchill PLM software, Vestas engineers can then access a component library to design the new valve. This change in the Engineering Bill of Materials (EBOM) leads to the creation of a Manufacturing Bill of Materials (MBOM) and requires collaboration between design and manufacturing engineers. 
To mitigate the risk of manufacturing incorrect parts, Vestas also uses ANSYS's simulation tools to validate the chosen valve's performance against design requirements. 
Transitioning into the service phase, where the valve has been manufactured correctly and inspected, routine maintenance procedures are supported by PTC's ServiceMax, Thingworx, and Vuforia.
ServiceMax aids in planning and dispatching tasks, while Vuforia provides step-by-step guidance through AR technology. Field technicians receive real-time feedback from the embedded sensors via ThingWorx, confirming the effectiveness of the valve replacement. 
For PTC, the Vestas case is a good example of how a closed-loop process can improve efficiency, reduce errors, promote sustainability, and ultimately enhance customer satisfaction while at the same time-saving costs.