Sealing plays a crucial role in industrial applications as it provides essential performance, safety, and reliability. French company Hutchinson, a subsidiary of oil company TotalEnergies, manufactures innovative sealing systems for various industries, including O-rings, low-torque seals, and a product specifically designed for the sealing of liquefied natural gas (LNG) carriers. While the primary goal is to ensure secure seals, Hutchinson's products also enhance energy efficiency and preserve resources.
Sealing is a critical function across diverse industries, particularly when dealing with gases, liquids, or grease, to prevent their undesired escape during mechanical assemblies. It involves filling small gaps between joined components using elastic materials like rubber. Rubber's exceptional elasticity enables it to effectively fill gaps and withstand extreme temperatures ranging from -70°C to +150°C.
Selecting the appropriate sealing material is vital in automotive, aerospace, and other industries that rely on secure seals. Factors like temperature, pressure, chemical compatibility, and environmental conditions must be carefully considered for optimal performance and long-lasting results.
The Hutchinson Group is a leading producer of elastomers and rubber. At Hannover Messe last month, we had the opportunity to meet with the French company. They presented three different products that offer both efficient sealing solutions and a positive environmental impact.
1/ The O-Rings
One commonly employed technique for achieving reliable sealing is the use of rubber O-rings. These are circular rubber elements, often in the shape of an "O," designed to fit into specific grooves between two contacting surfaces. They act as a physical barrier, preventing fluid leaks such as liquids or pressurized gases. Their ring-shaped design provides excellent sealing capabilities, even under extreme pressure and temperature conditions.
According to Ludovic Duval Arnould, Industry Sales Manager,
"O-rings can be found in various applications, including automotive, aircraft, central heating systems, cosmetics, coffee machines, and soda makers. They are indispensable for achieving perfect sealing and ensuring the seamless operation of these systems."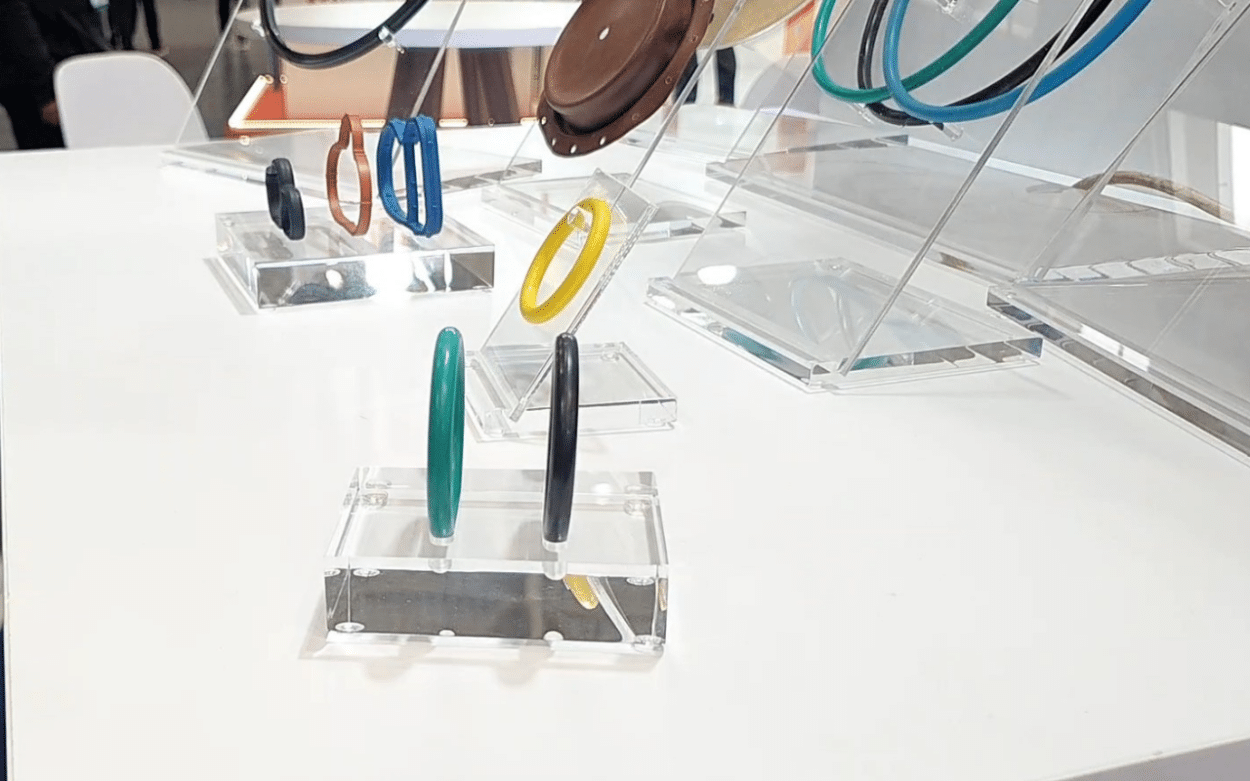 The primary function of rubber O-rings is to ensure reliable sealing between parts of a mechanical or hydraulic system, therefore preserving equipment integrity. They find widespread use in automotive, aerospace, electronics and chemistry where leaks can have severe economic and environmental consequences.
By helping to conserve resources, they also contribute to combating pollution.
Different types of rubber are available, each with specific properties related to chemical resistance, temperature resistance, fluid compatibility, and more. Choosing the most suitable material for the specific operating conditions of the industrial application is essential for reliable and long-lasting sealing.
According to Ludovic Duval Arnould,
" If a seal fails in its operation, it can have highly detrimental consequences for health and for the environment. For example, an oil leak, a significant greenhouse gas leak, or leaks of polluting substances can result in underground, aquatic, and airborne pollution, even leading to the destruction of ecosystems. From a financial perspective, the failure of an O-ring can lead to excessive power consumption, which can have substantial financial implications for your company."
The objective for the group is to achieve a high-quality product in order to minimize maintenance costs and reduce maintenance frequencies.
2/ The Low-Torque Seals
The low-torque seal is a sealing solution designed to minimize friction and improve overall efficiency. As the name suggests, it refers to a sealing component that requires minimal torque or rotational force for effective sealing. It is typically utilized in applications where reducing friction and energy consumption are of paramount importance such as in the automotive industry. For example, they are commonly used in rotating equipment such as motors, pumps, compressors, and gearboxes.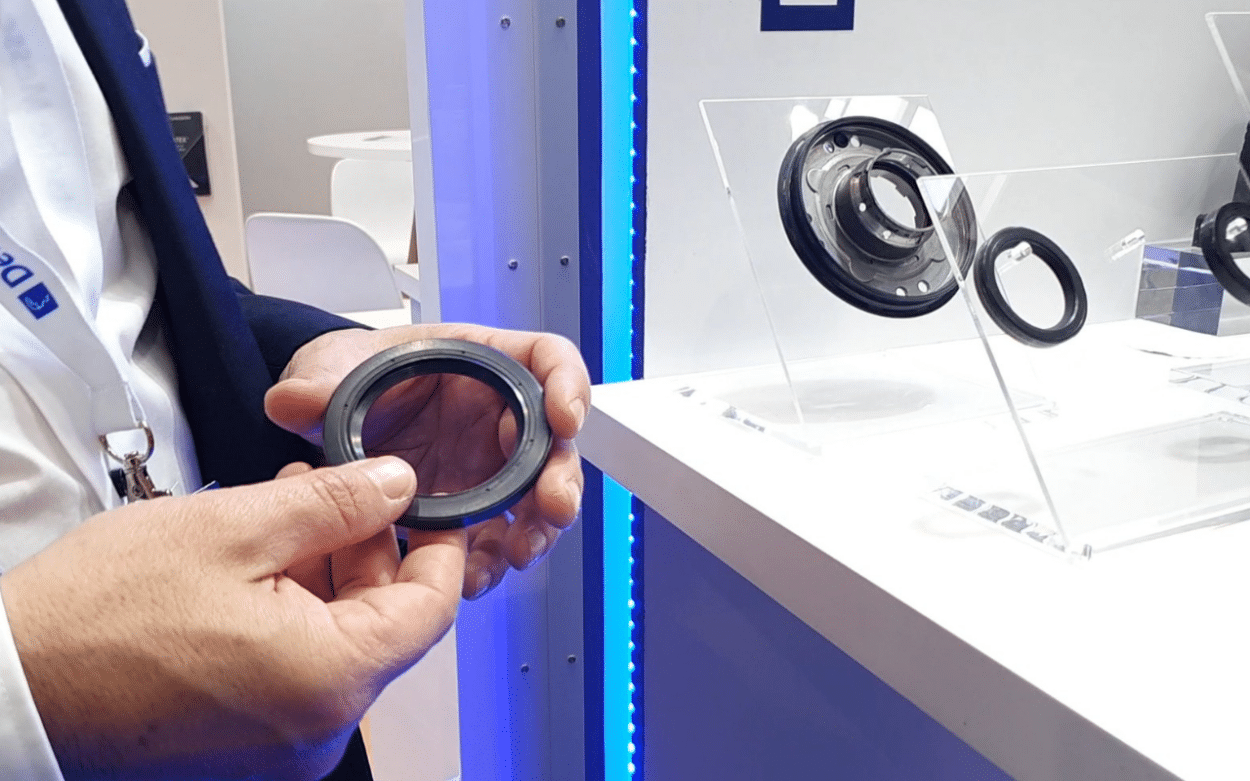 These seals are engineered with specific materials and designs that offer superior lubricity and smooth operation, thereby reducing power requirements and enhancing overall system efficiency. With reduced friction, wear and tear are minimized, leading to fewer breakdowns, lower maintenance costs, and decreased downtime.
According to Laurent Khouri, Sales Manager at Hutchinson,
"The low-torque seal, with its low friction coefficient, plays a crucial role in reducing CO2 emissions, especially in automotive applications. A car wheel, for example, consumes only about 100 watts, which is equivalent to the energy used by a standard light bulb. Thanks to extensive research and development, Hutchinson has achieved remarkable outcomes in material innovation and joint design. As a result, we now supply the majority of automotive bearing manufacturers. For instance here, we showcase this seal that makes minimal contact with the rotating shaft, ensuring efficient sealing without unnecessary friction."
The company also developed what they call the intelligent magnetic seal. This invention originated from the automotive ABS (Anti-lock Braking System).
"This seal not only ensures effective rotational sealing but also incorporates a magnetic target that provides speed information when in motion. Made of magnetized rubber, this seal works in conjunction with a dynamic sealing component, delivering a dual functionality of sealing and speed measurement".
Hutchinson's smart magnetic seal expands its applications beyond automotive safety. It enables angular speed measurement for various purposes, such as controlling electric motors. By integrating a waterproof coding system, this seal ensures both sealing integrity and accurate speed monitoring, enhancing overall performance and efficiency.
3/ Ensuring Sealing Integrity in LNG Carriers
To prevent leaks, the Hutchinson Group has also developed a product that offers excellent sealing properties without the use of rubber. Zaltex, a non-elastomeric composite material, is specifically used in methane and LNG carriers.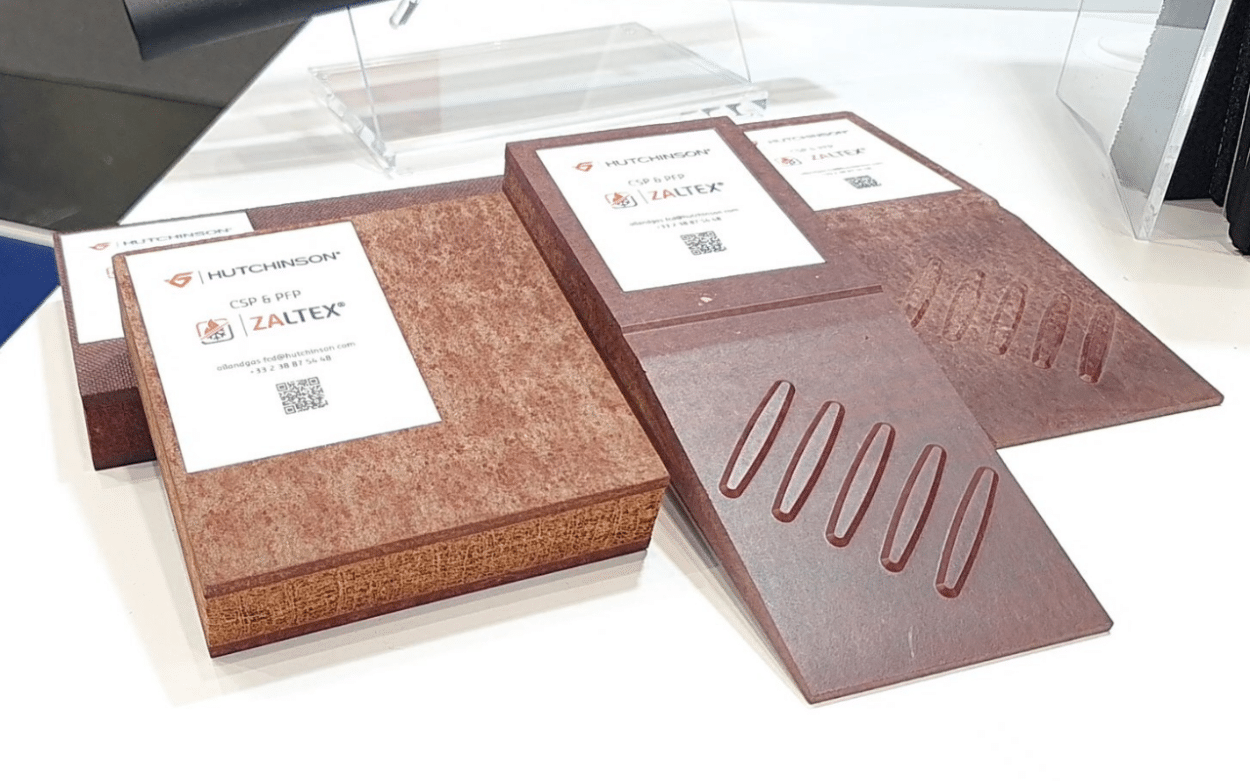 According to Michael Piardon, Sales Manager,
"Zaltex is a composite product made from basalt that has excellent mechanical strength and high/low-temperature resistance. It can withstand temperatures as low as -192°C, making it suitable for cryogenic applications, while also providing fire protection at high temperatures."
These products find application in LNG carriers, ensuring safety and tank sealing for the transportation and storage of hydrocarbons.
"The worst-case scenario would be a fire or a leak with disastrous consequences for the environment."
The mineral structure of the material enables it to resist high temperatures and contact with various fluids.
Zaltex comes in different densities, and shapes, and can be assembled in brick-like forms, making it easy to install on ship decks. It offers resistance to extreme temperatures and can withstand substantial loads.
"In case of cryogenic spills or fires, this material resists and prevents fire propagation or structural damage on the vessel."
4/ How to Foster Environmental Responsibility in Rubber Seal Production?
With sustainability becoming a paramount concern across industries, how can sustainability be achieved in the manufacturing of rubber seals, which are challenging to recycle?
According to Ludovic,
"These products are made entirely of synthetic rubber derived from petroleum, and we cannot do without them. They are essential. Therefore, our sustainability approach focuses not on the product itself but on the impact it will have during its use."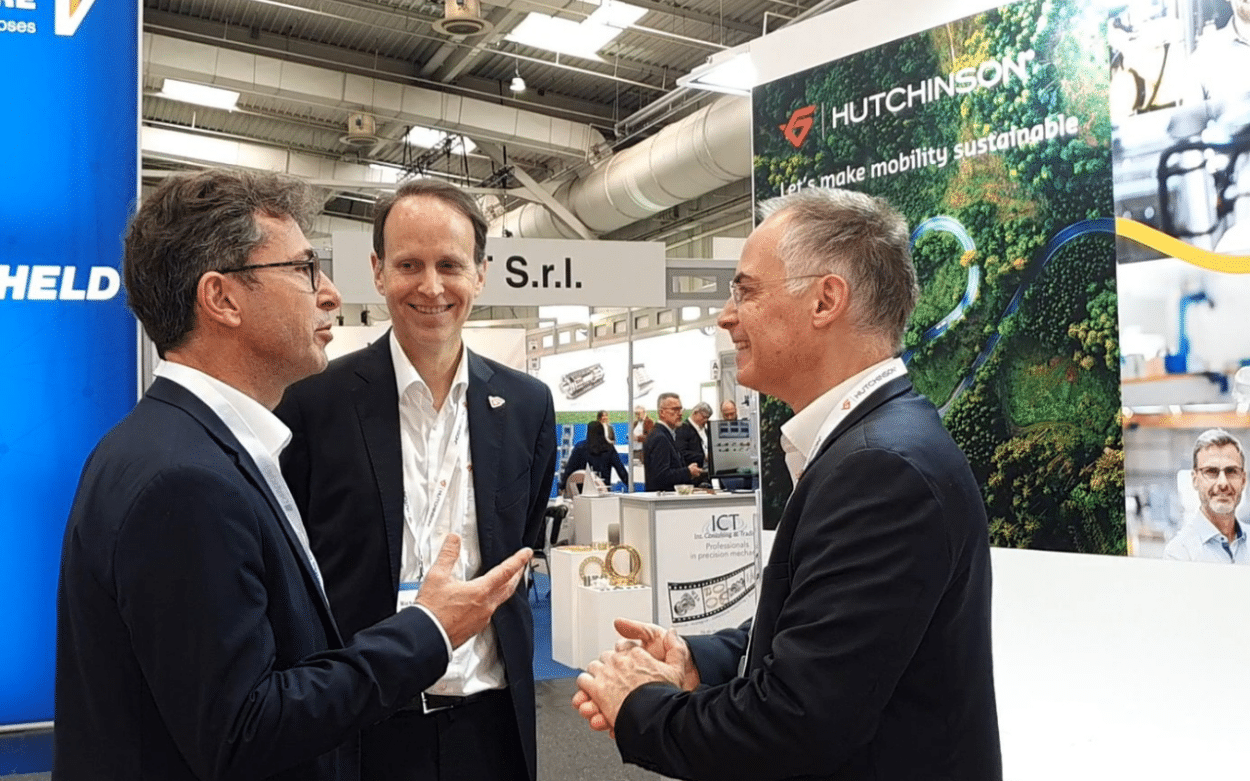 All of Hutchinson's seals are manufactured in Europe (France and Portugal) to minimize the carbon footprint.
"We could easily have them made elsewhere, far away, for a lower cost. But there is a growing demand for that, and we truly want to address it. We also aim to incorporate as many locally sourced components as possible in our seals, using materials that come from shorter distances or from more sustainable supply chains."
The company has also set an ambitious roadmap to reduce the group's greenhouse gas emissions by 50% by 2030 compared to 2019, regardless of its business growth. Additionally, by 2025, all Hutchinson factories will be certified ISO 14001 and ISO 50001, demonstrating their commitment to environmentally friendly practices.
The company actively seeks eco-friendly materials that not only contribute to carbon reduction but also help in weight reduction, Michael explains:
"We are exploring the use of lightweight foams to achieve this goal and minimize the overall weight carried. This could help reduce CO2 emissions, not only in the mobility sector but also in other industries."
As industries continue to prioritize sustainability, Laurent expects the advent of electric vehicles to present a new market opportunity for their low-torque seals.