Even though it can take years for a robot suitable for the agricultural industry to enter commercial production, the appetite in the industry for these machines is growing fast. With the availability of farm labor on an alarming decline, farmers have no option but to turn to a workforce of robots to ensure their crops are planted, managed, and harvested.
According to financial projections, the global market for agricultural robotics will reach US$7.88 billion by 2032 with Europe being the largest market followed by North America, Asia Pacific, and South America.
As the market dictates, there are many different types of robots including seeding and spraying robots, fruit and vegetable harvesting robots, weeding robots, and aerial imaging units. Here is a focus on a few of them.
Naio Technologies Orio
French company Naio Technologies entered the agricultural robotic market over 12 years ago and already has a number of machines working in different farming environments.
One of the company's latest developments is the Orio, a brand new straddle robot designed for use in row crops and beds of vegetables, arable crops of large growers and contractors.
Already there are over 20 Orio machines sold and working for farmers in a number of environments carrying out different tasks.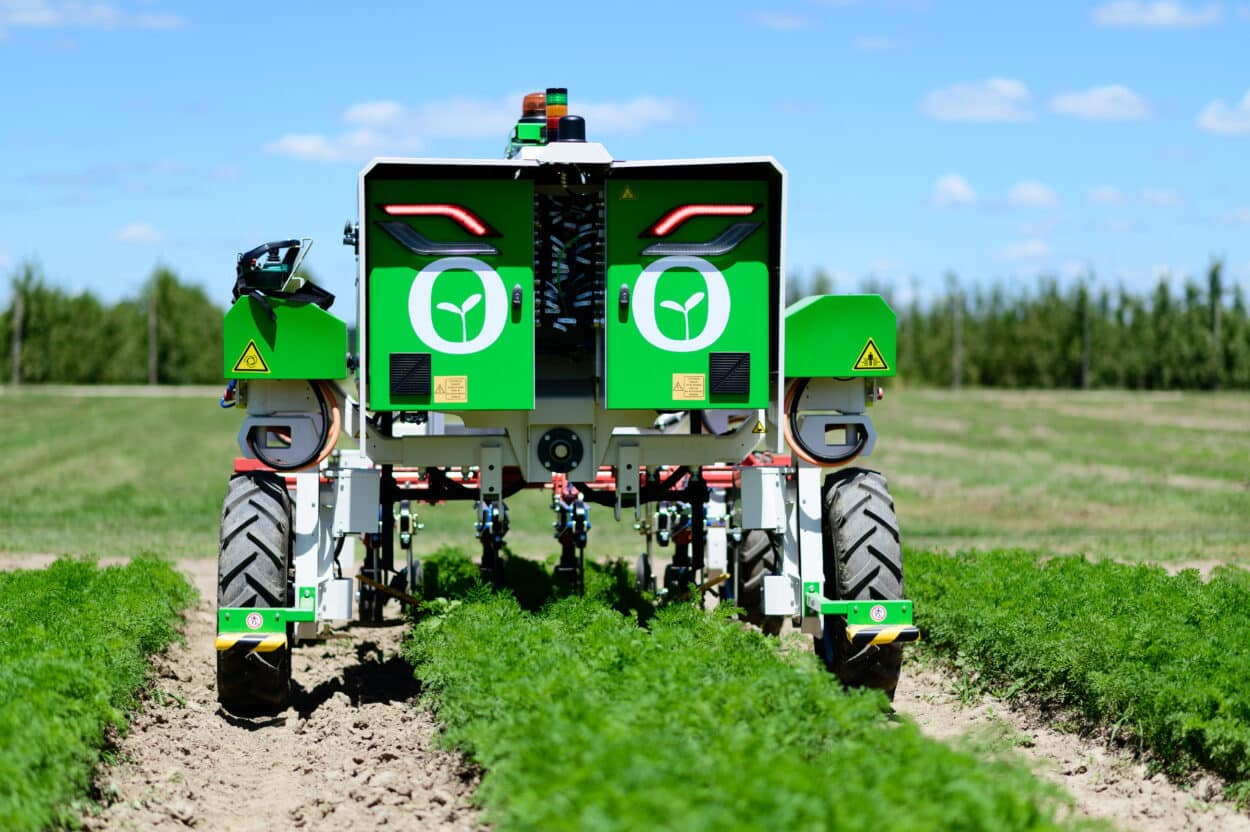 This tool carrier robot offers a number of options for greater autonomy and precision, as a choice of implements can be added. It can be used for seeding, cultivating, weeding, collecting data, and more.
Orio is GPS and camera-guided, equipped with multiple sensors running on an algorithm based on artificial intelligence. Orio can carry out high-precision seeding and weeding due to the precision guidance of the implements attached to the center of the robot.
The unit itself is powered by 48V electricity and has four 3000W electric wheel motors, making it a four-wheel drive. It runs on 21Wh swappable lithium batteries with a combined eight-hour work time.
Orio can work at speeds up to 5.5km/h, measures up to 4.28m long, and up to 2.43m wide, and weighs 1,450 kgs.
It operates autonomously guided by GPS (RTK GNSS) with the Naio Core system. It also includes safety bumpers, LiDAR, and geofencing.
For Ingrid Sarlandie, COO for Naio Technologies:
"The Orio is a sustainable alternative to the use of herbicides that respects soils, improves working conditions, and collects data for smart farming. Orio offers a sustainable, serviceable, and smart farming solution combining high-edge technology in robotics and AI. We engineered a light electric and autonomous ag robot for obvious sustainable reasons; no carbon emission, no chemical use."
Harvest CROO Robotics Strawberry Robot
Florida-based Harvest CROO Robotics has developed a robot that carries out the laborious task of harvesting strawberries, again influenced by the manual labor shortage.
This harvester can work day or night harvesting strawberries picking out the ripe fruit and even recognizing diseases.
The machine's mounted LIDAR system provides a 360° three-dimensional view of the fields which gives more precise navigation down rows of strawberries.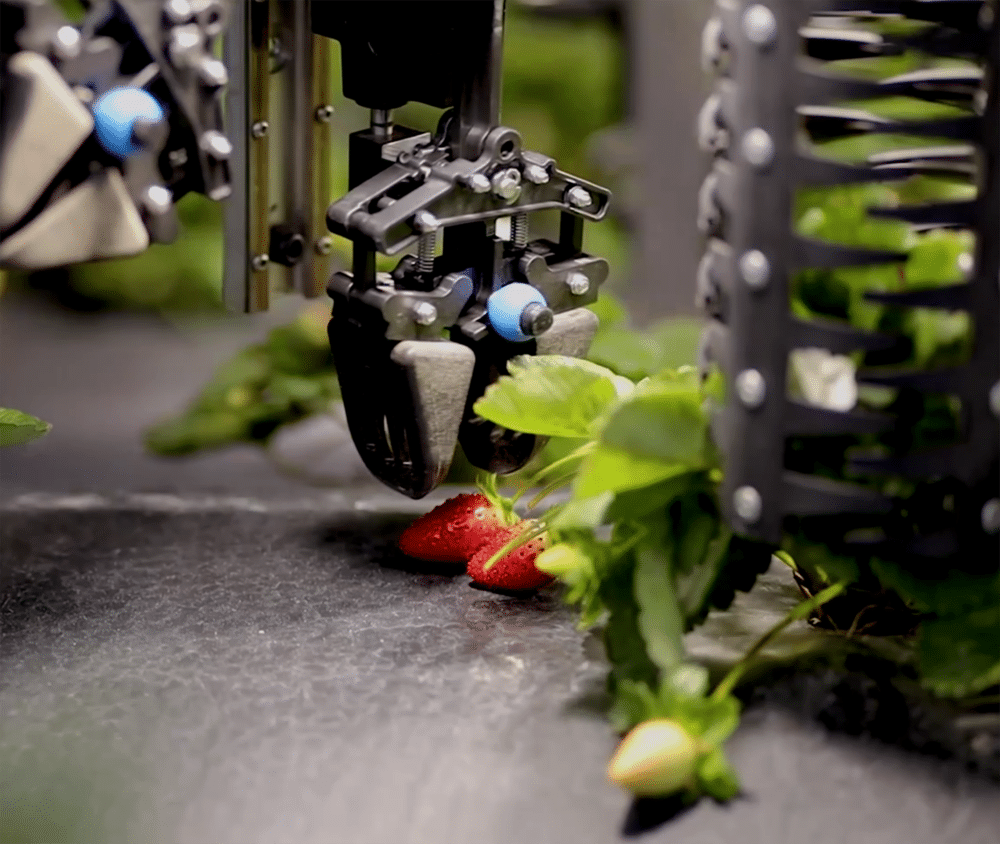 This enables the fully autonomous harvester to avoid colliding with growing rows, people, and other obstructions.
Each harvester has 16 independently working robots picking the fruit as the machine autonomously navigates its way through acres of strawberries.
Artificial Intelligence and machine learning vision system allow each berry on a plant to be scanned and assessed if ripe, healthy, and ready to be picked.
Carbon Robotics Robots
US-based Carbon Robotics is at the forefront of developing robotic technology using lasers to destroy weeds in crops.
The Seattle-based company's third-generation weeder uses a combination of robotics, Artificial Intelligence, and laser technology to safely and effectively drive through crop fields to identify, target, and eliminate weeds.
Unlike other weeding technologies, these robots utilize high-power lasers to eradicate weeds through thermal energy, without disturbing the soil.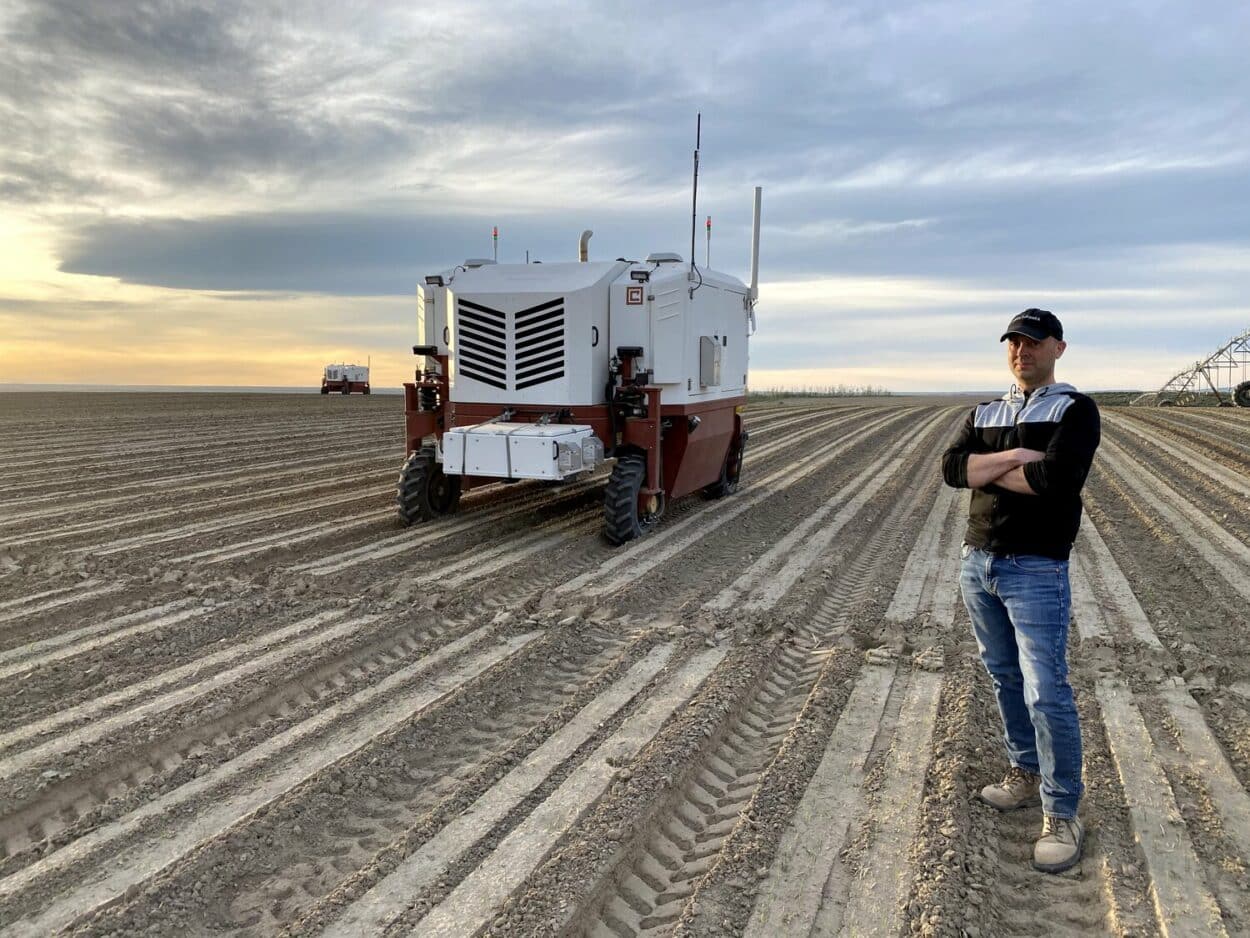 The robot's hi-resolutions cameras feed imagery in real-time to an onboard supercomputer that runs computer vision models to identify crops and weeds.
High-powered lasers then kill weeds at the meristem, without harming the valuable crops. Laser weeding works day or night, in all weather conditions, and can be a high-precision solution that improves crop yield and reduces overall costs associated with modern farming.
The company has just developed LaserThinning, a new technology for its robot, that targets areas where vegetable crops are purposefully overseeded and then thinned for optimal crop spacing, growth, and yield.
By using lasers for thinning, the new solution does not require the use of any chemicals or manual hand labor, is unaffected by wind or moisture, and can be performed during the day or night.
Paul Mikesell, CEO and founder of Carbon Robotics, said:
"With our pace of innovation, we offer a software extensible tool that addresses farming's most pressing challenge, weeding, and expands to tackle other problems such as thinning. The LaserWeeder enables farmers to accurately execute crop thinning and weeding without disturbing crops or soil, helping to improve crop yields and soil health."
RELATED ARTICLE