Big name companies are quickly realizing the huge investment potential in getting involved with robot development for farms, resulting in more autonomous technology hitting the market. Our agri expert, Chris Mccullough, picked three new technologies deployed on the field.
Many new robotic startup companies are attracting investors encouraged by the need to fill an increasing manual labor void on farms around the world.
01.

Weeding Robot

One of the latest machines to be unveiled is a new weeding robot that uses lasers to exterminate the enemy. It is manufactured by Carbon Robotics.

The Seattle-based company released its third generation Autonomous Weeder which uses a combination of robotics, artificial intelligence (AI) and laser technology to safely and effectively drive through crop fields to identify, target and eliminate weeds. Unlike other weeding technologies, these robots utilize high-power lasers to eradicate weeds through thermal energy, without disturbing the soil.

Farmers who operate automated robots are able to reduce their herbicide use, as well as labor and costs while at the same time improving crop yields.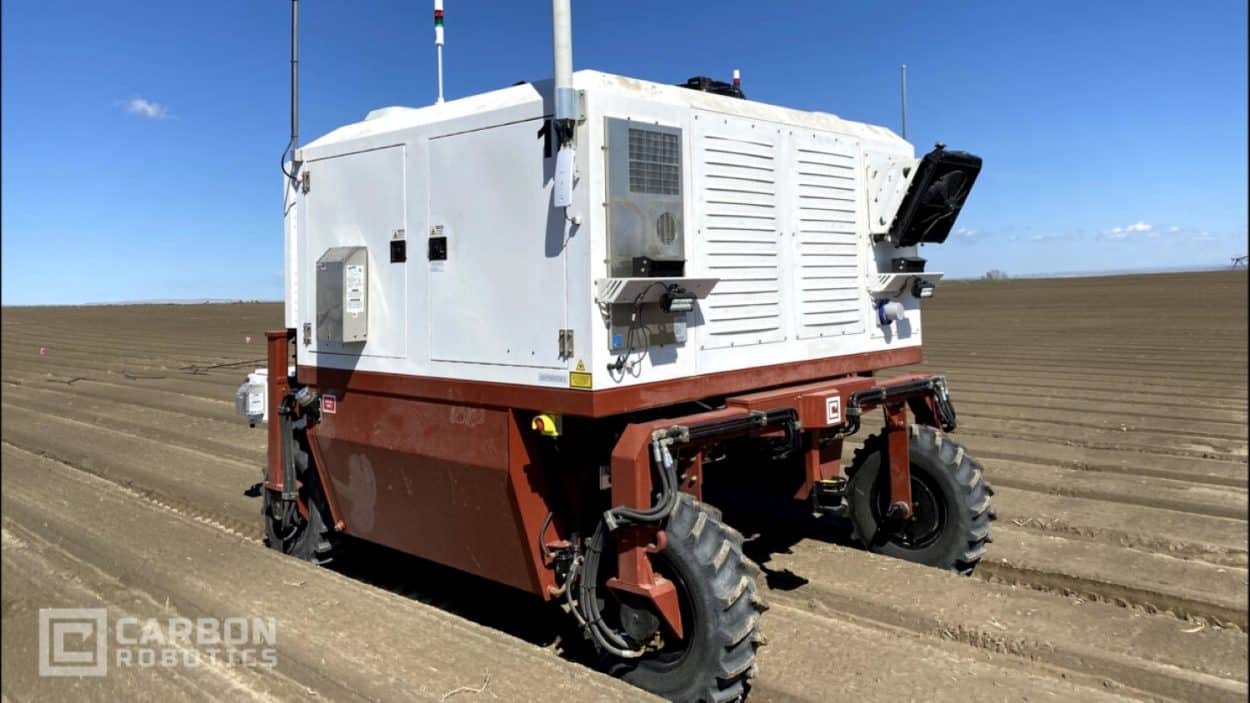 For Carbon Robotics CEO and Founder, Paul Mikesell:
"AI and deep learning technology are creating efficiencies across a variety of industries and we're excited to apply them to agriculture. Farmers, and others in the global food supply chain, are innovating now more than ever to keep the world fed. Our goal at Carbon Robotics is to create tools that address their most challenging problems, including weed management and elimination."
Designed for farms from 200 acres up to tens of thousands of acres, a single robot will weed 15-20 acres per day and replace several deployments of hand weeding crews.
Since it was founded in 2018, the company has worked closely with farmers to develop its technology, which supports effective and efficient weed elimination for both conventional and organic farmers.
The robots have undergone beta testing on specialty crop farms, working on fields with a variety of crops, including broccoli and onions.
James Johnson of Carzalia Farm used Carbon Robotics' technology on his farm and was well pleased.
"This is one of the most innovative and valuable technologies that I've seen as a farmer. I expect the robots to go mainstream because of how effectively they address some of farming's most critical issues, including the overuse of chemicals, process efficiency and labor."
02.
Robotic Assistant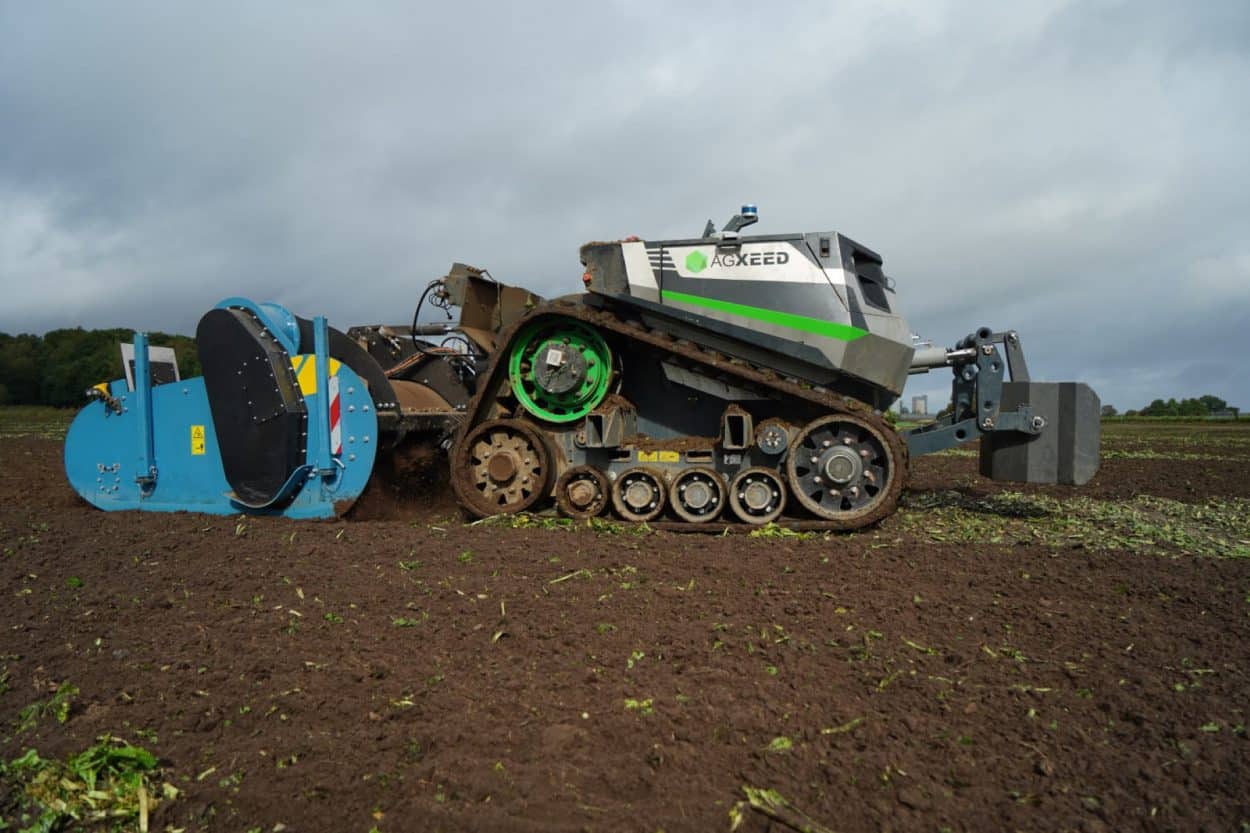 German agricultural machinery manufacturer Claas has invested in Dutch robotic start-up AgXeed BV to step into the autonomous tractor market. They have entered into a cooperative venture with Claas acquiring a minority shareholding of AgXeed BV in its international funding round as a mark of their commitment.
AgXeed will be bringing its autonomous AgBot to fields, pastures and specialty crops alongside a full suite of vehicle peripherals. The aim for this autonomous field robot with diesel-electric drive, wheels, or crawler tracks, up to 156hp and standard three-point linkage, is to assist farmers with a wide range of tasks in the future.
Optional crawler tracks with belt widths from 300 to 910mm, combined with a low maximum weight of six tonnes, without ballast, make the AgBot very soil-friendly.
The vehicle also features an adjustable track width, load-sensing hydraulics and a linkage with a lift capacity of up to eight tonnes. An electric PTO, independent of the engine speed, and external high-voltage connections are available as options.
The electric equipment includes all the technology required for hazard and obstacle detection, in addition to an RTK steering system.
For Joris Hiddema, co-founder of AgXeed:
"This type of cooperation reflects exactly what we stand for at AgXeed. And this means setting up future-orientated alliances between innovative companies striving for sustainable agriculture where farmers are able to optimize productivity, while preserving the soil and the environment. In Claas we have a partner onboard that believes in and shares our ideas on the future of agriculture and will accelerate bringing our solutions to farmers' fields."
03.
Robotic Tomato Harvester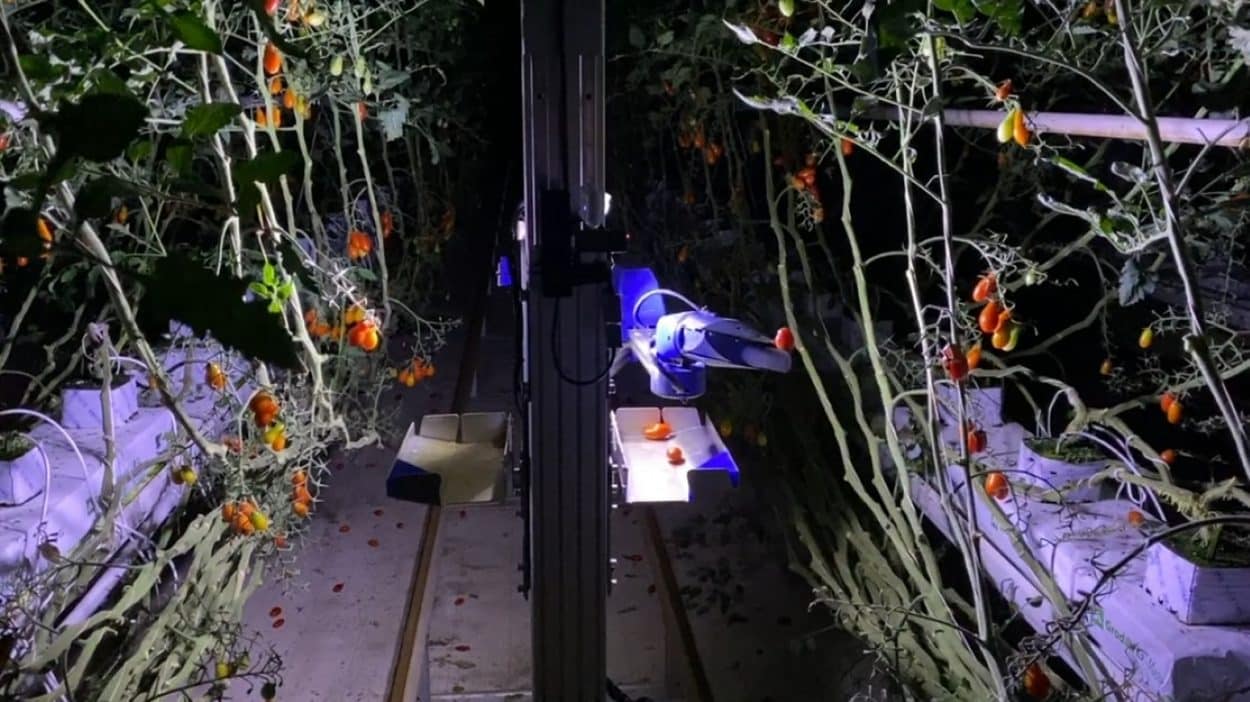 Japanese company inaho Inc has set up a subsidiary company inaho Europe BV, its European base in the Netherlands, and has developed a new robot for harvesting snack tomatoes.
Powered by batteries, this latest robot can run for up to 12-hour shifts on a single charge working day and night. Autonomous navigation using SLAM, RTK GPS and sensor technologies allows the robust mobile robot to navigate both indoors and outdoors. It is programmed to use AI algorithms to identify ripe fruits by their color and size.
inaho first began the development of its tomato harvesting robot in 2020. Currently, four robots have already been manufactured and released for work. These machines are already deployed in the field and collecting feedback from several leading growers in Japan for further improvements.