China's state-owned aircraft manufacturer COMAC delivered its first single-aisle C919 aircraft to Chinese airline China Eastern during a ceremony at an airport in Shanghai last week. Designed to compete with Airbus A320 and Boeing 737, C919 will have its inaugural commercial flight in early 2023.
It was one of the most ambitious Chinese projects. Launched in 2008, COMAC's (Commercial Aircraft Corp. of China) flagship program C919 was established to officially coordinate national airliner projects. Unofficially, the objective was to enter the worldwide civil aviation market and compete with Airbus and Boeing.
RELATED ARTICLE
An "Important Milestone"
The program has faced many delays. It took until 2022 to see the first Chinese single-aisle medium-haul aircraft delivered to an airline. This happened three days ago in a Shanghai airport. The delivery comes after COMAC obtained certification from Chinese regulators at the end of November. The Chinese manufacturer said the inaugural commercial flight will take place in early 2023.
According to Chinese State TV CCTV, this event marks "an important milestone" for the Chinese aviation industry.
Comac said it had received orders for 300 units. However, the manufacturer did not disclose any figures or delivery dates. According to Chinese media reports, four aircraft are expected to be delivered by the end of 2022 to Chinese airline China Eastern and should enter service in the first quarter of 2023.
Competing With Airbus and Boeing
Designed to compete with Airbus A320 and Boeing 737 Max, the C919 can accommodate between 158 and 174 passengers over 4075 kilometers.
It is a technologically advanced aircraft with composites playing an important role in its structure, more than on previous single-aisle aircraft. Its engine, the C version of the LEAP engine developed by Franco-American joint venture CFM International, is the same as that of the A320neo and the B737MAX.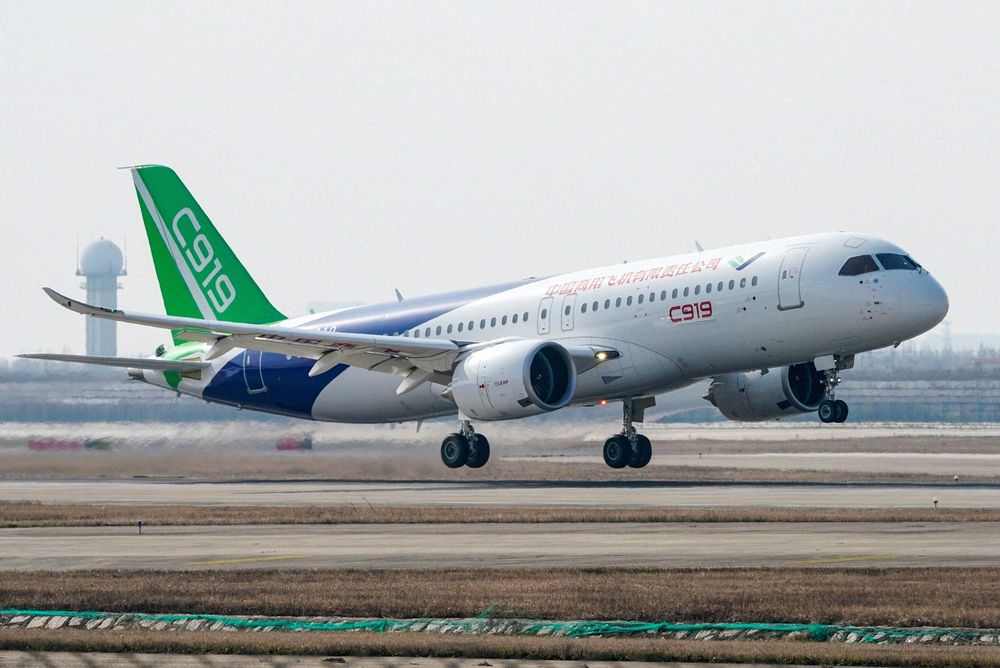 Western Parts
Although the new aircraft proudly features the Chinese flag, it is actually largely made up of Western parts, notably its engines (the Leap-1C) manufactured by the Franco-American consortium CFM International, comprising General Electric and Safran.
According to Jean-François Dufour, Sinopole co-founder,
"The Chinese program has been criticized for its dependence on foreign equipment manufacturers, which also affects many of the C919's other systems. But COMAC is only reproducing the schema used by Airbus and Boeing. Developing an all-Chinese aircraft would not have made much sense."
Collaboration with Airbus
Even if China is developing the C919, the country partnered with Airbus and signed a $17 billion contract with them earlier this year. Several Chinese airlines have ordered more than 300 aircraft from Airbus since the beginning of the year
In November, the European aircraft manufacturer also began the production of its A321s on its local production line near Beijing.
In contrast, China is limiting its orders from Boeing. The American giant is a bit on the sidelines for political reasons due to trade tensions between Washington and Beijing. The Chinese authorities have also been preoccupied with the crash of a Boeing 737-800 belonging to China Eastern Airlines last March near the city of Wuzhou, in the Guangxi region. All 132 people on board died. 
In March 2019, Chinese airlines became the very first in the world to suspend flights of 737 MAX aircraft for safety reasons after two fatal accidents. China has been the last major country to lift the flight ban for this aircraft.
COMAC did not yet receive the green light from US and European regulators and still needs another approval to go into mass production.