With the war in Ukraine and the rise of fossil fuel prices, the feasibility of green hydrogen as an affordable and secure source of renewable energy in Europe is growing, research firm Rystad Energy predicts.
According to research firm Rystad Energy, the war in Ukraine will accelerate the development of green hydrogen in Europe. While up until recently blue hydrogen and gray hydrogen were the most economically advantageous, the current global rise in gas prices (which started before the war but significantly accelerated since then) is proving green hydrogen to soon be cheaper to produce than low-carbon hydrogen.
The War in Ukraine has "Turbocharged" the Sector
Green hydrogen production was already expected to take off in 2022 globally and pass the 1-GW-milestone. But the analysts observed in a press release that the war in Ukraine has "turbocharged" the trend.
"Green hydrogen's potential win comes at the expense of its fossil fuel-linked blue and gray alternatives, whose costs have increased by over 70% since the start of the war in Ukraine, rising from about $8/kg to$12/kg in a matter of days (…) Since the Russian invasion of Ukraine, the economics of green hydrogen have become increasingly attractive with lower production costs of $4/kg (particularly in the Iberian Peninsula) compared to $14/kg for blue and $12/kg for gray in other parts of Europe."
RELATED ARTICLE
The European Union has already announced plans for a €300 million funding package for hydrogen including green hydrogen, as well as the Hydrogen Accelerator initiative from REPowerEU to reduce the region's dependence on Russian gas.
Individual EU member states have also accelerated their domestic plans even before the conflict. France has pledged €1.9 billion to develop the hydrogen industry in the country as part of the France 2030 investment plan. Germany aims to become the world leader in hydrogen and planning to produce 25 gigawatts (GW) by 2040. The United Kingdom hopes to reach 5 gigawatts of hydrogen production by 2030.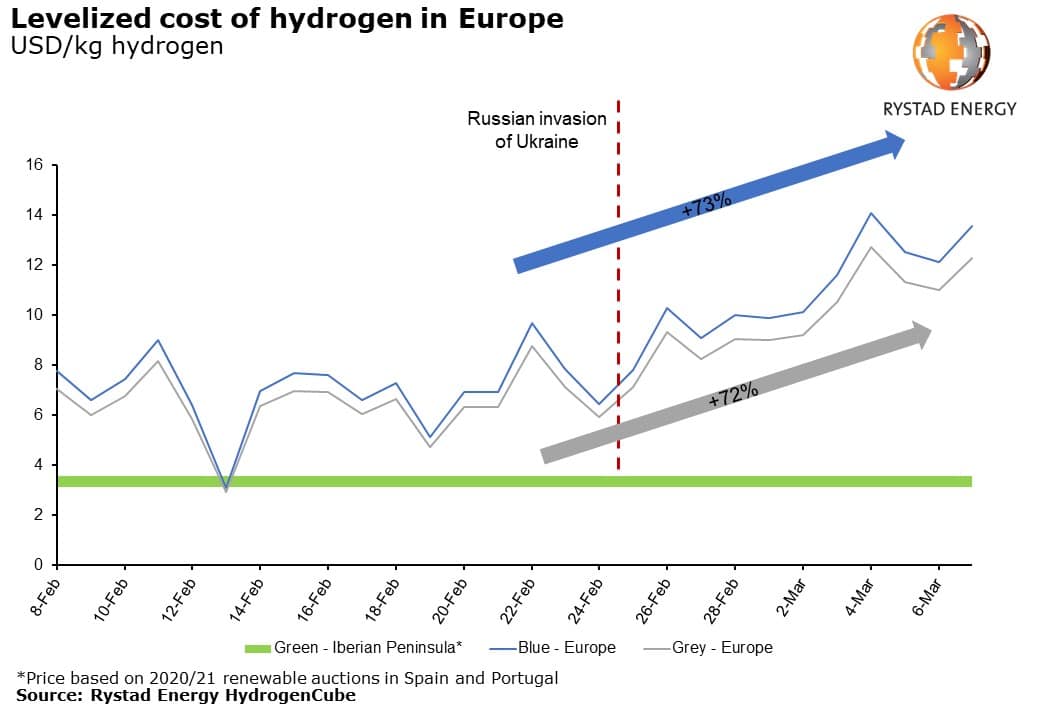 Green Hydrogen
Green hydrogen, also called renewable hydrogen, is produced by electrolysis of water using electricity coming only from renewable sources (solar, wind, hydraulic, etc.). Whatever the production process, it must respect a threshold of CO2 equivalent emissions per kilogram of hydrogen produced.
So far, making hydrogen out of renewable resources has required heavy investments and infrastructure including distribution capacities (how to connect the production sites to the places of use) and storage capacities. And in the end, the cost of green hydrogen was considered to be much higher than other sources of hydrogen.
RELATED ARTICLE
Redrawing the Global Energy Market
For the researchers, the situation induced by the war could even redraw the global energy market.
"Green hydrogen promises energy security as well as potential new regional economies for renewable energy. While some countries are focused on domestic usage, others are focusing on exports, suggesting that we may be moving from a world where energy is sourced in a few key regions, to a world where production is more spread-out. The decade ahead is a make or break one for the green hydrogen sector."
For Minh Khoi Le, head of hydrogen research with Rystad Energy Fundamentally,
"A world where green hydrogen fulfills the role currently played by oil, gas and coal will look very different."
However, the research firm stresses that green hydrogen will still need to reduce its cost to less than $1.5 per kilogram and produce at least 10 million tons annually by 2030 to truly become part of the energy mix.