Robotics technology manufacturer AutoStore has recently unveiled its innovation hub in Karmøy, Norway: a new state-of-the-art facility for testing and replicating various store and supply-chain environments in extreme conditions. Hot and cold multi-climate situations, as well as earthquakes, can be simulated to identify how warehouse technology, micro fulfillment systems and goods react to extreme conditions, before implementation.
Created in the 1990s, AutoStore develops cube storage automation solutions. They have 600 installations in 40 countries and recently opened an innovation hub in Norway. The idea of this hub is simple: it is aimed at testing different micro-fulfillment solutions developed by AutoStore for various retailers around the world in different environmental conditions and for different types of goods.
According to the Karl Johan Lier, CEO of AutoStore,
"We identified the need to test our solutions in a number of different situations, but we couldn't set up one test center for cold environments, another to simulate heat, and at the same time one to test a modern warehouse solution, another for medical storage and so on. So we created a center where we could simulate different situations and different needs."
Testing Different Conditions
The goal is to develop solutions that will work immediately at a retailer's warehouse. So being able to test the whole system with the customer's specific requirements in terms of goods and climate conditions before it is implemented gives them a real competitive advantage.
Opened in March 2021, the 600 square-meter hub is for the moment composed of a climate chamber (other rooms are currently under construction) that can be adjusted to allow a dozen robots and goods to be tested in hot and cold conditions from -35°C to +50°C. For apparel-type goods such as sportswear and sneakers, the tests are conducted at ambient temperatures. Things are a bit more challenging when it comes to food, electronic components and medications which require testing at several temperature and humidity levels, and analyzing how oxygen levels change as goods are stacked in storage systems. The hub can also simulate earthquakes to identify how warehouse and store technology would react to these potentially dangerous situations.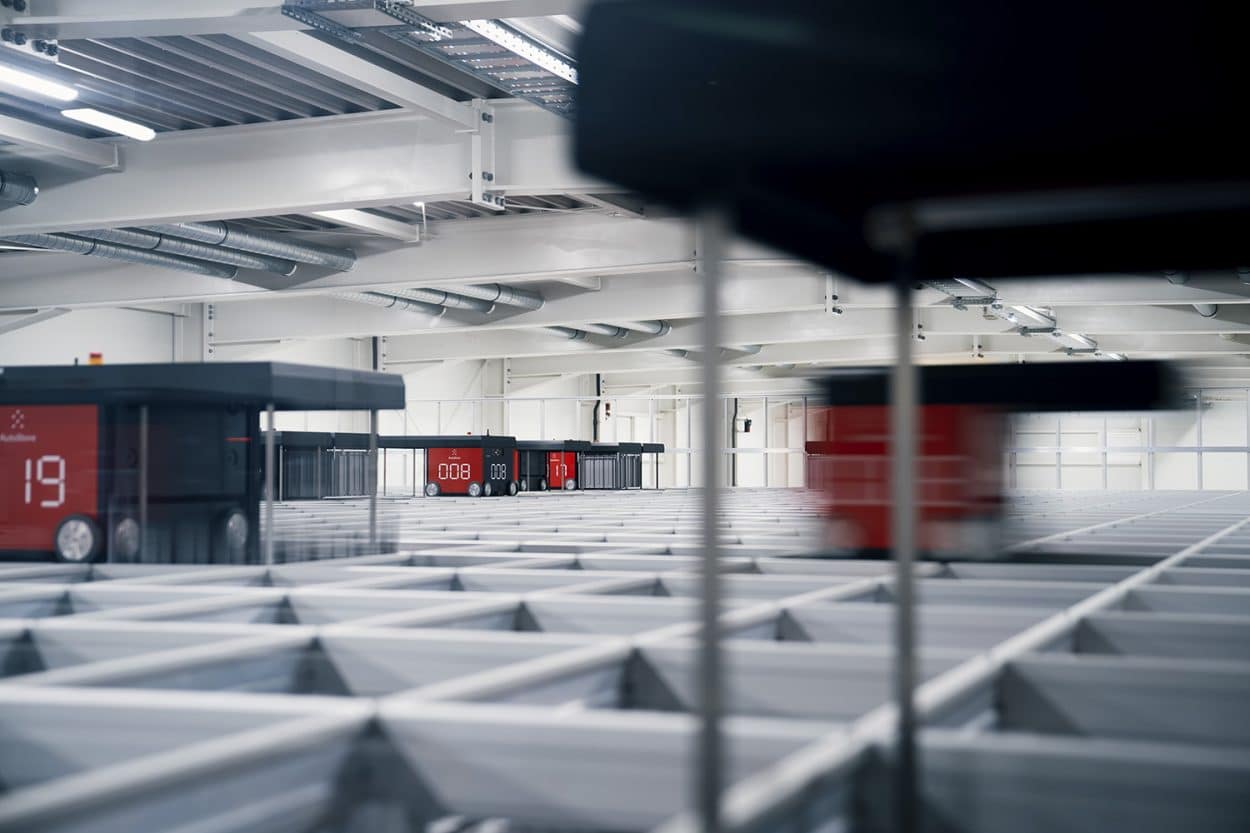 Grocery: A New Segment
AutoStore has clients in a wide range of fields, from medicine suppliers to apparel (Puma, XXL), consumer electronics (Best Buy, Panasonic), industry (ABB, Bosch), the automotive industry (Continental) and food (H&B). But groceries have recently become their biggest segment, explained Mr. Lier,
"At first, our biggest segment was industry, apparel and 3PL. But grocery has become an important sector because more and more groceries companies are turning to e-commerce. The pandemic has accelerated this trend. For example, in the US, before the pandemic, 3% of total groceries sales were made via e-commerce. It reached 10% a couple of months after and it is still accelerating. This opens up the need for new solutions like micro fulfillment so that items like groceries can be delivered in a few hours in urban areas. Micro fulfillment addresses the need for last mile delivery in the grocery chain and will be a very important element in the future. Our solution can be adapted to any building."
The idea, for AutoStore, is to expand the range of products that can be handled by such systems.
"We are developing more micro fulfillment systems to meet more demand in the grocery sector. The goal is to be able to test several temperature sources based on the needs of the end customer to be able to secure a good solution."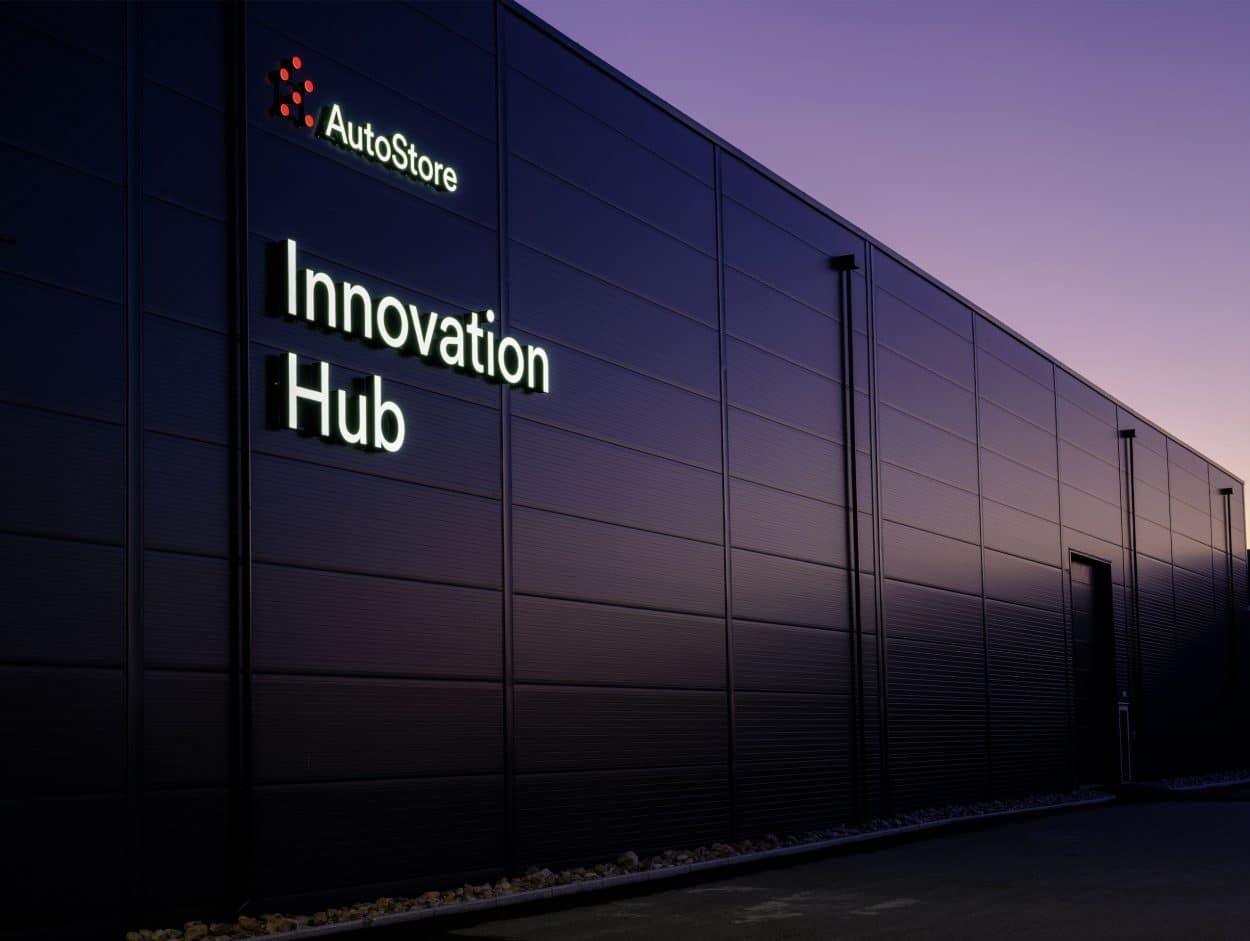 Testing the Equipment
Concretely, 10 to 15 AGVs are gathered in the test room and the idea is first to see how they behave when picking things at different temperatures.
"We have at present one system running and we can change the temperature from -40°C to 60°C thanks to fan coils and normal cooling equipment. We have noticed that the robots have no problem functioning in cooling environments."
Freezing is something they will address in the hub in the future, to find out how the robots will behave.
Ivar Fjeldheim is the Director of Product Management for AutoStore and in charge of the test room. From a screen, he can monitor the entire chamber, the humidity level, the temperatures, and generate heated or cold air. For him, controlling humidity is one of the most challenging things in a chamber like this.
"We don't know what humidity our clients have in the warehouses where we install the equipment. This is why we are testing things to know exactly where humidity can become a problem for our system. We test it as dry as we can and as humid as we can to know if it works well and we document that. As long as our client stays in the range we have tested, then it is okay for them. If humidity for example is higher, then they will have to fix it for our system to be able to function properly."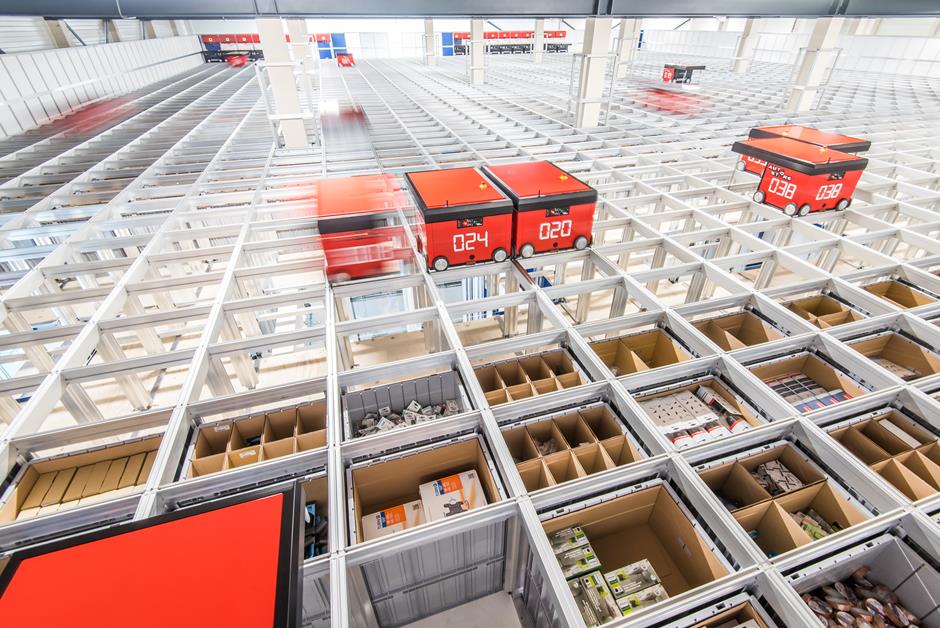 Testing the Goods: Different Use Cases
The hub is also used to test different types of food to see how the goods behave at different temperatures and humidity levels, explains Mr. Fjeldheim:
"We begin all our tests with normal conditions, in order to know what airflow you need for your groceries to behave properly and have a stable temperature. For example, if the air is too dry in a chamber, you have static electricity and it can damage electronic equipment, then you need to make adjustments to secure the airflow."
It takes 1 to 2 weeks to run the tests but 8 weeks are needed prior to this to prepare and plan the different steps. This is because depending on the goods, the requirements are not the same. Mr. Fjeldheim presents us with three different scenarios for three different types of goods:
Use Case # 1: Vaccines
"In the pharmaceutical industry, we have a client who needs the medicine (flu vaccine, insulin) to be in a specific range of cold (2° for the flu vaccine, 5° for the insulin) and the temperature needs to be even all the time. So we have conducted tests at 0° to know if when the chamber is at 0°, everything in the chamber is also at 0°. And sometimes we notice that there is a 1° difference between a bin at the top and a bin at the bottom, so we document that for the customer and try to find solutions so that the temperature remains the same all the time and everywhere."
They haven't tested any scenarios for COVID vaccines because they need to be stored at frozen temperatures, which is an area they haven't started developing yet.
Use Case # 2: Cigars
Another use case they have is the storage of cigars.
"Cigars need to be kept at a specific humidity level, otherwise they get dry and they are not good. One of our clients wanted to know, if he put cigars into bins standing on top of each other, how to make sure that the humidity is evenly distributed between the different bins, even those that are on top. So in order to provide an answer, we created a test plan with different criteria, different temperatures and different humidity levels. If we pass these criteria, meaning if the cigars behave well, then it's okay. If we don't pass the criteria, if for example the cigars are getting dry, we need to understand how much more humidity we need. One solution could be to change the bins, on the top one day, lower down the second day. Humidity is not slow, it's immediate, so if we move the bins regularly, we can have more humidity."
Use Case # 3: Fruits and vegetables
"Now let's say you want to store fruits and vegetables which is complicated because, for example, bananas and tomatoes cannot be stored at the same temperatures. So we need to test how such different goods behave in the same environment. We are not using fresh foods in the chamber because of hygiene reasons. We generally use testing equipment that simulates food such as frozen fish, bananas, tomatoes etc. It is a sort of jelly packed in a plastic container that helps us see how the goods behave. But sometimes we need to do the tests on real goods, when there is no simulation product available or for the products that consume oxygen and emit CO2. These are the most complicated products to work with. We are doing a lot of research on these products today."