The Coronavirus crisis is not over yet, but tech companies have been rapidly vying with each other in ingenuity to offer innovative solutions that assist businesses and ensure a return to work in the best possible health conditions. From new physical distancing monitoring systems to intelligent access portals and health trackers, welcome to your new office.
How to remove the stress of returning to work? This is the number one question employers need to address today. With the COVID-19 health crisis, companies, factories and administrations will have to ensure that the people present on their premises respect safety criteria, social distancing and the use of individual protection devices. The idea is both to reassure employees and to protect employers from being legally responsible if workers contract the coronavirus once called back to work. Major players like Amazon, FedEx and Tyson, for example, have faced backlash from employees who reported unsafe working conditions.
But how do you make sure that all the safety criteria is respected inside a facility? What is going to make your workers safe enough to come back? Tech companies have the answer. More and more of them are designing COVID-proof solutions to assist businesses.
Monitoring Physical Distancing in the Workplace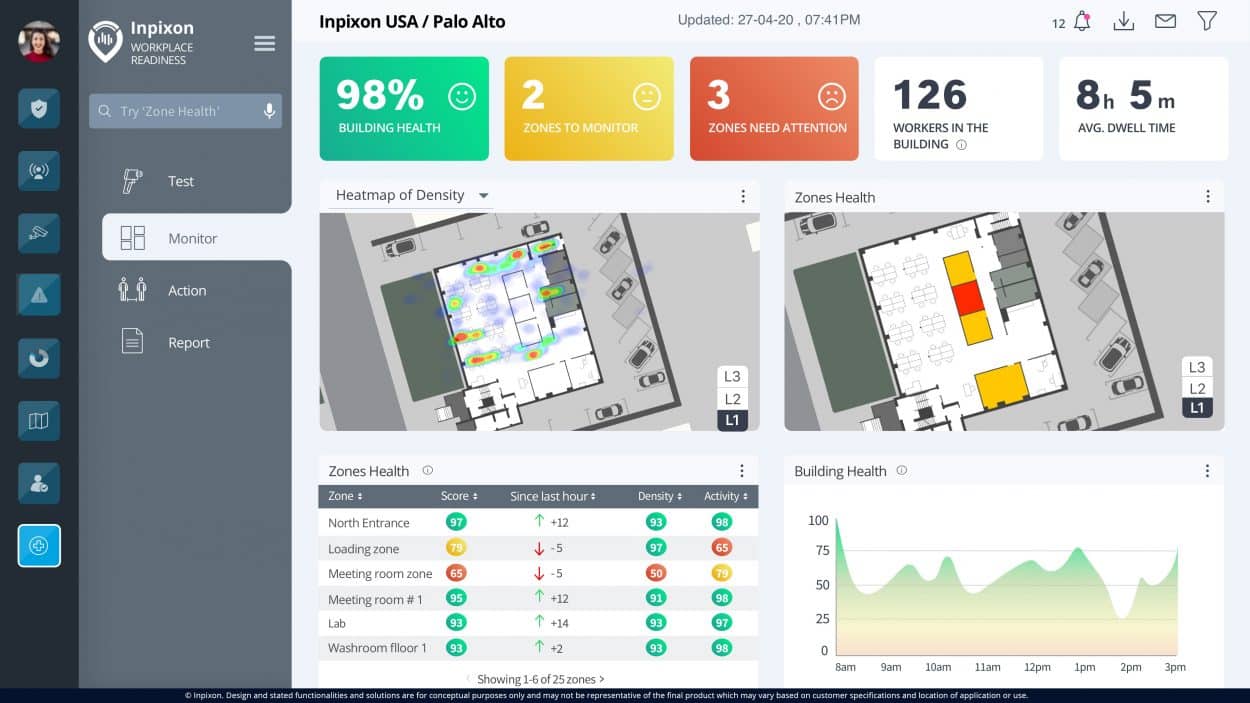 Inpixon is one of them. This California-based data company provides indoor intelligence to customers so that they know what's happening inside their space, whether it is an office building, an airport, a government agency, or a shopping mall. On their platform, customers can access a map which is a digital representation of the zones they want to monitor. All the devices (badges, smartphones, wristbands) that emit a signal are collected by sensors, wifi, camera or Inpixon's proprietary sensors and appear on the map in the form of dots. Considering that a dot is a person, the system then provides analytics and insights into where people are, how many people are in the facility, in a specific zone and what route they are taking. For the CEO Nadir Ali,
"We've been providing indoor intelligence for 5 years, mostly for security purposes. But the pandemic is a new use case for us. We think it is going to be important for companies to bring employees back safely to their workplace. We can help control physical distancing in an office space where you do have more proximity to other people, which helps reduce transmission."
The company is now offering a new workplace readiness platform that ensures that employees actually practice social distancing. The system signals hot spots in the office to be sanitized and can also route workers around the facility in order to avoid staff run-ins.
"We are applying our technology to the workplace, to monitor physical distancing and measure the percentage of occupancy of a building. Businesses collect the data (a cell phone signal or a badge signal representing the employees) and immediately see on a dashboard how many devices are present in an area, meaning how many employees are there. Depending on the square footage of the area, our system is able to turn the zones in green (when there aren't too much devices) and in red (when there are too many devices meaning too many people in the area). Businesses can then use that data for example for identifying the red areas you might need to disinfect and also for contact tracing."
Indoor Contact Tracing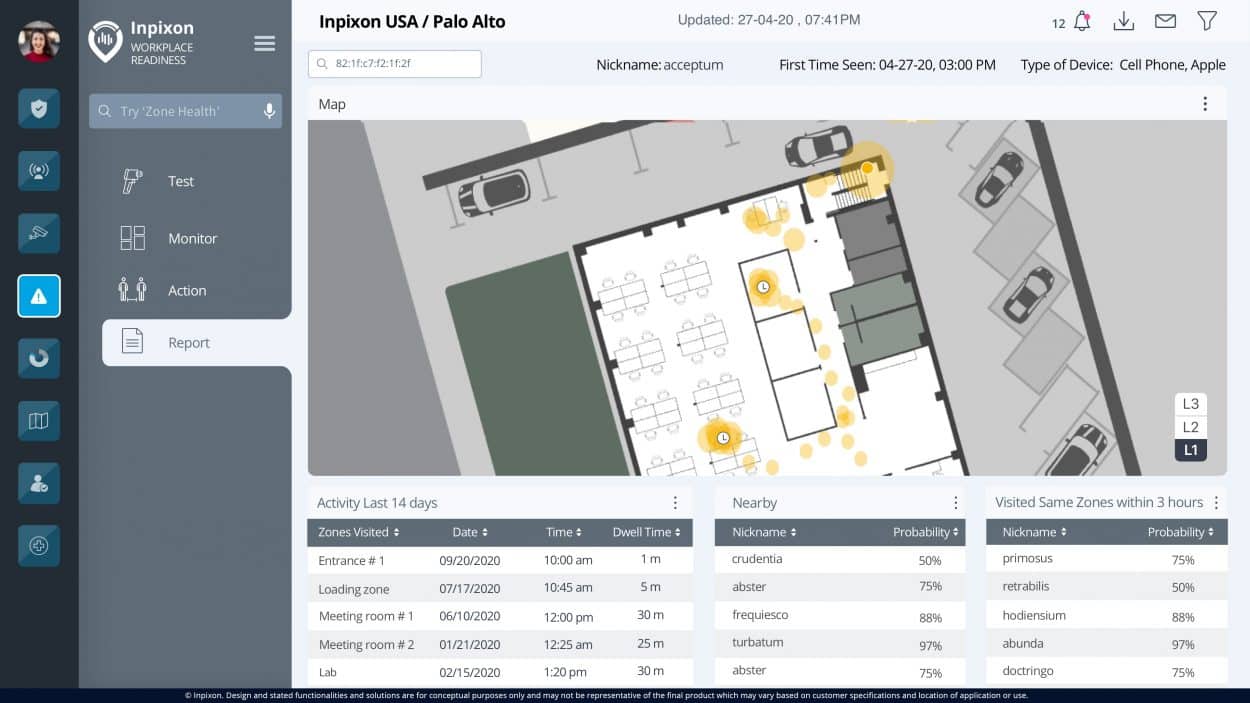 Contact tracing apps have been developed in a number of countries to help trace the virus real-time and limit its spread by identifying chains of transmission. People who have downloaded the app can report their symptoms and the system, using bluetooth connexion, can alert people they have been in contact with in the last 10 to 14 days so that they can go into quarantine. France, the UK, the US, Germany and South Korea have all chosen to implement such an app. Nadir explains that his technology can also be turned into a contact tracing app for indoor workplaces:
"When someone is tested positive and tells the HR department, since his/her phone ID or badge is registered in the system, HR can know everyone the person was in proximity with over the previous 10 or 14 days. And those people can then be notified. With our system, HR can also know if this person went to this conference room or that cafetaria so that those areas can receive a deep cleaning."
In other words, Inpixon's workplace technology gives businesses the ability to identify employees and know where they have been inside a building for a certain period of time. But for Nadir, there is a balance between security and privacy. He says their system is not designed to follow people everywhere they go.
"When the system is running, you are just monitoring the data. You don't need to know who everyone is, you just want to know where people are. But when there is an incident, you can unmask the ID. Maybe HR can be the only authorized personnel that can do that, based on your company's policies or your country's policies. But from a privacy perspective, your employer already knows where you work so we are talking about micro locations within the building that you're working in."
Inpixon has not deployed its technology yet but they are already in discussion with government agencies, hotels and enterprises in various industries from technology to manufacturing. They hope to start deploying the technology this month.
Surveillance Portals
Based in Italy, Antares Vision is a world leader in inspection and vision systems for quality control, anti-counterfeiting and control solutions. They have just released TrackMyHealth, an integrated security system that can track people's health in companies, shops and public spaces. Like Inpixon, their mission is also to control and guarantee safety criteria such as temperature detection, social distance and the adoption of individual protection devices in different spaces. What sets them apart is that they are using intelligent vision systems and artificial intelligence algorithms do this.
TrackMyHealth takes the form of a basic access portal (Antares Vision teamed up with Wanzl, the leader in access portals) designed to control the entry of personnel. What's new is that this portal is equipped with a thermal camera, a tablet and a badge reader. It verifies that the employee or visitor, upon entry, is equipped with a personal protective device like a mask, and does not show any symptoms of fever or abnormal temperature.
TrackMyHealth can check the body temperature with an accuracy of +/- 0.3°C . It can count the flow of people and automatically manage the number of entries and exits while distinguishing them according to body temperature. It can verify if a person is wearing a mask or not. A green light means that mask and temperature are ok: the gate opens. In the event of a problem, for example a person does not have a mask on, the security post is automatically informed and the person can be denied the right to enter the premises.
All data related to the entry – such as time, date, entry door number, temperature of the entering subject, serial number, thermal photography, color photography, video at the time of entry – can be stored locally or sent to ISPM supervision software for archiving.
According to Nicolas Perrin, Director of Antares Vision's French branch,
"All data and images are managed in accordance with GRDP (General Regulations for Data Protection) standards. People give their consent by downloading an application that is managed by the system. In Italy the data can be kept for up to 40 days."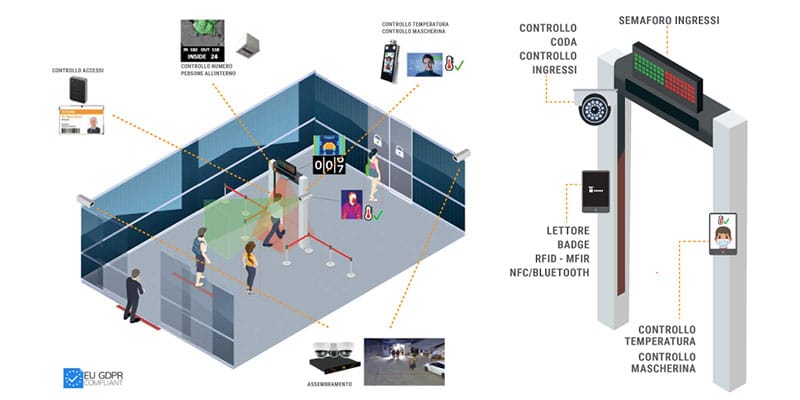 It took Antares Vision two months during the Italian lockdown to come up with this new technology. The idea was to develop a solution that is automatic to help with recovery, explains Nicolas Perrin:
"The idea was born at the beginning of March in Italy. Italy was the first country in Europe to send its population into lockdown. Our engineers went to home office and they started thinking about the aftermath. They knew that masks and temperature were very important factors against the virus. They worked on a partnership with Wanzl, whose facility is close to the ours in Italy. And TrackMyHealth was born. All our machines are already manufactured in Italy, in Lombardie, the top industrial region of Italy so it was easy, despite the situation, to manufacture our system. Antares was allowed to continue its activities even when the whole Italian industry was stopped, and we could release TrackMyHealth."
Shopping malls, airports, CBDs and exhibition halls could be using this type of technology over the next months. The company even received a demand from the Vatican for the control of the Pope's apartments.
The Workplace of the Future?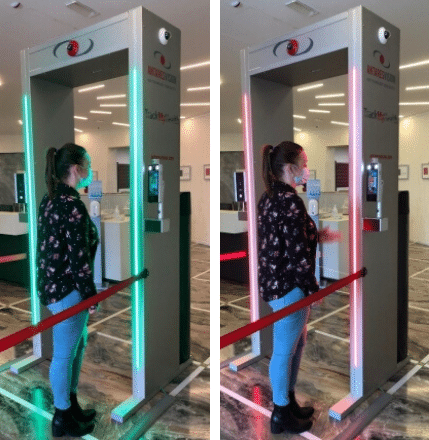 So will we have to get used to these new devices at the office? For Nadir Ali, this could be a long-term solution:
"The crisis has opened people's eyes about virus spreading in indoor spaces. Having a vaccine can be 6 months away or 24 months away and in between there could be a new virus. So we are already thinking about how we can change the workplace to be prepared for the next time. This is not just a one-time event. And it can help us prepare for other emergencies as well (shootings, building management system to make sure it is efficient, etc.). So it's a long term solution for us."
Nicolas Perrin also thinks these exceptional measures could become long-term protocol.
"COVID is this year's event. But there will be others. And maybe later, the goal will not only be to monitor temperature but also red eyes or other symptoms. And we can also develop new technologies in addition to thermal cameras."
In any case, COVID-19 is boosting innovation and many tech companies are already playing their cards right.