Factories and offices around the world are progressively reopening or preparing for it. But, the coronavirus is still circulating and there is no vaccine or treatment yet. So as people return to their respective workplaces, companies will need to consider how to avoid the spread of germs between employees. Here is a selection of devices, equipment, and PPE that are available, whether it is for a factory or an office.
Hicham Dhouibi, DirectIndustry technical expert, contributed to this article.
Many governments across the globe have started authorizing the reopening of their economies. It is obvious now that hand sanitizers, masks, and gloves will be widespread in the workplace in the coming weeks and years, especially since the new coronavirus has not yet been eradicated. There are also other products that can help kill germs and limit contagion at the workplace. We selected a few technologies that can maintain hygiene in offices and factories and avoid the spread of the virus.
01. The Hands-Free Door Openers

According to the World Health Organization, coronaviruses can persist on surfaces for a few hours and up to several days. Door handles are used frequently throughout the day, increasing the risk of contagion. This is why several designers have created basic hands-free door openers that can be quickly made and implemented.
The Cad Crowd community has set up a design challenge to encourage people to create open-source product designs for public spaces to avoid contamination. The designs must be quickly, easily and affordably produced either with 3D printing or basic components. Foot-operated door knobs are some of the most popular designs of the platform.
Belgium-based 3D printing company Materialise has designed a door opener that, when attached to a handle, allows the user to easily open the door with his/her arm or elbow. The device is made of two 3D-printed parts that can be screwed together over an existing handle. In a solidarity effort, the company has made their design available to anyone who has access to a 3D printer (More information on this product on our sister website MedicalExpo e-magazine).
The Hope Project is offering the same kind of device for opening doors using the forearm. The HOPE'n Door car be 3D printed or made with traditional industrial injection molding. Both designs are free and available for download.
02. The Hygiene Hooks

Even if you can avoid opening a door with your hand, you might find yourself touching other surfaces such as an elevator button or a screen, surfaces that your colleagues have also touched. Fortunately, new tools are available to avoid direct contact with such shared surfaces.
StatGear has designed the Hygiene Hand, an antimicrobial keychain that replaces your finger. Made of solid brass, it is safe to use on buttons as well as on screens. With its hook shape, it can even be used to open a door. Launched on Kickstarter, the gadget will be available in May at a price of $25.
DDB Ltd., a company that usually makes office furniture, has designed a similar hygiene hook that can be used to open doors. It is small enough to fit in a pocket and is made of non-porous material which makes it easy to clean.
03. The Antiviral PPE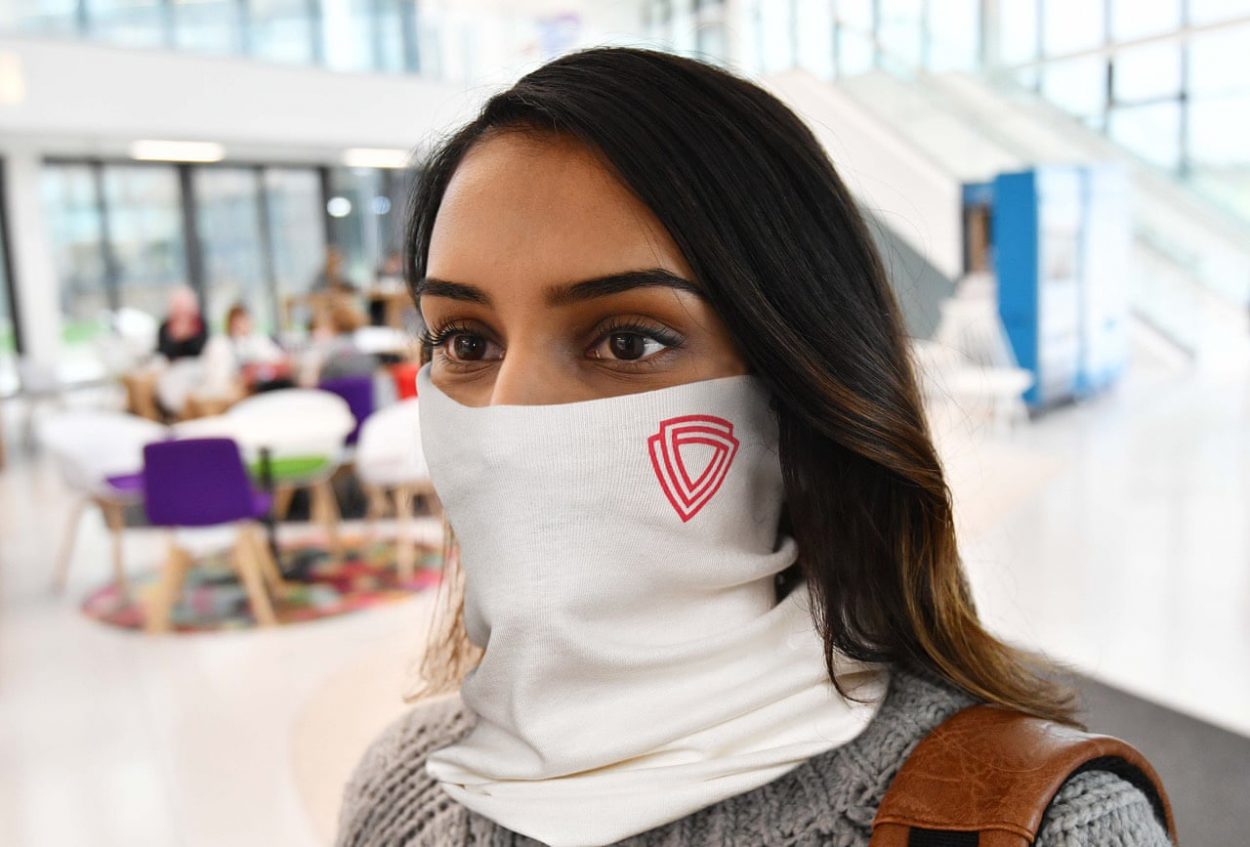 As people go back to the workplace, they will presumably have to wear masks in most countries. Surgical masks and barrier masks are the most probable equipment. The French government, for example, is advocating this for its citizens once the lockdown comes to an end (announced for May 11). Employers, like Boeing, are also thinking of deploying plastic face shields for their employees.
Wearing gloves, which so far has been reserved for certain jobs in certain industries, might also become increasingly widespread outside the factory, such as in the office. (Find how to choose the right pair of gloves in our buying guide)
Other innovative personal protective equipment has also been designed to help prevent infection. Virustatic Shield has created a mask made of a fabric that incorporates an antiviral coating with protein. The company says that "the coating traps and kills 96% of enveloped influenza viruses." With its snood shape, the shield protects infection points such as the nose, the mouth and the ears. It is reusable and hand washable up to a maximum of three times. As it is very light and breathable, it could be an option for a long day of work. The shield is classified as a Class 2 PPE device.
04. The Social Distancing Monitors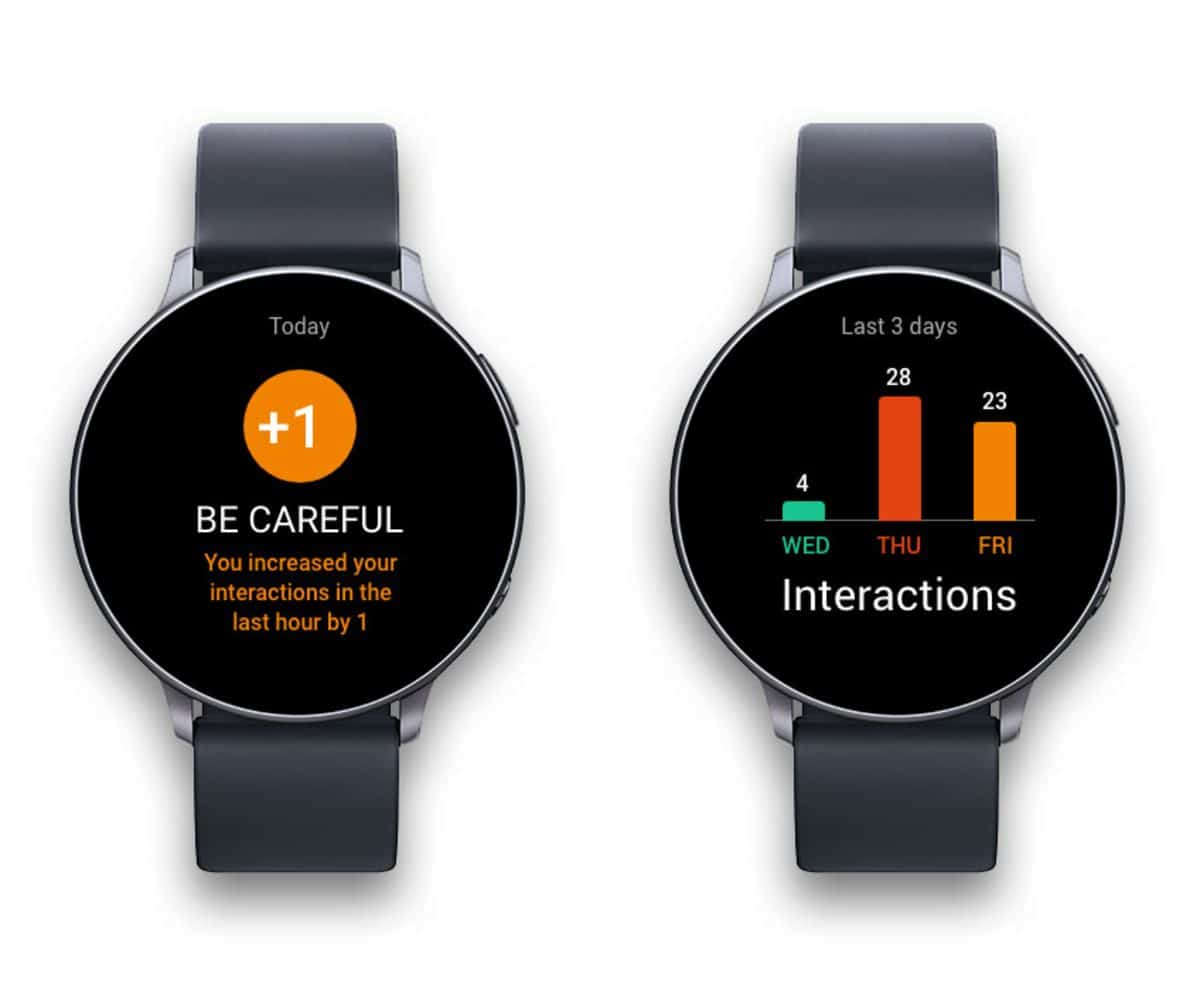 Monitoring safe distances between co-workers will be a challenge when offices and factories reopen. Wearable social distancing devices are an option that companies whose factories will soon restart are already testing.
Ford is one of them. Some of the car manufacturer's employees from the Michigan factory are trying out a smartwatch device that buzzes when the wearer is less than 1.82m from another employee. The device is a Samsung smartwatch that uses an application designed by Radiant RFID. The wearable works with Bluetooth and incorporates short-wave and low-power technology. After six weeks of factory shutdown, Ford expects to resume activities next month and they say this social distancing wearable could be part of their new safety protocols.
Landing AI developed an AI-enabled workplace monitoring tool that sends an alert when someone does not respect social distancing. The system analyzes video streams, for example, from a security camera inside a factory and issues an alert if it detects that employees are not keeping a safe distance between each other.
Bluetooth location start-up Estimote has developed workplace safety wearables for contact tracing to monitor the potential spread of the virus from person-to-person. Team members who wear the wireless device can update their health status and the device automatically scans and registers their close interactions. The tool, which comes in different forms (watch-like wearable, version to wear around the neck, card format), is based on passive GPS location tracking and incorporates proximity sensors powered by Bluetooth as well as ultra-wide-band radio connectivity. When a user indicates a possible infection, the system, based on location data history, can locate and inform the team members he or she has been in contact with and who could be at risk.
05. The Temperature Checks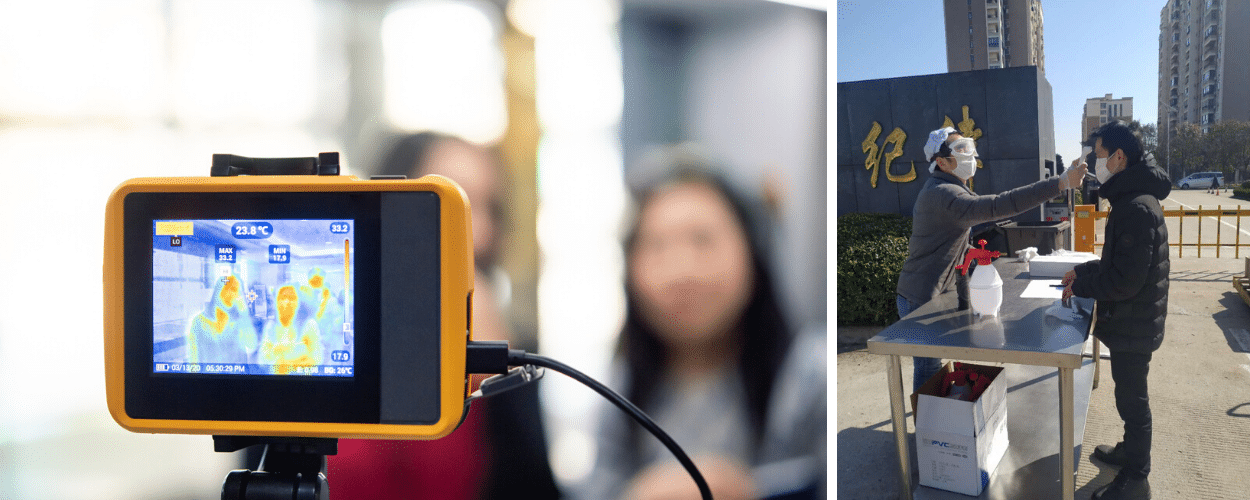 Thermometers and thermal cameras will also be widely used inside and outside factories. This is already the case in China where employees need to have their body temperature checked before entering their facility, as we were told by medical supplies factory WEO from Wuhan that we interviewed last month. Boeing announced in a press release that "the physical condition of the employees will be checked at the beginning of each work shift, temperature checks can be carried out by employees who wish to do so."
According to Bloomberg, in the US, automaker Fiat Chrysler is using reusable forehead strips to monitor workers' temperature before they come on site.
06. The Disinfection Protocol
If despite all this, people do become sick, decontaminating offices and factories will be necessary. Several technologies are already being deployed. Ultra violet light has, for example, proven efficiency in exterminating the DNA of any microorganisms that are exposed to its radiation.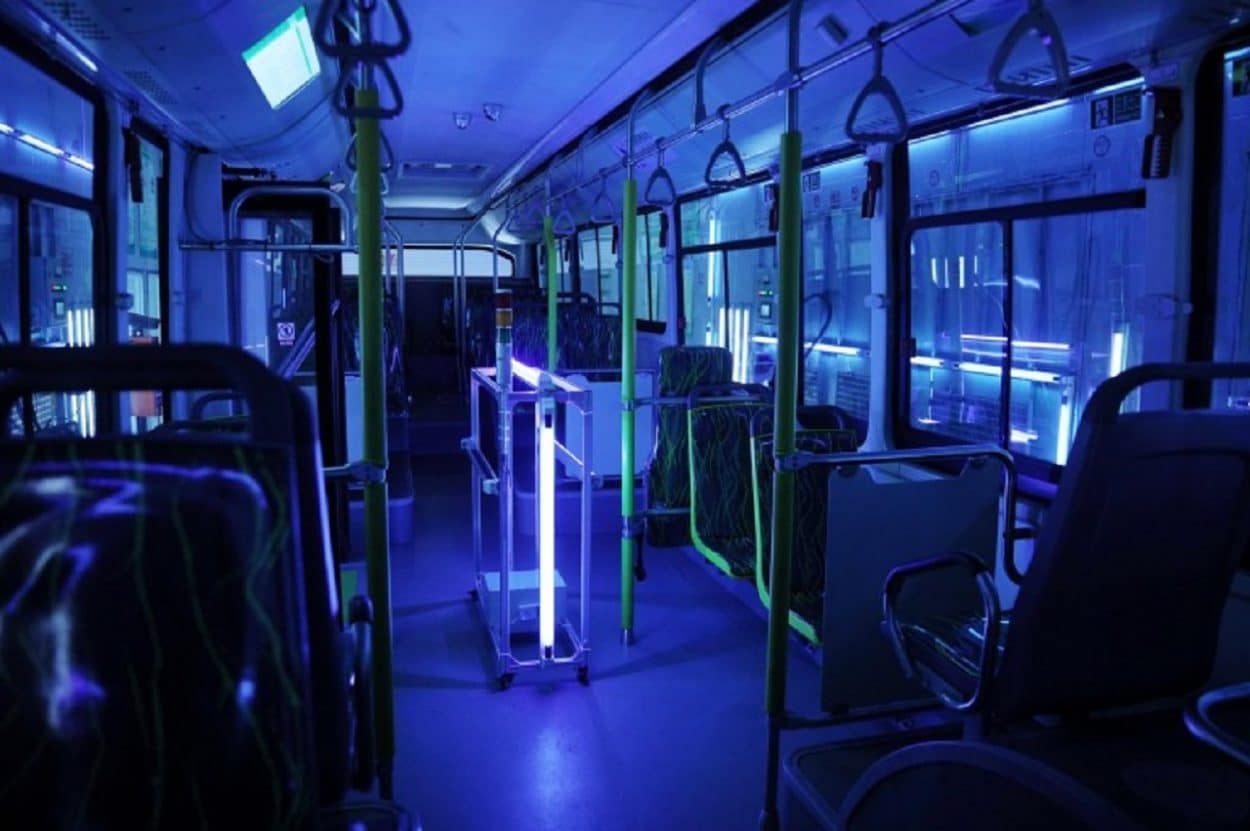 Disinfection robots, such as the ones made by Xenex or UVD Robot, are equipped with bulbs that emit UV light that can annihilate the virus on frequently touched hard surfaces and prevent particles from making copies of themselves. UV light sanitizers are currently being used in hospitals and public areas. In Shanghai, a public transportation company has been using UV light to decontaminate its buses.
In addition to disinfection and daily cleanliness, industrial companies need to regularly clean machines, tools and accessories in the workshops. And this process will have to be performed more frequently. Instead of using paper towels, textile company MEWA rents hygienic wipes for more sustainable disinfection. MEWA delivers the wipes in hermetically sealed containers where they will be used (on the factory floor, in a workshop, etc.). The company then collects the dirty wipes and decontaminates them in their own machines (the wipes are washed at a temperature of 90°C for at least 15 minutes to eliminate all germs and microorganisms) before delivering the clean wipes back to customers.
07. Rethinking the Workplace?
Social distancing in an office with a typical occupancy rate (Credit: Buro Happold)
New workplace analytics are now offering precise density screening that reveals whether office occupancy as we knew it pre-coronavirus will be possible. Buro Happold has made a video to show what it would be like to implement a 2m social distancing regulation in a regular London office. According to their simulation, 100% occupancy is not conducive to social distancing. A maximum of 25% does seem sustainable to them.
So, will companies have to rethink their models in order to achieve a resilient and responsive workplace? Boeing is already working on a new work sequence on its assembly lines. Airbus has set up a red/blue team system to avoid staff run-ins. Amazon has implemented visual boundaries and one way routes for staff. Colored carpets and new signs are appearing on the workplace to remind workers to avoid close interactions.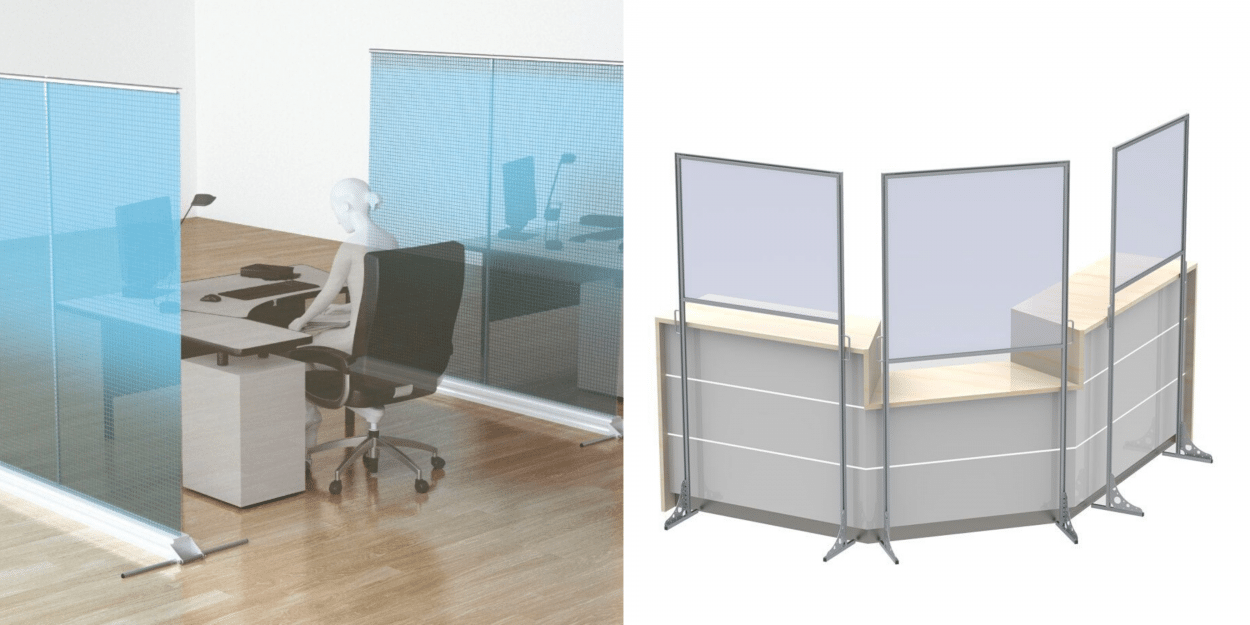 Perspex screens and protective walls have also appeared in grocery stores and public areas like banks. Mounted between desks, they could also provide a safe distance between office employees and limit the spread of the virus. French company Isel manufactures protective walls on fixed or mobile stands. These walls are light and easy to assemble, and are equipped with stainless steel handles and a 4mm polycarbonate screen that allows you to see the worker next to or in front of you. Similarly, Italian company PEI manufacturers mobile roll-up room separators with transparent screens made of 0.5mm PVC.
COVID-19 has changed the workplace in an unprecedented way, and probably forever. In the longer term, organizations will have no other choice but to rethink their workplace models.