SYLink Technologies have come up with a box that they say can protect your company from being hacked. Originally designed for small businesses, their solution could also find applications at home, where the number of connected objects is exploding. We spoke with the CEO David Legeay.
The story starts with David Legeay's observation of the difficulty of cybersecurity for small businesses. In 2015, he was working as the CIO of a large company when he realized that by bringing the company's equipment home and connecting it to his personal network, vulnerabilities were created. While large companies can afford IT departments and expensive and complicated solutions to counter network penetration, for small businesses, it's another story. And the risk is big, David warns.
Small Businesses, Juicy Businesses
Hackers have stopped attacking large companies because they are too well protected so it has become too difficult for ransomware, information theft or data extraction. As a result, hackers now focus on small companies, which are less protected. Today, no one checks who is connected to a network. But the first attack is network penetration. So I wanted something that controls installations 24 hours a day and quickly sends an alert if someone is connecting to the network. And so far, this kind of solution did not exist on the market.
He started with a simple box integrating 3 security features: a VPN, a firewall and 40 types of antivirus software. A prototype was designed in 2016 and the following year, David demonstrated his solution at the CES in Las Vegas in front of the tech world.
We wanted to make an intelligible and comprehensible turnkey solution available on the market. The user just needs to install our box as he would do with a computer. No creation of account is requested because people no longer want to create accounts and give their data. Our box is as simple as a drill: I plug it in, I turn it on, and it's working.
The box can monitor up to 200 devices. It also can be associated with the mobile application so that you can remotely monitor and supervise your installations on a tablet. If someone connects, the application will notify you and you will be able to block the illegal user of your network with just a click.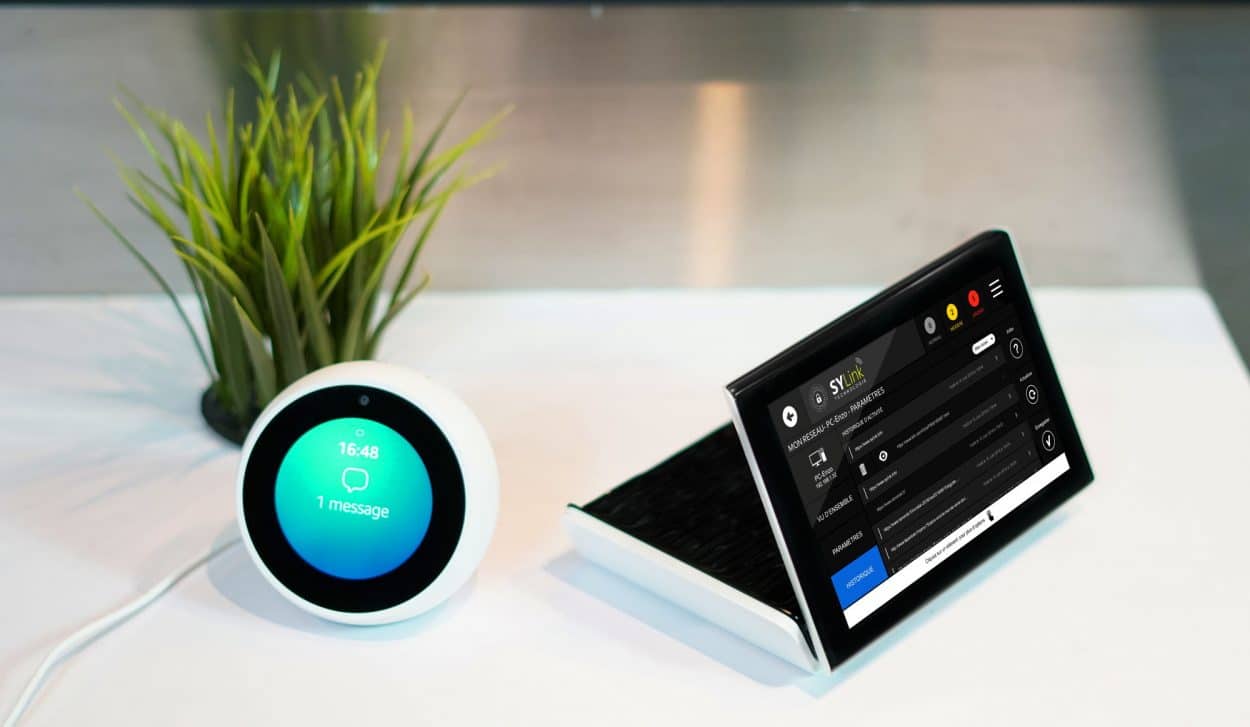 Let AI Do the Job
The technology also involves AI. The machine is able to analyze the network in real time and take action by itself, without you needing to intervene.
AI does behavioral analysis of the devices. If the AI detects suspicious behavior on your network, it will automatically block it. It takes 24 to 48 hours for the AI to learn the user's behavior. After one month, the machine knows his habits. If a suspicious connection occurs, the AI will block all communications.
A monthly subscription of SYLink Technologies' box comes to 99€ per month everything included. 100 boxes are already active in France, Spain, Australia and Portugal.
While David's priority is B2B, SYLink Technologies' box could also protect all your devices at home, where the risk is getting higher.
With the explosion of IoT and connected objects, home installations will soon be targeted by hackers because they have been unprotected so far.