From simulating the integration of sustainable fuel to testing other carbon emission-lowering solutions, Ansys is on a mission to push the boundaries of innovation in aviation. The company is partnering with several companies in the aeronautics industry including Airbus, Lufthansa, and Rolls-Royce.
The US-based software company, present at this year's Paris Air Show, has worked with some of the biggest names in aerospace, as well as start-ups desperate to get their innovations off the ground, explains Chief Technologist Dr. Christophe Bianchi.
"Our purpose is to accelerate the design cycle – we cater to all industries, helping engineers understand and anticipate the behavior of the product they are designing by creating digital twins and applying the laws of physics to the design. We work with industries where prototypes are impossible to build – and airplanes are a good example. The products we need to develop now are becoming more complex and we have the pressure of time and the urgency of finding sustainable solutions."
Solutions like the ones Ansys is developing can help by supporting predesigning everything in the virtual world.
"We make twins of future products and test them for performance, reliability, and sustainability, and we follow them across their entire lifecycle."
Coping with Complexity
With the Paris Air Show closely following the EU's agreement with ReFuelEU Aviation on decarbonization, the drive towards greener air transport could not be a hotter topic.
The EU, of course, is aiming for net-zero greenhouse gas emissions by 2050.
And now, it has also pledged that within two years all flights departing EU airports will be required to include a minimum of 2% sustainable aviation fuels (SAFs). By 2030, this must increase to 6%, and by 2050, 70%.
"The move to sustainability is a necessity. The problem we have is time – and the only way we have of addressing this is through simulation. Furthermore, there are multiple alternatives towards achieving our goals and no one can afford to put all the bets on just one option."
Not only can digital simulation be used to pull together a variety of different options at a pace, but it can also cope with the complexity of the science and physics required.
"You can take into account all the different laws of physics. What happens in terms of aerodynamics, thermal dissipation, performance, and fuel consumption, as well as reliability and safety, for example."
RELATED ARTICLE
A Future with Hydrogen
Moving towards hydrogen as a SAF solution is just one of the many options being explored through digital twins.
Hydrogen can be used as a fuel or to create electricity to power the plane. Hydrogen-electric propulsion technology can produce 90% fewer lifecycle emissions than jet fuel-powered turbines.
Turbotech
"We are working with a very interesting French start-up called Turbotech, which is optimizing fuel efficiency with a new turboprop for small lightweight aviation. Initially they wanted to significantly reduce consumption – now they want to adapt their technology to use hydrogen as a fuel."
Turbotech needed the right tools to observe the aerodynamics of the turbine, including its behavior and vibration, and so integrated Ansys Mechanical, Ansys Fluent, and Ansys CFX software into its workflow.
"Turbotech says there is no way it could have achieved its aims with prototyping because it would have cost millions of Euros and been years in the making."
ZeroAvia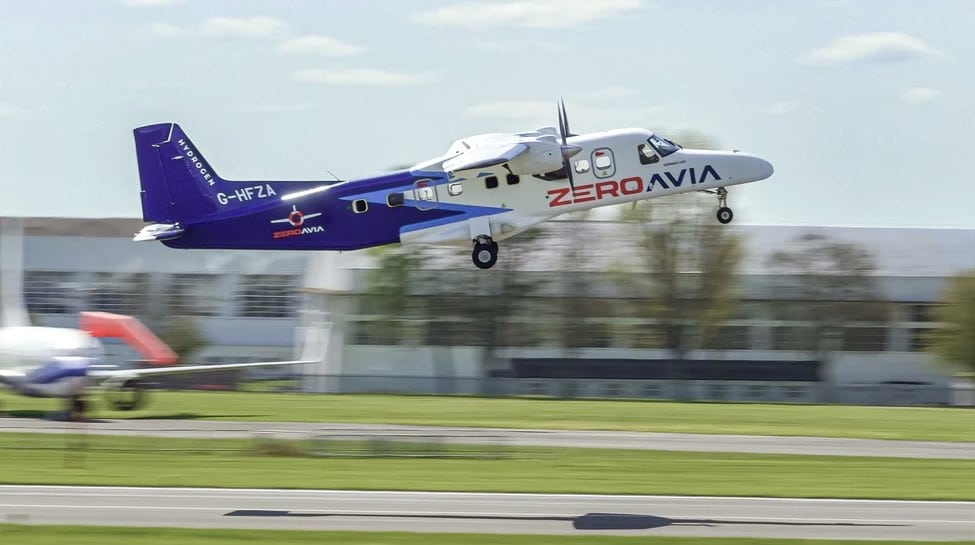 Sustainable aircraft developer ZeroAvia, which demonstrated the potential for zero-emission flight with the world's largest hydrogen-electric powered aircraft, is also leveraging Ansys solutions.
It employed multiphysics simulations, including structural analysis, fluid dynamics, electromagnetic, and electromechanical analysis, to help develop its hydrogen-electric powertrain.
The ZeroAvia system uses electricity generated by a solar panel to run an air compression pump. When combined with hydrogen stored in an onboard tank, oxygen from the compressed air reacts in the fuel cell to produce electricity.
For Youcef Abdelli, Chief Technology Officer of ZeroAvia,
"For system certification, we use Ansys simulation to support the critical aspects of hydrogen-electric engine design, including thermal, safety, certification, stress, fatigue, and lifting."
Smarter, Cleaner, and Safer
Other collaborations include supporting Rolls-Royce and Intel in reducing the simulation time of the thermo-mechanical model of Rolls-Royce's gas-turbine engine – for applications in the air, as well as at sea and on land – from over 1,000 hours to below 10, explained Todd Simons, HPC expert at Rolls-Royce:
"Rolls-Royce is committed to reaching net zero within our own operation by 2030 and to enabling the sectors in which we operate to reach net zero by 2050. To achieve these goals and reduce emissions successfully, digital transformation is necessary. We believe cutting-edge technologies from Ansys and Intel will enable us to develop smarter, cleaner, and safer engines to power a more sustainable future for aviation while also reducing our operational carbon footprint."
AeroSHARK
The multi-faceted approach to carbon emission reduction in aviation encompasses a myriad of other approaches, Dr. Bianchi continues.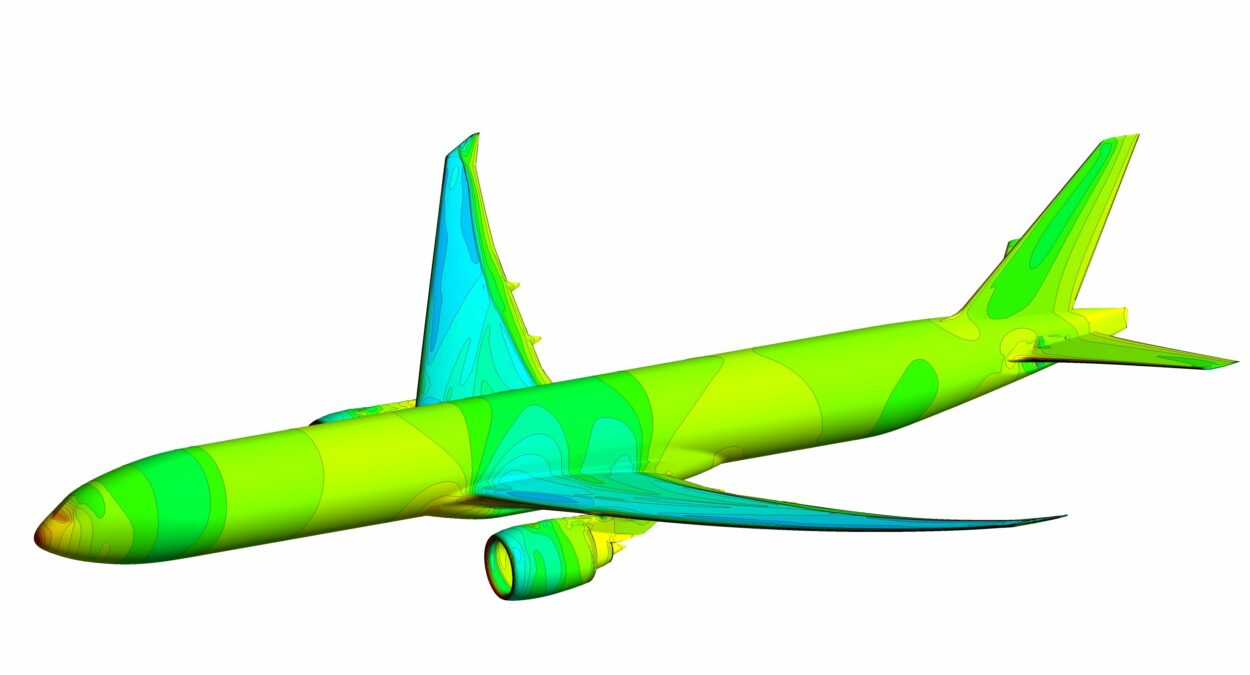 Ansys has supported clients in lightweight planes, for example, in a myriad of ways, from designing new components to whole design concepts.
"Everything can always be improved and every innovation counts, which is why we try to support everyone from start-ups to flagship clients such as Airbus. We recently announced a partnership with Lufthansa, where we helped them optimize a special treatment for planes which improves aerodynamics and air penetration."
Lufthansa Technik used Ansys's simulation solutions to create and validate a coating technology inspired by shark skin that reduces drag, fuel consumption, and CO2 emissions. For Stefan Kuntzagk, Senior Engineer, Aircraft Performance, CFD, and Flight Test at Lufthansa Technik,
"AeroSHARK can significantly contribute to more sustainable air transport."
Looking Ahead
In advance of the Paris Air Show, Ansys carried out a survey to gain insight into how consumers view the future of aviation.
More than 60% of respondents were worried about CO2 emissions and said they would pay more for greener air travel.
Almost 70% said they would be more likely to trust SAFs if the technology was extensively simulated and tested using established methods applied to aircraft safety.
Some 82% said they would be comfortable flying at speeds of 3,500 mph (5,600 km/h) versus the standard 560 mph (900 km/h) , while 47% would be prepared to travel in an autonomous plane.
For Dr. Bianchi,
"We address hypersonic simulation and autonomous flying with our software. Autonomous flying has a big impact on sustainability because computers can find the lowest fuel route in a very complex optimization system."
He believes the commitment to increasing levels of SAFs is an important stepping stone towards net zero flights.
"There is a sense of urgency and SAF is a good step. All recent engines currently flying can probably consume 50% already and, if we want to move to 70% or even 100%, we just need to do more engineering and simulation. But hydrogen is getting there too and green hydrogen will be produced by the time these goals are reached."
So is he optimistic about a future where aviation achieves zero carbon emissions?
"Yes, I am. From an engineering standpoint, no breakthrough innovation is required. It is a question of implementing efficiently what we have already – and with enough drive and enough investment I am really confident we will get there."