Paris Air Show, the world's largest event dedicated to the aviation and space industry is starting today in Paris Le Bourget airport. The fair is held every two years, with the last edition taking place in 2019, as the 2021 edition was canceled due to the COVID-19 pandemic. We selected 6 new projects that are unveiled at the fair.
The fair, officially starting today Monday, June 19th, will run until Sunday, June 25th. However, the numbers from 2019 are already being surpassed. 158 aircraft will be on display. 2,498 exhibitors from 47 countries will be attending, including 304 official delegations and 296 start-ups. The organizers of the fair are expecting 320,000 visitors.
Exciting new aircraft and innovative aviation solutions will be unveiled throughout the entire week. In anticipation, we have curated a selection of six remarkable technologies to showcase.
1/ VoltAero Unveils the Cassio 330 Electric-Hybrid Aircraft
VoltAero, a leading innovator in electric-hybrid aircraft technology unveiled their Cassio 330 electric-hybrid aircraft which could represent a significant milestone in the journey towards sustainable aviation.
With its patented electric-hybrid propulsion system, this aircraft offers a unique combination of safety, quietness, efficiency, and eco-friendliness.
Designed to accommodate 5-12 passengers, the Cassio aircraft family caters to various applications including air taxi/charter, commercial flights, utility-category tasks such as cargo transportation, postal delivery, and Medevac services, as well as private ownership. The shared modular design strategy adopted by VoltAero ensures significant commonality among the different models, allowing for enhanced versatility and cost-effectiveness.
Kawasaki Motors recently decided to become a strategic investor in VoltAero, participating in Series B funding for the Cassio aircraft family.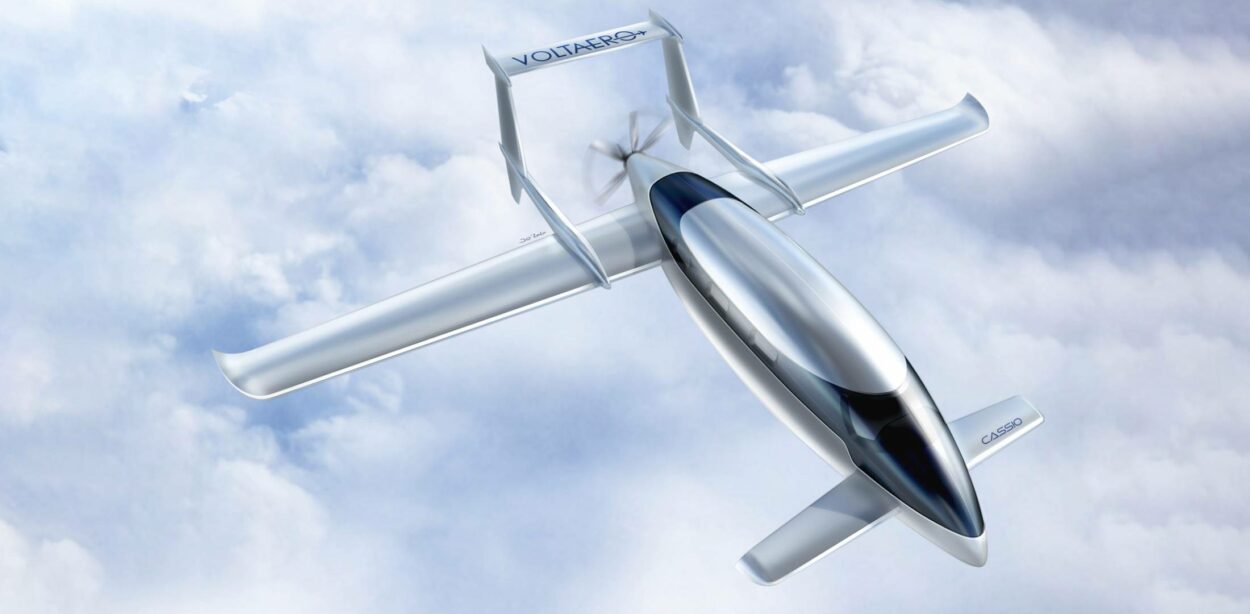 2/ SolarStratos' Solar Plane
SolarStratos, the pioneering mission led by eco-adventurer Raphaël Domjan, is making its debut appearance at the Paris Air Show. The HB-SXA solar-electric aircraft aims to reach the boundaries of the stratosphere (25,000 meters). If conditions permit, a flight over the French capital will also be attempted during the event.
Designed by Calin Gologan and the German company Elektra Solar GmbH, the aircraft boasts a wingspan of 24.8 meters and a length of 7.9 meters. Propelled by dual 19 kW electric motors with a maximum speed of 2,200 rpm, the aircraft's three-blade propeller spans 1.75 meters. It is powered by 22 square meters of solar panels and weighs only 450 kg.
The primary objective of SolarStratos is to prove that electric-solar aviation is not only feasible but also surpasses the potential of fossil fuel-based systems. To achieve this extraordinary feat while minimizing the aircraft's weight, the cabin will not be pressurized. As a result, the pilot, Raphaël Domjan, will wear a pressurized astronaut-like suit, a world-first, powered solely by solar energy. This endeavor represents both a technical and human challenge.
The SolarStratos plane is designed to fly at high altitudes to collect scientific data on the Earth's atmosphere and climate. It will also be used for tourism and adventure flights. The plane can carry two passengers and a pilot and has a maximum speed of 130 km/h.
The mission is expected to last approximately six hours, involving three hours of ascent to approach space, fifteen minutes of stargazing, and three hours of descent back to Earth. The aircraft and its pilot will endure extreme temperatures as low as -70°C, making this a truly scientific endeavor.
SolarStratos plans to conduct test flights of the plane in the coming months and hopes to begin commercial flights by 2022.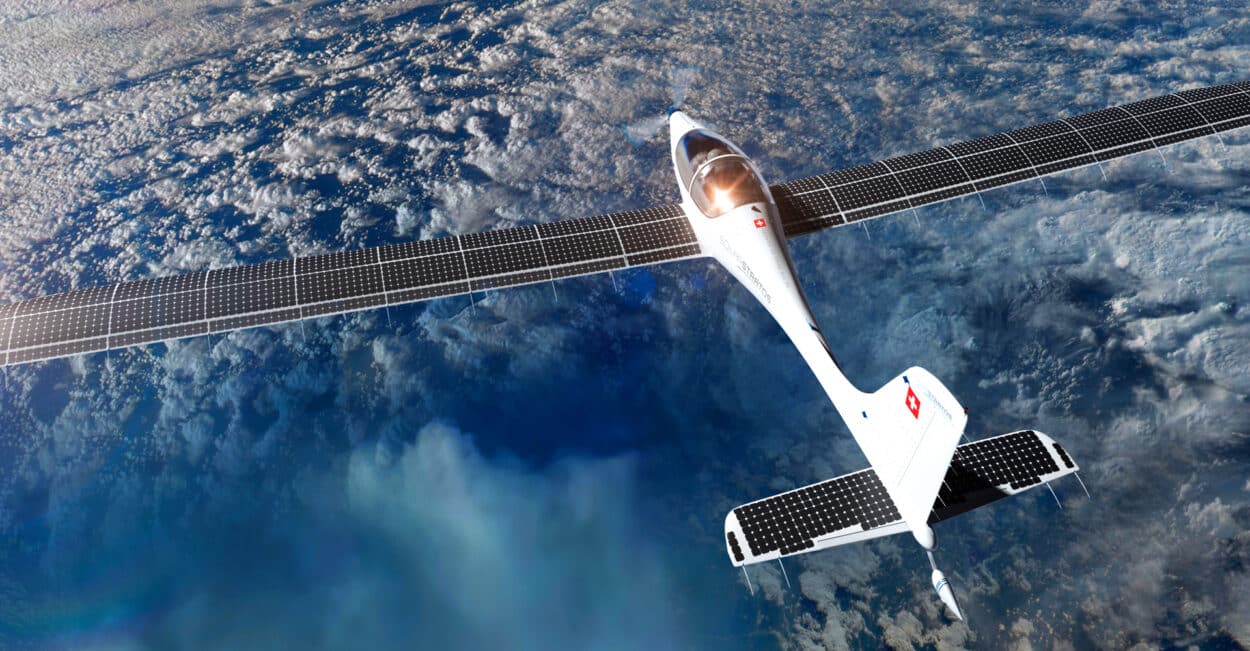 3/ Eve Air Mobility Set to Make Waves at Paris Air Show
Australian urban air mobility company, Eve Air Mobility is unveiling their electric vertical take-off and landing (eVTOL) cabin mock-up. This mock-up is part of a world tour that started last summer at the Farnborough Air Show. With its quiet, efficient, and sustainable zero-emission technology, the eVTOL features a conventional wing with eight fixed rotors, enabling vertical take-off and landing. The cabin can comfortably accommodate a pilot and four passengers.
Eve's display at the Paris Air Show will also include a virtual reality experience, allowing visitors to immerse themselves in a simulated flight on the eVTOL aircraft. Through cutting-edge virtual reality technology, attendees can get a firsthand sense of what it will be like to fly on Eve's revolutionary aircraft.
Eve had a successful year behind them, including an order backlog of 2,770 orders for their eVTOL aircraft.

4/ HORN Unveils Innovative Aerospace Machining Tools
Leading precision tool manufacturer, HORN has announced new developments in aviation machining. These advancements include skiving WSR for machining larger modules, high-performance tool coating technologies, an expanded range of cutting grades for the DAH milling system, and the availability of a Supermini tool system kit.
HORN has enhanced its WSR tool system for tooth profiles with significant depth. The scaled-up WSR tool system features a patented conical interface with a hollow body, with a maximum outer diameter of 120mm. Compared to tools equipped with removable inserts, the solid carbide cutting disc offers superior manufacturing precision. The flexible design of the corresponding tool body can be tailored to each machining situation in terms of length and dimensions, avoiding collisions. The tool's performance and precision enable flawless finishing of tooth profiles without the need for rework.
The company also showcased high-performance tool coatings. The new RC2 and RC4 grades exhibit high toughness and hardness which enable high-speed machining of steel materials while prolonging tool life. The coatings' resistance to elevated temperatures allows effective dry machining and in cases of insufficient cutting fluid supply.
HORN has broadened the range of cutting grades for the DAH milling system. The new SC6A and IG6B grades complement the tool system for high-feed milling. This expansion provides customers with the ability to specifically adapt cutting materials to their machining applications.
HORN now offers its proven front clamping tool holder system in the form of a kit, addressing the needs of customers using different heights of the Supermini tool system. In this tool holder variant, clamping is achieved through a front clamping wedge rather than the side surface of the cutting insert. This increases the clamping force on the insert and, consequently, enhances the overall system rigidity. Additionally, the clamping improves repeatability precision during insert changes and allows for better utilization of available space through front-facing control. This is a significant advantage when used on sliding-headstock lathes, as users do not need to disassemble the tool holder to change the cutting insert.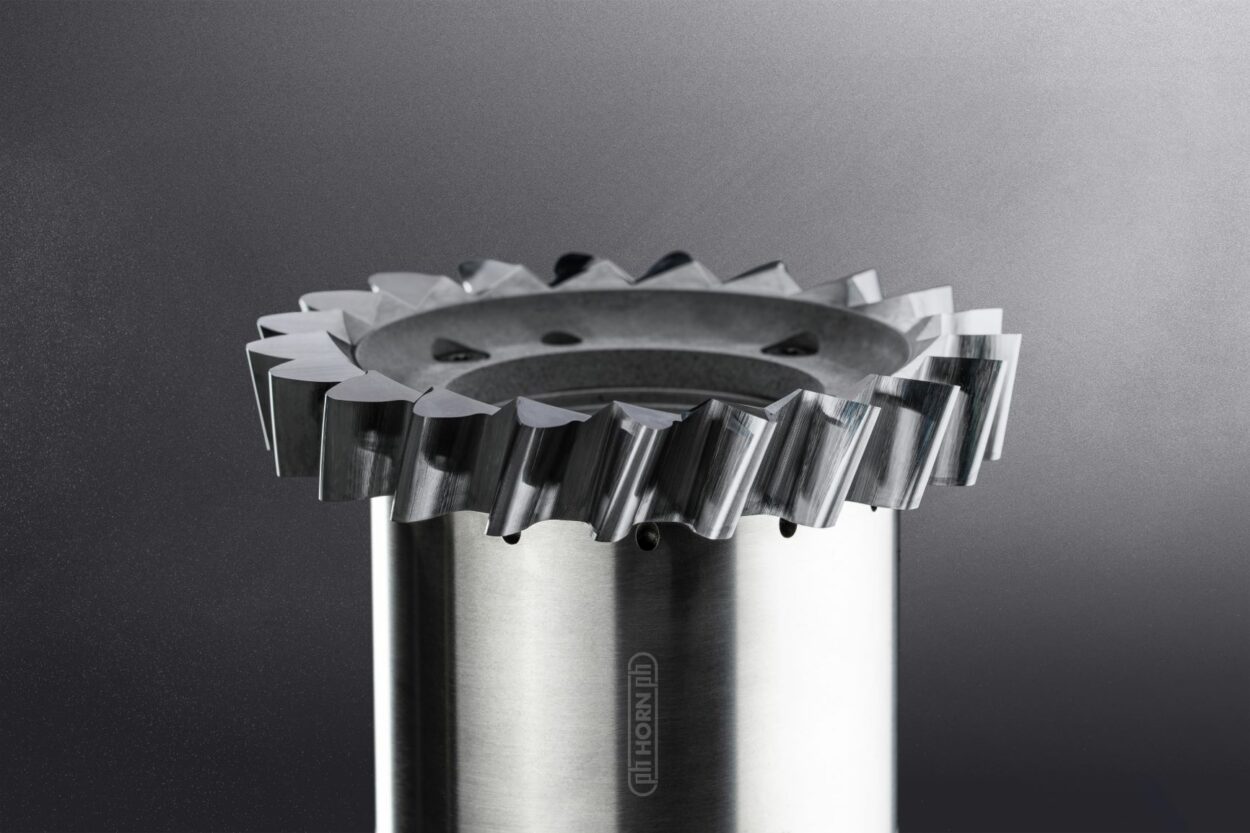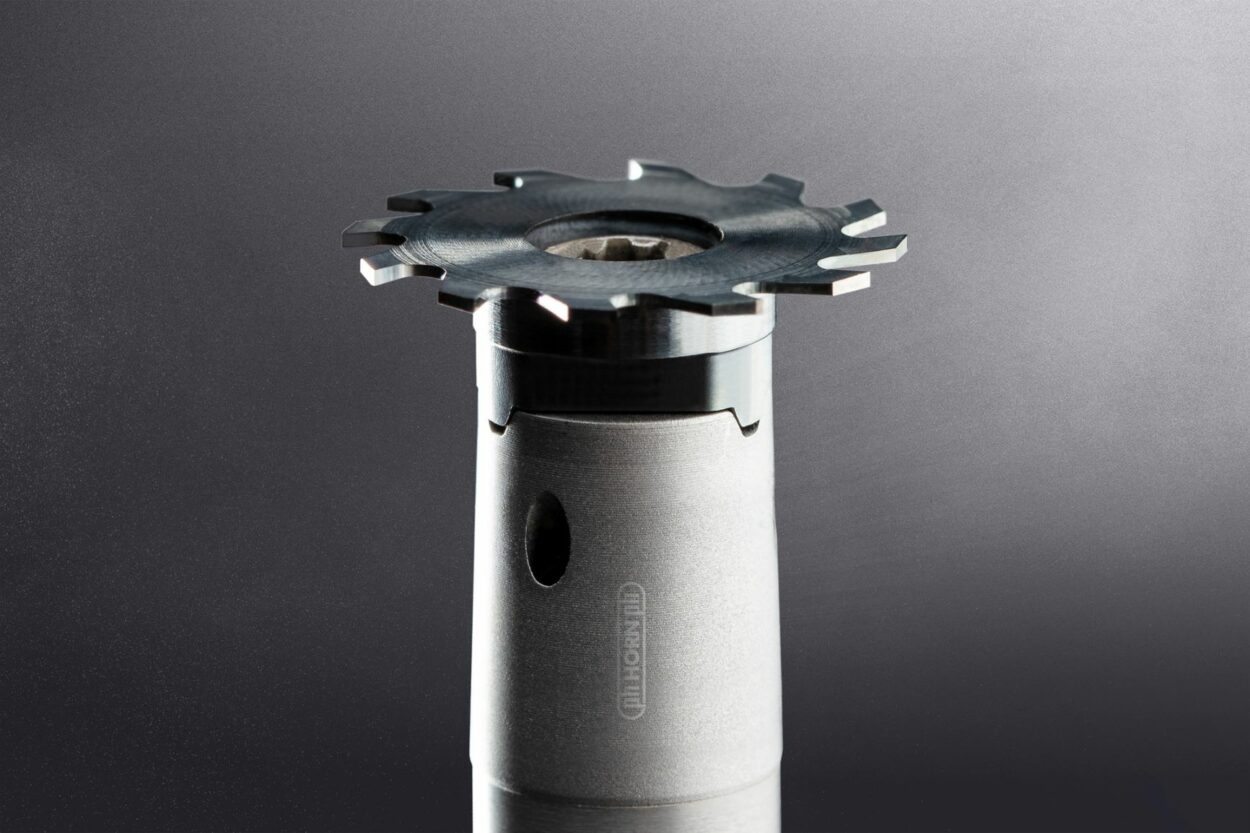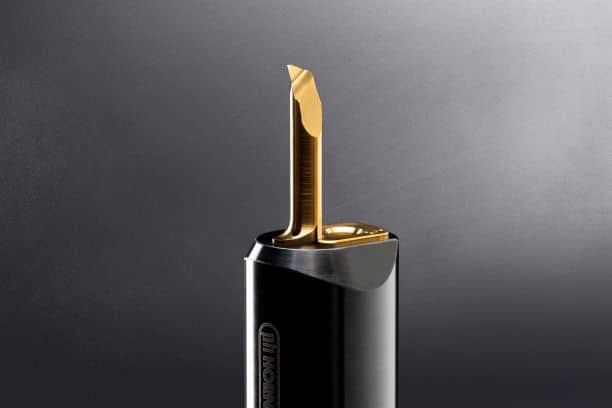 5/ Lufthansa Technik Partners with Ansys to Develop Sharkskin-Inspired Aircraft Coating for Sustainable Aviation
Lufthansa Technik, a global leader in aerospace maintenance, repair, and operations (MRO), is leveraging Ansys' digital simulation software to design and validate its biomimetic coating technology, AeroSHARK, which mimics the surface of sharkskin. The goal is to optimize aircraft aerodynamics, reducing fuel consumption and CO2 emissions.
Developed in collaboration with BASF, AeroSHARK is a surface film composed of microscopic riblets, similar to those found on sharkskin, that reduce friction drag while increasing buoyancy. Lufthansa Technik engineers rely on Ansys' computational fluid dynamics (CFD) and high-performance computing (HPC) solutions to analyze flow and turbulence phenomena around the riblets, achieving performance similar to real sharkskin. The team has virtually prototyped and tested AeroSHARK under various physical parameters and flight scenarios, significantly reducing physical testing costs and accelerating the validation and certification timelines.
AeroSHARK is certified by the European Union Aviation Safety Agency (EASA) and the Federal Aviation Administration (FAA). Currently, eleven Lufthansa Cargo Boeing 777F aircraft and twelve Swiss International Air Lines (SWISS) Boeing 777-300ER aircraft are equipped with AeroSHARK. The deployment of this technology across the entire fleet will enable the Lufthansa Group to save more than 25,000 tons of CO2 annually.
Currently, AeroSHARK can be applied to 40% of the aircraft's surface, with plans to expand its coverage to other areas in the near future.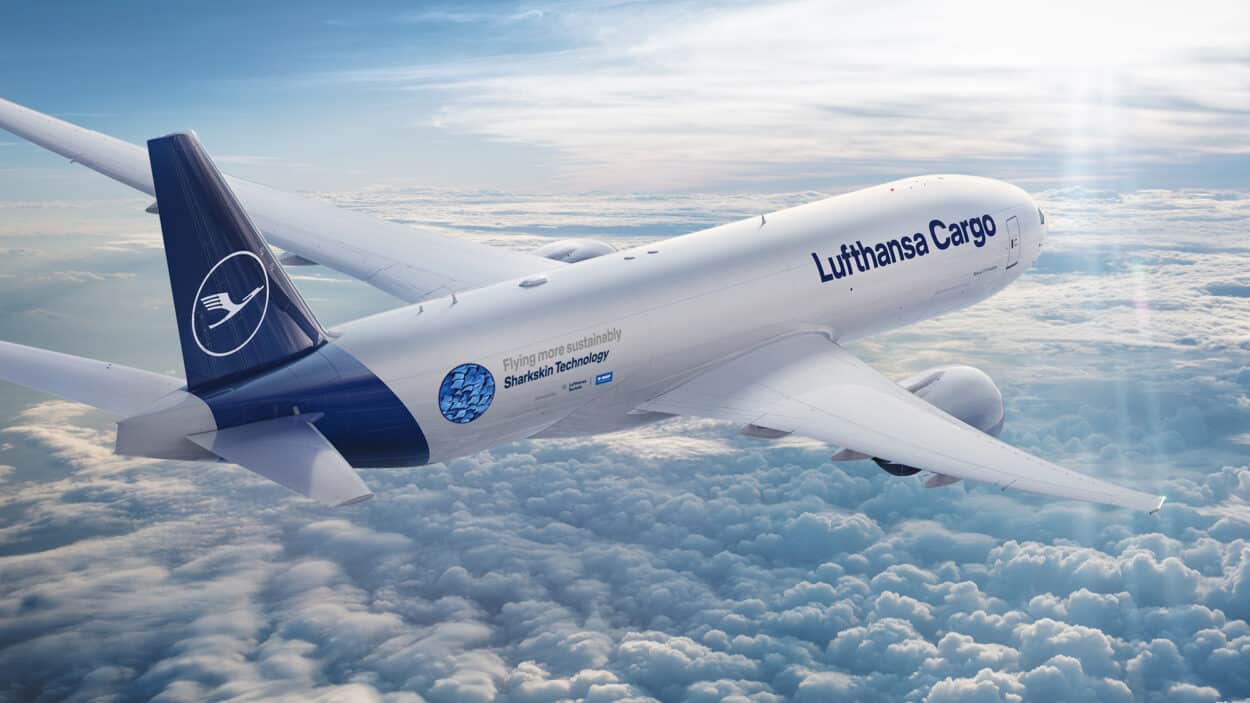 6/ Destinus: The Future of Hypersonic Aviation
Destinus, a European aerospace company headquartered in Switzerland, is developing hypersonic hydrogen-powered airplanes and associated infrastructure. Their goal is to provide the fastest possible way to travel to any continent on Earth while using clean energy.
With velocities exceeding 5 times the speed of sound, one can traverse the globe in a mere 3-4 hours, maintaining exceptional versatility, cost-efficiency, and minimal noise disruption.
According to Destinus, with a hypersonic plane, it would only take 3:45 to reach Sao Paulo from Sydney. The utilization of hydrogen as a fuel plays a vital role in enabling these remarkable speeds while minimizing environmental impact.
A few weeks ago in Germany, Destinus accomplished its successful inaugural flight utilizing hydrogen afterburners, employing an in-house developed process for this groundbreaking technology that will serve as a foundation for achieving supersonic speeds in the future.