A group of French researchers has made a significant breakthrough in hydrogen storage technology. Unlike traditional methods of storing hydrogen in gas or liquid form, they have been able to store hydrogen on solid disks. This revolutionary approach offers enhanced safety and efficiency, potentially transforming the entire industry. This innovation has already gained recognition as the French team is a finalist for the prestigious European Inventor Award in Spain next month.
Hydrogen is the most abundant chemical element on Earth and green hydrogen holds immense potential as a sustainable energy source. However, traditional storage methods pose challenges in terms of space requirements and energy-intensive compression. The solid disk storage method developed by a group of French researchers (Albin Chaise, Patricia de Rango, Daniel Fruchart, Michel Jehan et Nataliya Skryabina) offers a more efficient and secure alternative.
Indeed, this solid storage method surpasses the safety standards of gas or liquid storage techniques. It can indeed operate at low pressure, eliminating the risk of reactions with the surrounding air. Besides, it requires less energy compared to conventional storage solutions.
This achievement has already garnered significant recognition. The team has been selected as a finalist for the European Inventor Award in the research category, which will be presented in Valence, Spain, next month.
The initial research was conducted at the French National Center for Scientific Research (CNRS), which filed the first European patents. The technology was then transferred to two industry partners, McPhy and JOMI-LEMAN, in order to start the commercialization of the product. This innovative solution could facilitate hydrogen transportation, addressing key challenges in the field.
Safe Storage
One of the notable advantages of the solid disk storage method is its enhanced safety features. Traditional methods of hydrogen storage, such as high-pressure gas tanks, can pose risks of leakage or combustion. The solid disks, however, can be safely handled at ambient temperatures without any reaction with the surrounding air.
In a statement on the CNRS website, Daniel Fruchart explains that at ambient temperatures, the disks pose no risks and can be stored for years without degrading.
"The system is very secure due to the low pressure used. I can place the disk directly on the table, and there is no reaction with the air."
To store and release hydrogen, the disks only require heating to a temperature of 300 degrees Celsius. Additionally, the loading and unloading of hydrogen occur at very low pressures, 10 bars for charging and 2 to 3 bars for discharging.
This will reduce the risk of accidents during storage and transportation, making it a promising solution for widespread adoption.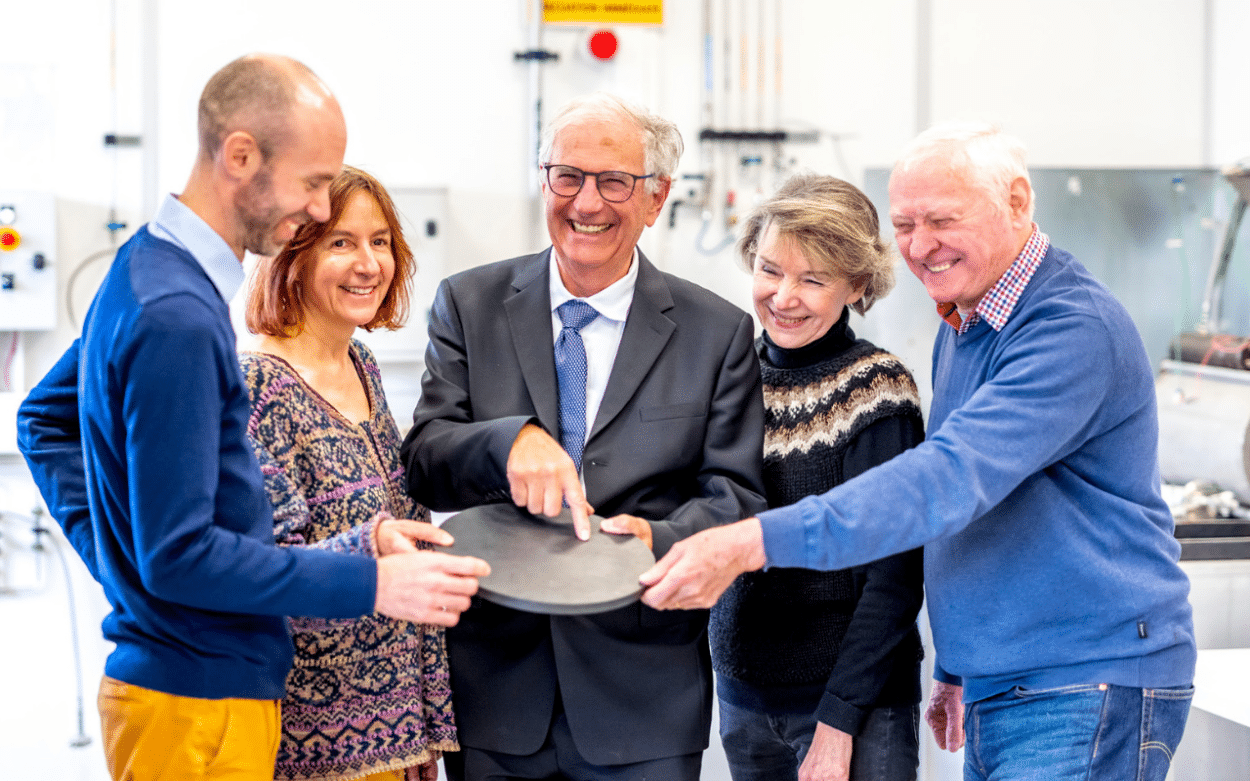 Magnesium Hydride
The CNRS said that the French researchers have utilized magnesium hydride (MgH2) as a key material for storing hydrogen in the disks. The addition of 5% of expanded graphite to the mixture helps manage heat release during hydrogen absorption and desorption.
The disks store both hydrogen as an energy carrier and the heat generated during the reaction, maintaining it for six to eight hours for subsequent use during discharge.
The researchers have demonstrated an energy efficiency of 80% with a tested lifespan of 7,400 charging and discharging cycles, projected to exceed expectations.
Applications and Potential
The applications for this innovative hydrogen storage technology are wide-ranging. In comparison to compressed gas or liquid storage, the solid-state disks require less energy and enable higher storage density.
The storage density of the disks reaches almost two and a half times the density of conventional highly compressed hydrogen storage (106 kg of hydrogen per cubic meter compared to 42 kg per cubic meter at 700 bars). Therefore, this solution is specifically designed for mass hydrogen storage, opening up vast possibilities for a range of applications including refueling stations, industrial processes, and even the production of fertilizers.
Already, the disks have been successfully commercialized in Italy and Japan, and discussions are underway in Norway to adapt the system for use in ferries, mass-scale maritime transportation, and large chemical industries.
RELATED ARTICLE