German manufacturer of digital locking systems, SimonsVoss, has partnered with French cloud-based access control specialist, Welcomr, to offer an integrated solution for the coworking, coliving, and flex office space markets.
SimonsVoss has been a pioneer in the field of keyless digital access control for over 28 years. They produce autonomous wireless locks, digital cylinders, and digital handles.
They are now collaborating with Welcomr, a cloud access control specialist, on an integrated solution called SmartIntego. This comprehensive management software enables precise control of access to different areas within coworking spaces, coliving spaces, and hybrid workplaces while providing entry traceability.
According to Jean-Philippe Vuylsteke, President of SimonsVoss Technologies,
"We offer an integrated solution with Welcomr that includes a specialized range of wireless access controls called SmartIntego. This solution seamlessly integrates into the overall Welcomr solution through its cloud software."
For Alexis Gollain, CEO and Founder of Welcomr, this access control solution offers a complete approach.
"With our management software, you can precisely determine who can access specific areas at any given time, while ensuring traceability. We provide multiple identification options, including physical badges, smartphones, or QR codes."
The solution is compatible with various door types, including parking barriers and traditional doors. It is also suitable for meeting rooms and private offices. Welcomr manages the installation of the locks and the deployment of the solution for clients, including antennas and cloud infrastructure.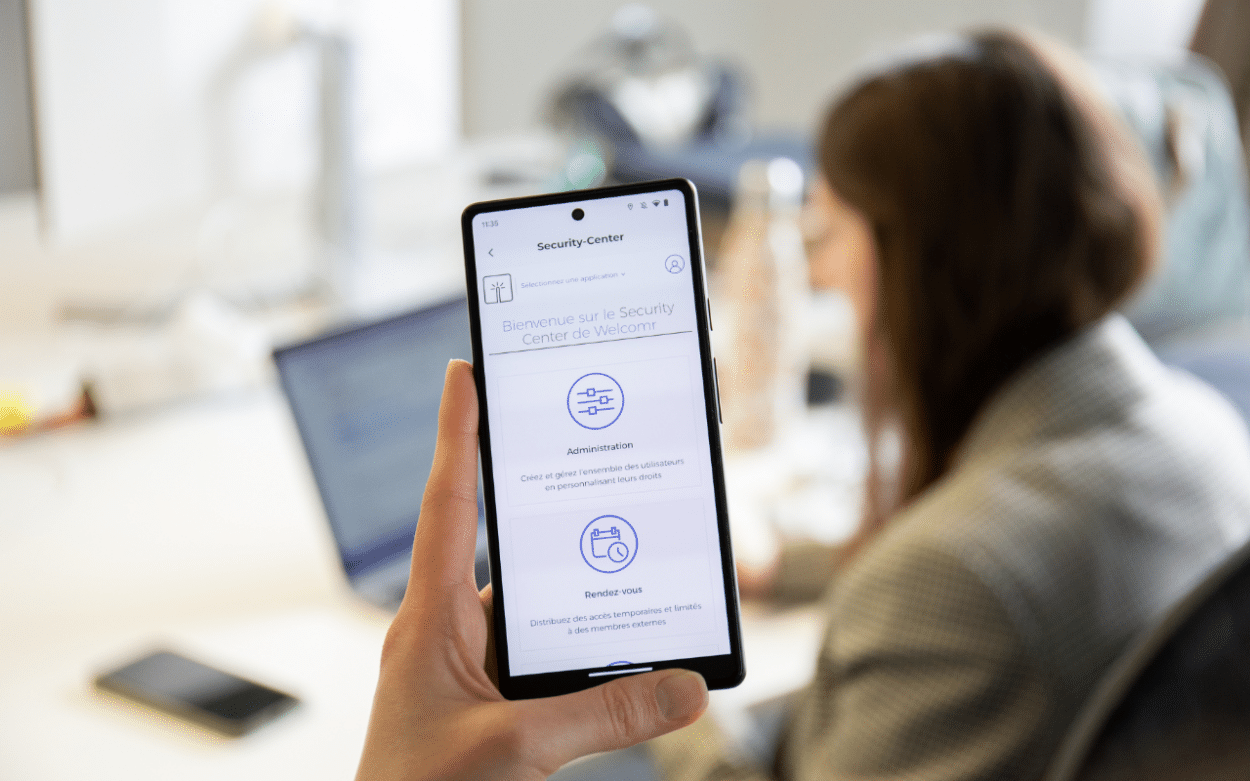 Facilitating Installation
One of the key advantages of wireless technology is its ease of installation. Unlike traditional locks that require complex wiring, wireless locks can be installed quickly and efficiently, as explained by Alexis Gollain:
"The locks and digital cylinders can be easily deployed in environments with many similar doors. Wireless technology offers an efficient, cost-effective, replicable, and modular solution."
The communication technology used is 868 megahertz radio communication, which, according to Welcomr, ensures reliable real-time communication.
"Offices are increasingly equipped with Wi-Fi connections and Bluetooth devices that operate on the 2.4 GHz frequency, leading to increased interference. SimonsVoss's solution, utilizing the 868 MHz radio frequency, offers better performance by minimizing interference."
Each antenna can cover a radius of 10 to 25 meters and control up to 16 doors, as explained by Jean-Philippe Vuylsteke:
"On average, one antenna is used for about 5 doors. The locks have exceptional battery life, ranging from 3 to 4 years. We use lithium batteries that allow up to 80,000 operations on a single handle and even more on a cylinder. This exceeds market needs, which typically range between 10,000 and 40,000 operations."
Facilitating Management
Users of the solution can manage and adjust access permissions in real-time through Welcomr's management software. Connected locks also enable the collection of valuable usage data, such as access schedules and authorized users.
The solution is natively integrated with several other software applications. Welcomr also provides an open API, allowing clients to integrate the solution with other systems such as human resources management software or parking management software. This interconnectivity facilitates centralized management and offers increased flexibility to businesses, allowing them to adapt and control their environment according to their specific needs.
Hybrid Workplaces
With the rise of flex offices, SmartIntego can address new evolving needs, explains Alexis:
"Since the COVID-19 pandemic, more and more companies are adopting flex office, but they are increasingly reluctant to have open spaces. There is a trend towards closed individual offices, offering more comfort and privacy. This translates into more doors. Wireless connected locks provide an ideal solution to meet this new trend. They offer flexibility as they can be moved as required."
SimonsVoss and Welcomr are currently working on advanced features. They are for example exploring options such as a handle associated with an antenna or how to easily reconfigure these handles or move them to other antennas.SimonsVoss has already developed cylinders that can be easily disassembled and reassembled, making necessary adjustments easier.
Regarding the total cost of the solution, the duo assures us that it is lower than that of traditional access control systems. Jean-Philippe explains why:
"With wireless technology, complex wiring is not required, significantly reducing installation costs. Additionally, the battery life minimizes maintenance and replacement expenses. Compared to wired systems, connected locks offer a more attractive return on investment."
According to the duo, the average cost of a wired door ranges from €1500 to €4000, while the SmartIntego solution, including the lock, antenna, controller, and installation, averages around €700 to €1000.