With its futuristic architecture and fossil fuel-free design, Boston University's new Center for Computing and Data Sciences aims to be an iconic and unique place to address 21st-century technological and sustainable challenges. Prior to BU students' graduation ceremony, we had a tour of the building.
There were still a few rooms under construction, drilling noises here and there, and some outdoor terraces were still closed to the public. However, Boston University's new Center for Computing and Data Sciences has already come to life and is welcoming BU staff, students, and researchers.
The new building was inaugurated in December 2022 and officially opened in late January after more than a decade of planning and three years of construction. Last week, we had the opportunity to tour the building before the graduation ceremony.
An Iconic Building
The center's distinctive and contentious design has been a popular topic of conversation. Its cantilevered sections, resembling either a towering stack of books or a precarious game of Jenga rise above BU campus and the Charles River.
In a statement, the president of Boston University, Robert A. Brown, said,
"We wanted architecture that would signal to everyone that this was a special place, the center of campus. We wanted a building that in 2100 would stand up and mark the dynamic change in the University and reflect the century we're in."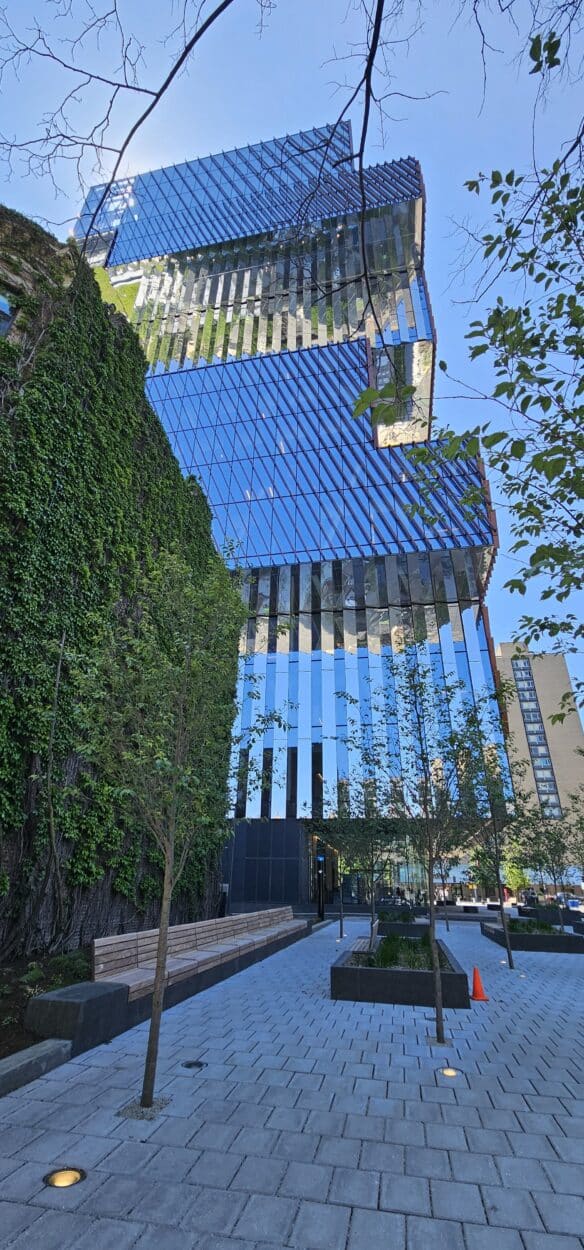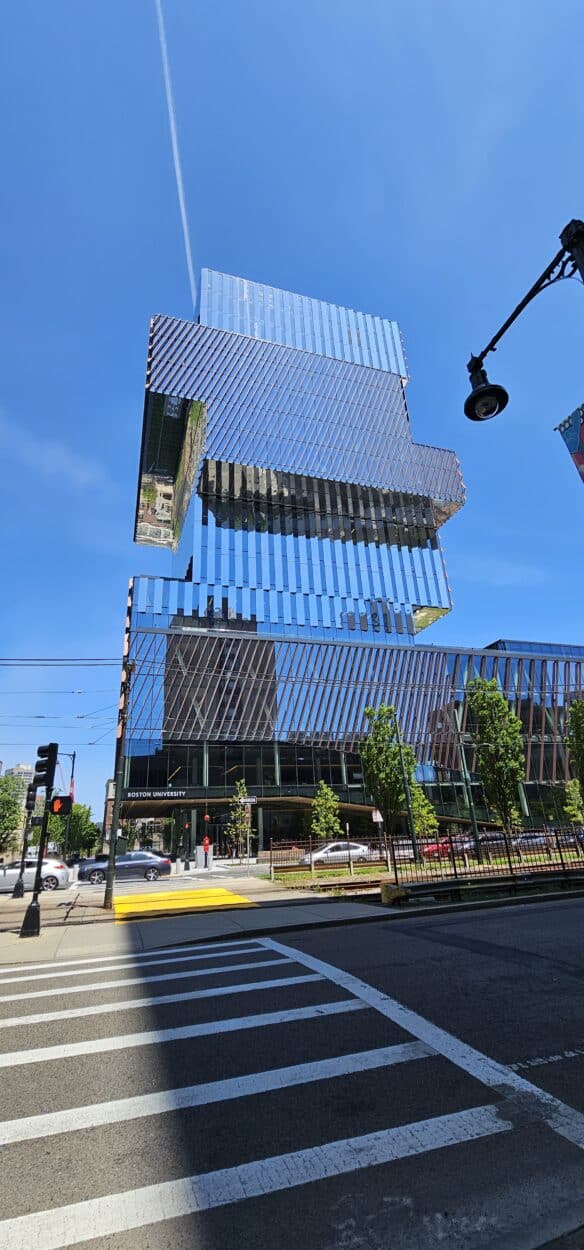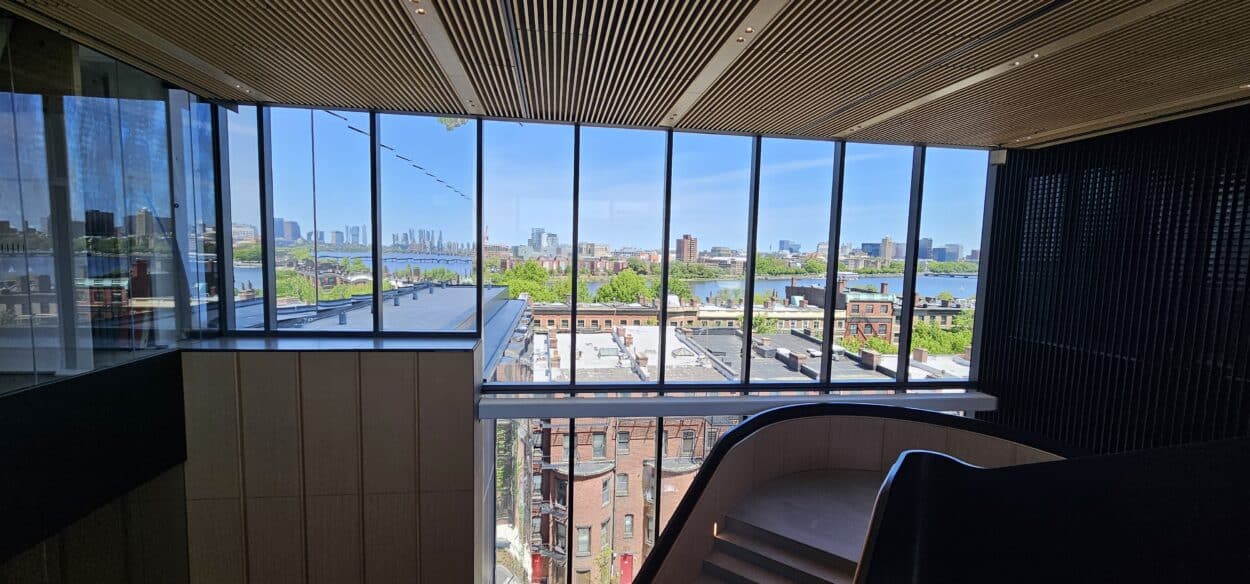 Created by Toronto's KPMB Architects and built by American company Suffolk Construction, the tower is 93 meters high, has 19 stories, and encompasses 33,000 square meters of floor space. The project's total cost amounted to $305 million.
The center's blueprint features a 5-story base, or "podium," followed by 12 floors accommodating departments and centers, with 2 additional floors allocated for mechanical systems. Each block of 2-3 floors is intentionally offset from the block below, adding a unique architectural element to the structure.
The facade is characterized by cantilevers and diagonal louvers that are carefully positioned in relation to the sun. These louvers rest on top of a triple-glazed curtain wall, creating a visually striking exterior. The cantilevers also feature a series of eight green terraces, providing students and researchers with outdoor spaces while also serving as a means of rainwater retention.
The interior of the building also features a massive butterfly staircase. According to KPMB partner Paulo Rocha, in an interview with BU,
" It was a move that was really about circulation, movements. It was about arriving from the east and getting up to the second floor. We think of it as a way to express this open collaboration. There are terraces on the staircase, every three steps is a platform. It's a destination. It will be a place where we think a lot of people will sit. Each terrace is a zone where you can get together with your peers. The intent is it can be used as a path to travel from ground to second, but you're more likely to use the butterfly stairs if that's all you want. It's quicker. These are stairs more as collaboration spaces."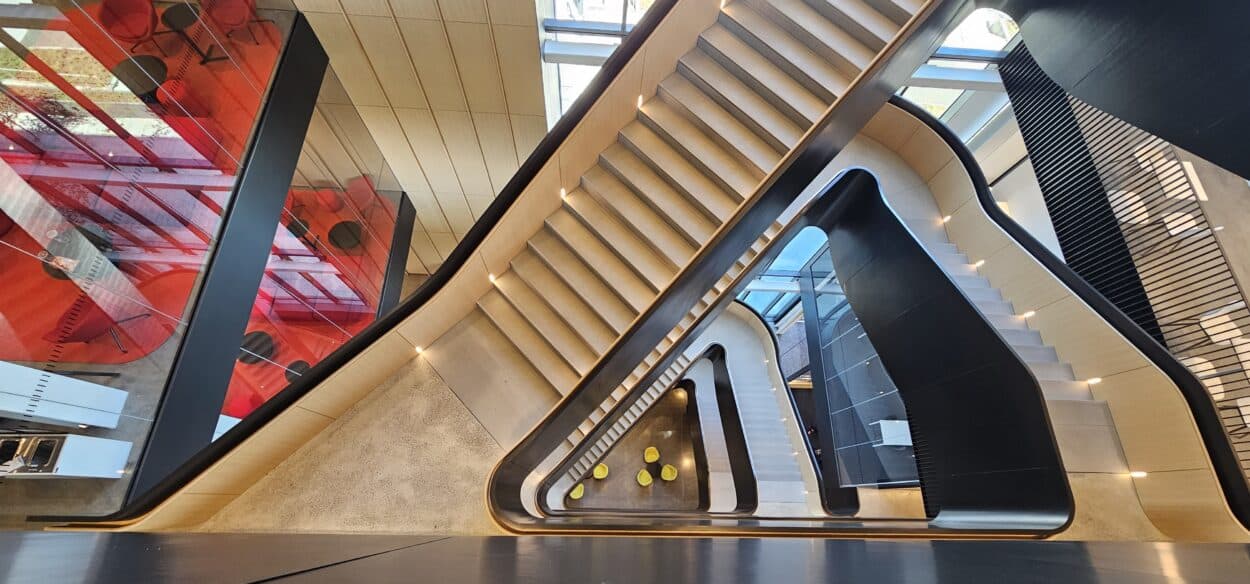 A Vertical Campus
The new building is envisioned as a "vertical campus" where departments are organized into ascending academic neighborhoods. The lower floors are home to the mathematics and statistics department. The middle floors predominantly accommodate the computer science department, while the Institute for Computing and Computational Science & Engineering occupies the top floors.
For BU president,
"We have an opportunity to lead in an emerging, important field that will impact essentially all the disciplines in the University. This building is a physical statement about our commitment to the field. (…) We are in a data-driven revolution, and Boston University is committed to leading in this revolution and to bringing computing and data science into all of our academic disciplines, not only to build applications, but to shape its ethical use in those applications."
A Sustainable Building
The center is BU's most environmentally sustainable and energy-efficient structure to date. It is completely fossil fuel-free. The university said it is the largest fossil fuel-free building in the city and it ranks among the greenest buildings in New England.
If this building is fossil fuel-free it is thanks to the implementation of a closed-loop geothermal heating system which relies on 31 geothermal wells drilled 1,500 feet underground. The geothermal heat pumps provide a heating and cooling capacity of 300 tonnes, effectively eliminating the need for gas lines. This ensures that 90 percent of the building's heating and cooling requirements are sustainable.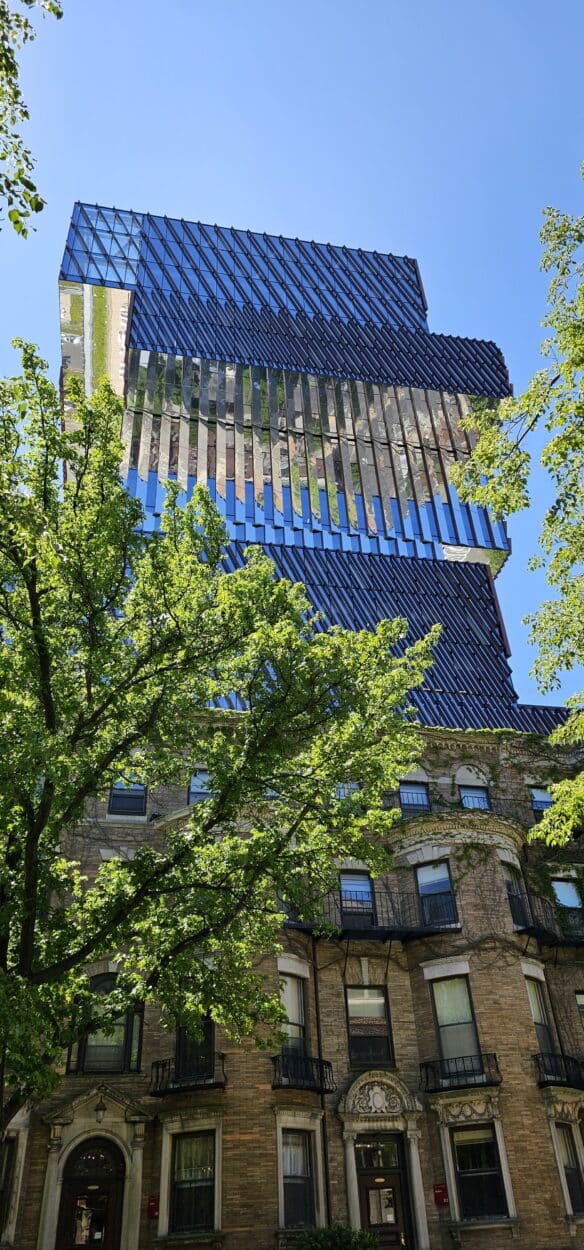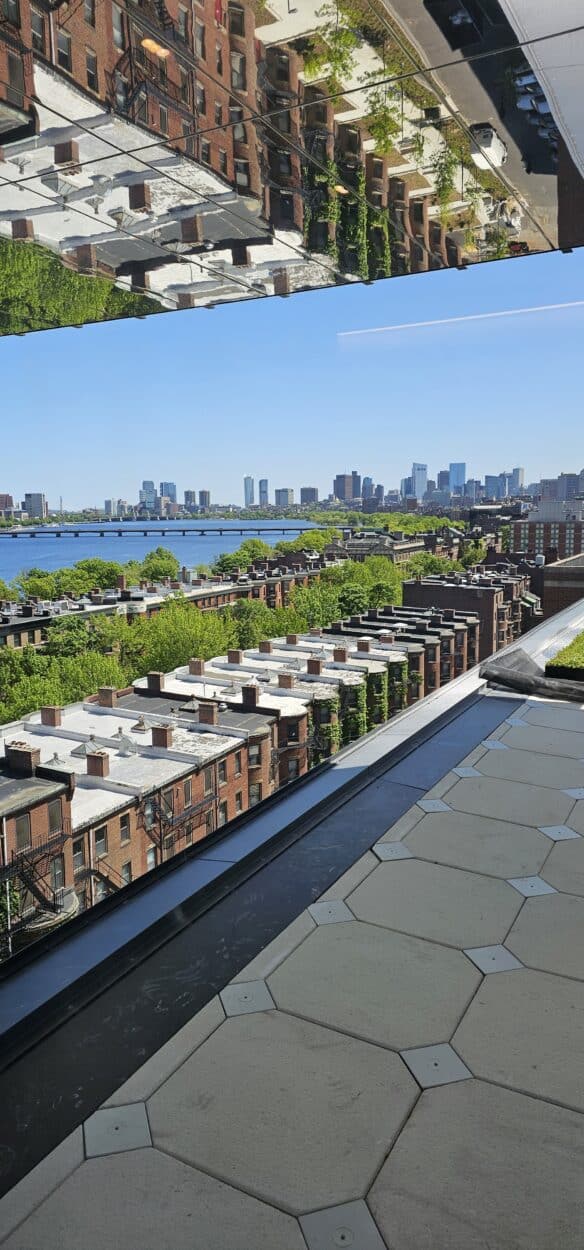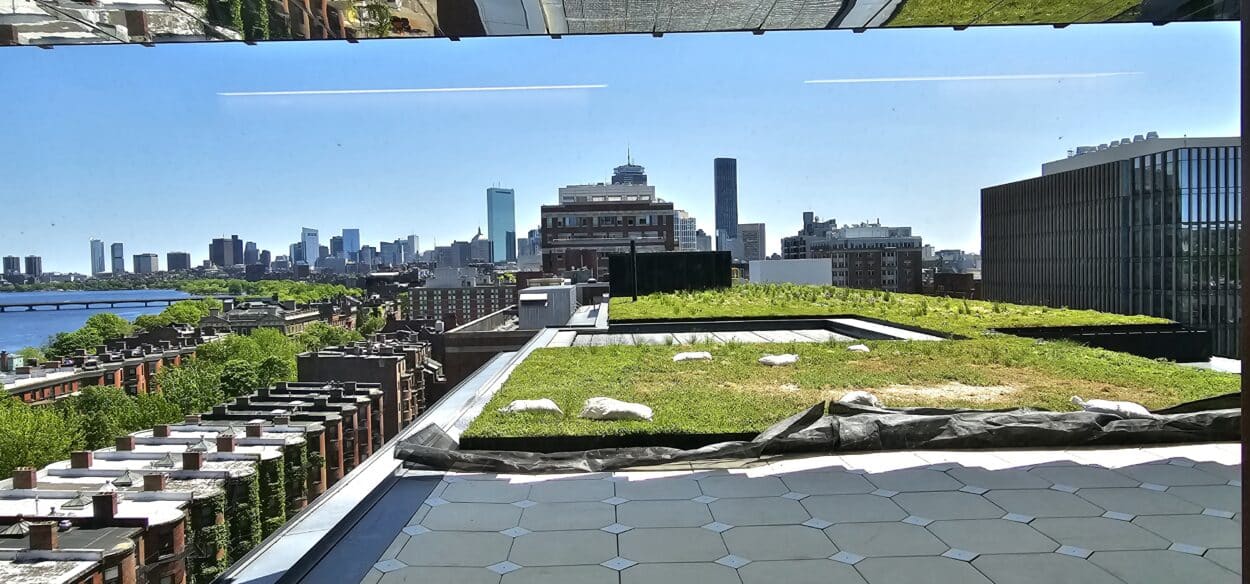 The eight outdoor terraces, each functioning as a green roof, help mitigate the heat island effect while introducing elements of nature into the bustling urban environment.
BU is also installing solar arrays on nearby buildings that generate approximately 1.2 million kWh of electricity annually, fulfilling over 23% of the center's total electricity demands.
The exterior surfaces of glass and steel combined with the optimized shading system offered by the louvers deliver a captivating visual experience but also effectively regulate direct sunlight penetration into the building.
According to the construction team, Portland cement, and steel were used for the structure of the building. The implementation of optimized building methods and sourcing steel from environmentally responsible production sites allowed the project, the team said, to reach a 6% reduction in embodied carbon.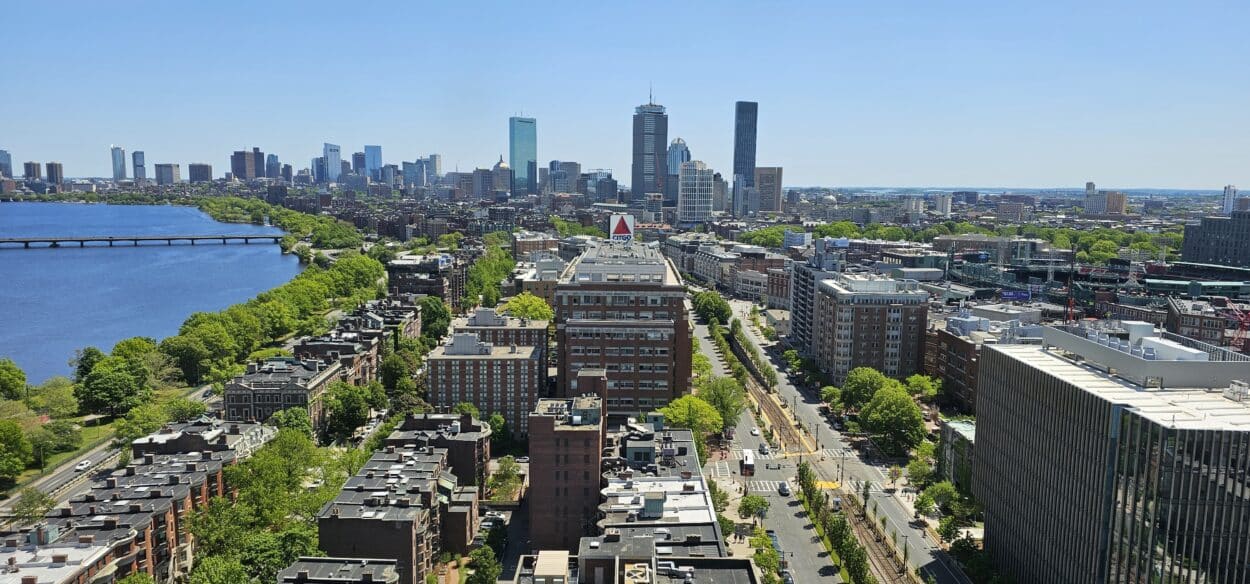 Boston University is a prestigious institution known for its campus located in the heart of the city, near the Charles River The university has seen many celebrities pass through its doors, including civil rights movement leader Martin Luther King Jr, actress Julian Moore, and United States Representative Alexandria Ocasio-Cortez. However, despite its own notable achievements, BU has occasionally lived in the shadow of two academic giants, Harvard University and the Massachusetts Institute of Technology which are both located across the Charles River in Cambridge.
But now, whenever people catch a glimpse of BU Center for Computing and Data Sciences, its unmistakable connection to Boston University will be instantly recognizable.