Optimizing production flows can save a company both time and money. To meet this need, French company Zozio has developed ROBIN, a real-time SaaS solution that enables better stock management and production planning. Major players in the cosmetics, automotive, and aerospace industries have already adopted the solution. We spoke with Bastien Triclot, the founder of ZOZIO, at Hannover Messe to learn more about the solution.
Streamlining production flow is a significant challenge for businesses, as losses, bottlenecks, overproduction, and immobilization can hinder their growth and profitability.
Zozio has introduced a SaaS platform called ROBIN that focuses on optimizing production processes. With ROBIN, it is possible to track the location of products and equipment at every stage of production thanks to IoT trackers. The software also integrates a digital twin for real-time visualization with access to important industrial data such as production date, manufacturing order, and repair order.
According to Bastien Triclot, founder of Zozio, the goal is to produce very precise analyses of production flows, to detail each step of the process, to identify bottlenecks, overproduction, and losses, and to automate this analysis so that customers can visualize the results and therefore, optimize production processes.
Major players including L'Oréal, LVMH, Renault, IBM, and Daher have already adopted the solution.
A Digital Twin for Work-in-Progress Production
The idea is to equip the products and equipment you want to follow, pallets, trolleys, and tanks, whether indoors or outdoors, with a connected tracker. The tracker sends the GPS position with a precision of 30 cm within the factory and up to 10 meters outside. Zozio offers ATEX trackers designed specifically for high-risk sectors like cosmetics and petrochemicals.
"In the cosmetics industry, we put our trackers on perfume tanks. These voluminous tanks are mobile and can be moved depending on production needs. It is therefore important to be able to locate them in real-time for better production flow management."
Zozio uses an ultra-wideband technology and not only geolocation data is sent to the platform ROBIN but also temperature and status data. All of the data, as well as other production data collected via the manufacturer's machines and ERP, allows for the creation of a digital twin of the entire production work in progress. According to Bastien, the solution can be deployed in just two days.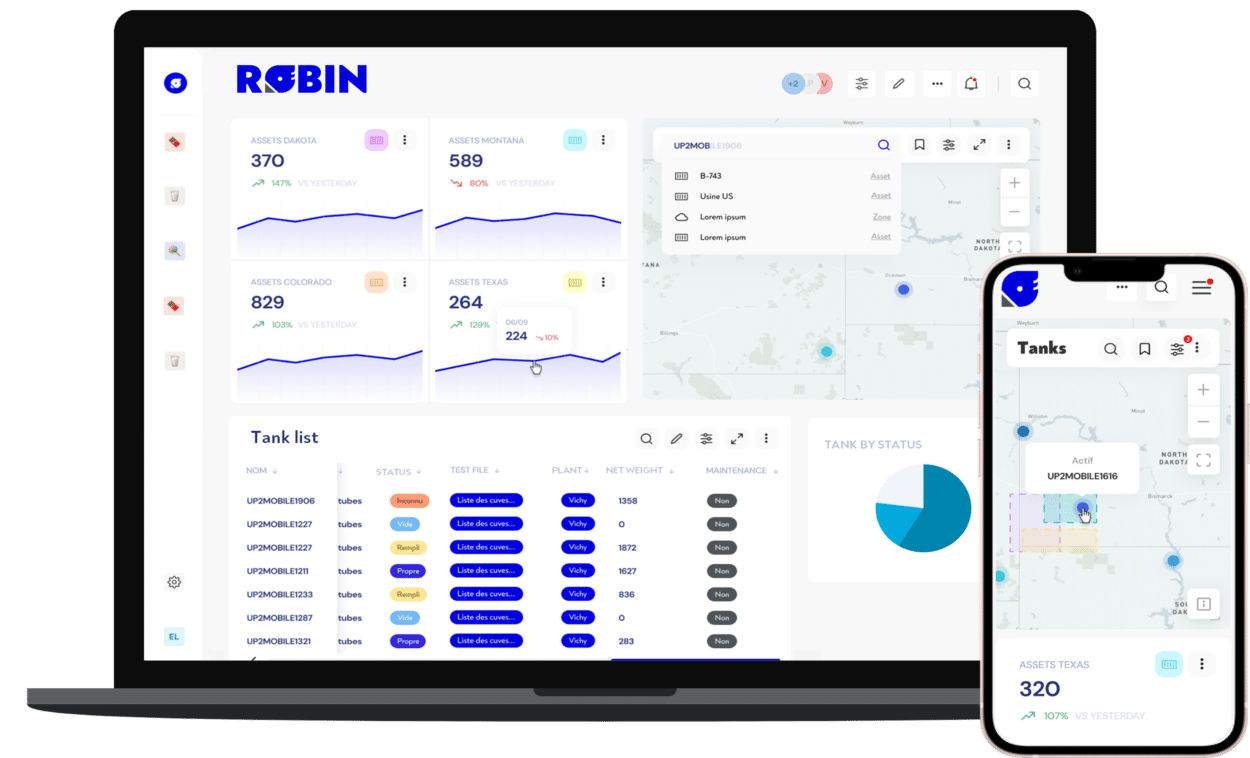 "The digital twin represents the precise real-time flow of each connected object. Factories are becoming increasingly large and process increasingly precise. We need to help operators in this complex system. We provide them with simple and ergonomic tools and dashboards to help them find their container in real time. In cosmetics, we also allow them to manage expiration dates and do inventories in one click rather than every morning because of stock discrepancies. This avoids production delays because the operator knows where the products are at all times."
The system also sends alerts regarding expiration dates or the presence of too many alcoholic products stored in the same place.
For their client L'Oréal, Zozio added a physical alert, flashing lights, that are activated by the presence of the trackers. For example, if a technician enters a cleaning area with an already cleaned tank, the flashing light is activated.
"Geolocation makes it possible to manage flows according to the type of product and the status of the product. The objective is to have the right number of products in the right place at the right time. Thanks to this digital solution, we can model just-in-time and actually achieve it."
An Agnostic Solution
When Bastien developed Zozio in 2018, he realized that the ERP systems used in factories were over 20 or 30 years old and often disconnected from the field. In the aerospace sector, for instance, some companies have poor visibility of their operations and some don't even know how much time is spent at each station.
"Today, companies need to evolve rapidly, deliver products faster, and have more specific features. It has become essential to have a real-time tool that reflects the reality on the ground. Geolocation allows us to optimize production processes based on tangible and real facts, rather than assumptions or business feelings. We model each production step so that operators visualize for example the rotation rates and immobilization times in each area, and improve planification. Geolocation is not an end; it is a means to conduct stock analysis, shifts, expiration dates…"
By improving their processes, manufacturers can increase productivity, enhance working conditions for their operators, reduce their environmental impact, and save dozens of tons of materials per site per year. Vetrotech Saint-Gobain is another of Zozio's clients. Cederic Berg, plant manager, reported they have reduced manual error-prone processes and saved 70,000 sheets of paper per month since implementing the solution in their French factory. According to Bastien, a return on investment of 3 to 4 months is possible.
Zozio offers an agnostic platform in terms of technology and interfacing. It is compatible with multiple technologies, including RFID, WiFi, ultra-wideband, 5G, and GPS. It also connects to all clients' business software.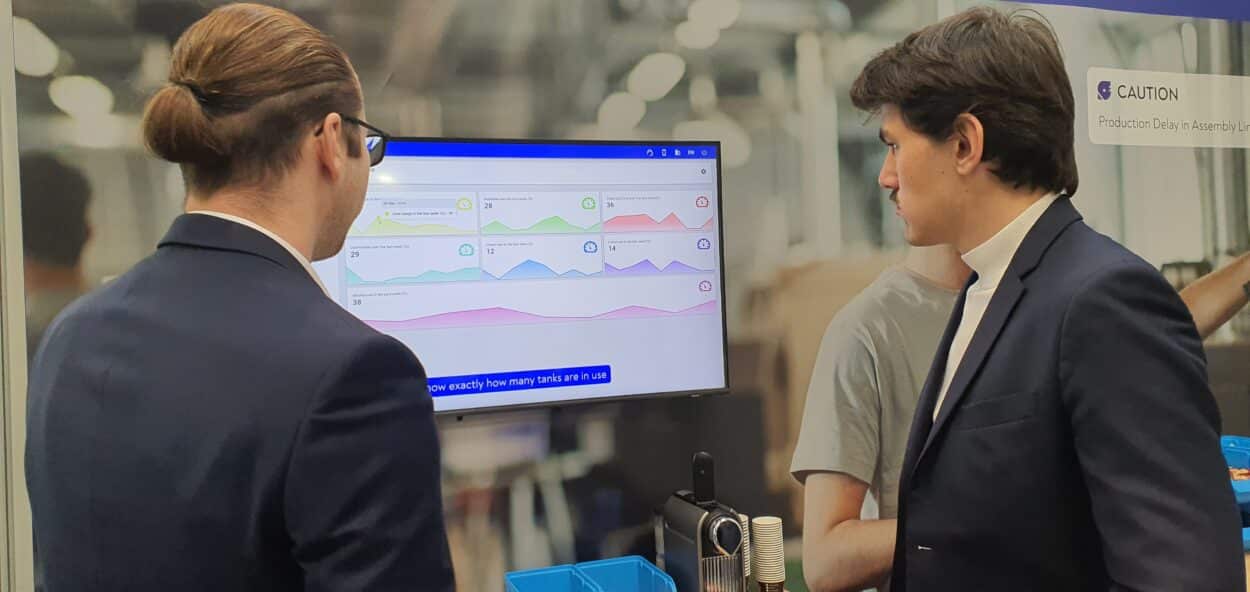 Entering the German Market
Zozio is now entering the German market through its newly created subsidiary. Bastien's goal is to be seen within 3 to 5 years as the European leader in production flows management.
"Germany is the largest European market, with 22% of its GDP coming from industry. It is a market with a broader network, the Mittelstand, which is more mature regarding Industry 4.0 subjects than France is. We are confident that we will develop much faster thanks to the German market."
The sectors Zozio addresses – light chemistry, cosmetics, essences, and liqueurs – are also present in Germany. But Bastien also wants to target the machine assembly sector.
"Companies like Zeiss and Kärcher, who practice job shop manufacturing and have complex and non-linear processes, could benefit from our expertise. The aerospace industry is another sector where we can provide our solution. Equipment maintenance and repair are specific manual tasks performed in immense factories where information can easily be lost between operators. We can help these companies optimize their production processes and improve their efficiency."
Currently, Zozio's solution helps solve fundamental problems regarding inventory management, planning, and production processes. "This is where the real value of our solution lies."
But by the end of the year, the company will integrate artificial intelligence algorithms into the solution for predictive purposes and recommendations.