At Hannover Messe, UK industrial software company AVEVA is showing its wide portfolio of data-driven and AI-based services, all contributing to a platform where companies can collaborate, innovate and share data through the connected industrial economy. AVEVA is displaying its innovations towards the industrial metaverse in the same booth as Schneider Electric, the French blue chip that recently completed a full acquisition of the company. DirectIndustry talked with Rob McGreevy, Chief Product Officer at AVEVA.
At the 2023 edition of Hannover Messe, the world's largest industry trade show, digital transformation, energy efficiency, and industry 4.0 sustainability will be front and center. More than 4000 exhibitors will convene in the German city from April 17 to 21, 2023, to showcase their industrial solutions and products. Aveva is one of them. According to Rob McGreevy, Chief Product Officer
"AVEVA and Schneider Electric portfolios demonstrate a synergy that drives efficiency and sustainability. The company is now owned by Schneider Electric but remains a fully independent and autonomous business with its own brand, management board, Research & Development (R&D) capabilities, and P&L budget. Our goal is to keep working with some of the most innovative enterprises on the planet to help create the industries of the future, support reduced energy use, and deliver tangible gains in every industrial sector." 
Towards the Industrial Metaverse
One of the most exciting developments that Aveva is working on is the industrial application of the metaverse. While in the consumer market, the concept of the metaverse is still a somewhat escaping and hard-to-pin-down concept, Aveva sees the application as the natural evolution of its digital twin solution. According to McGreevy, the company's digital twin framework is the backbone of the industrial metaverse development.
"The first step for us is to provide a reliable and consistent digital twin driven by industrial data and AI-infused capabilities. Because our software is cloud-based, we provide everything from infrastructure to cybersecurity as part of our solutions, guaranteeing 99% or more uptime. We now focus on providing technologies to allow our customers to deploy their own Industrial Metaverses from the Cloud. The key components are connections to 3D and engineering data, real-time SCADA data, which allows the richness of the digital twin to be interactable, and multi-person environments enabling collaboration within the Metaverse itself".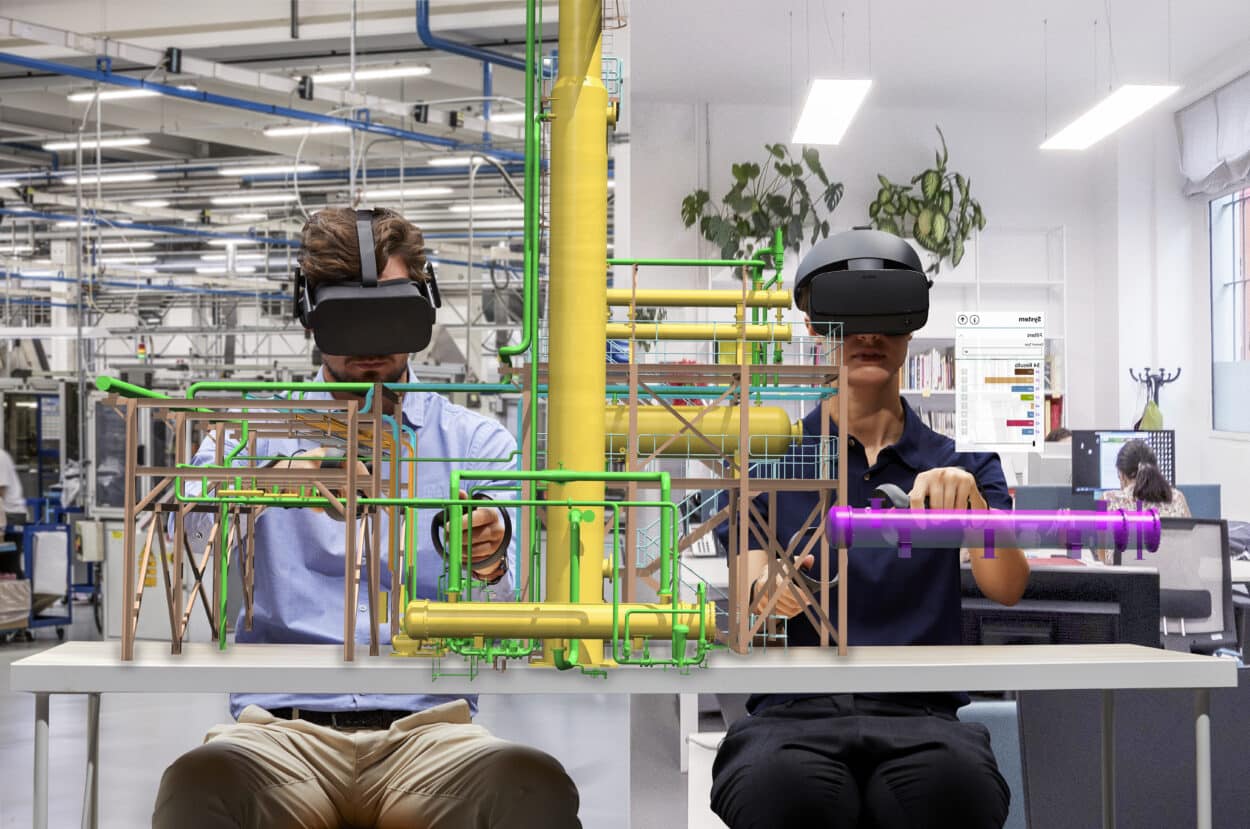 AVEVA's Metaverse application will also come with security certifications such as SOC2 and ISO27001, an essential level of security for customers using the company's software for critical industrial processing. The result is a 3D industrial environment that could help a wide array of companies streamline and optimize their operations by building their own custom solutions on top of AVEVA's software stacks by using dedicated SDKs and APIs.
Moreover, at Microsoft's booth at Hannover Messe, customers and visitors can discover AVEVA's cloud solutions for the energy sector, such as Aveva Data Hub, Process Simulation for Hydrogen, and AVEVA Connect. 
Future Plans
The company already serves more than 20.000 customers globally. Thanks to Schneider Electric's support, it now aims to become the largest industrial Saas provider. The key to this development is a new subscription-based business model.
"We believe the AVEVA Flex subscription program revolutionizes how industrial software is purchased and consumed. It can help reduce upfront costs by as much as 65% while enabling flexibility and scalability to respond to changing business needs, industry standards, and regulatory requirements. New licenses for major engineering and operations solutions in AVEVA's software portfolio are now subscription only, and the company has set a target to transition 80 percent of customer licenses from perpetual to subscription by 2025.
When and where
Hannover Messe: April 17 to April 21, 2023.
Aveva and Schneider Electric: Booth C46, hall 11.
Aveva cloud solutions: Pod #12, Hall 17 (at Microsoft's booth).