Amazon is finally joining the AI race. The e-commerce leader has just launched Bedrock, a new generative AI toolkit that can compete with both ChatGPT and image creator DALL-E. In a letter to shareholders that was released yesterday, Amazon CEO Andy Jassy said the group is "investing heavily in large language models (LLMs) and generative AI", the technology on which ChatGPT and other AI chatbots are running.
Following in the footsteps of tech giants like Microsoft, Google, and Chinese Baidu, Amazon has now joined the ranks of companies that have released their own generative AI tools. This trend of developing innovative generative AI chatbots has gained momentum in the tech industry, with major players vying to showcase their advancements in artificial intelligence.
Bedrock, which was introduced yesterday, can help AWS customers create their own chatbots, generate texts and classify images based on an initial prompt. This new cloud service is aimed at companies that run their operations on Amazon's data servers.
Different Machine Learning Models
While Open AI's ChatGPT only works on GPT-4, Bedrock's users can choose between several machine learning models called "foundation models" (FMs) for their content creations. The FMs include AI21's Jurassic-2, Anthropic's Claude, Stability AI's Stable Diffusion, and Amazon Titan.
The Jurassic-2 family of multilingual LLMs follow natural language instructions and can generate text in multiple languages, including French, German, Italian, and Spanish.
Anthropic's LLM, Claude is designed to perform a wide variety of conversational and text-processing tasks.
Stability AI's Stable Diffusion is a suite of text-to-image foundation models capable of generating unique, realistic, high-quality images, art, logos, and designs.
In a blog post, Swami Sivasubramanian, Vice President of Data and Machine Learning at AWS gave an example of how Bedrock could be used concretely:
"Imagine a content marketing manager who works at a leading fashion retailer and needs to develop fresh, targeted ad and campaign copy for an upcoming new line of handbags. To do this, they provide Bedrock a few labeled examples of their best-performing taglines from past campaigns, along with the associated product descriptions, and Bedrock will automatically start generating effective social media, display ads, and web copy for the new handbags".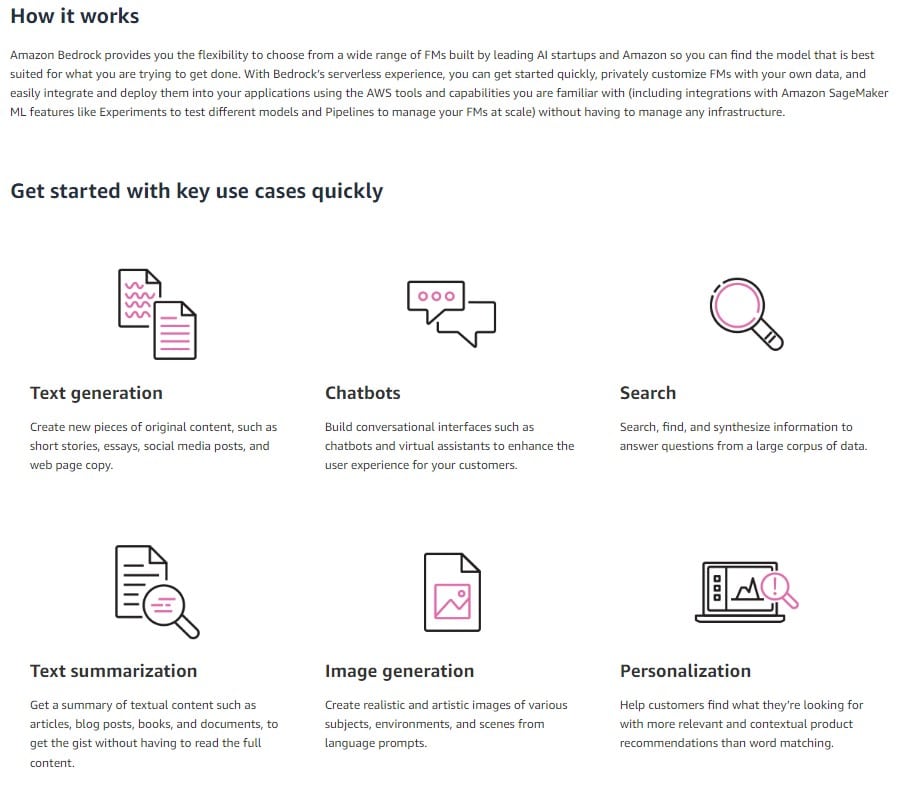 Democratizing AI
In his letter to shareholders, Jassy also added that the idea is to make Bedrock cheap and accessible to smaller companies:
"Additionally, as we've done for years in AWS, we're democratizing this technology so companies of all sizes can leverage Generative AI. AWS is offering the most price-performant machine learning chips in Trainium and Inferentia so small and large companies can afford to train and run their LLMs in production."
For the moment, only AWS customers can have a preview of Bedrock.
This week has been very prolific in terms of AI news. A few days ago, an American video game developer, launched an experimental open-source AI called Auto-GPT. Based on the GPT-4 model, Auto-GPT can handle a task, even long and difficult, from A to Z autonomously, without any human intervention.
A few days after that announcement, we met an AWS spokesperson at Hannover Messe. When asked about Bedrock and its benefits for industrial players, he said:
"It's such a new space, that we, as a company, are looking at all the ways that it could be impactful for the industry. The way that we are looking at it is through services. It's brand new. We want to make sure that our customers upset and that we are focusing on the right area. There is a lot to come."