As the demand for food safety is becoming increasingly severe, the need for an indispensable inspection system to ensure products are delivered safely to consumers is higher. Japan-based company System Square has developed a solution that can detect small pieces of contamination in food in just a minute and reduce food recall.
DirectIndustry, in partnership with JETRO, Japan External Trade Organization, presents a selection of high-quality products from the top Japanese manufacturers in industry, including System Square Inc.
With its main headquarters in Niigata, Japan, and 12 branch offices throughout the country, System Square Inc manufactures a wide range of foreign body inspection systems, including some that use X-ray technology.
The company was started back in 1989 by Kiyotaka Yamada, who still runs it today. Initially, the main business was software programming, before moving on to develop the inspection devices.
System Square Inc sells to customers all over the world via a network of agents. We spoke to Kenta Shinagawa, the area manager of the international department. He told us more about the company's history:
"In 1996 we started developing metal detectors, which equipped a multi-frequency system that was a revolutionary invention at the time. Having been highly evaluated by customers, we developed new technology and systems. In 2019, a new main factory was completed and it accelerated our invention and creativity."
The company produces various types of machines such as metal detectors, X-ray inspection systems, and seal inspection systems. They have also developed a foreign body inspection system that is finding application in the food and beverage industry.
Fighting Food Contamination…
Consumer eating preferences are changing all around the world at a fast pace and so, too, is the technology that helps keep food safe.
As production lines in vast food manufacturing facilities work 24 hours per day the risk of anything contaminating food in the process is much greater.
Of course, food contamination, or any other product spoiling, is something manufacturers need to protect themselves against and that is where the company System Square Inc steps in to help.
Kenta said:
"Food contamination can happen at any step of the production process. Needless to say, it can be a big problem when this does happen and could actually affect someone's health. On the other hand, globalization makes the situation more and more complex and difficult. Once a food recall happens, manufacturers have to handle the aftermath, which can sometimes be all over the world. Therefore we have been developing new technology to find much smaller pieces of contamination and we believe this contributes greatly to food safety."
…With X-Rays
System Square's x-ray machine is able to detect in just one-minute foreign bodies that are present in food (rice, grain, fish, meat…) and other products and that would be difficult to see with the human eye. It makes non-contact and non-destructive inspections possible.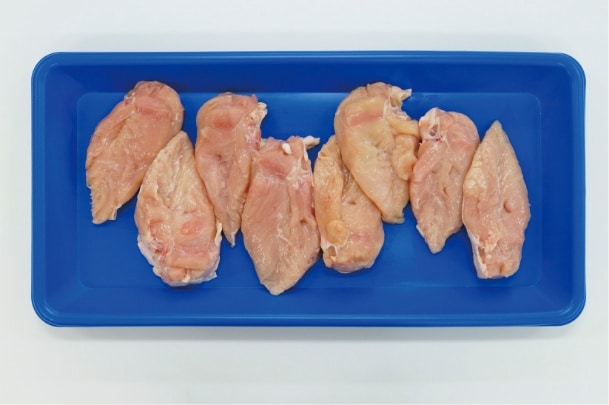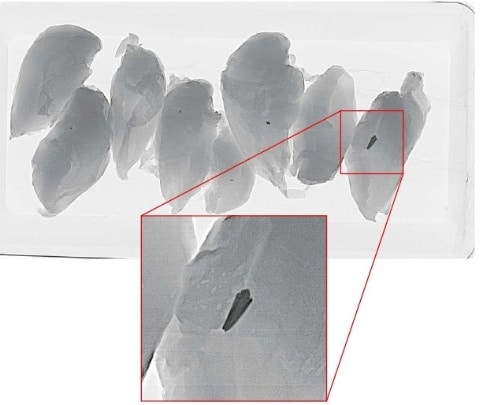 "Metal detectors have been used for more than 20 years but even now they play important roles with our food manufacturing customers. Since customer requirements are getting more varied recently, our X-ray systems are in big demand due to the huge range of tasks they can carry out.
The company says its system can detect not only metals but glass, stones, bones, etc.
"For instance, the meat and fish industry needs to be able to find bones to prevent it from providing dangerous food to consumers, including the more vulnerable consumers in nursing homes and schools. Our original AI (Artificial intelligence) function successfully improved the accuracy of these types of machines."
Besides, analyzing the X-ray image can help see the product shapes and calculate relative mass, numbers, etc.
When a product is defective, it is eliminated quite easily in conjunction with the sorter.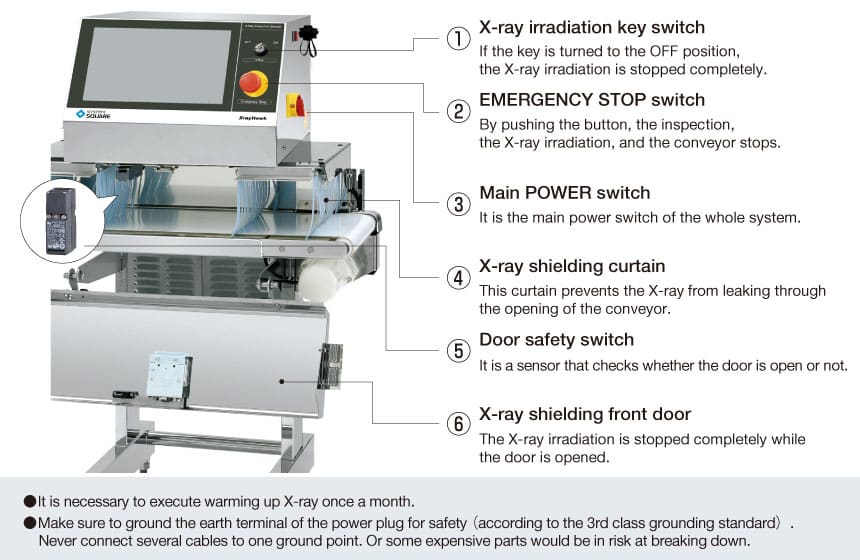 Applications in Other Industries
System Square's systems are currently used to automatically detect foreign bodies in food, pharmaceuticals, cosmetics, daily necessities, and industrial products.
"Our products are mainly sold to customers in the food industry to detect contamination and help prevent recalls. We also sell to the cosmetics, clothing, and medical industries. Our seal inspection systems are also demanded especially by the packaging industry, which is big business these days.
Looking ahead to the future, the company aspires to reach its 100-year-old anniversary with further expansion of the company and product portfolio.
RELATED ARTICLE