With the current focus on the factors causing climate change, manufacturers of agricultural machinery are advancing their efforts to develop alternative fuel sources to diesel, including hydrogen and biomethane.
There has been a big shift to developing electric-powered machinery, but as battery technology is somewhat limiting, this has been more focused on smaller equipment.
Research claims that agricultural activity is responsible for almost a quarter of all greenhouse gas pollution in the world. A large part of the emissions is due to the use of fossil fuels in agricultural machinery.
Using hydrogen or biomethane to power larger machinery is a fast-moving development with millions of euros being pumped into the sector by manufacturers and investors.
Hydrogen Engines
UK machinery manufacturer JCB has recently invested £100million (€117million) into developing its own hydrogen engines and has launched a prototype of its famous Loadall telehandler and a backhoe, both powered by hydrogen.
A team of 150 engineers is already working on this new type of machine as JCB targets the end of 2022 for the first units to be available for sale to customers.
JCB's emergence as a leader in zero-emission hydrogen technology comes as governments around the world unveil strategies to develop the infrastructure needed to support the use of hydrogen to drive down CO2 emissions.
JCB chairman Lord Bamford said:
"Our sort of machinery will need to be powered by something other than fossil fuels. We make machines which are powered by diesel so we have to find a solution and we are doing something about it now. We are investing in hydrogen as we don't see electric being the all-round solution, particularly not for our industry because it can only be used to power smaller machines."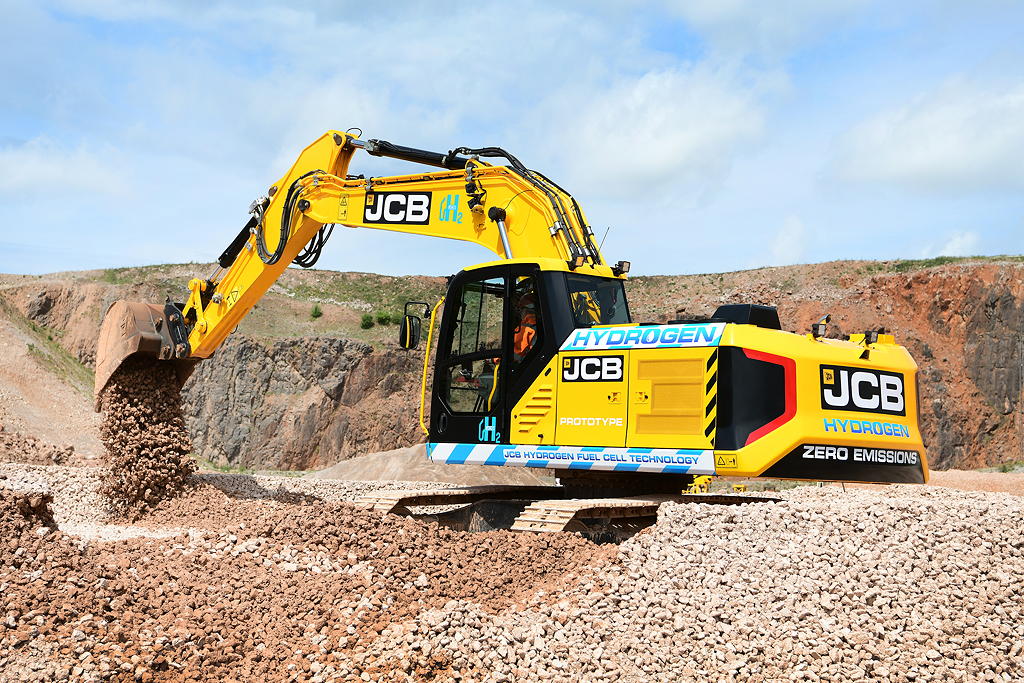 Using Biomethane
A European organic food producer has developed what it claims to be the world's first hybrid biomethane and electric tractor.
Based in Lithuania, the Auga group farms 39,000ha of organic cereals, root crops and vegetables, plus a large dairy farm with 3,400 cows.
It has developed its own Auga M1 tractor, which can do the work of a diesel-powered 400 hp tractor, only with zero emissions.
The tractor is 6m long, 4m high and runs on 900/60R 42 tyres. The Auga group says its tractor can work for 12 hours on one fuel cartridge.  
Kestutis Juscius, CEO of Auga group, said:
"Three years ago, when we first calculated our emissions, we saw that as much as 30 percent of them come from the use of fossil fuels on farms. There were simply no solutions to change it. That is why we have taken the lead in developing technologies that will allow us to create a new standard for sustainable agriculture and drastically reduce pollution throughout the food value chain. The first result of this work is a biomethane and electric tractor."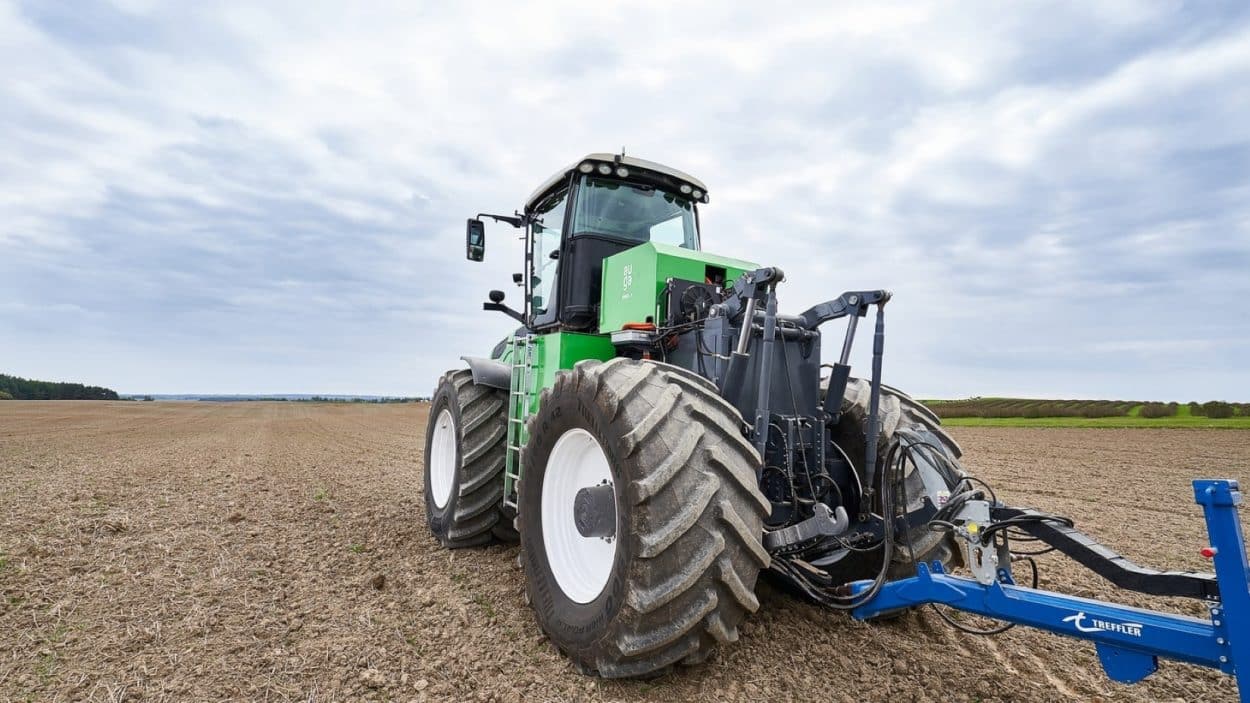 Methane, collected from livestock waste and converted to biomethane, offsets more emissions per unit of energy in its production and use cycle than it emits.
However, using these sources is not without complications as they can be expensive to produce and need a lot of storage capacity on the machine.
Kestutis Juscius said:
"Our team of engineers has found solutions to solve the problem of refuelling and ensure uninterrupted operation of the tractor throughout the working day. Currently, biomethane-powered tractors are able to operate for only 2-4 hours because the gas cylinders do not physically fit into the tractor structure. However, farmers need agricultural machinery that can work for 12 hours or more. AUGA group understands this perfectly and has created a solution."
The company's patented design allows the tractor to accommodate larger biomethane gas cylinders. When the tractor is running, an internal combustion engine powered by biomethane generates energy and transmits it directly to the electric motors that turn the wheels.
When operating under normal conditions that do not require high power, the tractor stores the generated energy reserve in the batteries. Such a system does not waste energy in low load conditions, uses a relatively small but efficient motor and is able to extract tremendous power when needed.