Like many industries, the COVID-19 pandemic has driven massive change within aviation, a sector brought to its knees by travel restrictions and cratering demand over the last 18 months. Even more than before, the future for aviation revolves around innovating its way out of the crisis, and DirectIndustry e-magazine sat down with three industry design visionaries — JPA Design, Orson Associates and tangerine — to understand the direction of, quite literally, travel.
New COVID-Proof Materials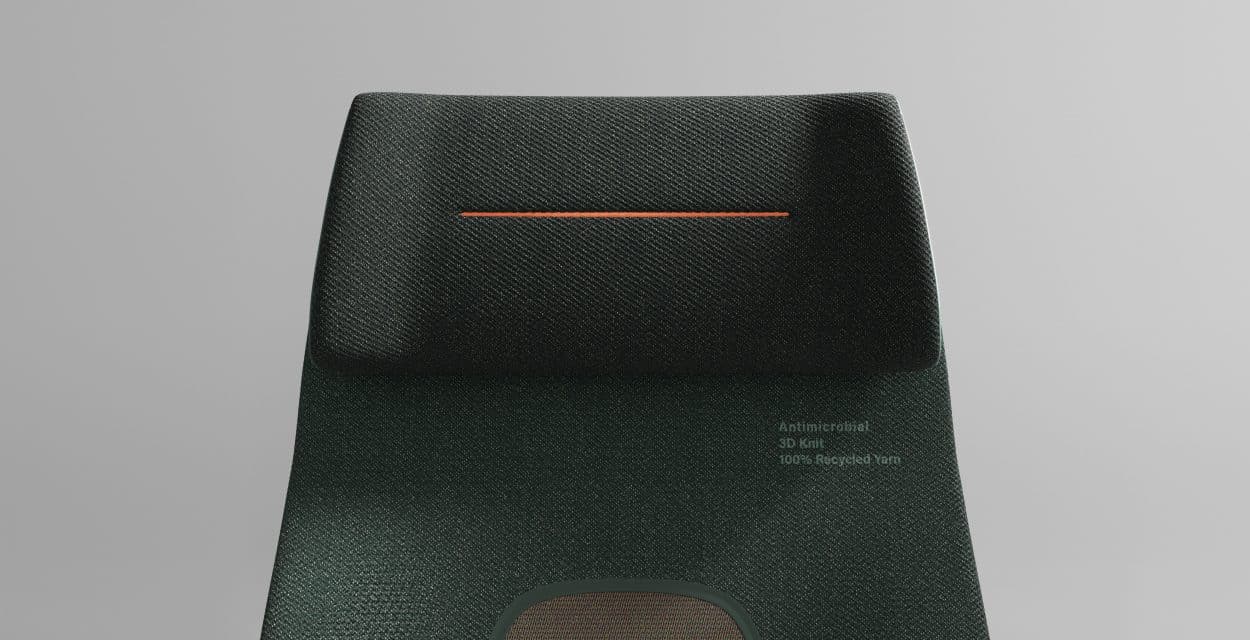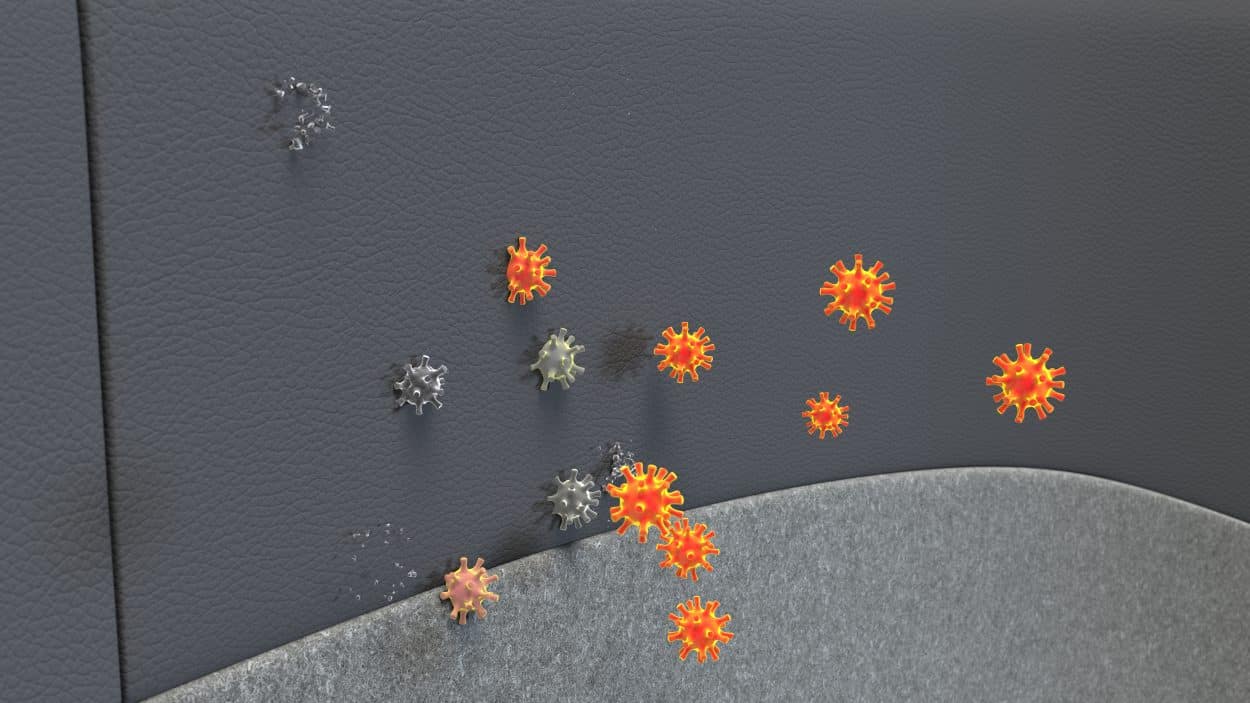 Credit: A key question is how airlines market their antimicrobial seating products. Image – JPA / Inherently antimicrobial substances like silver or copper are incorporated into the materials used to build seats and other parts of the aircraft interior. Image – MGR Foamtex
Aviation has always had to manage safety — and, indeed, perceived safety — and it is having to reckon with health safety sitting alongside passengers' worries and fears about flying. Indeed, it seems unlikely that passengers will suddenly stop caring about hygiene and personal space after COVID-19, as anyone in a country that has relaxed restrictions will have experienced: our sense of what is acceptable personal space and acceptably clean has, simply changed. Now, visible cleanliness is, quite literally, a hygiene factor. For tangerine's head of color, materials and finish Rosy Hazelwood,
"Cleaning with harsh chemicals is costing millions, which has made us question whether harnessing materials with inherent anti-viral qualities could be a different approach."
Even with new evidence that COVID-19 spreads primarily via airborne means, COVID-19 has driven change in the materials that create the spaces in which people fly. These new virus-fighting antimicrobial additives are being incorporated into the metals, plastics and textiles that make up the interior of the aircraft, explains Elliott Koehler, creative director at JPA Design.
"We have seen good progress in the incorporation of additives to cabin materials to give anti-microbial properties. I think this will continue to grow and become a standard feature going forwards — it's been done on the ground in healthcare as standard for years, so no reason not to make it standard in high-density transport environments, especially with many of these new materials passing aviation certification requirements."
Touchless Design on the Rise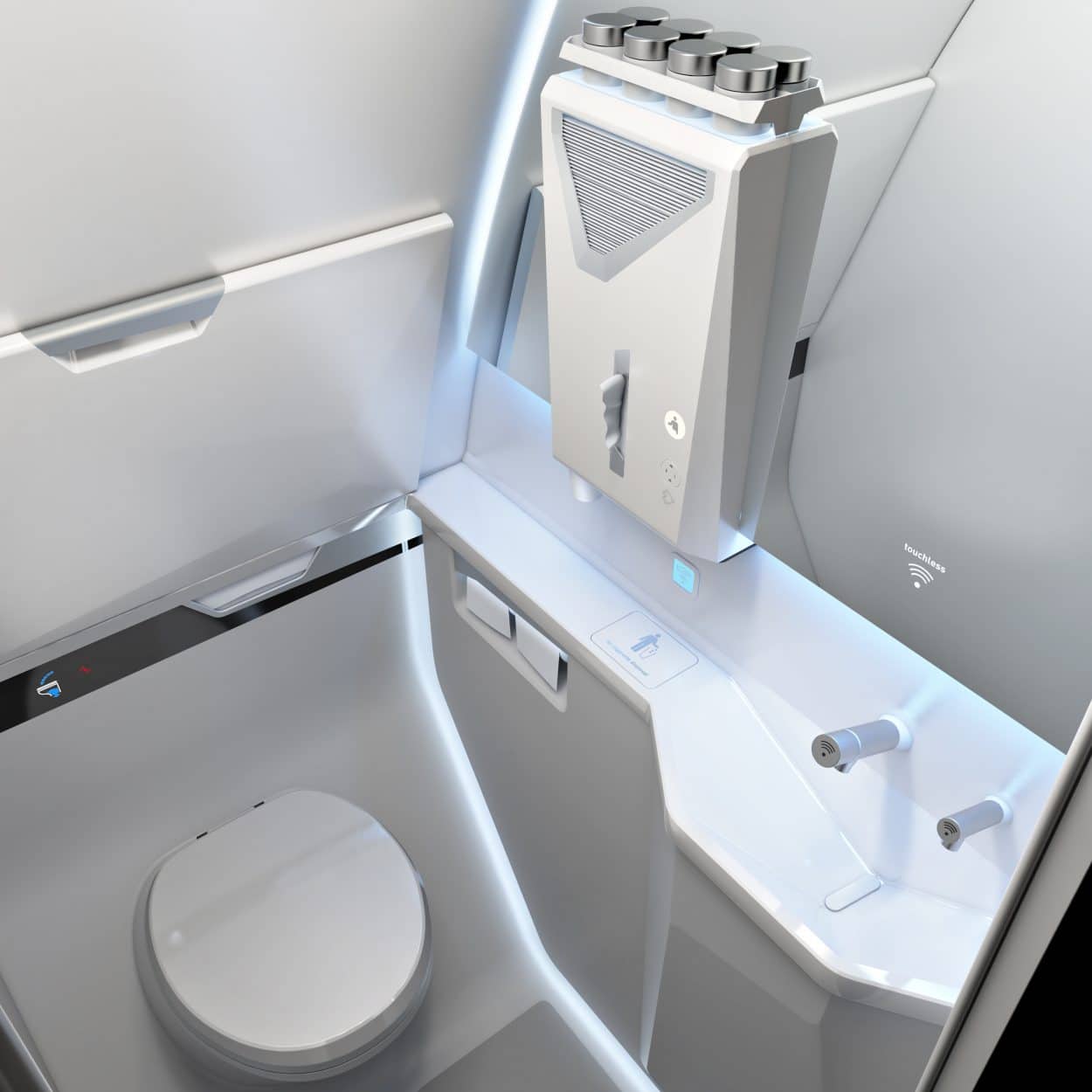 Aviation's understandably strict materials and structural certification requirements are certainly a factor, with tests for flammability, smoke toxicity and crash resistance just the beginning. In an increasingly germ-phobic world, touchless design is also on the rise. Japanese airline ANA, for example, has been working with supplier Jamco to create hands-free airline lavatory doors, explains Geraint Edwards, global head of service design at tangerine.
"Tactility is dead. Now no one wants to touch. How do we go about designing for an untactile experience in a world where your phone becomes not only a communication tool but also becomes your gateway to the world?"
Indeed, airlines are seeing an acceleration of integration between inflight entertainment systems and passengers' mobile phones, allowing remote control of on-demand content instead of touching the screen itself, says Ben Orson, managing director of design house Orson Associates,
"If COVID is gradually brought under control, we anticipate that the technology landscape will return to something approaching the pre-Covid state, but with the management of onboard pathogens becoming an elevated priority for airlines when balancing the factors that drive design decisions."
Sustainable Aviation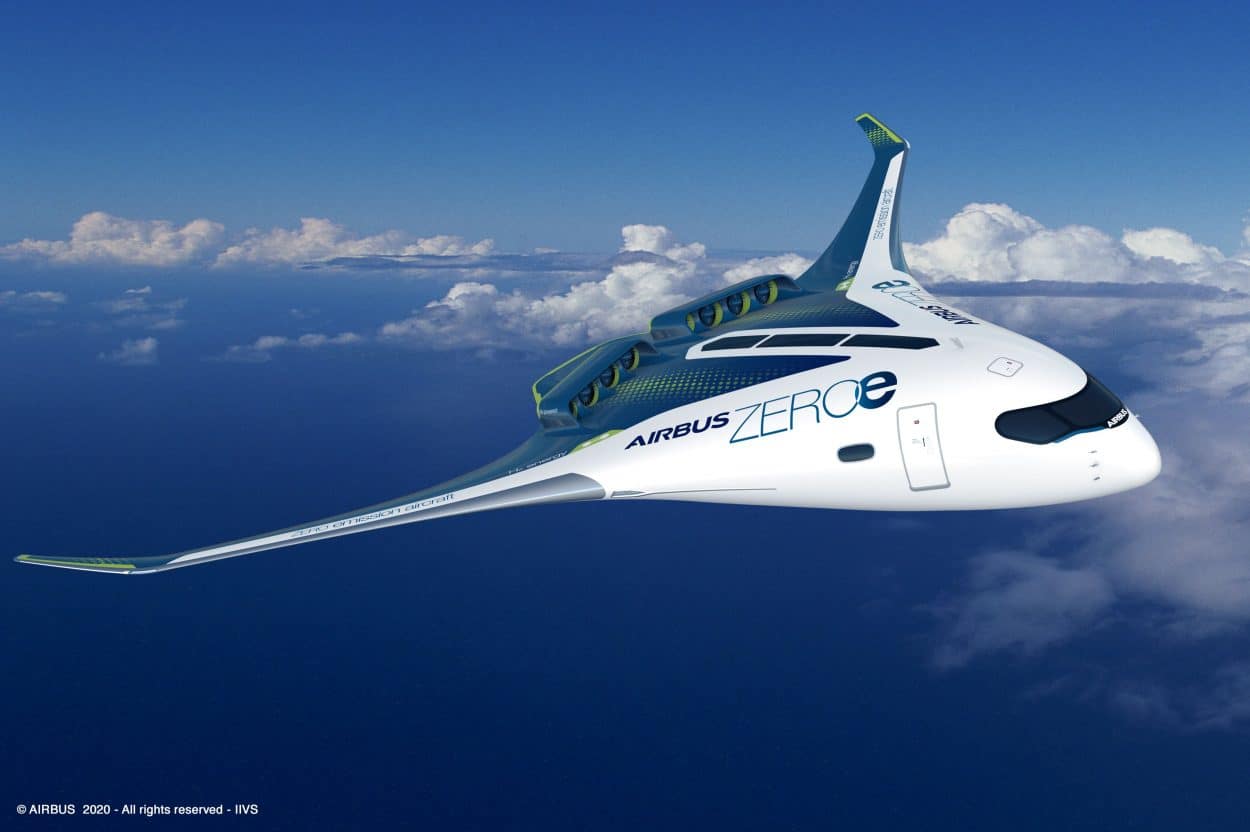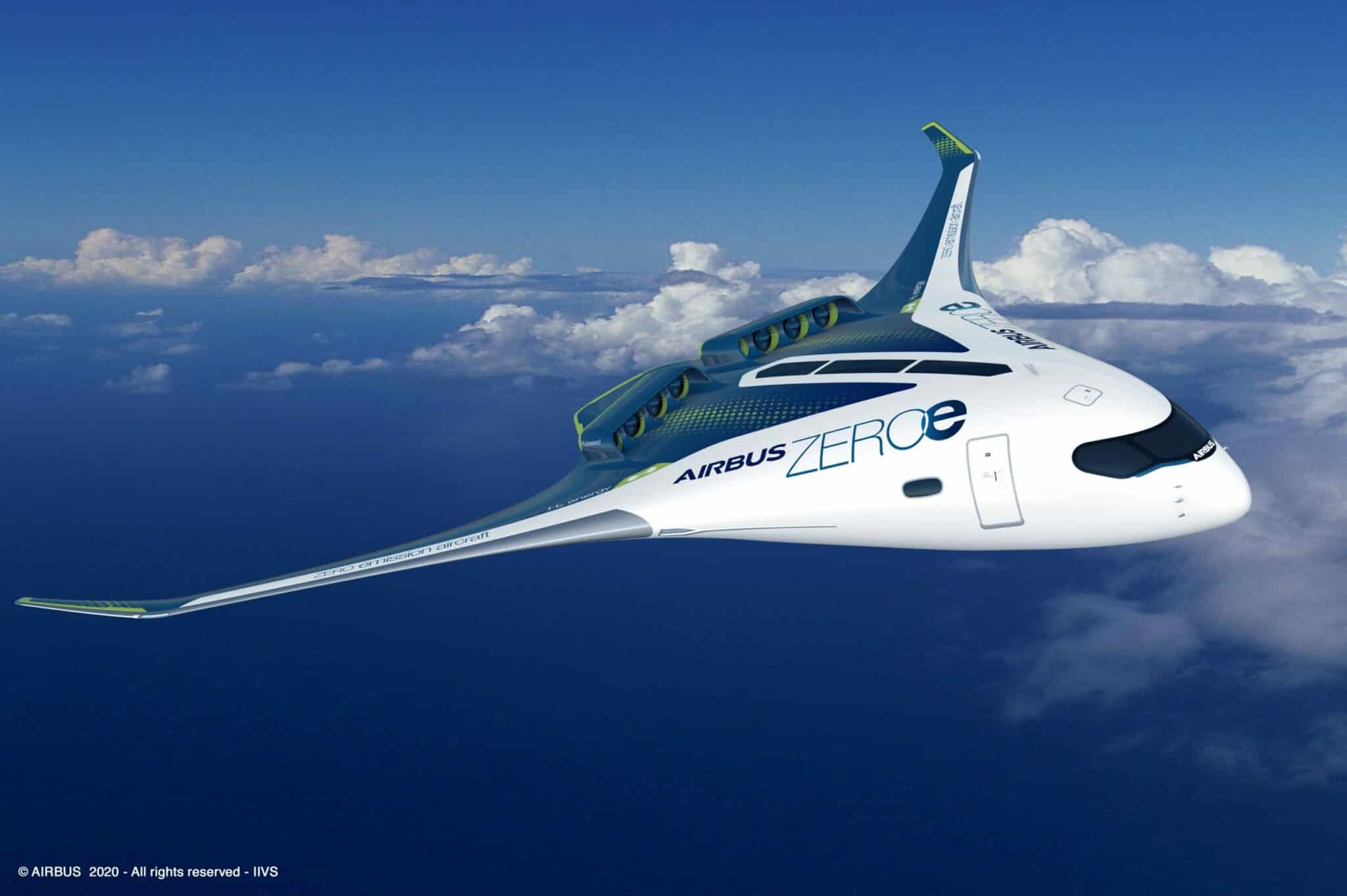 However, Orson emphasizes, the pre-pandemic focus on sustainable travel and reducing aviation's environmental footprint is bound to return post-COVID.
"If the aviation sector was a country, it would be a top-ten greenhouse gas emitter. Despite COVID, Boeing and IATA have both recently predicted the aviation sector will return to pre-pandemic rates of growth in the next few years. Against this backdrop, it's immensely encouraging to see the commitment being made at every level to creating a more sustainable model for commercial aviation."
It's clear that a full basket of measures will be needed to meet these ambitions, with emerging technologies including sustainable aviation fuels, battery-electric aircraft, and aircraft powered directly by hydrogen. Orson acknowledges,
"The challenges in integrating and creating the supporting infrastructure for these new propulsion systems are considerable, but as regulatory pressure builds and the necessary technologies and industrial capabilities continue to advance, the direction of travel is increasingly evident."
The next five to ten years will be critical for aviation, with the rise of EVTOL — electric vertical takeoff and landing — aircraft serving as city taxis and intra-region connections. Weaving in this radical shift in capabilities and perspective to the fabric of aviation, especially around connections and air traffic control, will require expertise, flexibility, and coordination.