Airbus has set the ambitious goal of being the first manufacturer to produce carbon-neutral jets by 2035. On Monday, the European aircraft manufacturer unveiled three hydrogen-powered aircraft concepts, as part of a several tens of billions of euros program code-named "ZEROe". The first prototype could be flying by 2035.
What seemed impossible a few years ago is no longer a futuristic scenario. The first commercial flight of a hydrogen-powered jet could take off in 15 years. On Monday, September 21, Guillaume Faury, the CEO of aerospace company Airbus, unveiled its "zero-emission aircraft in 2035" project called "ZEROe".
"The concepts offer the world a glimpse of our ambition to drive a bold vision for the future of zero-emission flight. I strongly believe that the use of hydrogen — both in synthetic fuels and as a primary power source for commercial aircraft — has the potential to significantly reduce aviation's climate impact. This is a historic moment for the commercial aviation sector as a whole and we intend to play a leading role in the most important transition this industry has ever seen."
This investment of several tens of billions of euros, if completed, will give the group a significant lead over its American and historical rival, Boeing.
Three New Models
Mr. Faury presented three aircraft concepts.
The first one is a conventional medium-haul twin-turbojet aircraft that could carry 120 to 200 passengers (like the A220 and A320). It could fly more than 3,500 kilometers, thanks to a gas turbine-powered by liquid hydrogen, instead of kerosene, stored in the rear part of the fuselage. In addition, the jet would be equipped with a fuel cell, also powered by hydrogen, to "bring extra power to the engines when needed," explained Jean-Brice Dumont, Airbus's Executive Vice President of Engineering.
Two other possible models are in the pipeline: a 100 seats jet with propellers for flights not exceeding 1,800 km; and a flying wing with about 200 seats with a much wider fuselage, favoring hydrogen storage and distribution, but also space for the passenger cabin. These aircraft were christened with the same name: "ZEROe". "We can't say which of the three will be the winner," Dumont warns.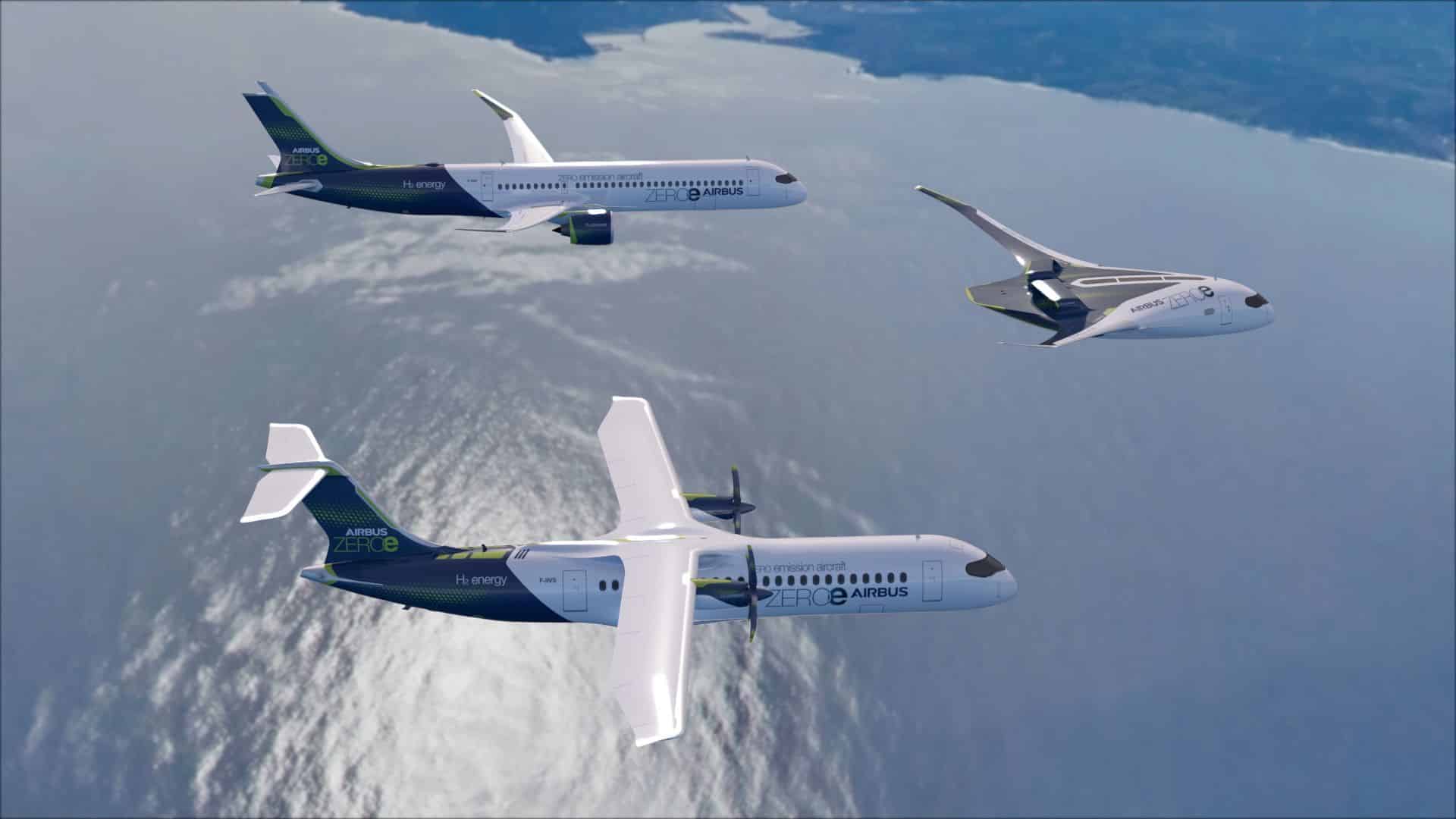 The coronavirus crisis, as well as the "flygskam movement" ("the shame of flying") due to CO2 emissions (2 to 3% of global emissions come from air transportation), have put a strain on the aeronautics sector which is working twice as hard to move towards a carbon-neutral air transport.
Many Challenges
But the road to 2035 is long and the technological, industrial and financial challenges of such a program are enormous. Storage is one of the biggest problems. In an interview with French newspaper Le Parisien, Mr. Faury pointed out that hydrogen, when liquefied at -253°C and highly compressed in a cryogenic tank, occupies a volume four times bigger than that of kerosene.
But the tight schedule chosen by the group, which is not the usual aeronautical time scale, is a challenge. Indeed, the project involves a technological breakthrough but Airbus has five years to choose the best technology and two years to find suppliers and build the factories. So the program won't be able to start before 2028.
Mr. Faury also recalled that airports will have to get prepared to handle hydrogen and build new transport and refueling infrastructure to meet the needs of day-to-day operations.
Finally, hydrogen will need to be produced in large quantities from renewable energies (hydraulic, wind, solar, etc.) and at a competitive cost.
All this is imperative if the sector wants the aircraft of tomorrow to be a profitable business model.