Bosch has just opened a new plant for the production of electronic chips in Dresden, eastern Germany. Worth €1 billion, the new factory of the future will enable the company to increase its capacity to provide automakers directly, therefore reducing Europe's dependence on third-party manufacturers from China and the United States. This is the largest investment in Bosch's history.
While the world is facing a semiconductor shortage due to the COVID-19 pandemic, the German plant was inaugurated on Monday, June 7, and will produce chips on 300 mm wafers.
During a virtual opening ceremony, German Chancellor Angela Merkel emphasized the importance for Germany and Europe to keep up with the competition in the semiconductor sector. She said:
"We are not in pole position – we must catch up. We have to be ambitious. Our competitors around the world are not sleeping."
Europe's objective is to double its market share and reach 20% of global production by 2030. And it is no coincidence that the European Union invested 200 million euros in this €1 billion project. During this same ceremony, Margrethe Vestager, Vice-President of the European Commission said:
"The cutting-edge technology of Bosch's new semiconductor plant in Dresden shows what outstanding results can be achieved when industry and government join forces."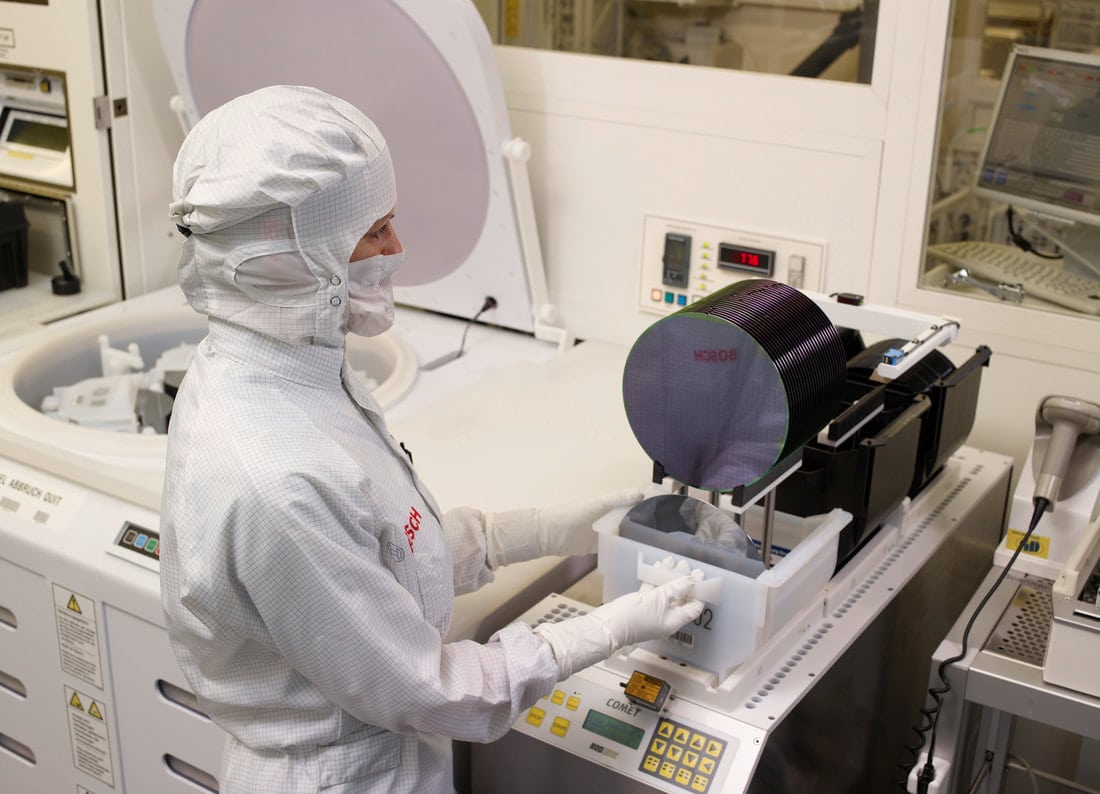 Indispensable Chips
Semiconductors are small and powerful electronic components that allow devices to capture, process and store data. Some of our everyday objects now integrate those chips: cars, cell phones, airplanes. The idea is that future vehicles will have more and more chips embedded in their systems, from advanced driver assistance systems to powertrain electrification. Thus, chips have become essential and will be crucial in the coming years.
The problem is that the dominant and most advanced producers are based in Asia and so far, European manufacturers are dependent on those foreign providers. The market leader, for example, is the Taiwan Semiconductor Manufacturing Company (TSMC). If Europe counts a few leading companies, like German Infineon and French STMicroelectronics, the continent is still largely dependent on Asian factories. The new plant is an effort to reduce this dependency.
A 4.0 Factory
The plant is said to be "fully connected, data-driven and capable of self-optimization from the moment it opens. According to Bosch, the new factory was virtually designed before construction using digital twins involving half a million 3D objects such as buildings, machines and robots. They say the factory will generate production data with a volume equivalent to 42 million pages per day, thanks to artificial intelligence algorithms. On-site personnel will also be equipped with augmented reality glasses and guided by a remote operator to conduct maintenance operations.
700 employees will work at the plant, which is located in the heart of the "Silicon Saxony", the tech hub of Germany's Saxony region. The production of chips for power tools will begin in July and the production of chips for electric or autonomous vehicles will start in September.