As difficult as this year has been, the 3D scanning market has continued to grow. More so than ever before, life has moved online (a development accelerated by COVID) while the need for virtual solutions and information continues to be a top priority. This trend will have a significant impact on the 3D scanning industry as we move into the New Year and will influence developments within this space.
Here's how Artyom Yukhin, President and CEO, Artec 3D predicts the continuing shift online will impact 3D scanning and its applications in 2021
by Artyom Yukhin, President and CEO, Artec 3D
01.

Augmented and Virtual Reality Will Become More Mainstream

With remote collaboration and online events continuing into the new year, AR and VR will be increasingly utilized by organizations that may never have relied on this technology before. Virtual reality will be increasingly used to make online training more engaging and realistic – and as a result, more effective. With many companies ditching an office environment while committing to a remote structure, these training tactics could become their new normal.

VR and AR will also begin to reshape how we consume in-person experiences. Since museums will be unable to welcome visitors onto their premises in the same numbers as before, we'll start to see more museums holding larger exhibitions online. We've already started to see these same tactics employed at major trade shows and events that have had to scramble to reformat how they connect people. 

Perhaps the most notable use of AR/VR that many consumers have already begun to embrace: e-commerce. Of all the applications in use, e-commerce is already the most sophisticated with major online retailers onboard and using apps that let you drop furniture and goods into your actual home, virtually. The pandemic has helped introduce this technology to many consumers who have been avoiding stores. Retailers not utilizing these tools are now falling behind, and fast.

3D scanning is essentially a portal between what's real and what's virtual. Used as an instrument for bringing real objects and scenes into a virtual world, 3D scanners are critical for the applications mentioned above. Following this, there will be an increased demand for these tools. At Artec 3D, we expect the sale of 3D scanners to increase by at least 20% in 2021.
02.

3D Body Scanning at Home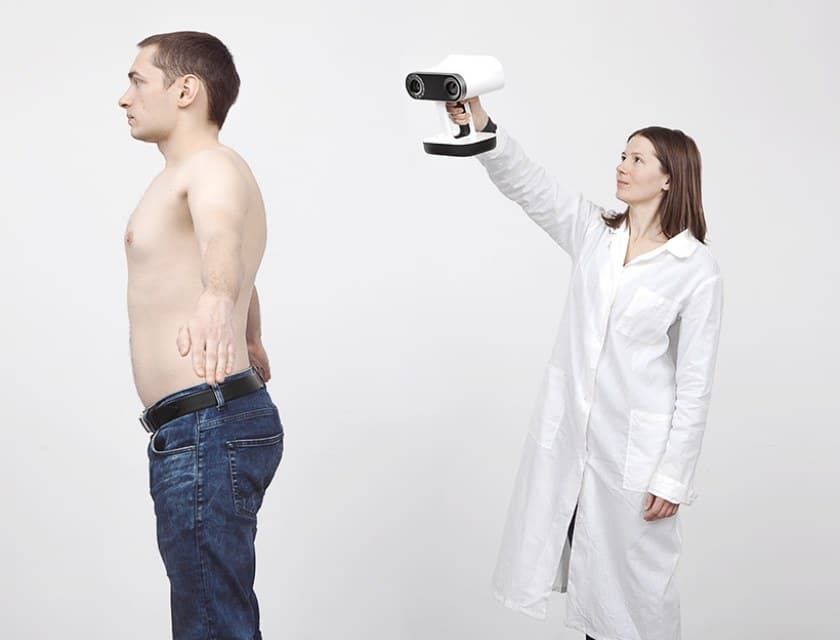 Virtual fitting is an area that has seen recent and rapid development, thanks to 3D scanning. Using scanners, retailers are working to create software that can accurately fit 2D and 3D images to human body models. We are so close to seeing production-ready technology; I think 2021 might be the year where we see this become a reality.
This will have an enormous impact on online shopping for clothes, shoes and other goods that usually require trying before buying. Additionally, this will pave the way for custom-made clothing. Lingerie designers are already using the technology to create custom bras for women and it's likely that more companies will start to do the same. While this scanning is primarily happening in-person, we're not far off from mirrors with 3D scanning capabilities that would feed measurements to retailers.
3D scanning will also find a way into various fitness applications that will be able to very accurately estimate, track and analyze changes to people's bodies during the course of a fitness training plan. The success of companies like Peloton and other high-tech, home gym equipment has already been boosted due to this year's need for social distancing. There's a demand for this technology, and it could continue to rise.
03.

5G Will Connect Scanners More than Ever

Here's another factor we should be paying attention to in 2021: The development and further rollout of 5G, which will allow the possibility of making 3D scanners that are always connected – "smart scanners". Scanners are beginning to see connective capabilities, and the addition of 5G will help make connectivity stronger than ever before. Whether you are in the office or in the field, smart 3D scanners will be able to upload data to databases in real-time, making the entire workflow absolutely seamless. Additionally, this will allow faster data sharing across the globe and the faster sharing of research and information.

Recently, the Artec Space Spider and Artec Studio software were used at an archaeological site in South Africa to scan a 2-million-year-old fossil. The scan data was then almost immediately shared with the archaeologists' research lab, and could also be used to educate students in real-time. Future 5G developments could make this process faster still – we're talking lightning speed. In a corporate environment, global companies could use 3D scan data to help solve engineering and product design challenges by engaging resources from their offices around the world.
04.

Automatization of Manufacturing and Delivery
In 2021, we expect to see the biggest changes occur in the field of robotics/automatization. Due to the recent shift to remote work, there is a huge demand for automatization in manufacturing and delivery processes. As a result, many research labs' efforts are focused on solving this task, and many have already made great progress. In the new year, we are likely to see the use of AI algorithms to control processes that previously would have needed human input.
Ensuring AI applications include 3D vision and the ability to map environments are also critical for enabling technologies (like autonomous robots) to operate in the real world and not just stick to pre-programmed paths. The ability to react to changes in their environment will be key for the development of these technologies and their intelligence over the coming years.
2020 has been a year like no other. While life next year will likely return to some normalcy, the need for digitalization will continue – and it will not only maintain but accelerate the need for 3D scanning technologies.