Dematic is a supplier of integrated automated supply chain technology offering logistics support and material handling solutions for production facilities, from receiving to shipping orders. They were supposed to showcase in March at the MHLC conference, part of  LogiMAT, their micro-fulfillment solution that supports e-commerce strategies for retailers, wholesalers and manufacturers, before the event was canceled due to Coronavirus concerns. MHLC is now taking place this week in a virtual version and we are a partner of the event. Crystal Parrott, Vice President of the Robotics Center of Excellence at Dematic explained how their solution can respond to the new needs of e-commerce. This interview was realized before the crisis.
DirectIndustry magazine: Can you describe your micro-fulfillment solution and how it supports e-commerce players?
Crystal Parrott: Our micro-fulfillment solution is an automation solution that is extremely flexible and allows customers with high order throughput to be able to pick orders quickly and with a small footprint. For the most part, a lot of groceries companies are committed to providing online orders without having a profitable way of fulfilling them. There are distribution centers that are great for refurbishing stores but they are not enough to enable them to be nimble and quick when fulfilling individual online orders.

That's where Dematic micro-fulfillment solution is a game changer. It makes small compact nimble equipment available at the back of individual stores where the online orders can be fulfilled in a matter of minutes. It can drive the traditional time frame for online fulfillment to less than an hour. It is a low-cost solution that allows them to be profitable. Dematic is powering the future for e-commerce. The landscape is expanding and changing and we have to offer new solutions to our customers in the e-commerce environment.

Our solution combines automation technology with Dematic iQ software. The software precisely allows customers to keep control of their data while providing integration with other inventory management, warehouse and ERP systems so that every store, distribution center or head office is connected to the same platform.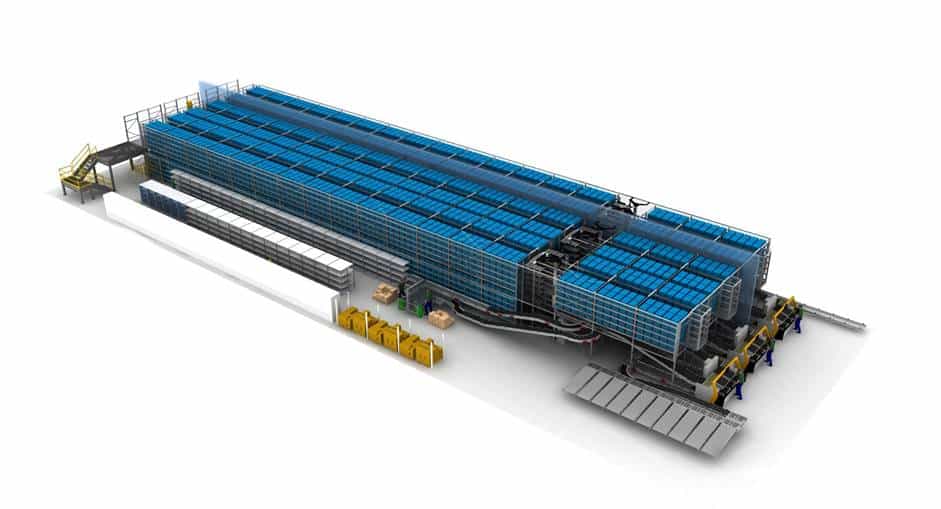 DirectIndustry magazine: How do you manage to have a solution that is easily deployable by small companies such as grocery stores?
Crystal Parrott: The micro-fulfillment solution uses proven technologies such as Multishuttle Dematic and GTP storage and preparation solutions.This makes it easy to prestage and implement the components very quickly. It includes the workstation itself, the rack and DMS components. Our target is to have the system installation completed in 12 weeks. Our solution is also designed to be integrated with only 930 m² of available space (at the back of a point of sale for example or in a nearby center).
DirectIndustry magazine: How can small stores afford this kind of technology?
Crystal Parrott: We have to respond to the changing needs and high speed delivery but also provide technologies and material handling solutions with shorter ROI. The secret is a really good combination of mechatronics and outstanding software. What we see in the industry as a whole is the commoditization of the mechatronics components. And it is the software and the intelligence around the solution that is going to be the differentiator. This is where we have set our focus. We are trying to bridge the gap between the cost of the equipment and the value that the solution and software offer. The price point of the components is coming down as the technologies evolve. And new business models are appearing, like SaaS (software as a service) or RaaS (robotics as a service), which help clients afford the incorporation of new tech.