When it comes to technology and innovation, the agricultural sector is leading the way on the uptake. In fact, today's farmers are among the first to employ automation and swarm technology, both in the field and on the farm. Doing so helps them to address labor, food safety and animal welfare challenges, as well as the challenge of feeding an ever-growing world population.
Since Case IH first launched its autonomous tractor concept at the Farm Progress Show in Iowa in August 2016, farmers have been dreaming about its potential. Farmers would remotely operate the tractor and monitor equipment from a tablet, allowing them to select and send a vehicle out to the field. The equipment would travel along a pre-mapped guidance route—without an operator.
Currently, the concept is being tested on select farms in North America and is nowhere near ready for release. There are solutions, however, that are ready, and they're changing the way we look at farming.
In the Field: Tech Seeding and Autonomous & Swarm Planters
Machinery giant Fendt, in collaboration with AGCO, developed its swarm technology, Xaver. For Sepp Nuscheler, Senior Communications Manager, AGCO.
"Xaver is a group of small robot units that plant corn. The battery-operated swarm is connected to a cloud solution that positions and monitors individual units. When batteries or supplies are low, the individual units return to the home base."
The swarm has the ability to work at all hours addressing the challenge of labor shortages on farms. With its unique seeding abilities, Nuscheler said
"Xaver has the potential to increase crop yield by as much as 5 percent."
In Canada, machinery manufacturer SeedMaster developed an autonomous planter. DOT is a U-shaped autonomous power platform that "mates" with other technology, such as seeders, sprayers and land rollers. It's loaded with sensors for gathering data and slippage monitors on its tires to ensure safety. Cory Beaujot, Managing Director of Marketing, SeedMaster Manufacturing, explained:
"There are a number of farmers who are thinking about it as a piece that goes into irregularly shaped fields to square them off, so doing those sketchy areas around slews and rock piles. More large-scale farmers are considering one to three DOTs to be put in the field to do the entire seeding operation."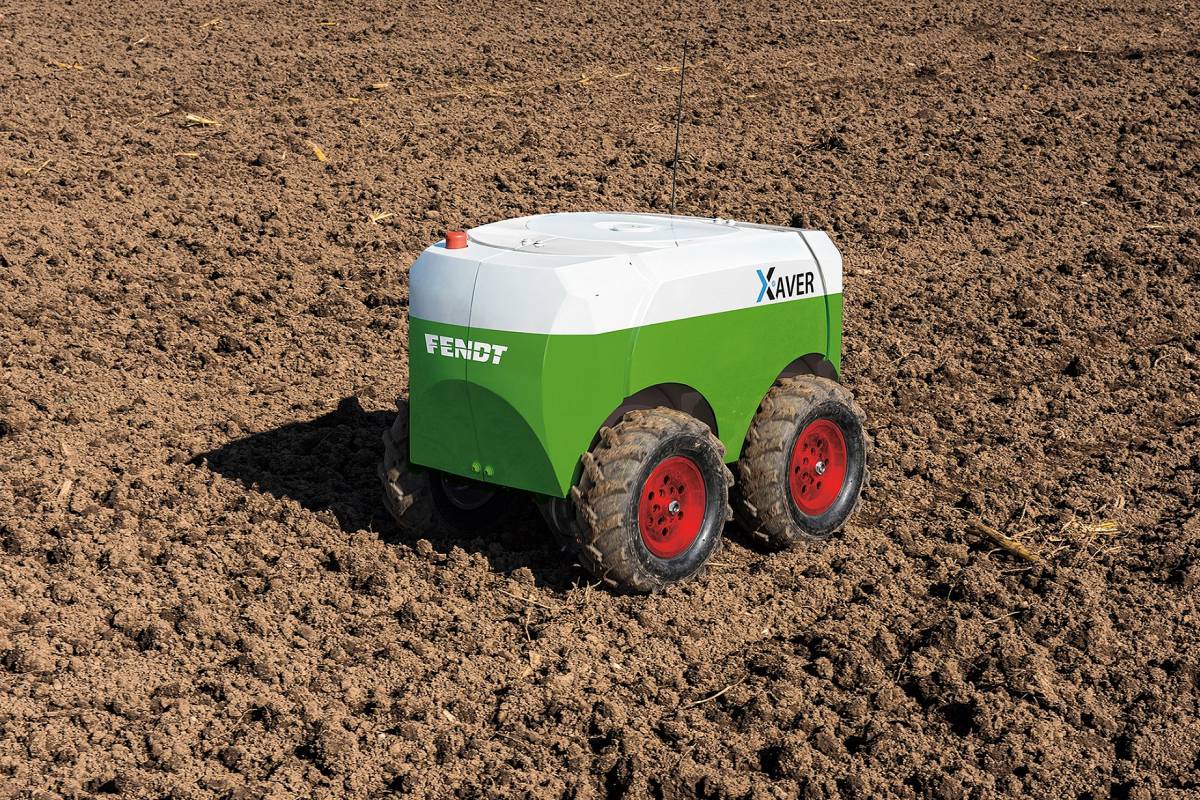 Other robots address weed issues in the field, like Jäti, a battery-powered robot designed to identify and kill weeds in carrots—with laser beams. According to Ernst Friedrich of the German company SPL (Service Für Präzisions-Landwirtschaft),
"The robot is trained to detect the crop. All that is not crop, is weed."
Similarly, Anatis, a weeding robot designed for vegetable crops by French company Carré, reduces herbicide use by using precise applications where needed and manually weeding between crop rows using a comb harrow, explained Charles Adenot, Director of Marketing and Sales for Carré:
"The robot is so precise that in just one pass it not only locates the problem but also takes action. While in the field, Anatis compiles data on humidity, soil moisture and unidentified objects in the field."
In the Barn: For Feeding & Cleaning Up
From cleaning robots that improve food safety and on-farm biosecurity to feeding and mobilizing robots that improve production, there are a wide variety of robots used in barns around the world.
In France, poultry farmers reduce the risk of microbial transfer and contamination by employing a unit called Octopus Poultry Safe. Designed by Octopus Robots, the autonomous unit sanitizes large barns after the poultry leave, but before humans enter.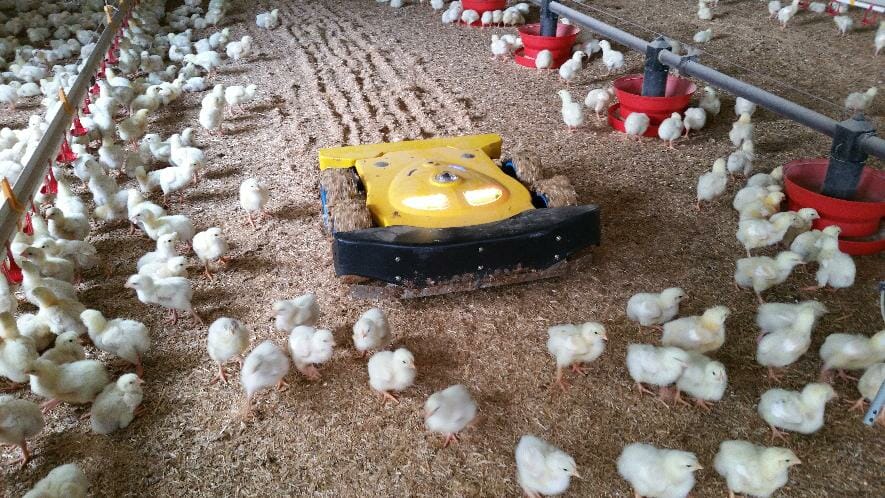 Spoutnic, a robot designed by Tibot Technologies, is a farmer-created solution that addresses the tedious and repetitive task of moving birds, explained Yanne Courcoux, CEO, Director General, Tibot Technologies,
"The robot's job is to deter the hens from laying eggs on the floor in cage-free housing systems."
In dairy barns, I-ron, a feeding robot designed by Lucas G, distributes pre-mixed ration throughout the day, allowing the farmer to advance on other tasks. Pierre Grevet, marketing and communications officer at Lucas G, confirmed:
"For farmers with milking robots, I-ron can be programmed to get the cows up and moving earlier, which helps to reduce traffic at the robotic milkers."
Keeping cows fed isn't the only task robots take on in the barn. Discovery 120, a robot designed by Dutch dairy giant Lely removes manure and cleans the barn floor. Sergio Ooijens, marketing and communications office at Lely, explained:
"When the battery-operated unit is full it returns to a dumping hole to offload manure and fill up on water. "
Not only does the robot ease the farmer's workload, but it also keeps hooves cleaner, reducing the risk of digital dermatitis and lameness. The robot can work 24 hours a day, even while the farmer is sleeping.