Planting seeds, harvesting fruit, and organizing greenhouses are all typical farm tasks. But will they remain so? Farm robots have started entering the field and might even determine what will be produced.
Global sales of agricultural robots are increasing and could reach $16.3 billion by 2020, according to a report by WinterGreen Research.
Seedling ideas are becoming robotic realities, as innovations designed to reduce labor costs, save energy, increase production, and perhaps even tackle global food shortages are emerging.
Dr. Belinda Clarke, Director at Agritech East, a UK-based membership organization bringing farmers and growers together with technology developers and scientists, says robotics is now even determining what will be planted. It could mean considering breeding the crops so they are better suited to robotic harvesting.
In protected crops [crops grown in green/glasshouses], robotics are starting to make a big difference—so much so that breeders are now starting to look at traits which mean the fruit or vegetable is more amenable to robotic harvesting. This shows a real long-term commitment to this kind of technology, which isn't going to go away.
Pick of the Crop
According to Clarke, robotic agriculture has become a reality because of "the juxtaposition of machine learning and soft robotics with the ability to manage large data sets."
Bringing all those highly complex and sophisticated disciplines together means robots can now 'see' and 'learn' what a harvest-ready product looks like in the field, and can selectively harvest it.
In Spain and in California, Agrobot's strawberry harvesters are doing just that, explains CEO Juan Bravo.
Our SW60s are self-propelled industrial machines equipped with dozens of independent robotic manipulators that are able to pick fruit one by one. Key elements of the robot's patented technology are its harvesting tool, which is especially designed to ensure delicate and smooth fruit treatment, and its advanced computer vision, which is vital to pick only ripe fruit that meets the standard.
Savings are made by reducing labor costs and only picking ripe fruit, Bravo observes.
Planting the Idea
In North America, Charles Grinnell, CEO of Harvest Automation says his company's HV-100 robots are also labor-saving. In addition, they reduce injuries and increase the efficient use of space in greenhouses and nurseries.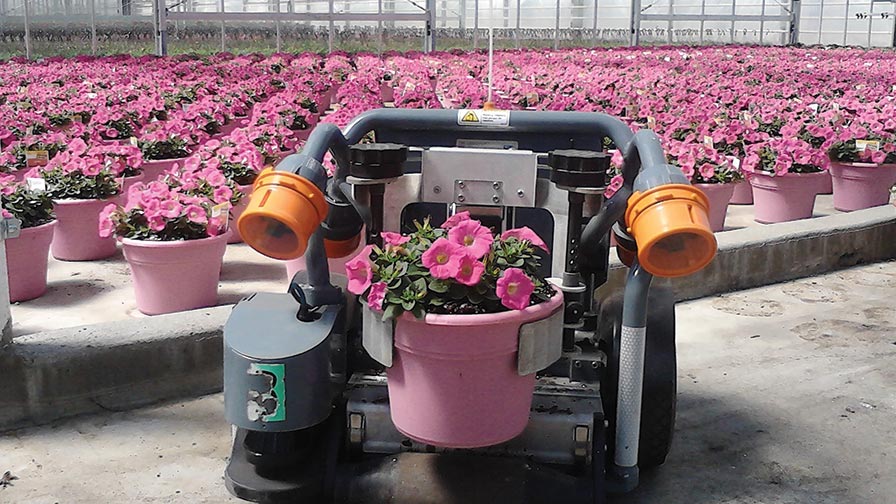 Working in teams, these small, easy-to-program, mobile robots carry out a wide variety of plant-handling tasks, including spacing, consolidation, and collection.
They have automated loading and unloading capability and are safe and flexible. They have been designed not only to navigate within current infrastructure, but also to change and manipulate their environment. In addition to performing work, they are efficiently collecting information that can be used for analysis and production planning. Future products will include additional sensing and image capture technologies that will allow for more scalable data gathering.
Altman Plants have four HV-100s, working in their 60-acre rose nursery in Lake Matthews, California. The robots can space some 200,000 plants during peak shipping time without affecting labor availability, explains general manager Jim Hessler.
The result is a higher quality rose and far fewer plants that need additional pruning and another growth cycle.
Working Together
Teams of small, autonomous robots were also a key part of David Dorhout's concept when he came up with his working prototype, Prospero the Robot Farmer.
Prospero is controlled with a Parallax Propeller chip (a multicore microcontroller) mounted on a solderless, Propeller protoboard for circuit creation. Its body is designed by Lynxmotion and it is programmed to walk in any direction while avoiding objects.
An under-body sensor tells it if a seed has been planted in the area at the optimal spacing and depth. Prospero can then dig a hole, plant a seed, cover it and apply any pre-emergence fertilizers or herbicides. It can also communicate to other robots in the immediate proximity via IR that it needs help planting or that the area has been planted and to move on.
Dorhout, who runs Dorhout R&D, believes intelligent robots like Prospero working together in a "swarm" can free the farmer to focus on his business and the science of farming.
One farmer working on his tractor has to make large scale decisions. He can only spread himself so thinly. Prospero can make decisions at a 'higher resolution,' based on factors such as soil condition. It can operate on a very small scale. If it is too wet to plant a corner of a field one day, then it can come back to replant later.
Simply the Best
While some agricultural robots are team players, others are loners that still offer great benefits.
Tom Calver, director of Westcombe Dairy, producing cheddar and other cheeses from its own milk, has recently become the first UK producer to introduce a cheese-turning robot.
Turning the cheeses in the farm's cheese cellar to redistribute moisture is an essential part of the 12-to-18-month maturation process.
We used to turn 5000 cheeses by hand, but it was a job no one enjoyed doing in a cold store, and it was not always carried out with consistency.
Designed by JNJ Automation in Switzerland, the robot, now affectionately known as "Tina the Turner," was drafted to help.
It can be programmed easily via a touch screen panel and left alone to turn the cheeses, place them on a different shelf and even vacuum or brush the tops off. For us, the great benefit has been the improvement in the quality of our cheese.
The Future for Farms?
Dr. Clarke says she is "continually amazed and inspired" by developments in agricultural robotics.
I think these are unprecedented times for the industry. Reducing the costs will happen over the future years, as will inter-operability with existing systems—for example, being informed by GPS about the weather. [Robots] are going to need an energy source. That needs thinking about, but none of this is insurmountable.
See more farm robots on AgriExpo.online