On the occasion of the 20th anniversary of our publisher, the industry sourcing company DirectIndustry, we are celebrating 20 years of industrial innovations by giving the floor to the players that brought these innovations to life. In this interview, we focus on software. Kathleen Mitford, Chief Strategy Officer at software provider PTC, gives her insights into 20 years of innovations in the software industry.
20 Years of

SOFTWARE

with… PTC
PTC is a Boston-based engineering software company with strong roots in CAD and PLM solutions. Thanks to numerous strategic acquisitions throughout the last two decades, the company has significantly expanded its portfolio to include AR and IIoT solutions that support global manufacturers in driving digital transformation, product and service innovation, operational efficiency, and workforce productivity.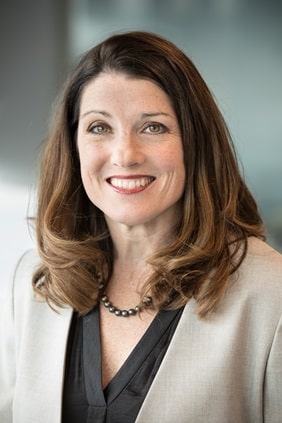 DirectIndustry magazine: 20 years ago, PTC was mainly known for its CAD model tools such as CREO and Windchill. The company is now offering PLM solutions including IoT and AR. How did PTC manage to evolve?
Mitford, Kathleen: PTC evolved because the world was changing and our industrial customers' business was evolving. Technology advancements such as the Internet of Things, Augmented Reality, Artificial Intelligence and Additive manufacturing were transforming the way products are designed, manufactured, serviced and operated. Products had more software in them, they were becoming smarter and connected. So we recognized that to help our customers, we needed to be one step ahead of them, anticipating and accommodating their needs. This is why we invested in innovations such as IoT and AR before our customers were asking for it. Similarly, we're anticipating that the entire industry will transition to the Cloud, and that's why we're investing significantly in SaaS.
DirectIndustry magazine: Were you anticipating the digital transformation wave?
Mitford, Kathleen: People were talking about digital transformation, digital twins and product lifecycle management 10 to 15 years ago. And at PTC, in order to deliver digital twins and complete product lifecycle management, we needed to understand the complete history of a product, not just the way it is designed but the way it is manufactured, the way it is serviced, and how it operates in the real world. We were able to capture the design and upfront information but we did not have that full lifecycle. So we started thinking about the technology advancements would help us create this digital thread to deliver on a promise of lifecycle management. This is when we first got into the IoT world.
DirectIndustry magazine: 20 years ago, PTC was more on the design side of industry. Today, PTC has entered the factory and provides industry 4.0 solutions. Did PTC envision that 20 years ago?
Mitford, Kathleen: In order for digital transformation to be successful, you cannot look at data or information in a silo, it needs to be viewed in the context of the entire product lifecycle. This concept of the lifecycle – and helping organizations at each step – is what led us to evolve from design/engineering to remote service, then to manufacturing and then to product operations. Our initial hypothesis was that service would be the lead for us and the largest revenue in IoT. But manufacturing operations in the factory setting took off faster, as all the assets and machines in the factory are connected to one another – and key to Industry 4.0. What enabled this was technology innovations – the Internet being more accessible, mobile devices becoming standard, sensors becoming smaller and ubiquitous. We used to talk about expanding by vertical and geography – now we also focus on new value chain participants, because of the need to provide a closed-loop view of the product, or a digital thread.

DirectIndustry magazine: 20 years ago, partnerships were not really a trend but they are today for the IT world. How did this impact your strategy?
Mitford, Kathleen: Partnerships today take on a higher level of meaning and purpose. We truly believe that in order to help our customers with their digital transformation, we cannot do it alone. The level of technology and expertise that is necessary for a complete digital transformation requires choosing the best partner and that is what we've done. We have been extremely active in partnerships with other technology vendors and service providers such as Microsoft, Rockwell and ANSYS. Also, when we decide to move into a new area, acquisitions are the fastest route to market for us because we get not only technology but also domain expertise and geographic presence. So we can provide solutions to our customers faster. PTC has had a very active corporate development program that has led to a number of acquisitions (ThingWorx and Kepware for IoT and industrial connectivity, Vuforia for AR, Onshape for its SaaS platform).

DirectIndustry magazine: Faster to market has become a requirement. How has this impacted the software industry?
Mitford, Kathleen: Customers want their products delivered faster. So there has been a big change in the software industry, in the business models. We went from selling perpetual software licenses to subscriptions. And that benefits our customers. In the past, all the risks were on the customers because they paid their licence fees to the technology vendors. Now since it is on subscription and they can cancel, if they are not getting value in one or two years, they can decide not to go with you anymore. So that puts more pressure on the software vendors and technology providers to make sure that their solutions can deliver impactful value quickly – and ongoingly.
DirectIndustry magazine: What are the biggest moves for the software industry of the last 20 years?
Mitford, Kathleen: Certainly within the last 10-15 years, there has been the rise of cloud computing, which is changing the way we design and deliver technology. We're able to maintain pace with Moore's law (computing power doubles every two years) while bringing immensely scalable technologies that couldn't have existed before. This has ushered in a new realm of software technologies that can rapidly meet customer needs through software as a service. And with this coronavirus crisis, cloud proves to be key because it gives the possibility to access your technology from any place, any time.
DirectIndustry magazine: What are the next moves you envision in the future and how are you preparing for them?
Mitford, Kathleen: Our industry is in the process of being redefined. Factories will be reshaped. We're in early stages of rethinking the way we work, how we design, how we manufacture, how we service, how we interact and conduct business with customers. The future of the industry is SaaS, which avoids big startup costs and pricey and constant administration. The future is capturing the knowledge of our retiring workforce. The future is investing in STEM and our burgeoning workforce. The future is equipping workers with the latest technology, including augmented reality.