Beauty giants like LVMH, Clarins and L'Occitane have decided to produce hydroalcoholic gels to help healthcare professionals and hospitals in need in France. In the Jura region, a small French lubricant manufacturer has also decided to mobilize its factory. We talked to its founder.
Hand sanitizers and other medical equipment are sorely lacking in France's hospitals. Healthcare professionals have been raising the alarm for several weeks but the supplies are still taking some to arrive.
READ ALSO | Automotive and Aerospace Companies to Produce Ventilators
Cosmetics Companies Led the Way
On March 15, LVMH, the French luxury cosmetics conglomerate announced it would be monopolizing three of its French perfume and cosmetics production sites (Christian Dior, Guerlain and Givenchy) to manufacture 12 tons of hydroalcoholic gel per week. "LVMH will use the production lines of its perfume and cosmetic brands to produce large quantities of hydroalcoholic gels from Monday. Through this initiative, LVMH intends to help address the risk of a lack of product in France and enable a greater number of people to continue to take the right action to protect themselves from the spread of the virus," the company said in a statement.
Shortly after, on March 21st, Clarins group announced that they would also be producing hand sanitizing gels to help hospitals. More recently, L'Occitane has decided to join the effort and is using its facilities located in South of France to produce bottles of disinfectants.
So far, Clarins has produced 14,500 units of hydroalcoholic gel (400 mL each) at its 3 French factories. LVMH for its part delivers bottles of hand sanitizer free of charge to 39 French hospitals in need. Last Tuesday, L'Occitane shipped 10,000 300 ml bottles of hydroalcoholic gel to hospitals.
For Andrew Thompson, Medical Devices Analyst at analytics firm GlobalData, if these companies were able to quickly repurpose their equipment (it only took 72 hours for LVMH) it is because the cosmetics industry has some similarities to the pharmaceutical industry.
"These businesses are used to diluting alcohol and mixing in various additives, so it is no big leap to mix in other ingredients instead."
According to the World Health Organization (WHO), sanitizing gel requires purified water, ethanol, peroxide and glycerine. Cosmetics companies already have most of these ingredients on hand. These brands also manufacture liquid soaps which have the same viscosity as hand sanitizers. So using their existing filling machines and pump dispensers was also not difficult for them. At the Dior factory, reported the Financial Times, a metal tank initially used to distill scent is now being used to mix the new ingredients.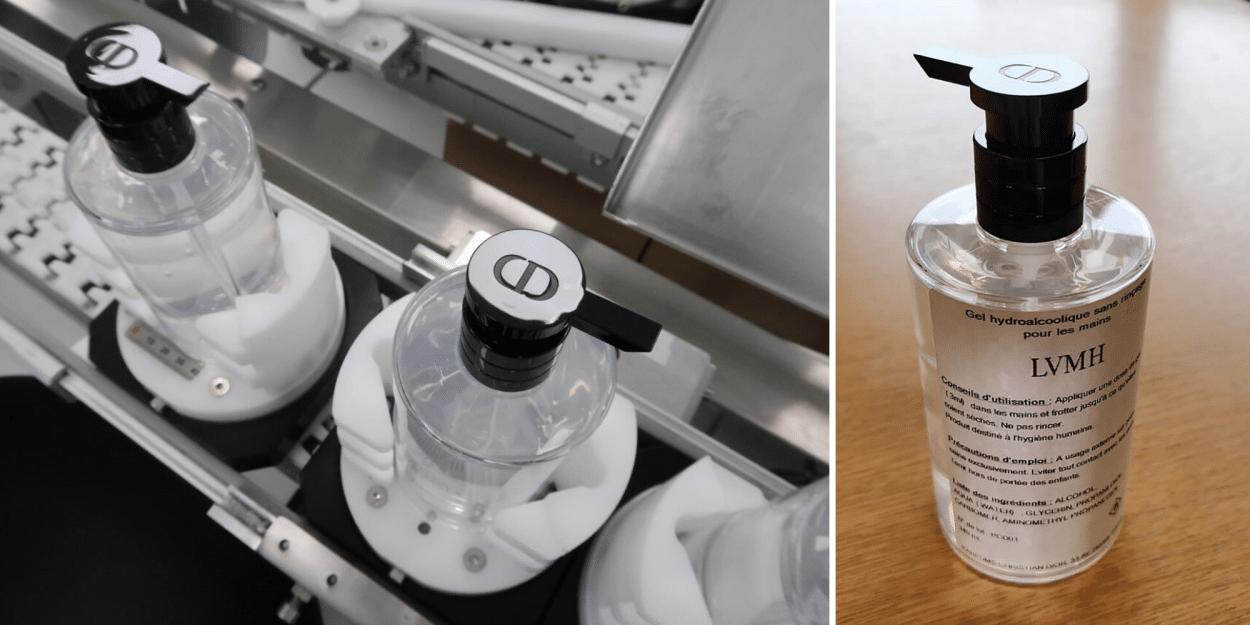 A Lubricant Factory Swung into Action to Help
These cosmetics giants have attracted a lot of media attention but they are not the only ones lending a hand.In the Jura region of France, a small factory specialized in eco-responsible lubricants has also repurposed its equipment to make hand sanitizers for the region's hospitals.
AFULudine was created in 2016 and manufactures non-oily, environmentally friendly and 100% French lubricants for the mechanical engineering industry. While the factory was planning to close its doors on March 16 due to the upcoming lockdown in France, its director and founder, Fabrice Lallemand, decided to adapt its entire production line to produce hydroalcoholic gels instead of lubricants. His region is particularly affected by the epidemic.
"I had the idea during the municipal elections that were taking place in France on March 15. I was in charge of a polling station and I was desperate to find disinfectants to secure the polling. I decided to contact the region authorities the day after the elections to ask for an authorization to manufacture gels. I obtained the permit on the 17th and we started to produce our first ton of hand sanitizer on the 18th. The following weekend, we delivered our first bottles to the Nevers hospital."
Of the 16 people employed by the company, 10 have joined forces, while others suspected of being infected could not come back to work. They work six days a week and the company did not have to experience any unemployment at all.
Fabrice was able to change production in only 24 hours because the process for making the company's lubricants is similar to the one used to make hand sanitizers.
"Usually, lubrication refers to the oil and petrochemical industry. But our concept is completely different because we manufacture eco-lubricants. I invented this type of lubricant with my team and it is based on bioethanol, that is to say alcohol. And the base of hand sanitizer is also alcohol. Even if it's not exactly the same material, it didn't take us much time to transform our facility. Instead of using bioethanol, we now work with pharmaceutical alcohol. Our production lines are closer to pharmaceuticals than petrochemicals, so we were able to use them to make the gels."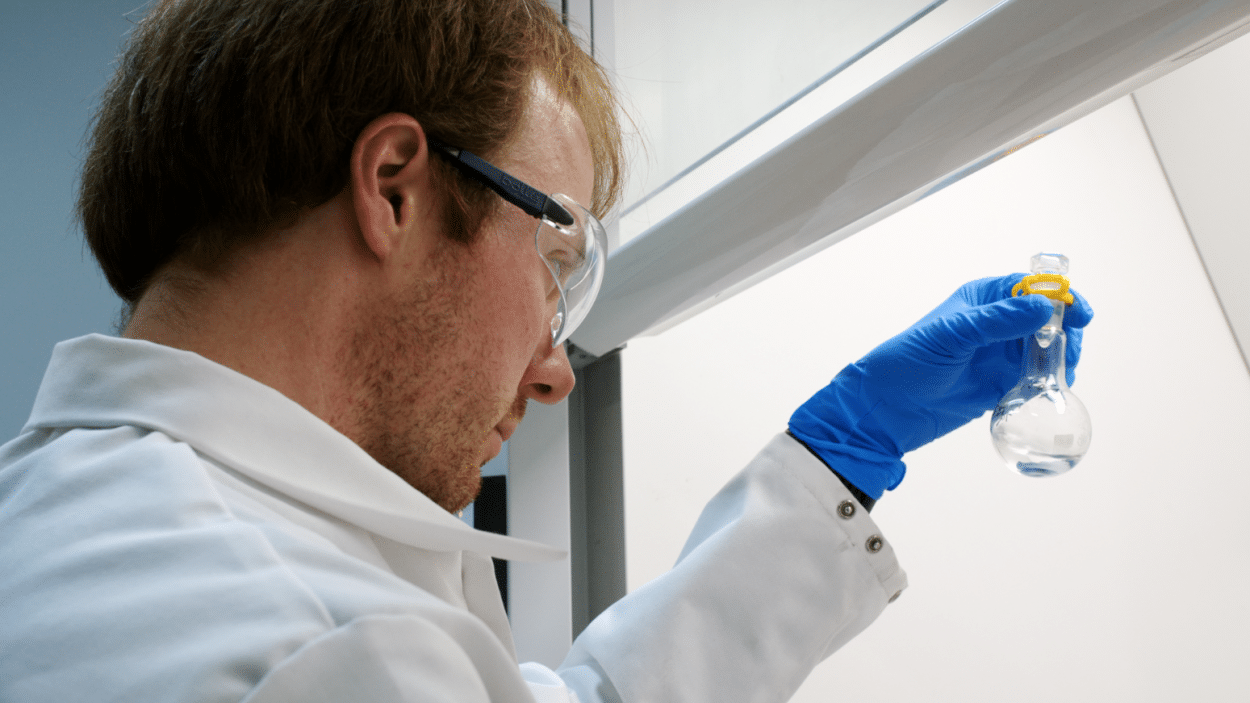 The employees just have to submit to the medical and hygiene constraints that are required to manufacture this type of product. They must wear masks and hygiene caps, equipment they were not required to wear when making conventional lubricants. They follow the recipe delivered by WHO.
"The process is very simple. You take a large pot and you put in the isopropanol, the peroxide, the glycerin, the pharmaceutical water, you mix it and it's ready. We use large chemical reactors of a hundred liters each."
If changing production was not complicated, handling new volumes is no small matter for this enterprise.
"We are not used to providing the volumes we have today. Normally, we produce 100,000 litres of lubricant per year, so 100 tonnes per year. Today, we make between 7 and 10 tonnes of hydroalcoholic liquid per day. So it will take us 2 months to make the 100 tons we usually make in a year!"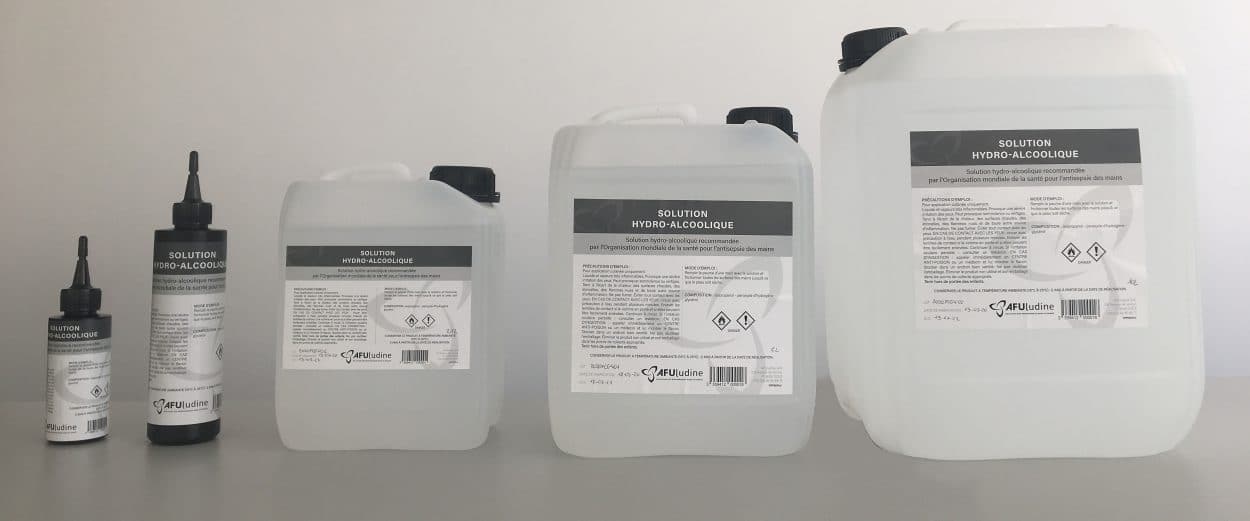 In the last 2 weeks, the company has supplied 10 of the region's hospitals with around half a ton to a ton of disinfectant each. And the demands are constantly pouring in.
"We receive one call every 30 seconds. Since we've been talking, I've already had six calls. The whole country of France is calling us. Hospitals, nurses, pharmacies. And we are starting to get calls from industrial firms, supermarkets, banks who want to protect their employees who are in contact with the public."
For the moment there is no shortage of raw materials. Fabrice was supplied yesterday with a 12-ton tanker of isopropanol. But he is concerned about the soaring prices.
"We get our supplies from a French wholesaler and in one week the prices of isopropanol have been multiplied by 2.5. And obviously, the next tanker we will get will be even more expensive. Today we are selling our solution below the price recommended by the government because we are here to help. But if the prices continue to rise, I will not be able to continue under these conditions. We are not like LVMH, we are very young."
Fabrice will see at the end of next week whether the rates remain reasonable or not. If prices continue to rise, Fabrice will have no other choice but to stop production.
How to Choose the Right Dosing Dispenser?
Read our buying guide and make the smart choice